Hessea mathewsii W.F.Barker
Family: Amaryllidaceae
Common names: hessea
Introduction
The ethereal umbrella of star-shaped flowers fluttering in the wind, is the 'stuff fairytales are made of'! Although, quite small, Hessea mathewsii, can bring great value to a garden, forming beautiful displays of bright pink, crimson and white.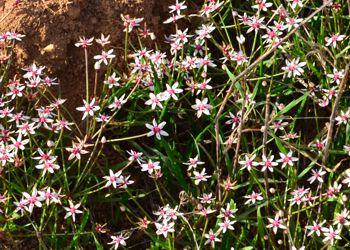 Description
Description
Hessea mathewsii is a bulbous plant, with a slender stem, reaching a height of about 190 mm. Leaves are narrow and strap-shaped, occurring as two, or sometimes three, blades.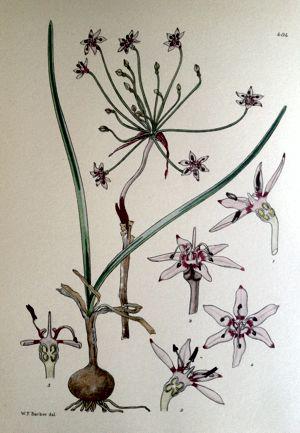 This species is many-flowered, ranging from 10–30 flowers per individual plant. The flower has six tepals that range from white to a soft pink, but always with a dark pink to crimson throat. Contrary to the aesthetically pleasing features of the species, the scent they give off is not as enjoyable. Unlike some of its sister species, H. mathewsii has tepals with smooth edges and not at all crisped (see H. cinnamomea, H. monticola, etc.).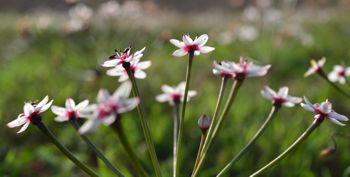 The filaments are united low down at the base and the stamens spread outwards. The main diagnostic feature separating this species from others (except Hessea pulcherrima) in the genus, is the swelling at the filament base that forms an inward-curved hook. Hessea pulcherrima has similarly shaped filaments, but this species is restricted to the Bokkeveld escarpment.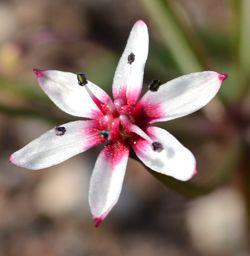 Conservation Status
Status
Hessea mathewsii is classified as Critically Endangered (CR) on the South African Red List. The current area it occupies is less than 5 km2; this species is only known from three severely fragmented populations and declining rapidly due to human activity. Most of the species' habitat has been transformed due to crop cultivation. Ongoing threats to the remaining populations include livestock grazing and habitat loss due to urban expansion. CREW (Custodians of Rare and Endangered Wildflowers), conduct annual searches for this species and in 2014 found an additional population—leaving the three intact populations we have today.
Distribution and habitat
Distribution description
It is a highly range-restricted species; occurring exclusively in damp depressions near granite or limestone outcrops. The only known populations occur from Vredenburg to Langebaan in the Western Cape. This species is easily cultivated in sandy soils and flowers reliably every year, creating brilliant and attractive displays.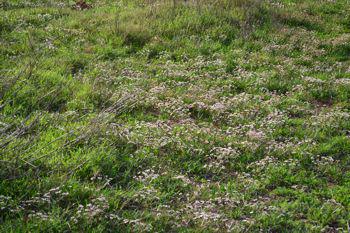 Derivation of name and historical aspects
History
The name Hessea memorializes Christian H.F. Hesse (1772–1837), a missionary at the Cape before 1837, who came to Cape Town from Hanover. He was a succulent plant enthusiast and showed great hospitality to many nature enthusiasts. The species name mathewsii honours Mr J.W. Mathews, the curator of the National Botanical Garden at the time, who found the type specimen. The genus Hessea contains 13 species, distributed from southern Namibia to the wouth-western Cape and the Karoo, and restricted to winter- and autumn-rainfall regions of South Africa. Hessea has Strumaria as its closest relative, and along with Gethyllis, shares the presence of cataphylls, which are leaf-like structures forming sheaths around the base of the true leaves.
Ecology
Ecology
Flowers attract various nectar-loving bees and small flies; a good addition to any garden. Seeds appear to be wind-dispersed: after flowering, the inflorescence breaks off and stumbles across the field, dropping seeds as it goes. Germination is instant and soon after the field will be littered with thriving Hessea mathewsii.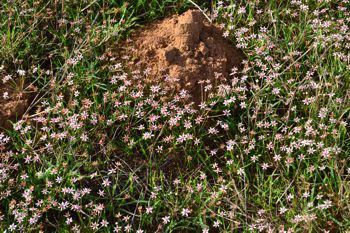 Uses
Use
Hessea mathewsii is best valued as a garden and indoor ornamental. Because of its small flowers, it has not received the admiration it should. Planting in groups or arranging pots close together may overcome this challenge and offer a beautiful display.
Growing Hessea mathewsii
Grow
Hesseas are suited to container cultivation, requiring bright sunlight and a sharply drained, gritty medium. The ideal pot size is 20–25 cm diameter. Drench well in winter, and keep dry in summer. Drench soil in early autumn and not again until after flowering or new leaves have sprouted. After which, drench every ten days to two weeks. Plant bulbs just below soil level.
Hessea mathewsii has a solitary bulb and produces copious seed. Propagation is best and quickest by sowing ripe seeds just below soil surface. Germination is almost immediate. Pot seedlings at the beginning of their third growing season. Expect flowers from the third season onwards. Hessea mathewsii is frost tender; plants can withstand temperatures down to 5°C. Below 5°C, protect plants from frost by moving them inside.
Mealy bugs often attack the bulbs, but an annual drench with insecticide, in early autumn, will prevent this.
References
Duncan, G. 2010. Grow bulbs. Kirstenbosch Gardening Series. South African National Biodiversity Institute, Cape Town.
Du Plessis, N. & Duncan, G. 1989. Bulbous plants of southern Africa: a guide to their cultivation and propagation. Tafelberg, Cape Town.
Kesting, D. & Clarke, H. 2001. Botanical names: what they mean. Ink and Print, Port Elizabeth.
Manning, J., Goldblatt, P. & Snijman, D. 2002. The color encyclopedia of Cape bulbs. Timber Press, Cambridge.
South African National Biodiversity Institute (SANBI): http://redlist.sanbi.org/species.php?species=2077-16 . Accessed February 2015.
Barker, W.F. 1931. Hessea mathewsii. Flowering Plants of South Africa 11: 404.
Credits
Brittany Arendse
CREW
March 2015
Plant Attributes:
Plant Type: Bulb
SA Distribution: North West, Northern Cape
Soil type: Sandy
Flowering season: Autumn
PH: Alkaline
Flower colour: White, Pink
Aspect: Full Sun
Gardening skill: Challenging
Special Features:
Good potplant
Indoor plant
Feeds honeybees
Wet sites
Horticultural zones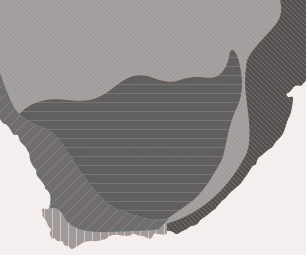 Zone 2 Coastal winter rainfall, frost free
Zone 3 Winter rainfall Karoo, light frost
Google QR Code Generator