Homalium dentatum (Harv.) Warb.
Family: Salicaceae
Common names: brown-ironwood (Eng.); bruinysterhout, basterwitstinkhout (Afr.); idlebelendlovu, umkhakhasi (isiZulu); igqabile, uphantsi-komnga, umgqamkuhulu, inkomanzi, igqabela (isiXhosa); umholompunzi (siSwati)
SA Tree No: 501
Introduction
When walking through the forest, it's easy to get consumed by the density of the trees and all you see is green plants; this can make it difficult to spot special trees. That is not the case with Homalium dentatum, this towering, 30 m tree with whitish truck is difficult to miss in the forest.
Description
Description
A tall and rather slender tree, with a sparse and poorly spreading crown, these are the most noticeable features of the brown-ironwood. It is a big forest tree, growing up to 30 m tall in its natural habitat. It is a deciduous tree, with a whitish, smooth trunk and bark that becomes brittle, flaky and dark grey on older trees. One cannot miss a matured Homalium dentatum tree because of its size and, of course, its growth form. The branches grow horizontally, and young branches appear dark brown, with many conspicuous pale lenticels.
Brown-ironwood saplings are often confused with those of White Stinkwood (Celtis africana). Even through the two trees do not belong to the same family, the texture, look and arrangement of their leaves indeed does look similar. Homalium dentatum has alternating leaves with bluntly toothed margins. Young leaves are narrowly ovate, the apex is also extended, they have a papery feel and are bright green. They look different compared to adult and older leaves, which are larger, roundish, with an abrupt drip tip and a rounded base, leathery, pale to dark green, faintly glossy because of the soft hairs which can be felt rather than seen on the upper side, while the underside is paler. Old leaves are coppery.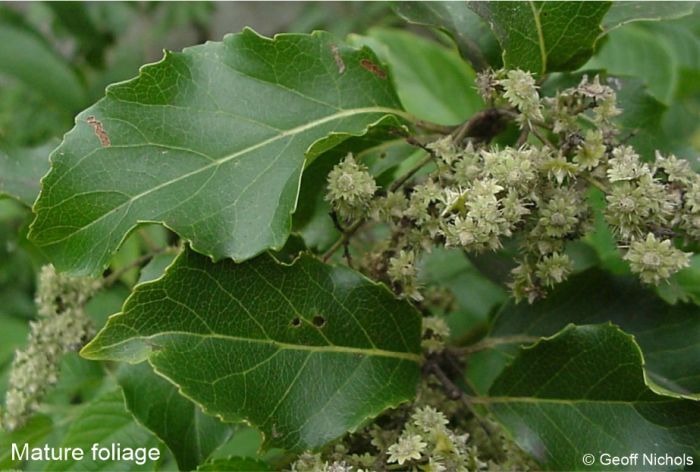 Idlebelendlovu has small, very strongly scented flowers. The flowers are creamy-green and fluffy, borne in branched heads in summer, between December and May. They are followed by a brown, conical fruit capsule that stays on the tree through winter and sometimes into early spring.
Conservation Status
Status
Homalium dentatum is Red Listed as Least Concern (LC). This species was automatically given this status and has not yet undergone a full assessment because it was not selected during screening for highlighting potential taxa of conservation concern.
Distribution and habitat
Distribution description
Homalium dentatum is a tree of eastern South Africa, with a distribution covering Limpopo, Mpumalanga, Kwazulu-Natal, Eastern Cape and our neighbouring countries of eSwatini and Zimbabwe. Brown-ironwood is a typical forest and scrub forest tree. In South Africa, this tree has a scattered distribution that extends from the coast to the midlands, from Pondoland to KwaZulu-Natal and the Kruger National Park. This is a scarce tree that mostly occurs on the hills and ridges, often in ravines and usually in thickets. Mature trees can tolerate moderate frost but saplings need protection.
Derivation of name and historical aspects
History
The genus Homalium is named for its stamens that are evenly divided into clusters, from the Greek homalus-, meaning 'even' or 'regular'. The species name, dentatum, refers to the leaf margins which are toothed or dentate.
Homalium dentatum is one of the 176 accepted species of the Homalium genus. The genus belongs to the Salicaceae family which is represented by 9 genera in southern Africa: Casearia, Dovyalis, Flacourtia, Oncoba, Pseudoscolopia, Salix, Scolopia, Trimeria, and of course Homalium.
There are only 2 species of Homalium in southern Africa, H. dentatum and H. rufescens (Small-leaf Brown-ironwood). A third Homalium species was previously recognised, H. chasei, but it was sunk into H. dentatum after extensive review of the description of the two species.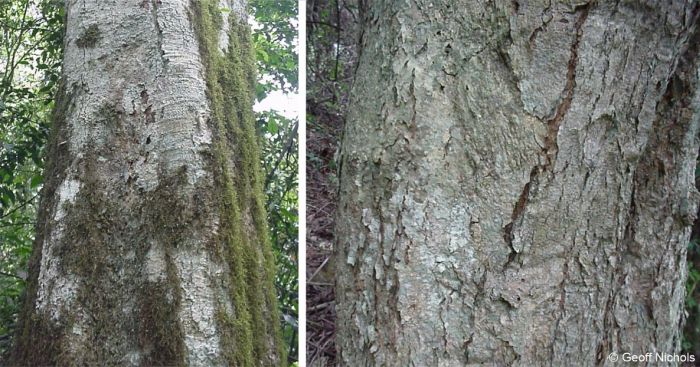 Ecology
Ecology
Through observation, trees are home to many birds that nest among its branches. Because the tree often grows in dense, wooded ravines, the slender form is much more common, the tree grows tall and slender to compete for sunlight in the forest. Forest trees support many epiphytic orchids and ferns.
As much as this tree grows in relatively warm areas, good rain is indispensable to the flowering season of this species. Buds do not open during drought periods. They will only open when good rain has been received. This has been observed during dry year where flower buds did not open during the months when they are expected to open until a good rain was received.
As far as observation has shown, wild animals do not utilize this tree. However, during the summer period, the tree is occasionally devastated by a plague of worms, after which they are leafless for some time.
Uses
Use
Homalium dentatum bark and roots are used to treat stomach disorders. Its wood is hard, cream with brown streaks, it polishes well and is used mostly as a general timber.
Growing Homalium dentatum
Grow
Homalium dentatum is not easy to find for sale in nurseries. It grows fairly quickly and is good tree for avenues, parks and large gardens, but is not suitable for small gardens. It can be propagated using both seeds and cuttings.
For seed propagation, after cleaning the seeds, sow them in spring, in a well-drained soil that can retain enough moisture, preferably 2 parts sand and 1 part peat. The soil should be kept moist throughout the germination and seedling phase, however, do not over water and make the soil soaking wet, but moist to allow enough oxygen in the soil. Germination can be observed approximately 14 days after sowing the seeds.
For propagation by cuttings, one can take stem cuttings as well as heel cuttings. The same soil medium as that used for germination can be used. Place the trays of cuttings on the warmed beds, rooting can be observed after approximately 21 days. Juvenile plants are sensitive to cold, and therefore need to be in an environment with controlled temperature.
References
Boon, R. 2010. Pooley's trees of eastern South Africa, a complete guide. Flora & Fauna Publications Trust, Durban.
Gibson, J.M. 1978. Wild flowers of Natal (inland region). The Trustees of the Natal Publishing Trust Fund, Durban.
Palmer, E. & Pitman, N. 1972. Trees of southern Africa. Balkema, Cape Town.
Plants of southern Africa online (POSA). http://posa.sanbi.org/sanbi/Explore. Accessed 2 Nov. 2021.
Plants of the World Online (POWO). Homalium Jacq. http://powo.science.kew.org/taxon/urn:lsid:ipni.org:names:329924-2. Accessed 2 Nov. 2021.
Raimondo, D., Von Staden, L., Foden, W., Victor, J.E., Helme, N.A., Turner, R.C., Kamundi, D.A. & Manyama, P.A. (eds) 2009. Red list of South African plants. Strelitzia 25. South African National Biodiversity Institute, Pretoria.
Schmidt, E., Lötter, M. & McCleland, W. 2002. Trees and shrubs of Mpumalanga and Kruger National Park. Jacana, Johannesburg.
Van Wyk, B. & Van Wyk, P. 2013. Field guide to trees of southern Africa. Struik Publishers, Cape Town, Johannesburg.
Van Wyk, B.-E. & Gericke, N. 2000. People's plants, a guide to useful plants of southern Africa. Briza Publications, Pretoria.
Van Wyk, P. 1974. Trees of the Kruger National Park. Purnell, Cape Town.
Credits
Mpho Mathalauga
KwaZulu-Natal National Botanical Garden
November 2021
Acknowledgements: the author thanks Geoff Nichols for the images.
Plant Attributes:
Plant Type: Tree
SA Distribution: Eastern Cape, KwaZulu-Natal, Limpopo, Mpumalanga
Soil type: Sandy, Loam
Flowering season: Early Summer, Late Summer
PH:
Flower colour: Green, Cream
Aspect: Full Sun, Morning Sun (Semi Shade), Afternoon Sun (Semi Shade)
Gardening skill: Average
Special Features:
Feature plant
Fragrant
Medical plant
Useful plant
Horticultural zones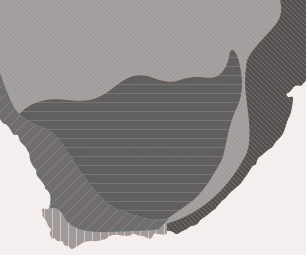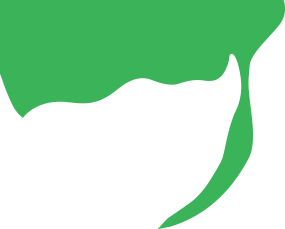 Zone 1 Coastal summer rainfall, frost free
Zone 5 Bushveld summer rainfall, Light frost
Google QR Code Generator