Hyobanche fulleri E.Phillips
Family: Orobanchaceae
Common names: Cat nails
Introduction
Hybanche fulleri is a striking parasitic plant with pale to bright pink flowers found only in dune scrub.
Description
Description
This is a parasitic herb that grows up to 130mm high. Its underground rhizome is fleshy and can be several meters in length, with its inflorescence often appearing far  from the host plant. Leaves are hairy, pressed close to the stem. Flowers are pale to bright pink, in oblong spikes, more or less 130mm long and 30mm wide, somewhat curved with mouth slits 10mm. Flowering period is spring, August to September.
Conservation Status
Status
Hyobanche fulleri is Red Listed as Critically Endangered. Populations of the species have been decreasing over the last 40 years, due to coastal developments and associated dune stabilization.
Distribution and habitat
Distribution description
This species has a narrow distribution. It is found only along the coast from Durban to Port Shepstone. At present it is known from three localities. It grows in sandy soils on south-facing slopes.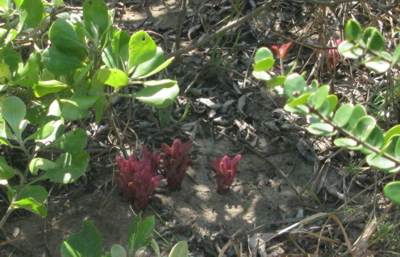 Derivation of name and historical aspects
History
The derivation of the genus name Hyobanche is not known, but the specific epithet fulleri is in honour of Mr Claude Fuller who was the second person to collect the plant. Hyobanche is an endemic genus to southern Africa. There are eight Hyobanche species  most of which are found in the Cape provinces of South Africa. Hyobanche fulleri is similar to H. rubra which has dense ±60×6mm flat-topped spikes of pink-red flowers and is found at high altitudes, in stony ground.
Ecology
Ecology
Species of the genus Hyobanche are found in sandy or rocky soils. Hyobanche fulleri attaches itself to roots of host plants using special organs called haustoria and depends entirely on host plants for water, mineral nutrients and photosynthesis products. According to Wolfe (2013), it is difficult to determine host species based on the proximity of other plants because the rhizome system of the parasite can be quite extensive. Records indicate that it parasitises Chrysanthemoides monilifera, but recent observations show that it also uses Eugenia capensis subsp. capensis as a host plant. No pollinator observations have been noted in literature and no pollinators were observed during a recent site visit to a H. fulleri population by the KwaZulu-Natal CREW (Custodians of Rare and Endangered Wildflowers) team.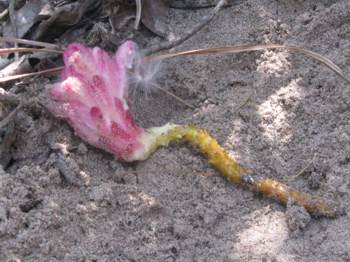 Uses
Use
Apart from their descriptions, little else is known about Hyobanche species. However, it has been reported that ink could be made from H. sanguinea.
Growing Hyobanche fulleri
Grow
There are no records of Hyobanche fulleri ever being cultivated in gardens. The plant is completely parasitic on other plants and will undoubtedly not be suitable for growing in gardens. Anyone wishing to try it should note that this host-specific parasitic species occurs on the coast and seems to prefer shade.
References
Cunliff, J. & Teicher, U. 2005. Botanical names and their meanings. Publisher, place of publication.
Phillips . 1923. Hyobanche fulleri . The flowering plants of South Africa 3: t. 89.
Pooley, E. 1998. A field guide to wildflowers KwaZulu-Natal and the eastern region. Natal Flora Publications Trust, Durban.
Wahlberg, C. 2013. Observations in the Species: Hyobanche fulleri. iSpot.
Wolfe, A. & Raimondo, D. 2008. Hyobanche fulleri E.Phillips. National Assessment: Red List of South African Plants version 2013.1. Accessed on 2014/01/27.
Wolfe, A.D. & Randle, C.P. 2001. Relationships Within and Among Species of the Holoparasitic Genus Hyobanche (Orobanchaceae) Inferred from ISSR Banding Patterns and Nucleotide Sequences. Systemic Botany 26(1): 120-130.
Wolfe, A. 2013. Hyobanche thinophila (Orobanchaceae), a new species from the Western Cape of South Africa. Phytotaxa 85(2): 56-60.
http://wolfelab.wordpress.com/hyobanche-research/
Credits
Hlengiwe Mtshali
CREW Programme: KwaZulu-Natal node
March 2014
Plant Attributes:
Plant Type: Parasitic
SA Distribution: KwaZulu-Natal
Soil type: Sandy
Flowering season: Spring
PH:
Flower colour: Pink
Aspect:
Gardening skill: Challenging
Special Features:
Horticultural zones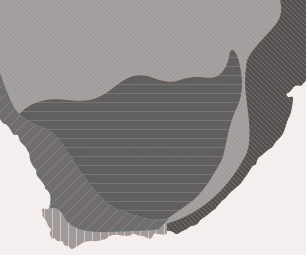 Zone 1 Coastal summer rainfall, frost free
Google QR Code Generator