Hypocalyptus sophoroides (P.J.Bergius) Baill.
Family: Fabaceae
Common names: red keur (Eng.); rooikeur (Afr.)
Introduction
 Hypocalyptus sophoroides is a graceful shrub producing lots of colour in spring along with a beautiful sweet fragrance.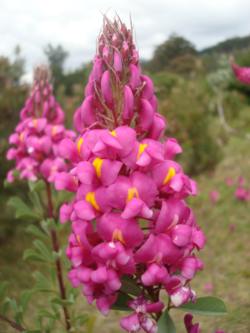 Description
Description
Shrubs with an upright branching habit growing 1-3 m tall. Immature soft stems are light green, turning red-brown on maturing. Grey-green leaves grow in threes along the stem.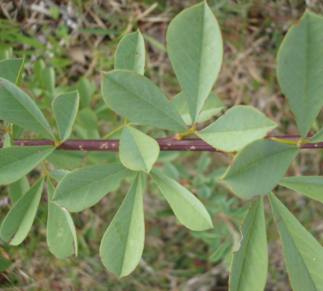 Flowers are bright magenta pink with yellow nectar guides. They are densely clustered in a pyramid shape along the tips of branches with 30 or more individual flowers per stem. They have a beautiful sweet fragrance, reminiscent of icecream. Flowering occurs in mid- to late spring (October to December). After pollination long oblong seed pods form.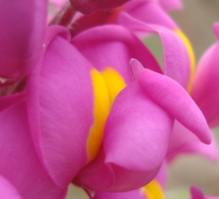 Conservation Status
Status
The rooikeur is listed as Least Concern, as the population is seen as stable. A detailed assessment is still to take place.
Distribution and habitat
Distribution description
Hypocalyptus sophoroides is a fynbos species growing on rocky sandstone slopes and along streamsides at altitudes of 60 to 1670 m. It favours cool sheltered positions, often being found in steep south-facing slopes and kloofs. It occurs in the southern Western Cape along the Paarl and Stellenbosch mountain ranges and stretches northwards to the Cedarberg and eastwards to the Little Karoo mountains.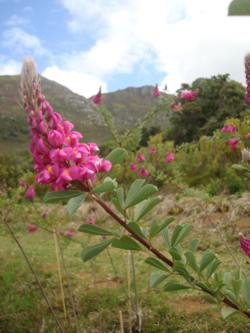 Derivation of name and historical aspects
History
Hypo- is a Greek word meaning 'beneath' and -calyptus originates from the Greek term 'kalypto ' meaning 'covered'. Sophoroides means resembling the genus Sophora , a name derived from the Arabic 'sophera', a 'pea-flowered tree'.
Hypocalyptus contains three species, namely H. sophoroides, H. coluteoides and H. oxalidifolius. They are all found in the southern Western Cape.
H. sophoroides looks very similar to H. coluteoides. The way to tell them apart is to examine the leaves: H. sophoroides leaves are widest at the tip while H. coluteoides leaves are widest in the middle.
Ecology
Ecology
The sweet fragrance and bright yellow nectar guides are produced to lure insects to pollinate flowers. Yellow is the most attractive colour for pollinating insects as it is a promise of food! As soon as flowers have been pollinated they fade and turn brown as they no longer need to attract insects.
Uses
Use
This plant currently has no economic use. It has huge horticultural potential as a showy landscape plant and hopefully will become commercially available soon.
Growing Hypocalyptus sophoroides
Grow
Propagate by seed in autumn, as cuttings do not root very readily. Place the seeds in hot water and leave to soak overnight; this will improve germination. Plant seed into trays filled with a well-draining medium like equal parts finely milled pine bark and coarse river sand. Cover lightly with medium. Water with a fungicide. Place the trays in a lightly shaded position that has good air circulation.
Seedlings germinate readily and need to be transplanted as soon as the first pair of true leaves appears. This is the tricky part, as they are very sensitive to any root disturbances. Prior to transplanting water well with Kelpak; this will help to reduce transplant shock. Very carefully remove seedlings from their tray trying not to break any of the tiny roots. Plant into small plug trays using a sandy, well-draining medium. Water again with Kelpak.
Grow plants on until they are about 100 mm tall, feeding every 2 months with a very dilute seaweed foliar feed. At this stagethey can be planted into the garden. Choose a spot where the soil remains cool or use thick mulch or ground cover planting. Water regularly. They are fast-growing and may require staking or companion planting that will provide support.
In the garden Hypocalyptus sophoroides combines well with soft-textured plants like Syncolostemon obermeyerae, Leonotis leonurus (white) and Tetradenia riparia. Its foliage is not very dense, so specimens can be dotted through the middle and towards the back of beds to provide seasonal interest and colour. Enhance its bright pink flowers by planting against dense green or grey background foliage.
Pests and disease don't seem to pose much of a problem in the garden. Weevils and small beetles are very quick to bore into the seeds while on the plant, so, if you want to collect seeds, harvest them as soon as the pods start turning brown.
References
Adams, T. & Zide, C. pers. comm . regarding propagation information
Bean, A. & Johns, A. 2005. Stellenbosch to Hermanus . South African Wild Flower Guide 5. Botanical Society of South Africa, Cape Town.
Dahlgren, R. 1972. The genus Hypocalyptus Thunb. (Fabaceae) . - Botaniska Notiser 125: 102-125.
Foden, W. & Potter, L. 2005. Hypocalyptus sophoroides (P.J.Bergius) Baill. National Assessment: Red List of South African Plants version 2012.1.
Goldblatt, P. & Manning, J.C. 2000. Cape Plants. A conspectus of the Cape flora of South Africa. Strelitzia 9. National Botanical Institute, Cape Town.
Website: Plants of southern Africa : an online checklist. http://posa.sanbi.org.
Website: Wikipedia : an online encyclopedia. http://www.wikipedia.org.
Credits
Louise Nurrish
Kirstenbosch National Botanical Garden
December 2012
Plant Attributes:
Plant Type: Shrub
SA Distribution: Western Cape
Soil type: Sandy, Loam
Flowering season: Spring
PH: Acid, Neutral
Flower colour: Pink, Yellow
Aspect: Full Sun
Gardening skill: Challenging
Special Features:
Attracts butterflies
Fragrant
Feeds honeybees
Horticultural zones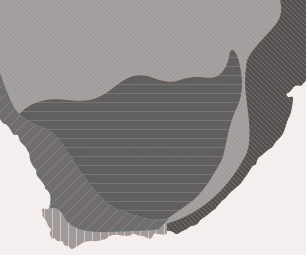 Zone 2 Coastal winter rainfall, frost free
Google QR Code Generator