Hypodiscus aristatus (Thunb.) C.Krauss
Family: Restionaceae
Common names: bristly pineapple reed, hedgehogs, needle reed (Eng.); naaldriet (Afr.)
Introduction
This beautiful tuft-forming restio, with its spikey inflorescences, is seen growing on the mountain slopes in Betty's Bay and would make an excellent addition to a fynbos garden.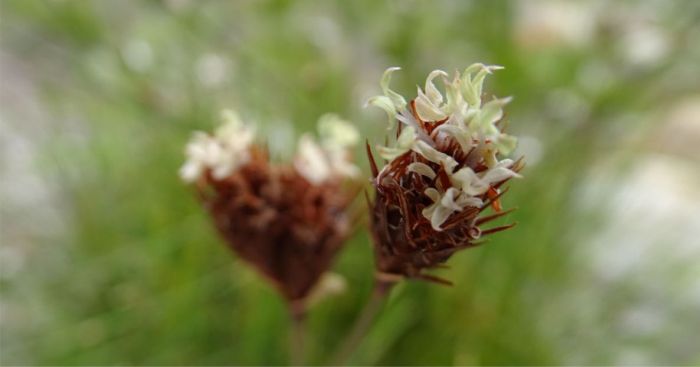 Description
Description
Hypodiscus aristatus is a tufted restio with a narrow base. There are many culms closely spaced on a short to medium-length rhizome. The culms can reach heights ranging from 300 mm to 1.2 m. The culms are smooth and the sheaths are persistent and loosely or tightly wrapped around the culms.
Plants begin flowering in autumn, from May. Both the male and female inflorescences have 1 to several spikelets per culm, with the spathes curved backwards. These spikelets, which are red-brown and are up to 20 mm long, develop at the stem-tips. The male and female spikelets are compact, spiky and spindle-shaped. On the male spikelet, there are many flowers. The spikelets vary in size, the female spikelet is slightly larger than the male with only 1 terminal flower each. They enlarge from flowering until the fruit ripens. Both male and female spikelets have bracts that are bony, spiky, pointed and longer than the flowers.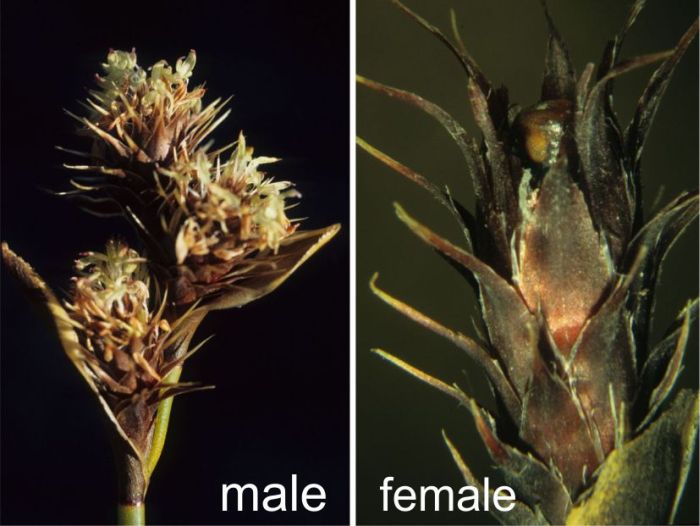 The female flower has a perianth consisting of membranous tepals and petals that are as long as the sepals. The flower produces 2 fluffy red styles and a 1-chambered ovary. It only produces 1 smooth and shiny nutlet, which is 8 mm long and rounded in cross section. This nutlet sits on a pale green elaiosome.
Conservation Status
Status
Hypodiscus aristatus is assessed as Least Concern (LC) on the Red List of South African plants.
Distribution and habitat
Distribution description
Hypodiscus aristatus is widespread, occurring from Clanwilliam and the Cape Peninsula in the Western Cape, to Baviaanskloof and Humansdorp in the Eastern Cape and is found growing in well-drained, sandy soil on rocky mountain sides. It occurs from sea level up to 1 900 m above sea level.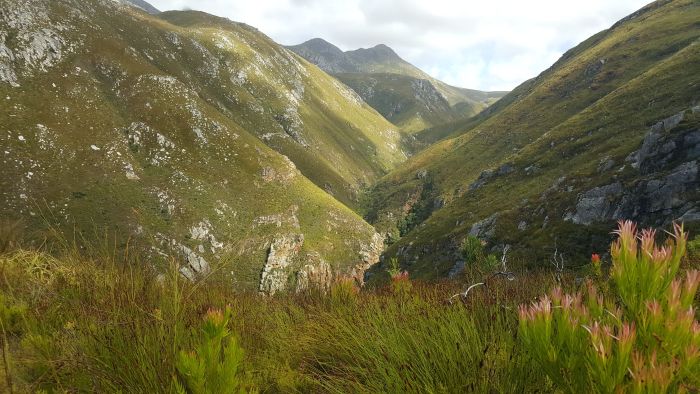 In the Western Cape, where plants grow in fynbos vegetation, it experiences a Mediterranean climate. Summers are hot and dry, whereas winters are cold and wet. The average temperatures range from 15ºC to 27ºC, but where it grows on mountain tops or further inland, it could be subjected to more extremes in temperature. Conditions inland are usually drier and hotter and there is a lower rainfall level than at the coast. Moving into the Eastern Cape, plants will receive a summer rainfall.
Derivation of name and historical aspects
History
The genus name Hypodiscus is made up of the Greek prefix hypo-, meaning 'below' or 'beneath' and diskos, meaning 'disc'. It refers to the toothed or lobed disc that crowns the ovary in some species. There are 15 species in the genus. Hypodiscus was described as a group in the Restionaceae in 1836 and the entire genus is endemic to the Cape Provinces in South Africa.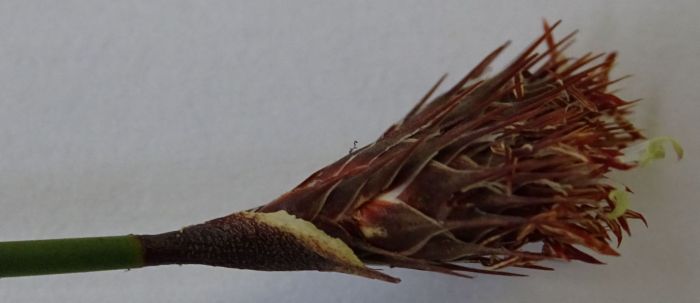 The species name aristatus is Latin and means 'awned'. An awn is a bristle-like appendage, often seen in grasses, and which give this species its bristly inflorescences.
The Restionaceae is a 'southern' plant family as it is found on all of the southern continents. There are roughly 350 species in Africa, mostly found in the Western Cape, 150 species in Australia, 4 species in New Zealand, 1 species in South America and 1 species in South East Asia.
Ecology
Ecology
Hypodiscus aristatus is dioecious. This means that the male and female reproductive organs are found on different plants. The nut-like seeds have an elaiosome attached to them which attracts ants. Once the seeds are released onto the soil surface, they are soon found by ants who carry them down into their underground nests and consume the elaiosome, leaving the hard, nut-shelled seed behind. In this way the seeds are kept safe from fire. The seeds are kept safe from bacteria and fungi by the hormones secreted by the ants.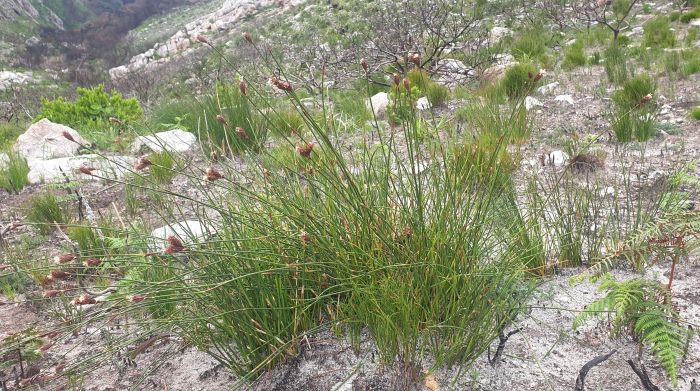 These plants are also capable of resprouting after a fire.
Uses
Use
This plant has no known medicinal or cultural uses, but does have horticultural potential as a garden ornamental.
Growing Hypodiscus aristatus
Grow
Propagation of Restionaceae is done by seed. Seeds are sown in late autumn or early winter when day temperatures are between 15 and 20ºC and night temperatures are between 5 and 10ºC.
Seed trays are filled with a soil mix made up of equal amounts of bark, coir and sand. Nut-fruited restio species can be difficult to germinate. One suggestion is to heat fruits to 120ºC for 3 minutes before treating with the smoke extract. Seeds are smoke treated, either by using Smoke Seed Primer prior to sowing, or soaked in the seed primer for 24 hours. Seed can also be soaked at high temperature and then smoked once they are sown, by placing the seed trays in a 'tent' covered with plastic where Fynbos smoke, produced by burning wet and dry fynbos plants, is channeled into the tent. These trays with the already sown seeds are left overnight to allow the smoke to settle into the soil and removed from the tent the following day. Germination can take place anywhere from 3 to 6 weeks after sowing.
Once plants are 2 years old, they can be planted into the soil, in a well-drained, sunny area in the garden. Planting should preferably be done in the winter months to help reduce unnecessary water usage and make use of the natural rainfall, but during the summer months, additional water needs to be given for up to 2 years after planting. Once plants are established, watering can be reduced.
References
Bean, A. & Johns, A. 2005. Stellenbosch to Hermanus. South African Wild Flower Guide 5. Botanical Society of South Africa, Cape Town.
Brown, N.A.C. & Duncan, G.D. 2006. Grow fynbos plants. Kirstenbosch Gardening Series. South African National Biodiversity Institute, Cape Town.
Clarke, H. & Charters, M. 2016. The illustrated dictionary of southern African plant names. Flora & Fauna Publications Trust, Jacana, Johannesburg.
Dorrat-Haaksma, E. & Linder, H. P., 2000, Restios of the Fynbos, The Botanical Society of South Africa
Foden, W. & Potter, L. 2005. Hypodiscus aristatus (Thunb.) C.Krauss. National Assessment: Red List of South African plants version 2017.1. Accessed on 2019/09/18.
Jackson, B.D. 1900. A glossary of botanical terms. Edition 4. Hafner Publishing Co., New York.
Latti,I. 2019. Hypodiscus aristatus, a male plant. Operation Wildflower. Internet. https://www.operationwildflower.org.za/index.php/component/joomgallery/fynbos/hypodiscus-aristatus-male-thabo-4-6740. Accessed on 2019/09/19.
Snijman, D.A. (ed.). 2013. Plants of the Greater Cape Floristic Region 2: The Extra Cape Flora. Strelitzia 30. South African National Biodiversity Institute, Pretoria.
Trinder-Smith, T.H. 2003. The Levyns Guide to the plant genera of the south western Cape. Bolus Herbarium, UCT, Red Roof Design CC, Cape Town
Credits
Karen Wall
Harold Porter National Botanical Garden
November 2019
Plant Attributes:
Plant Type: Restio
SA Distribution: Eastern Cape, Western Cape
Soil type: Sandy, Loam
Flowering season: Autumn
PH: Acid
Flower colour: Brown, Cream
Aspect: Full Sun
Gardening skill: Average
Special Features:
Drought resistant
Feature plant
Horticultural zones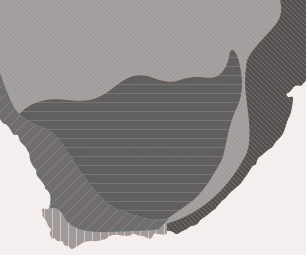 Zone 1 Coastal summer rainfall, frost free
Zone 2 Coastal winter rainfall, frost free
Zone 3 Winter rainfall Karoo, light frost
Google QR Code Generator