Hypoxis membranacea Baker
Family: Hypoxidaceae
Common names: small white star flower
Introduction
A remarkable and delicate, small, white-flowered hypoxis, well suited to small gardens, in moist areas.
Description
Description
Hypoxis membranacea is a small, deciduous, clump-forming, bulbous plant, 40–100 mm tall, but in suitable conditions it grows rapidly and can grow up to 140 mm tall. Corm whitish, 4–5 mm in diameter. Leaves are lanceolate (tapering to a point at each end), 5–140 × 8–20 mm, pale green, covered with scattered white hairs, almost translucent when young, midrib not prominent and margin entire (without indentations). Inflorescence with 1 or 2, thin, forked flowering stems with 1 to 3 flowers per pedicel. Flower buds hairy. Flowers are small, ± 15 mm in diameter, pure white, with 6 petals. Anthers 6, on slender, threadlike filaments. Stigma with superior ovary. Flowering in late spring to mid-summer (October to January in the southern hemisphere).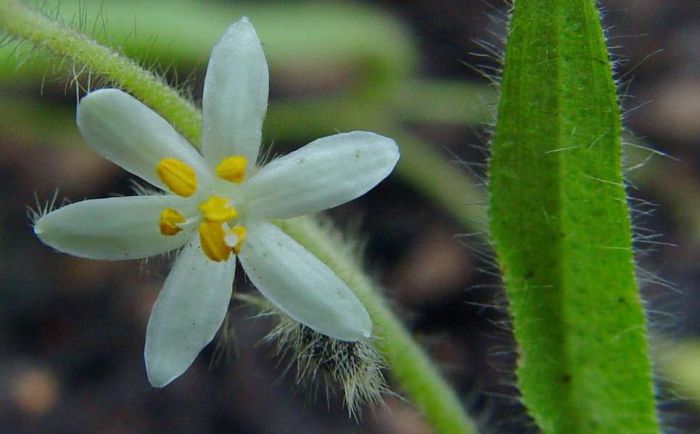 Conservation Status
Status
Hypoxis membranacea was not selected in any of 4 screening processes for highlighting potential taxa of conservation concern for detailed assessment and was, therefore, given an automated status of Least Concern (LC). The South African National Biodiversity Institute Threatened Species Programme is currently systematically completing full assessments for this species. 
Distribution and habitat
Distribution description
Hypoxis membranacea occurs in swampy areas, grasslands, mistbelt forests and on lower mountain slopes. In South Africa its distribution range is limited to the Eastern Cape and KwaZulu-Natal, with some populations in uMtamvuna Nature Reserve.  Populations also occur in Lesotho. This species thrives in a sub-tropical climate in a summer-rainfall region, with average annual rainfall of 843 mm and average temperatures of 17.3ºC and frost is rare. Regardless of the climatic conditions, this species can grow in gardens outside of these regions, provided that it is in moist loam soil in partial shade.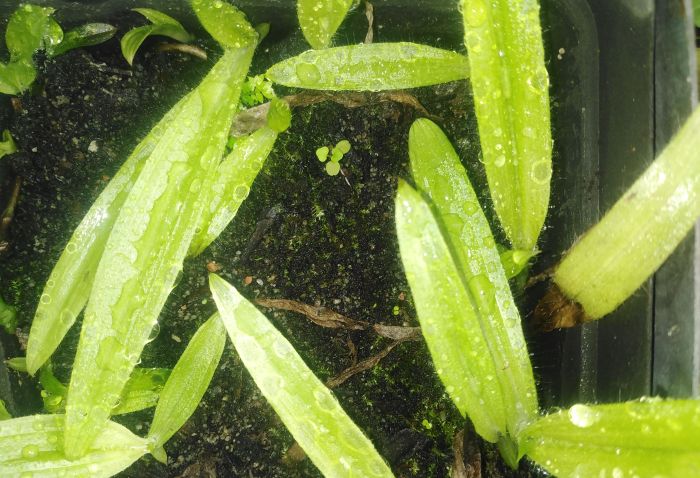 Derivation of name and historical aspects
History
The name Hypoxis is derived from a Greek word hypo, meaning 'below' and oxys, meaning 'sharp' or 'pointed' and referring to the pointed base of the ovary or fruit. The species name membranacea refers to the thin leaves which are almost translucent and delicate. 
The star flower family, Hypoxidaceae, is relatively small, with 6 of its 9 genera occurring in southern Africa. Hypoxis is the largest genus. The number of genera in the world is 9 with 130 species, and in southern Africa there are 6 genera with 82 species. The flagship species in this family is H. hemerocallidea, which is very common in the Eastern Cape and well known for its medicinal use.
Ecology
Ecology
Grasslands are adapted to wild fires and, like many members of the family, Hypoxis membranacea is deciduous and can survive grassland fires. During the fire season it becomes dormant, with the corm escaping the flames by lying underground and eventually re-sprouting after the fire. The flowers are pollinated by solitary and honey bees. When the fruit is ripened, the capsule of Hypoxis, called a pyxis, splits along its diameter, leaving the bottom part exposed, with the small black seeds ready for dispersal.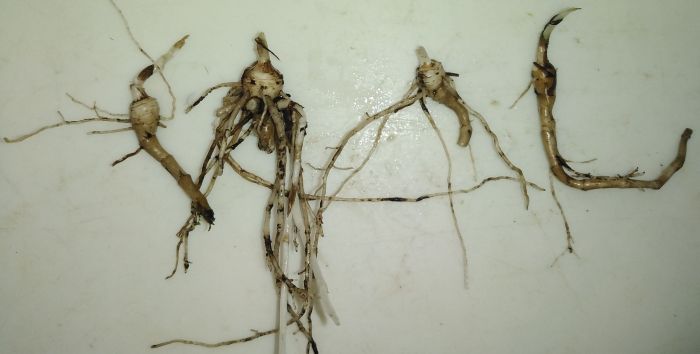 Uses
Use
Hypoxis membranacea is one of the lesser known members in the Hypoxidaceae and, therefore, is not popular in the horticultural trade, but it shows great potential as a commercial garden plant. No records indicate the use of the species either traditionally or commercially. Many members of the family such as H. hemerocallidea, H. sobolifera and H. stellipilis are used to treat cancer, diabetes and to boost the immune system for people living with HIV and AIDS. 
Growing Hypoxis membranacea
Grow
Hypoxis membranacea can be propagated asexually and sexually by means of dividing corms and seed sowing. Seeds have high vigour, and therefore, respond very well in cultivation. Sow seeds in summer, on soil mix of sifted fine bark, river sand and sifted compost (3:2:1), or one can use just loam soil. Prepare the seed tray by adding about 1 cm of coarse bark at the bottom of the seed tray to aid drainage, follow up by adding the soil mix and slightly compact the top surface of the mix to prevent uneven growth. No pre-treatment is required, broadcast the seeds direct on the surface, once that is done put a soft spray of water mixed with a sterilizing agent to eradicate any potential pathogens in the soil, such as bacteria, fungi or virus. Place in a cool area with moderate light for germination. Seeds should start germinating in 1 to 2 weeks. 
Dividing corms is one of the best propagation methods for this species; this is best performed in winter. Prepare a general mix including fine bark, river sand and compost (2:1:1), this includes braking off the corms from each other. Divide the corms preferably on mature plants. Transplant the corms to pots or bags preferably 9 cm to 15 cm. Add coarse bark on the bottom of the pot again to improve drainage and add the mix and insert the corms just below the soil mix and not too deep. Place the transplanted corms in light shade with moderate watering, keep the soil moist, but not waterlogged. The leaves should be sprouting within 3 to 4 weeks. 
There are no records of pests or disease attacking H. membranacea, but there are potential threats which have been found on other species in the family. Threatening pests such as African bollworm (Helicoverpa armigera) is often found in H. hemerocallidea attacking the seed pod and damaging the leaves.
References
Foden, W. & Potter, L. 2005. Hypoxis membranacea Baker. National Assessment: Red List of South African plants version 2017.1. Accessed on 2020/05/15.
Koekemoer, M., Steyn, H.M. & Bester, S.P. 2015. Guide to Plant Families of southern Africa. Strelitzia 31. 2nd ed., 2nd print. South African National Biodiversity Institute, Pretoria, South Africa.
Mofokeng, M.M., et al. 2020. Diversity and conservation through cultivation of Hypoxis in Africa—a case study of Hypoxis hemerocallidea. Diversity 12: 122. doi:10.3390/d12040122.
Pooley, E. 1998. A field guide to wild flowers Kwazulu-Natal and the eastern region. Natal Flora Publications Trust, Durban.
Singh, Y. 2004. Hypoxis L. (Hypoxidaceae). PlantZAfrica. Online. http://pza.sanbi.org/hypoxis
Credits
Mpendulo Gabayi
Kirstenbosch National Botanical Garden
June 2020
Acknowledgements: the author thanks Geoff Nichols and Toshiaki Ohgi for supplying images of Hypoxis membranacea in flower.
Plant Attributes:
Plant Type: Bulb, Ground Cover
SA Distribution: Eastern Cape, KwaZulu-Natal
Soil type: Clay, Loam
Flowering season: Spring, Early Summer, Late Summer
PH:
Flower colour: White
Aspect: Shade
Gardening skill: Easy
Special Features:
Good potplant
Feeds honeybees
Horticultural zones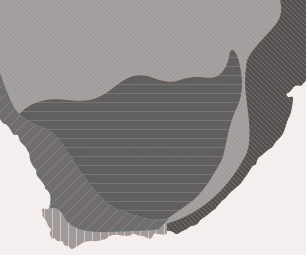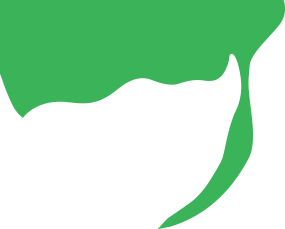 Zone 1 Coastal summer rainfall, frost free
Zone 2 Coastal winter rainfall, frost free
Zone 5 Bushveld summer rainfall, Light frost
Google QR Code Generator