Impatiens hochstetteri subsp. hochstetteri
Impatiens hochstetteri Warb. subsp. hochstetteri
Family: Balsaminaceae
Common names: wild balsam, common wild forest impatiens (Eng.); kruidjie-roer-my-nie (Afr.); ihlula, umadolwane (Zul.).
Introduction
An attractive, soft and delicate, sparsely leafy annual or perennial herb, suitable for small gardens in moist soils, in humid, light to deep shade areas.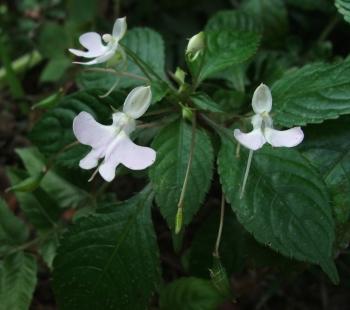 Description
Description
Impatiens hochstetteri subsp. hochstetteri is about 500 mm tall, with glossy, dark green foliage. Stem is very delicate and soft and can easily break when not handled properly, purplish red and green on the new growth. Leaves are ovate, thinly hairy; margins scalloped (roundly toothed); prominent (noticeable) midrib with attenuate apex (drawn into a long point) and decurrent base (blade extending down the petiole).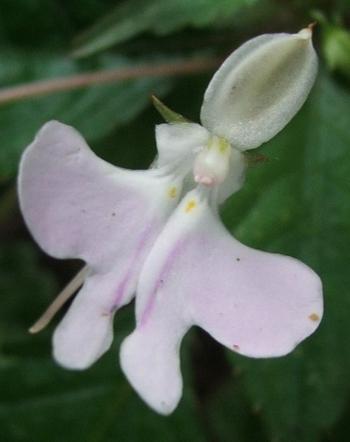 Flower shape is butterfly-like, with 2-lobed lower petals and a thread like spur, 10–24 mm long Flowers are pale pink or mauve, with yellow blotches in the centre of the flower, 20 mm in diameter, flowering all year round. Fruit explodes open.
Conservation Status
Status
Impatiens hochstetteri subsp. hochstetteri has not been selected for assessment in any of the 4 screening processes for potential conservation concern; therefore, this species has received an automated status of Least Concern (LC).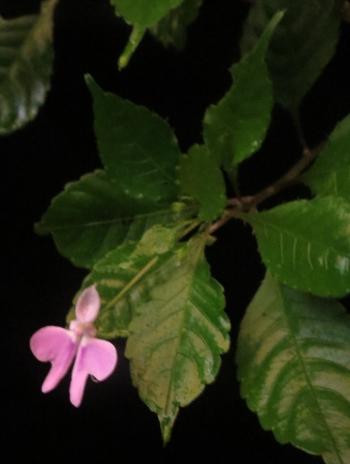 Distribution and habitat
Distribution description
Grows in forest patches in humid, moist areas along streams, in the leaf litter of the forest, in forest understory, in the streams, in areas with no frost, in southeastern and tropical Africa. In South Africa, I. hochstetteri is widely distributed from George in the Western Cape, with localities in parts of the Eastern Cape, including Port Elizabeth, around Adelaide and Bedford areas, and continues up to Pondoland, spreading through KwaZulu-Natal, Mpumalanga, an abundant population in Limpopo and to the Woodbush Forest Reserve in Tzaneen.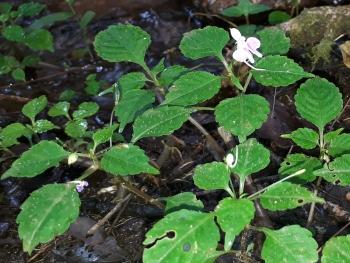 Derivation of name and historical aspects
History
The genus name Impatiens is derived from the Latin word impatiens, meaning 'impatient', referring to the bursting of the seed pod and forceful scattering of the seeds. This species is named after Christian Gottlieb Ferdinand von Hochstetter (1829–1884), German geologist, anthropologist and plant collector at the Cape in 1857.
The family Balsaminaceae consists of 2 genera, Hydrocera and Impatiens, the latter with 1 385 species spread throughout the tropics of the world and 4 species in southern Africa, and Hydrocera with a single species occurring in Asia.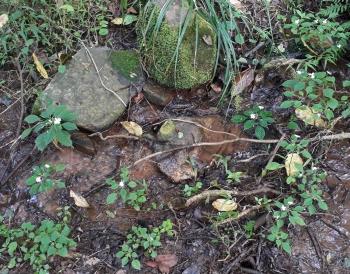 Ecology
Ecology
Impatiens hochstetteri grows in the humid, moist floors of subtropical forest in the summer rainfall region, with minimum annual rainfall of about 881 mm. When the seeds are ready, they pop out forcefully by a slight touch or movement and spray out and are distributed by the flow of water in the forest streams.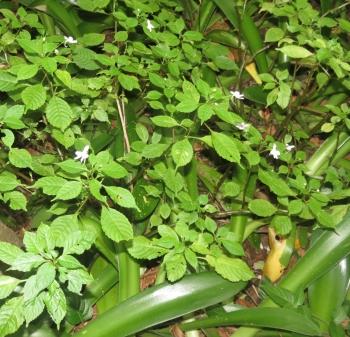 Uses
Use
A leaf and stem infusion is used as a traditional medicine for dealing with eczema. When planted en masse in shady spots, it makes a great ground cover. 
Growing Impatiens hochstetteri subsp. hochstetteri
Grow
Wild balsam grows fast when planted in suitable conditions, such as cool, shady areas next to a water feature or stream where there is flowing water. Responds very well in protected areas where there is no disturbance, such as trampling from passing foot traffic.
Wild balsam is best propagated by cuttings and even better from seeds. Take cuttings from a healthy, disease-free mother stock, preferably early morning when the plant is at its full vigour. Use a sharp blade, as a blunt secateur might damage the delicate stem. Make a cutting of about 10–15 cm, cut below the node and use a rooting hormone powder for better rooting. Place the cuttings in a warm area at about 20–25ºC, with free-flowing, but humid moist air. Cuttings should start rooting after 4 to 5 weeks. When sufficient roots have been formed, transplant into  plant bags using a general mix of 2 parts sand, 2 parts fine bark and 2 parts compost (2:2:2).
This species and all other plants in its family, are susceptible to spider mites, specially when kept in controlled environment, such as the glasshouse. Symptoms can be identified by looking at deformed leaves or curling leaves with yellow dots, sometimes with webs underneath the leaves. The spider mite can be spotted by using a magnifying glass. The pests can be controlled by using available miticides on the markets, preferably non-toxic to humans and the environment.
References
Grow Wild: Impatiens hochstetteri. http://growwild.co.za/trees/impatiens-hochstetteri - accessed 26/02/2018.
Manning, J. 2009. Field guide to wild flowers of South Africa. Struik Nature, Cape Town.
Plants of southern Africa: an online checklist. http:posa.sanbi.org, accessed 26/02/2018
Pooley, E. 1998. A field guide to wild flowers Kwazulu-Natal and the eastern region. Natal Flora Publications Trust, Durban.
Raimondo, D. et al. 2009. Red list of South African plants. Strelitzia 25. SANBI (South African National Biodiversity Institute), Pretoria.
Credits
Mpendulo Gabayi
Kirstenbosch National Botanical Garden
April 2018
 
Plant Attributes:
Plant Type: Perennial
SA Distribution: Eastern Cape, KwaZulu-Natal, Limpopo, Mpumalanga, Western Cape
Soil type: Sandy, Loam
Flowering season: Sporadic/All year
PH: Acid, Neutral
Flower colour: Pink, Mauve/Lilac
Aspect: Shade, Morning Sun (Semi Shade)
Gardening skill: Average
Special Features:
Good potplant
Indoor plant
Medical plant
Wet sites
Horticultural zones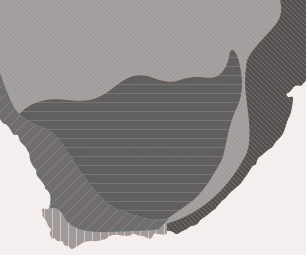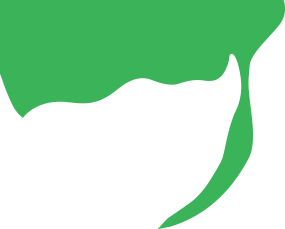 Zone 1 Coastal summer rainfall, frost free
Zone 2 Coastal winter rainfall, frost free
Zone 5 Bushveld summer rainfall, Light frost
Google QR Code Generator