Indigofera langebergensis
Indigofera langebergensis L.Bolus
Family: Fabaceae
Common names: Langeberg indigo (Eng.); Langebergseverfbos (Afr.)
Introduction
An attractive, robust, pea family shrublet, with purple-pink flowers, and much horticultural potential that will make a worthy addition to any garden.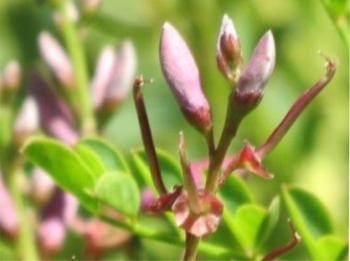 Description
Description
Indigofera langebergensis is a semi-deciduous or evergreen, resprouting shrublet, that grows from 0.3 to 2 m tall. It has a smooth, green, semi-soft stem and is multi-stemmed and well-branched.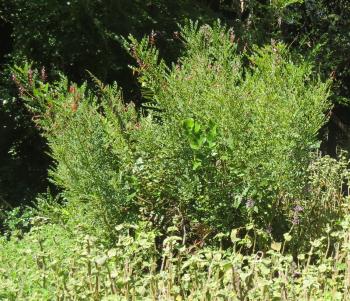 The leaves are compound, 50–150 mm long, with leaflets that occur in pairs of 7–11, including a terminal leaflet. The leaflets are flat, obovate to cordate (heart-shaped), pale green, with distinctive pinkish red edges.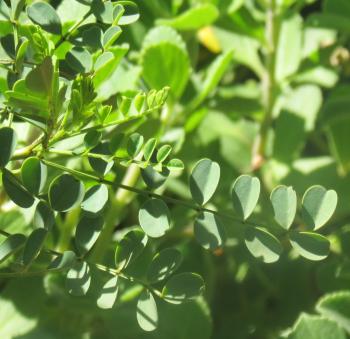 It bears flowers in racemes in the leaf axils. The flowers are rose-pink with a white tinge in the center at the base of the standard petal and sometimes across the wing petals too, and are borne in summer and autumn (Sep. –Apr.).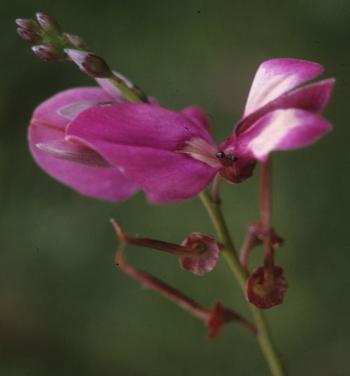 The flowers are followed by smooth, fleshy, green, cylindrical pods that ripen to reddish brown.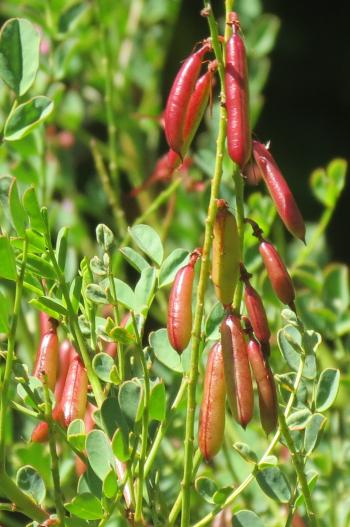 Conservation Status
Status
Indigofera langebergensis is not threatened as far as available information can ascertain, and is, therefore, assessed as Least Concern (LC) in the Red List of South African plants.
Distribution and habitat
Distribution description
The Langeberg indigo is endemic to the Western Cape. It occurs on sandy and rocky soils in Mountain Fynbos, at 330–500 m altitude in the Langeberg Mountains, from Montagu to Heidelberg.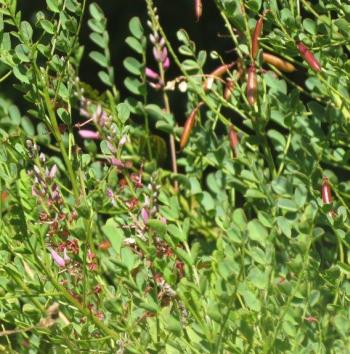 Derivation of name and historical aspects
History
Indigofera is a large genus of flowering plants and has over 750 species, with 210 occurring in southern Africa. The name Indigofera means 'bearing indigo', a purple dye. The specific name langebergensis, means 'of the Langeberg', which is the place where this plant originates from. This name is from Dutch and means 'long mountain'.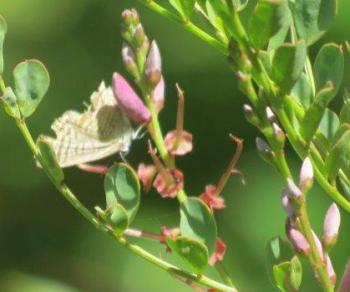 Ecology
Ecology
The flowers of I. langebergensis, like most of the species from this genus, attract butterflies and ants and other small insects.
This plant is a resprouter, which is one of the common strategies used by fynbos plants to survive fires, which are quite frequent in fynbos. If a fire burns through the vegetation, the plant burns and appears to be dead, but its rootstock survives underground and sends up new shoots after the fire. Resprouters are typically multi-stemmed at the base.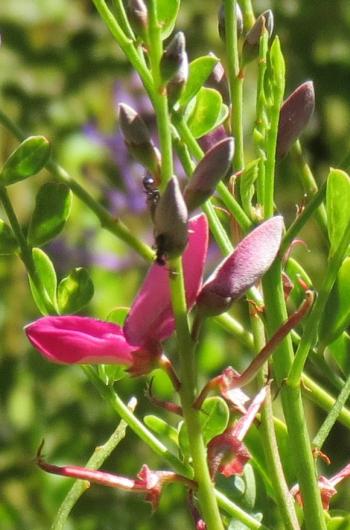 Uses
Use
There are no known cultural or medicinal uses for this species. Previous articles about other plants in the genus Indigofera, indicate that some species from this genus have medicinal uses, such as helping with infertility and menstrual cramps, as well as one which is believed to even be able to change the sex of a baby before birth. Another species has its twigs used as toothbrushes and its sap used as mouthwash.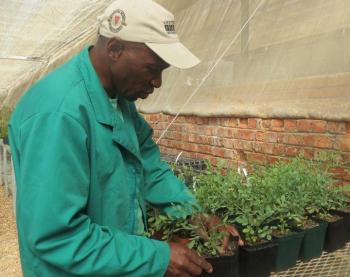 Growing Indigofera langebergensis
Grow
For most members of the Fabaceae, propagation by seed is the best method and vegetative propagation tends to be difficult, and this holds true for this plant. Sow seeds in autumn, place in a warm spot and keep moist. After germination, the seedlings should be potted up into individual bags/pots as soon as the first pair of true leaves appears. At Kirstenbosch National Botanical Garden, the general soil mixture is used, consisting of 4 parts compost, 3 parts milled bark and 1 part sand. A foliar feed is recommended at least once a month with a liquid fertilizer, as a well as a granular feed every second month, as soon as plant starts establishing. Nip the tips of the branches when it is young to promote a more compact growth. This plant grows well in full sun and in well-drained soils.
For this plant to make a good impact in a border, mass planting is recommended, plus, its height makes it the ideal plant for creating a nice screen to hide those unwanted walls. It looks attractive planted amongst other tallish shrubs, as it is semi-deciduous. The flowers are quite attractive and attract butterflies. One can also use this plant in bird-attracting and wildlife-friendly gardens. It is also well suited to fynbos gardens and is water-wise when established.
At Kirstenbosch you will find this plant growing in the sunny embankment in the Arboretum and in the Mathews Rockery.
References
Kamundi, D.A. & Victor, J.E. 2002. Indigofera langebergensis L.Bolus. National Assessment: Red List of South African plants version 2017.1. Accessed on 2017/04/24.
Manning, J.C. & Goldblatt, P. 2013. Plants of the Greater Cape Floristic Region. 1: The Core Cape Flora. Strelitzia 29. South African National Biodiversity Institue, Pretoria.
Website: Random Harvest, Indigofera frutescens. http://www.randomharvest.co.za/South-African-Indigenous-Plants/Show-Plant/PlantId/66?Plant=Indigofera%20frutescens#sthash.ZgJj2bXe.dpuf, Accessed 24 April 2017.
Website: Wikipedia, Indigofera. https://en.wikipedia.org/wiki/Indigofera, Accessed 24 April 2017.
Website: Wild colours, indigo history. http://www.wildcolours.co.uk/html/indigo_history.html, Accessed 24 April 2017.
Website: Word finder. https://findwords.info/term/langeberg, Accessed 24 April 2017.
Credits
Sisanda Alakhe Velembo-Mhlauli
Kirstenbosch National Botanical Garden
May 2017
Plant Attributes:
Plant Type: Shrub
SA Distribution: Western Cape
Soil type: Sandy, Loam
Flowering season: Early Summer, Late Summer, Autumn
PH: Acid
Flower colour: Purple, Pink
Aspect: Full Sun, Morning Sun (Semi Shade), Afternoon Sun (Semi Shade)
Gardening skill: Average
Special Features:
Attracts butterflies
Hedge/screen
Horticultural zones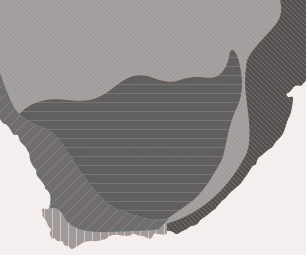 Zone 2 Coastal winter rainfall, frost free
Zone 3 Winter rainfall Karoo, light frost
Google QR Code Generator