Indigofera natalensis Bolus
Family: Fabaceae
Common names: forest indigo (Eng.); bos-verfbos (Afr.); umsitshane (IsiXhosa); insiphane encane (IsiZulu)
SA Tree No: 225
Introduction
Indigofera natalensis is a delicate and attractive shade-loving tree with dainty white sprays of flowers in summer, followed by slender, reddish brown pods that dangle from the branches in autumn.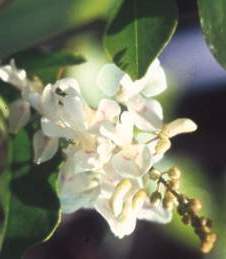 Description
Description
A shrub or slender tree up to 1-3 m with pale grey bark. The leaves are shiny, dark green and compound: they are composed of one to two pairs of leaflets and a terminal leaflet with a drip tip. The flowers are small white occasionally tinged with mauve, and borne on short, delicate sprays from December to March. The fruits appear from May to June and are cylindrical, red-brown pods which release seed by splitting open along the seams, spiralling as they dry out.
Distribution and habitat
Distribution description
Indigofera natalensis is found naturally in dense understorey shade as a prolific forest shrub, usually in coastal and lowland forests where it often grows thickly along the paths. Occurs naturally only in Transkei (Eastern Cape) and KwaZulu-Natal (Zululand).
Derivation of name and historical aspects
History
Indigofera means bearing indigo. This is a purple-blue dye that is obtained from several species of the genus. Indigofera is a large genus, common to tropical and subtropical regions, with over 200 species widespread in southern Africa.
This genus occurs in the pea-flower subfamily of the large legume family, Fabaceae, which includes more than 700 species ranging from perennial herbs to dwarf shrubs and includes only a few trees.
Another noteworthy member is Indigofera jucunda : a shrub or small, graceful tree (4-7 m). It also has grey bark and leaves that are dark green and compound with leaflets, but in this plant they occur in pairs of 4 to 7 with a terminal one. Flowers are small, pink or white and sweetly scented. They are borne from December through to April in clusters on lovely, dainty spikes. Similar smooth, reddish brown, cylindrical pods occur from May to July.
Ecology
Ecology
Butterflies are attracted to Indigofera as several species breed on members of this genus.
Uses
Use
This plant has great horticultural potential as it is a neat and pretty, shade-loving garden plant, easily grown from seed.
The wood of Indigofera natalensis is used for fuel and for fence supports.
The genus Indigofera has long been used in trade because a few of the species yield the dye indigo, particularly a species from the East Indies, I. tinctoria. Indigo is one of the oldest colouring agents known to man and it gives a light purple to mauve colour. The leaves are the main source of the dye although roots are sometimes also used.
Growing Indigofera natalensis
Grow
This very dainty and delicate shrub or small tree is a must for all frost-free gardens. It is also easy to grow and best placed in light to deep shade. Plant as a single specimen, in groups, or repeat plants throughout the bed/garden. Indigofera natalensis is found naturally in forest understorey and so copes well when planted near or under other larger trees where other plants often struggle to grow. Given a thick, regular layer of compost mulch, it will grow in any soil and only requires additional watering in summer and in dry conditions. Indigofera forms neat bushes, and so requires little or no pruning; if it is necessary to do a little trimming/shaping, then do it in late winter after the plant has finished flowering.
It will do very well as a container plant in tubs on a shady patio, also in a shaded corner of a courtyard or on covered balconies, and prefers warm growing conditions to cold. It will become deciduous if exposed to cold or frost.
The seeds germinate easily, sow in autumn or spring, in a well-drained soil mix and cover lightly with the sowing medium or milled bark. Soak the seeds in warm water and leave overnight to speed up germination. To prevent pre- and post-emergence damping off, the seed should be treated with a fungicide prior to sowing, or watered with a fungicide immediately after sowing. Transplant the seedlings after the first pair of true leaves has emerged, or when they are large enough to handle, into individual bags/pots. Feed moderately with a liquid fertilizer and water generously. Plant the young trees into a permanent location in full or semi-shade. They need good, light soil and plenty of water, particularly during their first two to four years. The growth rate of the seedlings is medium to fast and flowering can be expected within 4-5 years.
As with most Fabaceae, growing Indigofera natalensis is quite difficult from cuttings. It is best grown from seed, or as it often forms suckers, these may be cut off from the parent plant and transplanted as a method of propagation.
References
Coates Palgrave, M. 2002. Keith Coates Palgrave Trees of southern Africa, edn 3. Struik, Cape Town.
Germishuizen, G. & Meyer, N.L. (eds). 2003. Plants of southern Africa : an annotated checklist. Strelitzia 14. National Botanical Institute, Pretoria.
Leistner, O.A. (ed.). 2000. Seed plants of southern Africa : families and genera. Strelitzia 10. National Botanical Institute, Pretoria.
Pooley, E. 1993. The complete field guide to trees of Natal, Zululand and Transkei. Natal Flora Publications Trust, Durban.
Pooley, E. 1998. A field guide to the wild flowers of Kwazulu Natal and the Eastern Region. Natal Flora Publications Trust, Natal.
Powrie, F. 1998. Grow South African plants. National Botanical Institute, Cape Town.
Van Wyk, A.E. (Braam) & Van Wyk, P. 1997. Field guide to trees of southern Africa. Struik, Cape Town.
Credits
Cherise Viljoen
Kirstenbosch National Botanical Gardens
April 2006
Plant Attributes:
Plant Type: Shrub, Tree
SA Distribution: Eastern Cape, KwaZulu-Natal
Soil type: Sandy, Clay, Loam
Flowering season: Early Summer, Late Summer
PH: Neutral
Flower colour: White, Mauve/Lilac
Aspect: Shade, Morning Sun (Semi Shade), Afternoon Sun (Semi Shade)
Gardening skill: Average
Special Features:
Attracts butterflies
Fragrant
Hedge/screen
Useful plant
Horticultural zones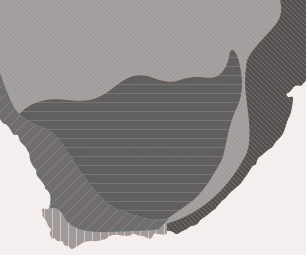 Zone 1 Coastal summer rainfall, frost free
Zone 2 Coastal winter rainfall, frost free
Google QR Code Generator