Ipomoea cairica var. cairica
Ipomoea cairica (L.) Sweet var. cairica
Family: Convolvulaceae
Common names: coast morning glory, five-fingered morning glory, Cairo morning glory, Messina creeper, mile-a-minute, (Eng.); ihlambe, ijalamu, intana, umaholwana (isiZulu)
Introduction
The coast morning glory, with its big, purple, trumpet-shaped flowers with a dark eye in the centre, makes it close to impossible to pass it by, and it is commonly used as an ornamental plant, but should be planted with care, as it grows fast and can smother other plants.
Description
Description
Ipomoea cairica is a vigorous, perennial climber, with a tuberous root that is brown outside and white inside. The stem grows up to about 5 m long, and is smooth and twining. The leaves are green, palmate, dissected into 5-7 leaflets, 30-100 mm in diameter. The leaves are alternate and crushed leaves are not aromatic.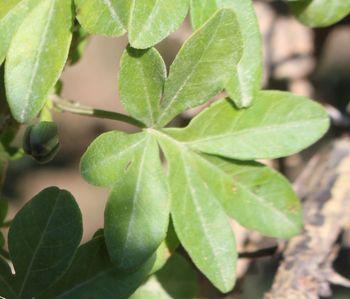 The flowers are trumpet-shaped, 30-60 mm long and 40-60 mm in diameter, purple to pinkish with a dark-centred eye and closes in mid-afternoon. It blooms throughout the year, and in a population you may find flowers and fruits occurring simultaneously.
The fruit is a capsule, 8-12 mm in diameter, roundish, green maturing to brown when they pop open, freeing small, brown, hairy seeds. It is a fast-growing plant and very aggressive.
Conservation Status
Status
According to SANBI Red List of South African plants, the status of Ipomoea cairica is assessed as Least Concern (LC).
It is reported to have naturalized in Australia, New Zealand, southern USA, Central and South America and on many of the Pacific Islands. It is categorised as invasive and seriously harmful to the environment in southern China and Australia.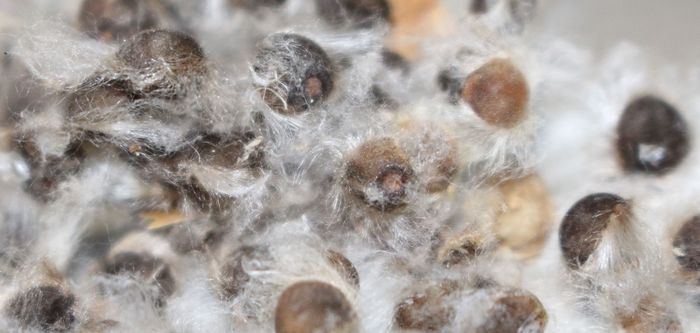 Conserving Ipomoea cairica through Seed Banking: The Millennium Seed Banking Partnership (MSBP) works on collecting seeds of all indigenous plants regardless of their conservation status. Seeds of Ipomoea cairica were collected in 2018, which was the first collection of this species to be banked in the world with KEW Gardens in the UK. This plant has been banked even though it is a plant of Least Concern. This is because natural disasters can happen at any time and one would never know when a species will be completely eradicated in its natural habitat. Banking seeds is a reliable method of conservation. Seeds are collected once the capsules have turned brown, collecting seeds at this stage increases their chance of remaining viable for long periods in storage, whereas, collecting seeds when fruit is still green, decreases the viability of the seed.
Distribution and habitat
Distribution description
Ipomoea cairica is indigenous throughout tropical Africa, and from the eastern Mediterranean through Asia to Taiwan. It has naturalized in many countries. In southern Africa it occurs in Botswana, Swaziland and South Africa, where it is recorded in 4 Provinces, namely Limpopo, Mpumalanga, KwaZulu-Natal and Eastern Cape. It grows in well-drained soil, sandy loam, clay, salty or brackish soil, sand dunes, forest edges and riparian environment. This species has been found growing on flat ground and gentle to moderate slopes It grows in full sun or even in light shade. This herbaceous climber can outcompete other native plants, completely invading the space by climbing and shadowing other plants.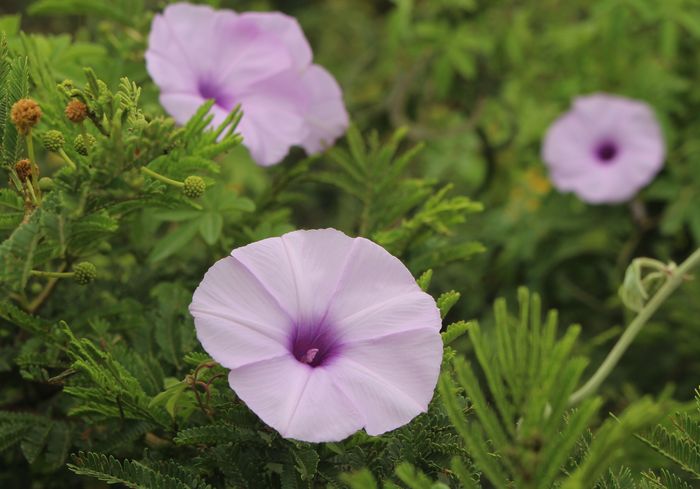 Derivation of name and historical aspects
History
The genus name Ipomoea means 'bindweed' and is derived by combining 2 Greek words, ips which means 'worm' and homoios which means 'like' and refers to the twining habit or growth form of these species. The species name cairica means 'from Cairo', a city in Egypt, where this species was first collected.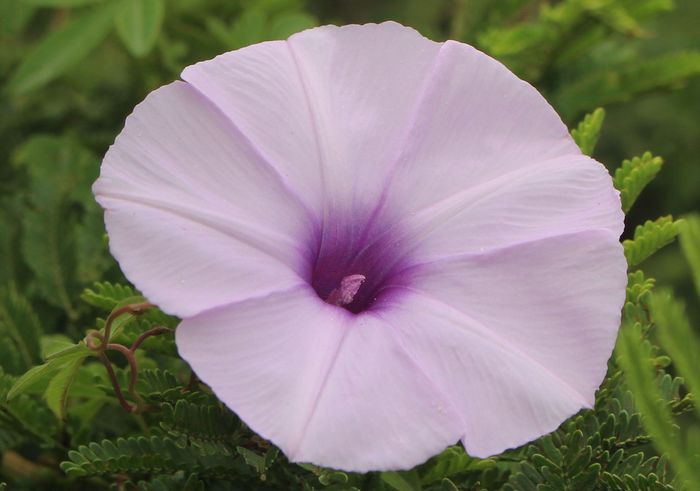 Ecology
Ecology
The flowers of this creeping plant are pollinated by bees. The shoots, flowers and fruits are eaten by Monkeys. The seeds are dispersed by wind and sometimes by water, especially in wet areas and or during the rainy season. It can also survive extreme seasonal fluctuations, and because of its tuberous roots, it has been observed that if the top part of the plant dies in winter, it resprouts again in spring.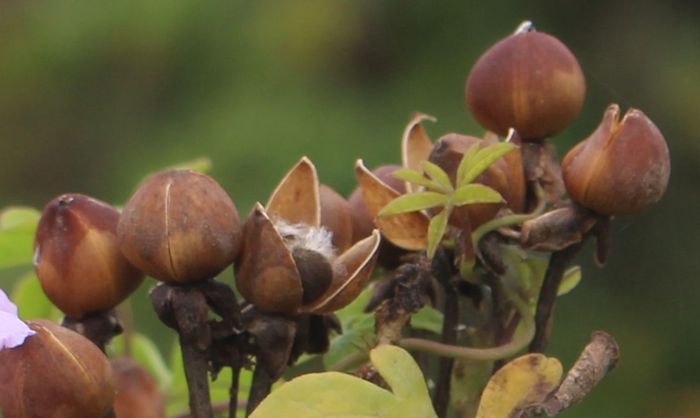 Uses
Use
Most parts of the Ipomoea cairica have been recorded to be edible; the leaves are eaten when still young and roots are cooked before consuming. It is also used medicinally by Zulu people, who make a mixture using crushed leaves and drink it for healing body rashes and fever. In some areas this plant is considered to have antibiotic properties. In the garden Ipomoea cairica is often used as a screening plant by allowing the vine to twist and climb along a trellis or fence, giving a beautiful display. Keep in mind that this is a vigorous, fast-growing, long-lived plant that may overwhelm smaller gardens, and it is known to have escaped gardens and become a weed in many countries, and is difficult to eradicate once established.
Growing Ipomoea cairica var. cairica
Grow
Ipomoea cairica prefers a warm climate with little frost and moderate to high rainfall. It is easily cultivated from seeds and cuttings. When sowing seed, chip the seed and soak it in water overnight. Transfer seeds to potting pots and germination will take place in 1 to 3 weeks after sowing. When seedlings have emerged, thin them and replant at least 45 cm apart, so it can start climbing on the trellis, frequently training it while young to climb evenly on your trellis. Ipomoea cairica is easily rooted from tip cuttings and stem cuttings, and trailing stems that have rooted can be transplanted.
References
Manning, J. & Batten, A. & Bokelmann, H. 2001. Eastern Cape South African Wild Flower Guide 11. Botanical Society of South Africa, Cape Town
Pienaar, K. 1987. The A-Z of garden flowers in South Africa. Struik, Cape Town.
Pooley, E. 1998. A field guide to wild flowers Kwazulu-Natal and the eastern region. Natal Flora Publications Trust, Durban.
Vanderplank, H.J. 1999. Wild flowers of the Port Elizabeth area, Gamtoos to Swartkops Rivers (The coastal bush and fynbos region). Bluecliff Publishing, Port Elizabeth.
Welman, W.G., Herman, P.P.J. & Condy, G. 2017. Ipomoea cairica (Convolvulaceae). Flowering Plants of Africa 65: 138-144. South African National Biodiversity Institute, Pretoria.
Credits
Charlie Maimela
Kwelera National Botanical Garden
and Sibahle Gumede
Millennium Seed Bank Partnership
February 2019
 
Plant Attributes:
Plant Type: Climber, Perennial
SA Distribution: Eastern Cape, KwaZulu-Natal, Limpopo, Mpumalanga
Soil type: Sandy, Clay, Loam, Brack/saline
Flowering season: Spring, Early Summer, Late Summer, Autumn, Winter
PH: Acid, Alkaline, Neutral
Flower colour: Purple, Pink
Aspect: Full Sun
Gardening skill: Easy
Special Features:
Drought resistant
Hedge/screen
Edible plant
Medical plant
Useful plant
Feeds honeybees
Pioneer plant
Horticultural zones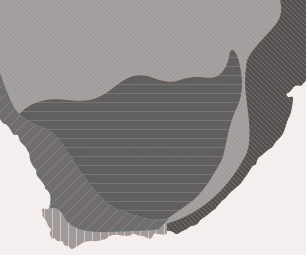 Zone 1 Coastal summer rainfall, frost free
Zone 2 Coastal winter rainfall, frost free
Google QR Code Generator