Ipomoea pes-caprae subsp. brasiliensis
Ipomoea pes-caprae (L.) R.Br. subsp. brasiliensis (L.) Ooststr.
Family: Convolvulaceae
Common names: beach morning glory, goat's foot (Eng.); strandpatat (Afr.)
Introduction
Beach morning glory is a perennial, trailing vine that forms dense mats on beaches and sand dunes. Its bright green, glossy leaves and showy pink flowers, beautifully complement dull beaches throughout tropical and subtropical regions of the world.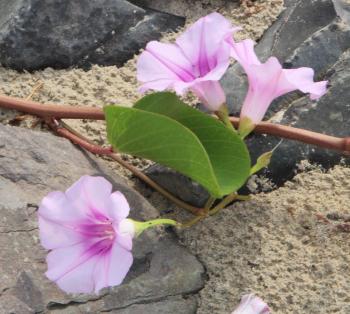 Description
Description
Ipomoea pes-caprae subsp. brasiliensis is a slender, creeping vine, with a succulent stem that contains a milky latex. Leaves are thick, robust, variable in shape, 30–140 mm long, 25–120 mm wide. Some leaves are ovate, obovate, elliptic, orbicular or transversely elliptic to kidney-shaped, with squared or tipped apices and heart-shaped or rounded bases.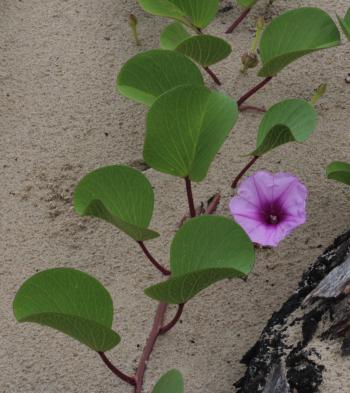 Flowers are borne in the axil of the leaves, on one side of the stem. Flowers are funnel-shaped, 30–60 mm long, pink, lavender, violet, or rarely entirely white. The stamens and style are surrounded entirely by the petals; filaments are hairy at the base and the ovary is smooth. The fruit is a spherical, 4-locular capsule, 12–17 mm in diameter. A single, dark brown seed of about 7–12 × 6–8 mm, occurs in each locule.
Conservation Status
Status
Ipomoea pes-caprae subsp. brasiliensis is assessed on the Red List of South African Plants as Least Concern (LC).
Distribution and habitat
Distribution description
This plant occurs in tropical and subtropical beaches around the world. In South Africa, it is found it in the following provinces: Western Cape; Eastern Cape and KwaZulu-Natal. It occurs from Mossel Bay in the Western Cape to tropical Africa. It grows on beaches just above the high tide mark, and it is also found in beach forests and other vegetation types close to sea level.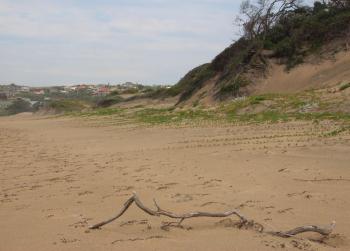 Derivation of name and historical aspects
History
The name Ipomoea means 'worm like' and is derived from two Greek words, ips meaning 'worm' and homois meaning 'like'. This refers to the coiled, worm-like flower bud of members of this genus. The species name pes-caprae is Latin for 'goat's foot', describing the shape of the leaves. The subspecies name brasiliensis means 'from Brazil'.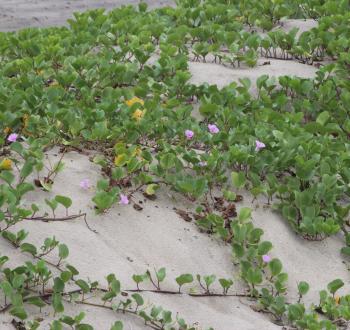 Ecology
Ecology
Beach morning glory prefers calcareous and quartz sand. It also grows on gravel beaches and cliffs. It is tolerant of high temperatures, strong winds and salt sprays. This plant rarely inhabits inland habitats, due to its limited dispersal and shading by other plants.
It flowers in summer and early autumn. On sunny days, flowers open in the morning and close in the afternoon. On cloudy days, the flowers open only for a short time during the day. The petals fall off a day after opening.
The primary pollinators of this plant are bees. Bees are attracted to this plant because of the ultraviolet light patterns of the corolla and also by the abundant nectar that the plant produces. Beach morning glory also attracts butterflies, moths, ants and beetles. The plant produces buoyant seeds that are dispersed by water.
Uses
Use
Strandpatat (meaning beach potato) is a valuable medicinal plant for people around the world. The leaves are consumed as tea to treat colds and flu. The seeds are used to treat gonorrhoea, syphilis, and parasitic infections. An infusion of the roots is used as a laxative and also to treat stomach and intestinal complains.
Growing Ipomoea pes-caprae subsp. brasiliensis
Grow
Ipomoea pes-caprae subsp. brasiliensis is not a plant that is suitable for home gardening in the interior of the country, as it prefers to grow on beach sand. The plants can be easily propagated from stem cutting and seeds.
To grow the plant from stem cutting, cut stems of the plant that are 450 mm long and make sure that the stem only has leaves and no buds, flowers or fruits. Places a teaspoon of salt in 1 litre of water and place the stem inside and allow it to root. Change the water every 3 days, until the plant has rooted. Once the plant has rooted, plant the stem in a pot containing beach sand and water the plant regularly.
To grow the plant from seeds, collect the dried fruits of the plant on the beach, in summer. Remove the seeds from the plant and scarify them with sand paper. Seeds of this plant do not germinate when the seed coat has not been removed, as they are impermeable to water. Soak the seeds in water for 4 days, or until the seeds are visibly swollen. Sow the seed 5 cm deep into a tray that contains beach sand. Place the tray in a sunny area and water regularly.
References
Breitbach, U.B., Niehues, M., Lopes, N.P., Faria, J.E. & Brandão, M.G. 2013. Amazonian Brazilian medicinal plants described by CFP von Martius in the 19th century. Journal of Ethnopharmacology 147 (1): 180–189.
Devall, M.S. 1992. The biological flora of coastal dunes and wetlands. 2. Ipomoea pes-caprae (L.) Roth. Journal of Coastal Research 8 (2): 442–456.
Foden, W. & Potter, L. 2005. Ipomoea pes-caprae (L.) R.Br. subsp. brasiliensis (L.) Ooststr. National Assessment: Red List of South African plants version 2015.1. Accessed on 2016/11/10.
iSpot southern Africa http://www.ispotnature.org/species-dictionaries/sanbi/Ipomoea%20pes-caprae%20subsp.%20brasiliensis
Quattrocchi, U. 2012. CRC world dictionary of medicinal and poisonous plants: common names, scientific names, eponyms, synonyms, and etymology. CRC Press, Massachusetts.
Sykes, W.R. 1970. Ipomoea pes-caprae (L.) R. Br. ssp. brasiliensis (L.) Ooststr in the New Zealand botanical region. New Zealand Journal of Botany 8(2): 249–253.
Van Wyk, B.-E. & Gericke, N. 2000. People's plants . Briza Publications, Pretoria.
Credits
Lerato Hoveka
National Herbarium, Pretoria
March 2017
Photos courtesy of Tony Rebelo
Plant Attributes:
Plant Type: Climber, Ground Cover
SA Distribution: Eastern Cape, KwaZulu-Natal, Western Cape
Soil type: Sandy
Flowering season: Early Summer, Late Summer, Autumn
PH: Neutral
Flower colour: Purple, White, Pink, Mauve/Lilac
Aspect: Full Sun
Gardening skill: Easy
Special Features:
Attracts butterflies
Edible plant
Medical plant
Useful plant
Feeds honeybees
Pioneer plant
Horticultural zones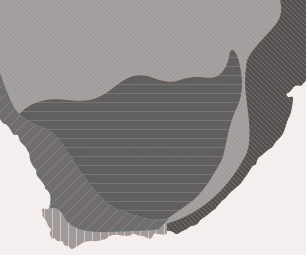 Zone 1 Coastal summer rainfall, frost free
Zone 2 Coastal winter rainfall, frost free
Google QR Code Generator