Kleinia longiflora DC.
Family: Asteraceae
Common names: paintbrush flower (Eng.); sjambokbos (Afr.)
Introduction
Kleinia longiflora is an unusual, succulent shrub, with striking, thin, pencil-shaped, segmented, upright or sprawling stems, that is drought resistant and low maintenance.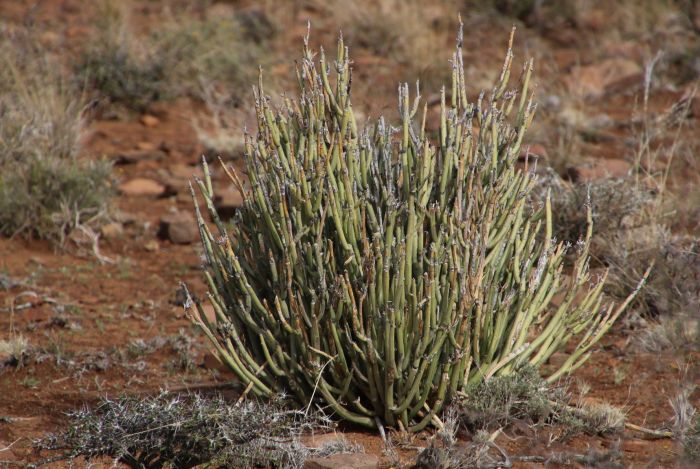 Description
Description
This shrub is recognised by its erect or sprawling, cylindrical, grey-green, longitudinally striped, succulent stems, reaching a height of up to 1 m. The oblong, lanceolate, fleshy leaves are very small or non-existent, and may fall off during periods of water stress.
The inflorescences are produced at the tips of the stems and are composed of a number of capitula (a flower head that is a dense flat cluster of small flowers typical of the daisy family).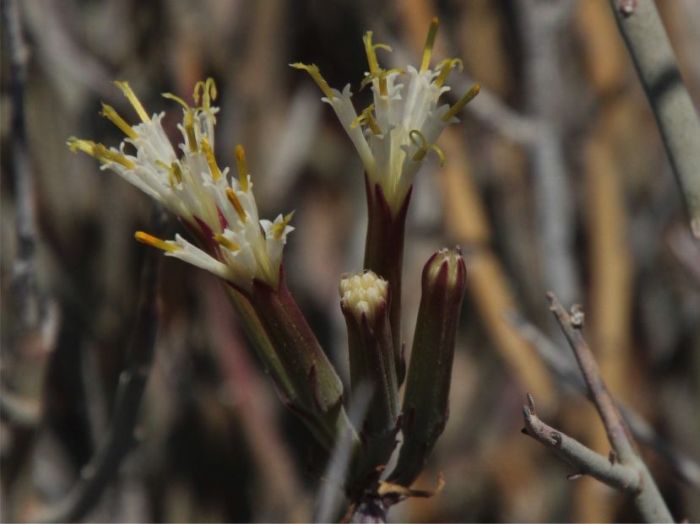 The capitula consist of slender, tubular, disc-florets that are dull white or creamy yellow with light yellow stamens that protrude over the bracts, and lack petal-like, outer ray-florets. Flowering time is from early winter until spring, from May to October.
When the fruits are ripe and start dispersing, the inflorescences are more conspicuous because of the long, silky white hairs on the seeds, that aid seed dispersal by wind. Each individual fertile disc-floret, produces a single-seeded, dry, indehiscent fruit, formed from a double ovary, of which only one develops into a seed, known as a cypsela.
Conservation Status
Status
This plant's conservation status is assessed as Least Concern (LC) according to SANBI`s Red List of South African plants. The population of the species is stable and is not endangered.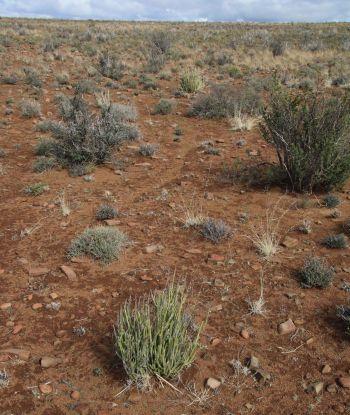 Distribution and habitat
Distribution description
Kleinia longiflora is widely distributed in the Free State, Gauteng, Limpopo, Mpumalanga, North West and the Northern Cape, Eastern and Western Cape Provinces of South Africa, and in Namibia, Botswana and Swaziland, in fairly dry areas. This plant occurs at altitudes of 300–1 600 m, in different habitats among rocks or under bushes in grassland, woodland, bushveld, thornveld and semi-desert.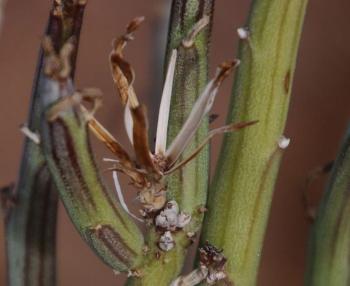 Derivation of name and historical aspects
History
The genus Kleinia was named by Linnaeus in 1737 and honours Dr Jacob Theodor Klein (1685–1759), a German botanist. The Latin specific epithet longiflorus refers to the long flowers, and this is where the plant gets its English common name from, the heads of long thin flowers followed by seeds with long, silky hairs are reminiscent of a paintbrush. The Afrikaans common name sjambokbos is descriptive of the leafless green branches, which are suggestive of a sjambok or whip.
Asteraceae is the largest family of flowering plants in the world, and in terms of numbers of species in southern Africa. Other species that are widely cultivated in South Africa include Kleinia stapeliiformis, which has striking crimson-red inflorescences at the tips of stems, K. galpinii, which has attractive, large dark orange flowers that smell of apricots and K. fulgens, which has heads of cylindrical scarlet flowers, reminiscent of carnations.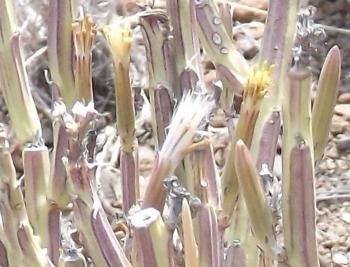 Ecology
Ecology
The seeds have a tuft of silky white hairs and are wind dispersed.
During the hottest part of the day, this plant can switch to CAM (Crassulacean Acid Metabolism), this allows it to close its stomata to minimize water loss, but it can continue to photosynthesize.
It has been reported in Namibia that dassies (rock hyrax) and klipspringers browse the branch tips (Mannheimer 2012).
Uses
Use
Kleinia longiflora occurs in both the winter and summer rainfall regions and is grown as a garden ornamental.
In the treatment of reproductive ailments, the Bapedi traditional healers of the Limpopo Province use the root macerated in warm water for 24 hours and a decoction is then administered rectally for menstrual disorders. Twigs of this plant are boiled for 5 minutes and the extract taken orally 3 times a day, for the same ailment. In northern Namibia the plant is used during rituals, medicinally and sometimes to make snuff. This plant is widely used in traditional medicine in Botswana, by the Ovambo of Namibia, the Herero speaking people of Kaokoland and the Ethiopians from East Africa, but not yet recorded from the medicinal plant markets of southern Africa.
Growing Kleinia longiflora
Grow
Kleinia longiflora is a hardy plant that does best in full sun as a potted specimen. In cultivation it can tolerate semi-shade and it does not flower as freely as it does in its natural habitat. It is also suitable for arid and rock gardens. In the winter rainfall area it can be planted together with companion plants such as Aloe striata (with light blue-green leaves and bright orange flowers), Didelta spinosa (yellow flowers), Eriocephalus africanus (white flower heads), Kalanchoe thyrsiflora (with their attractive red leaf margins with yellow flowers) and Lessertia frutescens (orange-red flowers).
Propagation can be from seeds or cuttings. Sow seeds in autumn, horizontally, 2–3 mm deep in a well-drained, sandy soil. They germinate within a week at temperatures between 15ºC and 30ºC, with little or no dormancy, and produce large first leaves (10 mm) from their cotyledons. The succulent stem then forms, slowly reaching about 50 mm after a year. Plant the seedlings into soil with minimal organic matter, in small pots, after one year. Add a mulch of stones to protect the stem base from sunburn and to prevent irrigation washing away soil, as this causes the cylindrical succulent to fall over.
Kleinia longiflora can also be grown from cuttings that include nodes. They are vulnerable to rotting in hot weather, so cuttings are best taken in autumn and winter, from April to September. Allow the wounded area to dry for about 3 to 4 days). Renu Karoo veld restoration CC does not use rooting hormone on their succulent cuttings. Rooting takes 4–6 months. (Milton, S. pers. comm. 2019).
References
Burke, A. 2012. 111 Roadside plants: a tribute to Namibia's fascinating plant life. Namibia Scientific Society, Windhoek.
iNaturalist – Observation of Kleinia longiflora by Tony Rebelo. https://www.inaturalist.org/observations/13335968
Llifle, The Encyclopedia of Succulents, Kleinia longiflora DC. Online, accessed 22 July 2019. http://www.llifle.com/Encyclopedia/SUCCULENTS/Family/Asteraceae/32931/Kleinia_longiflora
Mannheimer, C. 2012. Wildflowers of the Central Highlands of Namibia. Macmillan, Windhoek.
Manning, J. 2001. First field guide to succulents of southern Africa. Struik Publishers, Cape Town.
Semenya, S. et al. 2013. Herbal medicines used by Bapedi traditional healers to treat reproductive ailments in the Limpopo Province, South Africa. African Journal of Traditional, Complementary Alternative Medicines 10(2): 331–339
Smith, G.F. & Crouch, N.R. 2009. Guide to succulents of southern Africa. Struik Nature, Cape Town.
Smith, G.F., Steyn, E.M.A., Crouch, N.R. & Condy, G. 2001. Kleinia longiflora. Flowering Plants of Africa 57: 96–102.
Van Rooyen, N., Bezuidenhout, H. & De Kock, E. 2001. Flowering plants of the Kalahari dunes. Ekotrust cc, Pretoria.
Credits
Shireen Harris
Karoo Desert National Botanical Garden
August 2019
Acknowledgements: the author thanks Dr Tony Rebelo for the use of his images.
Plant Attributes:
Plant Type: Shrub, Succulent
SA Distribution: Eastern Cape, Free State, Gauteng, Limpopo, Mpumalanga, North West, Northern Cape, Western Cape
Soil type: Sandy
Flowering season: Spring, Winter
PH: Acid
Flower colour: White, Cream
Aspect: Full Sun
Gardening skill: Average
Special Features:
Drought resistant
Good potplant
Medical plant
Horticultural zones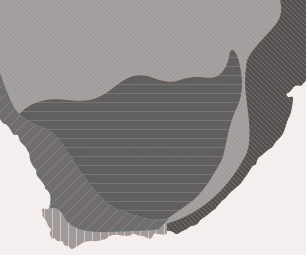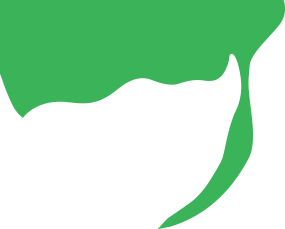 Zone 2 Coastal winter rainfall, frost free
Zone 3 Winter rainfall Karoo, light frost
Zone 4 Summer rainfall Karoo and Highveld, Frost in winter
Zone 5 Bushveld summer rainfall, Light frost
Google QR Code Generator