Lampranthus affinis L.Bolus
Family: Aizoaceae
Common names: cliff lampranthus (Eng.), kransvygie (Afr.)
Introduction
Lampranthus affinis is a striking, easily grown shrublet, with large, pale pink flowers, and is one of only a few mesembs that will flower in shady conditions. It is easily distinguished from other species of Lampranthus by its large flowers, and its seed capsules that remain open. In other species, they close up again once the rain has passed and they are dry again.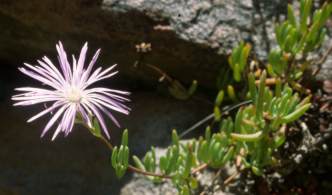 Description
Description
This is an erect to spreading, rapidly growing, branched shrublet up to 400 mm high; branching from the base, with spreading side branches along its erect stems. Stems are cylindric, woody, up to 12 mm in diameter, becoming grey; younger, leafy branches purplish and 2.5-3 mm in diameter. Roots are fibrous.
The smooth, grey-green-coloured ascending leaves are oblong, slightly sickle-shaped and rounded to obscurely three-angled in diameter, 35-45 mm long and 3-4 mm wide.
The large flowers are carried in cymes at the ends of main branches during late spring (October-November). Each flower is up to 70 mm wide, light pink to white, conspicuous. The petals are numerous, 25-30 mm long and 2.5 mm wide. The flowers are pollinated by bees.
The seed capsules are shaped like spinning tops, becoming woody when mature and opening with moisture, tending to remain open. The seeds are 1-1.3 mm in diameter and slightly flattened. The capsules ripen during summer, and although the capsules are opened by water, the seed is wind dispersed. The plants have a life span of 4-8 years.
Distribution and habitat
Distribution description
Lampranthus affinis is confined to the shady, narrow kloofs and gorges (north-south orientation) of the Baviaanskloof, Swartberg and adjacent mountain ranges in the Western and Eastern Cape. It occurs on vertical cliffs or ledges and at the base of cliffs, at about 500-1 000 m in altitude (mainly east and west aspects). It grows in acidic, mineral-poor sandstone soil on sandstone cliffs in dry fynbos, succulent karoo and thicket vegetation. It is locally abundant. Temperatures are high during the summers with an average daily maximum of 27º C and an average daily minimum of 12º C. Winters are cooler, but frost is absent. Rain falls throughout the year in thunder showers or cyclonic winter rain, peaking in spring and summer, ranging between 200-300 mm per annum. Associated plants that grow with our species include the cliff bulbine (Bulbine cremnophila), cliff albuca (Albuca cremnophila), cliff ox-tongue (Gasteria rawlinsonii), woolly cotyledon (Cotyledon tomentosa), sosatie crassula (Crassula perforata) and the sickle crassula (C. perfoliata var. minor). These plants are confined to quartzitic sandstone of the Peninsula Formation (Cape Supergroup).
Derivation of name and historical aspects
History
Lampranthus affinis was described by Dr Louisa Bolus in 1963 from plants collected by Mr Frank Stayner, former curator of the Karoo National Botanical Gardens in Worcester, in 1961 at Meiringspoort (Swartberge) near De Rust in Western Cape. The species name affinis means related or similar to, in Latin, and pertains to its close affinity to Lampranthus coralliflorus and L. productus of the same section, section Haworthiana Salm Dyck. The generic name Lampranthus is from the Greek lampros meaning bright or shining, and anthos a flower and refers to the bright shiny flowers. The genus Lampranthus consists of about 120 species, which are amongst the showiest of all mesembs. They are excellent bedding plants, thriving on rockeries and striking when in flower.
Growing Lampranthus affinis
Grow
Lampranthus affinis is easy to grow and flowers profusely in late spring. It can be grown in shady situations, but prefers high light intensity, e.g. open shade (an area that does not necessarily receive direct sun but is open to the sky) or bright shade. It can also be grown in semi-shade or full sun. It thrives out of doors but needs protection from frost. Grow in sandy soil, adding ample bone meal and compost. Water during winter, spring and summer. The plants have a life span of 4 to 8 years.
It can be grown in dry fynbos and succulent karoo gardens together with other succulents such as Cotyledon orbiculata, Aloe microstigma, A. mitriformis, Crassula tetragona, C. ovata, C. arborescens, C. perforata, C. rubricaulis and C. rupestris. It grows well in containers, and is also suitable for a shady stoep (verandah), or on the shady side of rockeries. The caterpillars of the tiger moth can be troublesome but are easily removed by hand. The caterpillars could be fed to local pets such as tilapia, goldfish or omnivorous tropical fish.
It is easily grown from cuttings, rooted in sand during the warmer months of the year and will flower profusely by the next season. Take cuttings of about 6-12 cm in length, remove the lower leaves and plant the lower half in a sandy medium, keeping it moist. Rooting should occur within 3 weeks and then transfer the cuttings directly to wherever they are needed. Sow seed in shallow trays in the standard way and cover lightly with a layer of sand (1-2 mm). Germination occurs within 4 weeks. Plant the young seedlings as soon as they are large enough to handle.
References
VAN JAARSVELD, E.J. & PIENAAR, U. DE V. 2000. Vygies, gems of the veld. Cactus & Co. libri, Venegono.
BOLUS, L. 1962. Notes on Mesembryanthemum and allied genera. Journal of South African Botany 28: 12-14.
Credits
Ernst van Jaarsveld
Kirstenbosch National Botanical Garden
March 2003
Plant Attributes:
Plant Type: Succulent
SA Distribution: Eastern Cape, Western Cape
Soil type: Sandy, Loam
Flowering season: Spring, Early Summer
PH: Acid
Flower colour: White, Pink
Aspect: Full Sun, Morning Sun (Semi Shade)
Gardening skill: Easy
Special Features:
Drought resistant
Horticultural zones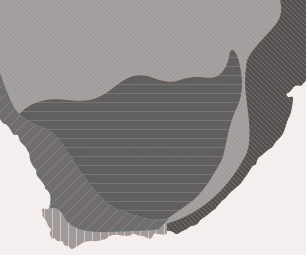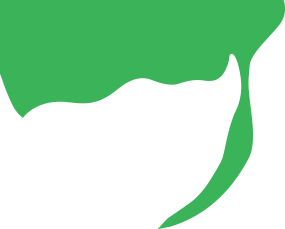 Zone 1 Coastal summer rainfall, frost free
Zone 2 Coastal winter rainfall, frost free
Zone 3 Winter rainfall Karoo, light frost
Zone 4 Summer rainfall Karoo and Highveld, Frost in winter
Zone 5 Bushveld summer rainfall, Light frost
Google QR Code Generator