Lannea schweinfurthii var. stuhlmannii
Lannea schweinfurthii (Engl.) Engl. var. stuhlmannii (Engl.) Kokwaro
Family: Anacardiaceae
Common names: false-marula (Eng.); valsmaroela (Afr.); mmopu (NSo.); umganunkomo (Zul.)
SA Tree No: 363
Introduction
This small to medium-sized, deciduous tree, with its small, creamy white to yellow flowers and aromatic leaves, will not only attract birds to your garden, but can be very successfully grown as a bonsai specimen.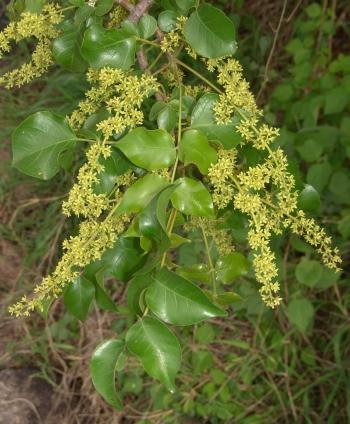 Description
Description
This tree can reach a height of 7–9 m in the domestic garden and forms a spreading, open crown, with drooping branches; it can grow up to ± 20 m in its natural environment. The green, hairy bark on young stems becomes grey and flaky as the branches mature; this leaves the branches with a mottled effect; the leaf scars on the young branches are very conspicuous and contribute to the identification characteristics of the tree.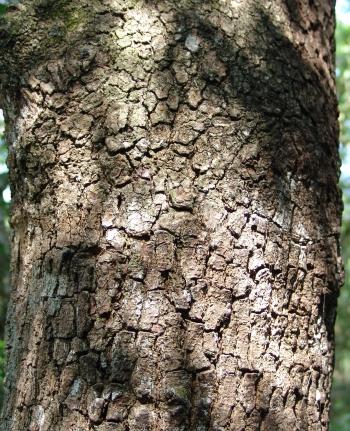 The unevenly compound leaves are borne at the tips of the branches and are 100–200 mm long; the leaflets are sessile (not stalked ) and are presented in 1–3 pairs, led by a terminal one. The young leaves are quite woolly, compared to the mature leaflets which are noticeably smooth and shiny dark green.
The flowers are borne in long spikes in the axils (the angle between a leaf and the branch) of the leaves and appear in summer (November to January); the male inflorescence (structure made up of multiple flowers) can grow up to 130 mm long, whereas the female inflorescence grows up to 80 mm long, these inflorescences appear on different trees.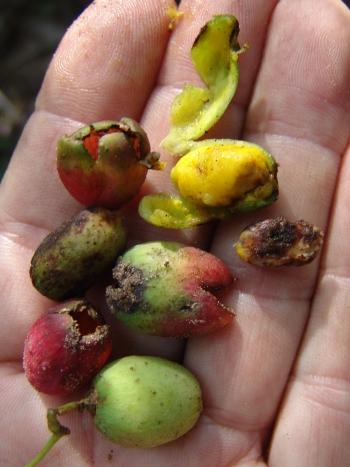 The reddish purple fruit is oblong and about 25 mm long and appears from November to March.
Lannea schweinfurthii var. stuhlmannii is related to, and may be confused with Sclerocarya birrea (Marula), but can be distinguished by its smaller fruits and its larger, more shiny leaves, which have fewer leaflets per leaf and the leaflets have shorter stalks.
Conservation Status
Status
Distribution and habitat
Distribution description
Lannea schweinfurthii is quite widely spread, from Tanzania in the north to KwaZulu-Natal in the south; it grows in sandy to gravelly soil, especially those derived from igneous rocks. It also grows in various types of woodland and riverine areas, often associated with termite mounds.
Derivation of name and historical aspects
History
Lannea is a Latin word which refers to the woolly hairy surface of the young leaves of the tree; schweinfurthii was named after Dr G. Schweinfurth, a naturalist and explorer, and stuhlmanni named after Franz Ernest Stuhlmann, acting Governor in Tanzania.
The Anacardiaceae family, commonly known as the mango family, includes about 83 genera and about 860 known species. This family includes trees and shrubs. 
Ecology
Ecology
The leaves of this tree are enjoyed by a large number of animals, which include kudu, bushbuck and giraffe. The fruits also attract many different bird species like the grey louries, red-faced mouse birds, and birds such as the crested francolins and guinea fowls, eat the fruit from the ground. The elephants love to feast on the bark, twigs and roots of this tree.
Uses
Use
According to tradition, this tree has the ability to protect and heal, due to a good spirit residing in it. In the past, sores and abscesses were treated by the local community, by preparing a paste made from the leaves of this tree. Diarrhoea was successfully treated by an infusion made from the roots of the tree.  
The fruit is safe to eat and has an enjoyable mango-like taste.
The false marula tree is economically important in South Africa. It is very successfully used to feed cattle and game. The cattle eat the fresh or dry leaves and this reduces the expenses on fodder by farmers who are growing these trees. The bark is used for tanning leather and to make dye. The wood makes good timber and certain household articles, for example spoons, are made from it.
Growing Lannea schweinfurthii var. stuhlmannii
Grow
Propagation is by seed or cuttings. Seeds are best sown when fully ripe by removing them from the dry fruit pulp. Use a general soil mix which consists of 4 parts river sand and 1 part compost. The mix should be sieved well before filling the seedling trays. Cover the seeds with a thin layer of sand. The mixture should be kept moist, but not soaked at all times. The seeds can take up to a month to germinate. Seedlings can be successfully transplanted when it reach the 2-leaf stage.
Take cuttings from semi-hardwood, about 80–100 mm long. A good rooting hormone will stimulate root development. River sand makes an ideal rooting medium. To prevent pre-or post-emergence damping off, a fungicide can be applied to the seeds; this will increase the success rate of germination.
This tree will grow well in sandy soil; these trees also grow well when planted in small groups.
The root system is not vigorous so the tree can be grown safely near walls or paving. The tree is relatively fast growing and dislikes frost, which can slow down the growth rate, so its a good idea to plant it in a protected spot in your garden.
References
Boon, R. 2010. Pooley's trees of eastern South Africa, a complete guide. Flora & Fauna Publications Trust, Durban.
Coates Palgrave, M. 2002. Keith Coates Palgrave Trees of southern Africa , edn 3. Struik, Cape Town.
Harris, G. & Harris, M.W. 1994. Plant identification terminology, an illustrated glossary. Spring Lake, Utah.
Raimondo, D. et al. 2009. Red list of South African plants. Strelitzia 25. SANBI (South African National Biodiversity Institute), Pretoria.
Van Wyk, B. & Van Wyk, P. 1997. Field guide to trees of southern Africa. Struik, Cape Town.
Van Wyk, B.-E. & Gericke, N. 2000. People's plants. Briza Publications, Pretoria.
Venter, F. & Venter, J.A. 2012. Making the most of indigenous trees. Briza Publications, Pretoria.
Von Breitenbach, F. 1990. National list of indigenous trees. Second revised edition. Dendrological Foundation, Pretoria.
Credits
Benjamin Festus
Kirstenbosch National Botanical Garden
December 2017
 
Plant Attributes:
Plant Type: Shrub, Tree
SA Distribution: KwaZulu-Natal, Limpopo, Mpumalanga
Soil type: Sandy
Flowering season: Early Summer
PH:
Flower colour: White, Cream, Yellow
Aspect: Full Sun
Gardening skill: Easy
Special Features:
Attracts birds
Attracts butterflies
Fragrant
Good potplant
Edible plant
Medical plant
Useful plant
Horticultural zones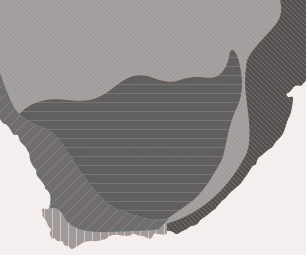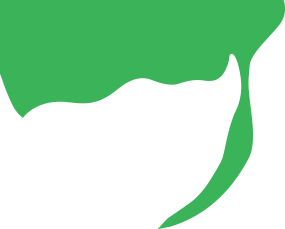 Zone 1 Coastal summer rainfall, frost free
Zone 2 Coastal winter rainfall, frost free
Zone 5 Bushveld summer rainfall, Light frost
Google QR Code Generator