Ledebouria cremnophila S.Venter & Van Jaarsv.
Family: Hyacinthaceae
Common names: krantz African hyacinth
Introduction
A rare species restricted to the mountainous areas of the Barberton region in the Mpumalanga Province of South Africa, where it prefers to grow on steep cliffs and rocky krantzes.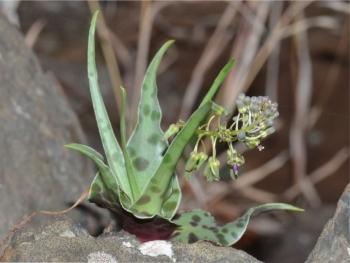 Description
Description
Solitary bulbous plant, with medium-sized bulbs, 28 × 60 mm, which are usually partly or completely exposed because of the shallow soil and rocky nature of its habitat. The bulbs are covered with dark brown, persistent bulb scales. The somewhat fleshy, broadly triangular, deciduous leaves are mostly mid- to darkish green, with many darker greenish brown spots, whereas the undersurface tends to be infused with reddish colouration towards the base.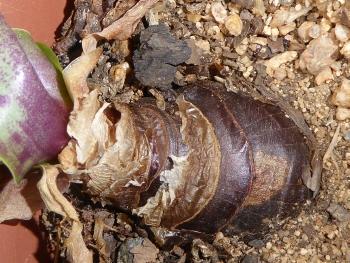 One inflorescence (seldom more), is produced early in spring (August to September in South Africa) The inflorescence is unbranched, erect at first, becoming flaccid before the flowers open. The immature inflorescence is characterized by having long floral bracts that extend beyond the buds, to create a distinctive feathery coma. This character is not readily seen elsewhere in the genus and is, therefore, distinctive of this species.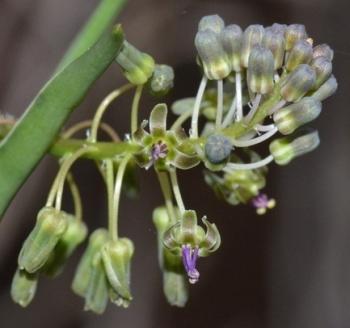 The inflorescence is terminated by numerous small, greenish brown to greenish pink florets (small flowers) each with prominent bright purple stamens in the centre.
The individual florets each have a slender pedicel (flower stalk) which is lax and gives each floret a hanging appearance, whereas the unopened buds are held erect in a cluster above the open flowers. After flowering has concluded, the seed is produced in green capsules, which split open to release the dark brown to blackish glossy and wrinkled seeds.
Conservation Status
Status
Ledebouria cremnophila is listed as Rare in the Red List of South African plants. Although there are no recorded threats to the species in its natural habitat, the species is range restricted and is only known from a few very isolated occurrences.
Distribution and habitat
Distribution description
Ledebouria cremnophila occurs in mixed broadleaf woodland where it is restricted to steep rocky outcrops and cliffs; it grows in crevices and soil-filled pockets on the rock.
Derivation of name and historical aspects
History
The krantz African hyacinth was first discovered by Dr S. Venter in 1994 while exploring the hills near the town of Barberton, Mpumalanga. Venter immediately recognized that it was a new species, however, it was only many years later in 2006 that the species was formally named by him and Dr E. van Jaarsveld.
The genus Ledebouria is named in honour of the German-Estonian botanist Professor Carl Friedrich von Ledebour (1785–1851). The genus is distributed across Africa, India and Madagascar, with the centre of species diversity in the eastern parts of southern Africa. South Africa has 42 species of Ledebouria. The species name cremnophila, is made up of 2 Greek words, kremnos meaning 'cliff' or 'slope' and philos, meaning 'friend , in reference to the cliff-dwelling habitat of the species.
This species is most likely to be confused with Ledebouria revoluta due to the triangular spotted leaves, however, L. cremnophylla can be distinguished from the former by the more fleshy nature of the leaves and the persistent dark brown bulb scales, with the bulbs mostly held above the soil. In L. revoluta however, leaves tend to be slightly narrower and less fleshy, and the bulbs remain below the soil and possesses persistent pale brown bulb scales. L. revoluta also lacks the coma of floral bracts which is characteristic of L. cremnophila.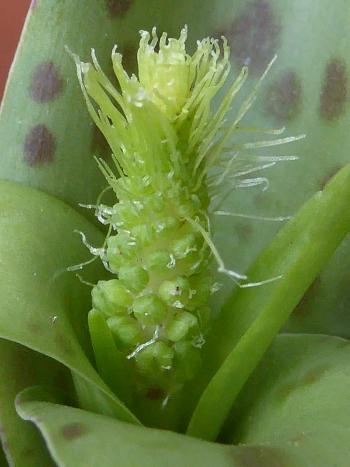 Ecology
Ecology
There is little documented about the ecology of L. cremnophila with the exception of its preference for a cliff-dwelling habitat. The structure of the flowers suggest that it may be pollinated by many, small, visiting insects. Honey bees and solitary bees have been seen visiting the flowers in cultivation. Venter (1993) suggests that seeds of Ledebouria are distributed by water wash.
Uses
Use
No specific references exist in the literature to this species being utilised by people. The genus Ledebouria as a whole, has been used medicinally in Africa for various purposes, including pregnancy, diarrhoea, influenza, backache, skin irritations, wound treatment, as well as lumbago. The genus is also reported as being poisonous, although it is also reported that bushmen eat the bulbs of certain other species (L. apertiflora and L. revoluta).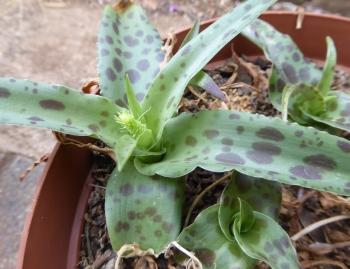 Growing Ledebouria cremnophila
Grow
Ledebouria cremnophila is easily maintained in cultivation, ideally it should be grown in a terracotta pot in a well-drained, potting medium comprised of well-rotted compost or leaf litter mixed with equal parts of coarse, sandy loam. The potting medium should provide slightly acidic, humus-rich growing conditions, the addition of well-rotted kraal manure, is beneficial. Watering should be frequent during the summer months. The plants prefer a warm summer climate, with good air circulation and the soil should be allowed to almost dry out between watering. Growing the plants in full sun will ensure an attractive and compact growth habit, as well as maintain optimum leaf colouration and encourage darker markings on the leaves. During the dry winter dormancy period the pots should be watered only very lightly once every 4 to 6 weeks, to maintain some moisture content in the growth media. Watering can commence towards the end of winter at the onset of warmer temperatures (August–September in South Africa).
Since this species rarely produces offset bulblets, propagation from seed is the best method of producing more plants. Sow seeds immediately, do not store them, in spring or summer, in shallow seed trays filled with the sifted potting mixture mentioned above. Spread the seed evenly on a firmly tamped surface and lightly cover with the same mixture, approximately 2 mm deep. The trays should be kept in a bright warm position out of direct sunlight and kept damp until germination has commenced. Watering can be gradually reduced post germination, to reduce the incidence of fungal infection. Seedlings can remain in the seedling tray or planted out as soon as they are big enough to handle. Flowering size bulbs can be attained after 3 to 4 years after germination.
References
Dave's Garden. Botanary. Accessed on 14/04/2017. http://davesgarden.com/guides/botanary/
Hankey, A. 2011-07. Ledebouria Roth (Hyacinthaceae). PlantZAfrica. Internet 5 pp. http://pza.sanbi.org/ledebouria-genus
Venter, S. 2008. Synopsis of the genus Ledebouria Roth (Hyacinthaceae) in South Africa. Herbertia 62
Venter, S.J. Van Jaarsveld, E.J. & Van Wyk, A.E. 2006. Ledebouria cremnophila (Hyacinthaceae), a new cliff-dwelling succulent bulbous species from the Barberton Region of South Africa. Aloe 43:4.
Von Staden, L. & Lötter, M. 2007. Ledebouria cremnophila S.Venter & Van Jaarsv. National Assessment: Red List of South African plants version 2017.1. Accessed on 2017/04/14.
Credits
Andrew Hankey
Walter Sisulu National Botanical Garden
April 2018
 
Plant Attributes:
Plant Type: Bulb
SA Distribution: Mpumalanga
Soil type: Sandy, Loam
Flowering season: Spring, Early Summer
PH: Acid
Flower colour: Green, Purple, Pink
Aspect: Full Sun
Gardening skill: Average
Special Features:
Attracts butterflies
Good potplant
Feeds honeybees
Horticultural zones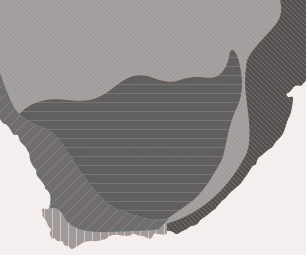 Zone 4 Summer rainfall Karoo and Highveld, Frost in winter
Google QR Code Generator