Ledebouria inquinata (C.A.Sm.) Jessop.
Family: Hyacinthaceae
Common names: wild African hyacinth (Eng.); bokhoe (Sesotho.); icubudwana (isiZulu.); inqwebebane, ubuhlungu (isiXhosa.)
Introduction
A dwarf bulbous plant with tapered green leaves, which are usually attractively spotted with dark brown spots and blotches. The bulbs are covered with multiple dark brown, paper-like outer layers. This interesting species is regularly misidentified in the field, since it is superficially very similar to Ledebouria revoluta.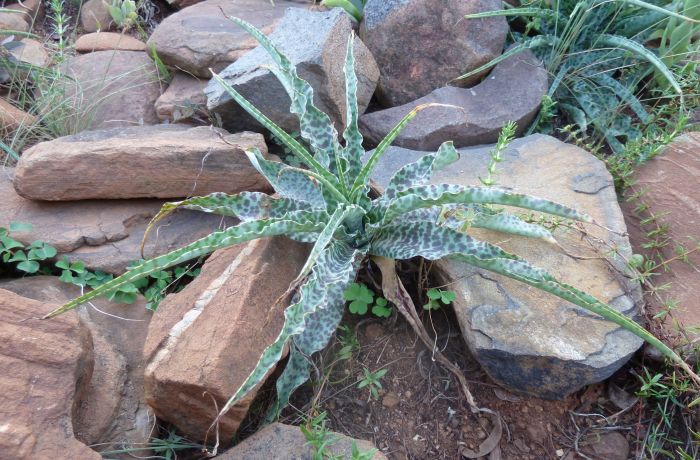 Description
Description
Small to medium (usually solitary), deciduous, bulbous plant, with tapering leaves that are usually broad at the base, which then taper to a drawn-out leaf apex. The bulbs which vary in size, are covered by a tunic comprised of multiple layers of dark brown, papery layers. The usually somewhat succulent leaves are produced in summer, together with or before the emergence of the flowers. The leaves are broadest near the base gradually tapering towards the apex, usually tapering to an attenuated tip, giving the plants a somewhat spidery appearance. The leaves are green with various spots and markings mostly on the upper surface; the lower surface is often plain green with banding and spotting towards the base.
Multiple inflorescences usually more than 3, up to about 5, are produced mostly in spring and early summer (October to November in South Africa), but can be produced at any time during the summer growing season, subject to rainfall patterns. The inflorescences hang outward and downward out of the rosette of leaves where they position themselves near ground level. The somewhat flattened, decumbent peduncle (main stalk) bears many, small florets (small flowers) borne at the distal end like a bottle-brush. Each individual floret is attached to the peduncle via a slender, green pedicel (flower stalk). The individual florets are comprised of 6, strongly recurved tepals (petals) which are usually green with pale or dark pink margins; the conspicuous violet stamens extend beyond the tepals, bearing small, pale yellow anthers at their tips. After pollination, green seed capsules develop which split to release the small, blackish, wrinkled seeds.
Conservation Status
Status
This species is widespread and common and is, therefore, not considered to be of conservation concern, and is listed as Least Concern (LC) in the Red List of South African plants.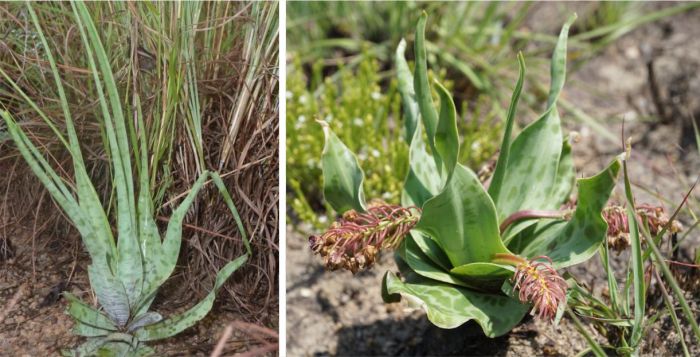 Distribution and habitat
Distribution description
The species occurs mostly in moist and arid savanna and grassland. It occurs across the Mpumalanga, Limpopo, Gauteng, Northwest, Free State, Northern Cape and KwaZulu-Natal Provinces of South Africa, as well as Botswana. These areas receive rainfall in summer, mostly in the form of thunder showers. The bulbs lose their leaves in autumn (March to June) and remain in a state of dormancy during the cold and dry winter months, which may include severe frost in some areas.
Derivation of name and historical aspects
History
This species was first described as Scilla inquinata by C.A. Smith in 1930. It remained in Scilla for many years, until J.P. Jessop transferred it to the genus Ledebouria in 1970. The genus Ledebouria is named in honour of the German-Estonian botanist Professor Carl Friedrich von Ledebour (1785–1851). The specific name inquinata is from Latin, and means 'contaminated' or in this case 'stained', this is in reference to the purple spots and blotches present on the apical parts of the live and dead bulb scales.
South Africa has 40 species of Ledebouria (in section Ledebouria). However, when considered together with section Drimiopsis and section Resnova, there are 61 species in South Africa.
Ledebouria inquinata is easily confused in the field with several other species which may be superficially similar viz. Ledebouria revoluta, L. marginata, L. asperifolia, L. ovatifolia, L. cremnophylla, L. zebrina, L. apertiflora, L. ensifolia, L. luteola and. L. floribunda. The leaves of L. inquinata, which are broadest near the base and then tapering to an attenuated apex, is a good field character to distinguish the species from the others listed above.
Ecology
Ecology
There is no documented information about the ecology of this species. Porcupines are known to dig out and eat the bulbs of several Ledebouria, whereas large ungulates have been observed to browse the leaves. The flowers are open and cup-shaped, with their pollen openly presented, which suggests that the flowers are opportunistically pollinated by most visiting insects. In the wild, many different insects (most notably honey bees) can be seen visiting the flowers, which are not recorded as being scented. The inflorescences are flaccid, hanging outwards from the rosette of leaves; this may have something to do with optimizing visibility of the flowers for specific terrestrial pollinators. The seed is black and roundish with a shiny and wrinkled surface. Venter (1993) suggests that Ledebouria seeds may be distributed by water wash, which is likely after heavy thunderstorms, which are frequent across the areas where the species occurs. The markings on the leaves may assist with camouflaging the plants against herbivory.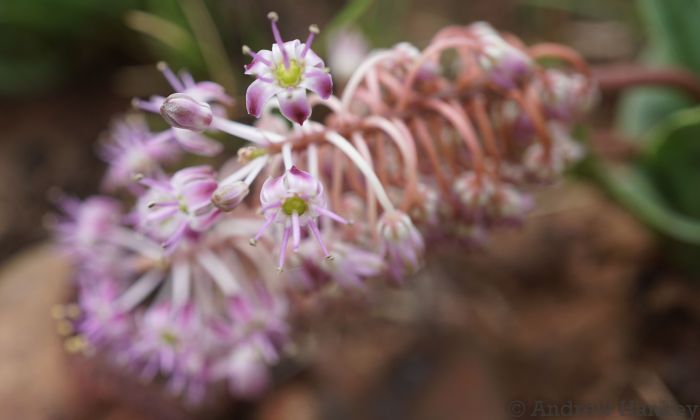 Uses
Use
The genus Ledebouria has been cited as having been used medicinally for purposes including pregnancy, diarrhoea, influenza, backache, skin irritations, wound treatment, as well as lumbago. The genus is also reported as being poisonous, although it is also reported that bushmen eat the bulbs of certain species (L. apertiflora and L. revoluta). However, these may have been cooked or prepared in some manner to destroy the toxins, which is not specifically documented. Despite the fact that some large ungulates do browse the leaves, the entire genus should be regarded as being poisonous as a precaution.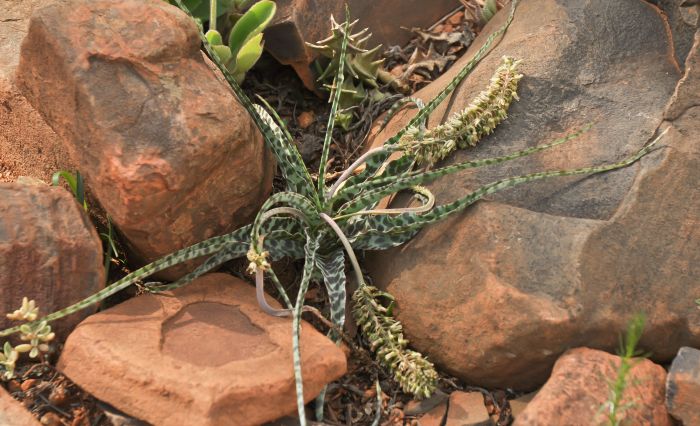 Growing Ledebouria inquinata
Grow
There are several very attractive leaf forms of this species, which makes them desirable from a horticultural perspective. Plants should be grown in full sun in a warm position, where they will not become shaded by other plants for part of the day. Sunlight brings out the best markings on the leaves, whereas in shade, the markings fade. Bulbs do well in sandy to loamy soils, provided the soil is well drained. It is important to keep the plants completely dry during the winter months. In containers they are best planted in clay pots, in a well-drained loam with one third compost or cattle manure mixture and placed in a full sun position. Watering should be done liberally in summer and withheld completely in winter, allowing the leaves to shrivel and the bulbs to become dormant (March to April). Spring watering can commence as soon as soil temperatures start to increase (September to October).
Propagation is most successful from fresh seed (seed cannot be stored for longer than a year). Sow seed in spring or summer in pots or deep trays, using the soil mixture mentioned above. Cover the seed with approx. 3 mm of the sifted soil mixture, water and place in a semi-shaded warm position, away from full desiccating sunlight. Treatment with fungicide is optional and may be necessary depending on the soil and compost mixture used. Germination usually takes between 1 and 3 weeks. Seedlings can be pricked out into individual containers after the first or second year. Flowering sized adult bulbs can be achieved after 3 or more years, depending on the individual clones grown. Plants are best utilised in groups planted in a rockery or succulent garden, amongst or around the base of taller architectural plants, which will not cause significant shade to the ground level layer. Under ideal conditions, seed will germinate around the base of adult plants and seedlings can be removed and planted in the nursery until they are large enough to utilise in the garden or in display pots.
Like most ledebourias, they are mostly pest free, but can be prone to mealy bug in the crown of the leaves and also on the roots. Mealy bug can be controlled by application of a systemic insecticide such as products containing Impacloprid. Caution should be taken not to treat the plants before flowering, since systemic insecticide can be transferred to the nectar, where it may affect bees. Consequently, the use of such products should only be used after the flowering period has concluded.
References
Hankey, A.J. & Victor, J.E. 2005. Ledebouria inquinata (C.A.Sm.) Jessop. National Assessment: Red List of South African plants version 2020.1. Accessed on 2021/03/31.
Hankey, A.J. 2019. Proposed English common names for African hyacinths (genus Ledebouria). Plantlife SA, Vol 47:7 https://plantlifesouthafrica.blogspot.com/
Jessop, J.P. 1970. Studies in the bulbous Liliaceae in South Africa: 1. Scilla, Schizocarpus and Ledebouria. Journal of South African Botany 36(4): 233–266.
Venter, S. 1993. A revision of the genus Ledebouria Roth (Hyacinthaceae) in South Africa. Unpublished M.Sc. thesis, University of Natal, Pietermaritzburg.
Venter, S. 2008. Synopsis of the genus Ledebouria Roth (Hyacinthaceae) in South Africa. Herbertia 62
Plants of the World online - Ledebouria inquinata. http://www.plantsoftheworldonline.org/taxon/urn:lsid:ipni.org:names:537317-1 Accessed 31/03/2021.
Wikipedia. Carl Friedrich von Ledebour. http://en.wikipedia.org/wiki/Carl_Friedrich_von_Ledebour. Accessed 6 November 2018.
Wikipedia. Imidacloprid effects on bees. https://en.wikipedia.org/wiki/Imidacloprid_effects_on_bees. Accessed 31/03/2021.
Credits
Andrew Hankey
Walter Sisulu National Botanical Garden
May 2021
Plant Attributes:
Plant Type: Bulb
SA Distribution: Free State, Gauteng, KwaZulu-Natal, Limpopo, Mpumalanga, North West, Northern Cape
Soil type: Sandy, Loam
Flowering season: Spring, Early Summer
PH: Neutral
Flower colour: Green, Purple, Pink
Aspect: Full Sun
Gardening skill: Easy
Special Features:
Attracts butterflies
Drought resistant
Good potplant
Feeds honeybees
Horticultural zones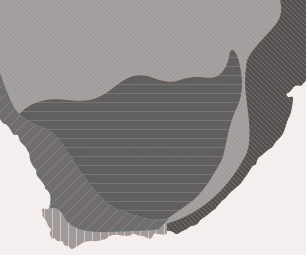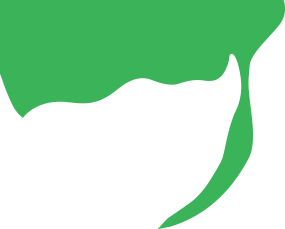 Zone 1 Coastal summer rainfall, frost free
Zone 4 Summer rainfall Karoo and Highveld, Frost in winter
Zone 5 Bushveld summer rainfall, Light frost
Google QR Code Generator