Ledebouria ovatifolia subsp. scabrida
Ledebouria ovatifolia (Baker) Jessop subsp. scabrida N.R.Crouch & T.J.Edwards
Family: Hyacinthaceae
Common names: Mdumbeni River Valley African Hyacinth
Introduction
An unusual flat-leaved Ledebouria which has leaves pressed flat on the ground and the upper surface of the leaves adorned with tongue-shaped papillae which are purple on the tips. The species is threatened by over utilization and transformation of its habitat.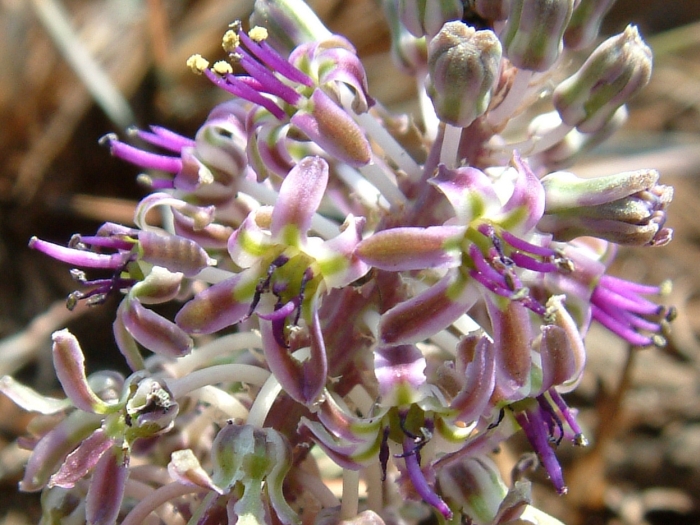 Description
Description
Solitary, medium-sized, deciduous, bulbous plant. In summer, 4–6, appressed triangular, darkish green, leaves are produced, that are adorned with papillae on the upper surface. The papillae are tongue-shaped, purple on the tips and yellowish below, giving the leaves a rough visual and tactile texture.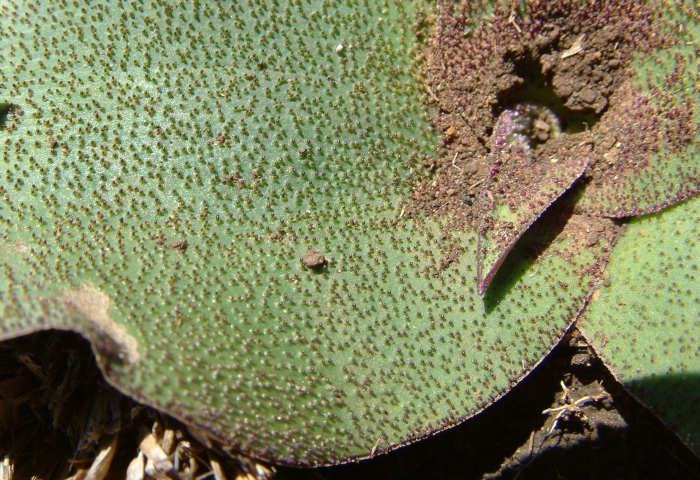 The lower surface is plain green and often suffused with red or purple.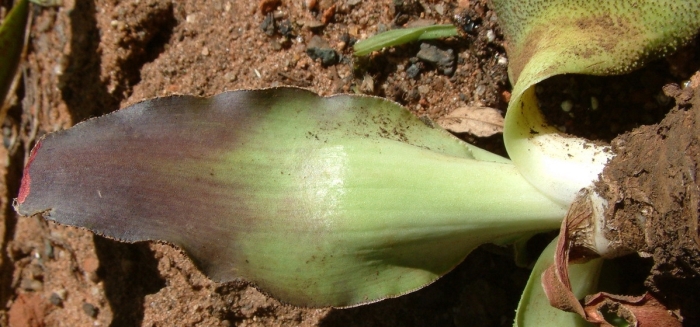 Multiple (3–6) flower spikes are produced per bulb, usually in early spring and summer (September to November in South Africa). The decumbent inflorescences hang outward from the leaves and are turned upward towards the apex, exposing the brightly coloured pinkish green flowers, with many florets (small flowers) at the distal end, in a bottle-brush-like fashion.
Each individual floret is attached to the peduncle via a slender greenish pedicel (flower stalk). The individual florets are comprised of 6 strongly recurved tepals (petals) which are usually pink, with a green median stripe. The conspicuous purple stamens extend beyond the tepals, bearing small, pale yellow anthers at their tips.
Conservation Status
Status
Ledebouria ovatifolia subsp. scabrida is a range restricted species and is known from only a few populations, where it is threatened by over utilization for stock grazing, and crop production. The species is assessed as Vulnerable (VU) in the Red List of South African plants.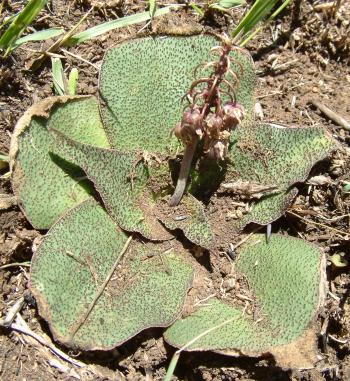 Distribution and habitat
Distribution description
The species is known only from a few populations in the Mdumbeni River Valley, in fine-leaved savanna, growing near Muden in KwaZulu-Natal, South Africa. It is usually found growing amongst grass and rocks, in shallow soils overlying dolerite, but is not restricted to a specific geology.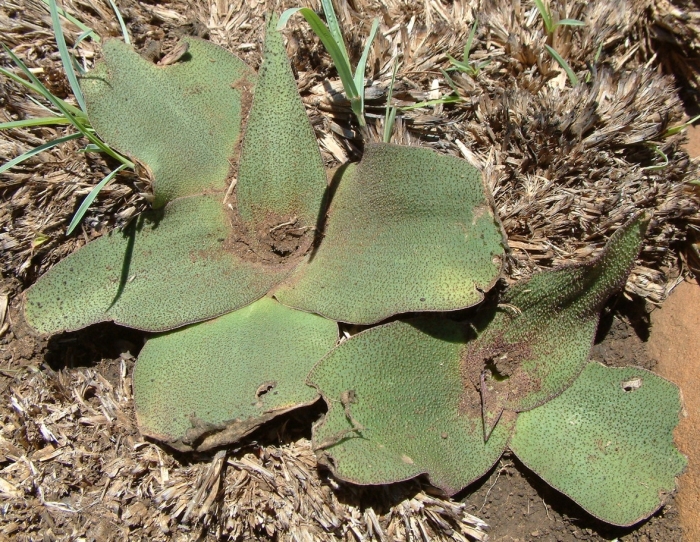 Derivation of name and historical aspects
History
This species was first named by N.R. Crouch & T.J. Edwards in 2007, however, in 2008, S. Venter also named the same plant as Ledebouria pustulata, unaware that the subsp. had already been named shortly before. In which case, the older name takes precedence. The genus Ledebouria is named in honour of the German-Estonian botanist Professor Carl Friedrich von Ledebour (1785–1851). The subspecific name scabrida, which means 'rough' in Latin, refers to the papillate upper leaf surface, which has a rough texture.
South Africa has 39 species of Ledebouria. The genus is distributed across Africa, India and Madagascar, with the centre of species diversity in the eastern parts of southern Africa.
Ledebouria ovatifolia subsp. scabrida cannot very easily be confused with any other Ledebouria, with exception perhaps of the typical L. ovatifolia subsp ovatifolia which is similar in most respects, with the exception of the conspicuous papillate upper leaf surface, which is unmistakable.
Ecology
Ecology
There are 2 articles which refer to specific ecology of this subspecies: Craib 2010 reports that the subspecies prefers elevated rocky grassland, at an altitude of 1 200–1 300 m a.s.l., near the periphery of the deciduous woodlands which dominate this region. They are often found on the hill summits between dolerite boulders and other rocks and also on the lower slopes, with a clear preference for east- and south-facing slopes.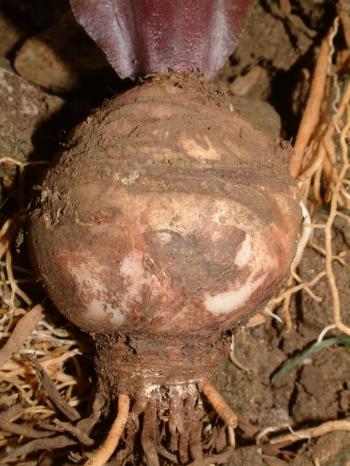 Porcupines are known to dig out and eat the bulbs of several Ledebouria species. The bulbs of this species are known to be highly fibrous; this may be a deterrent against herbivory. Crouch and Edwards (2007) report the presence of a basal stem in this subspecies, a feature not readily observed in the typical subspecies. This feature may serve as a means to regenerate new bulbs after the bulb has been eaten by herbivores such as porcupines.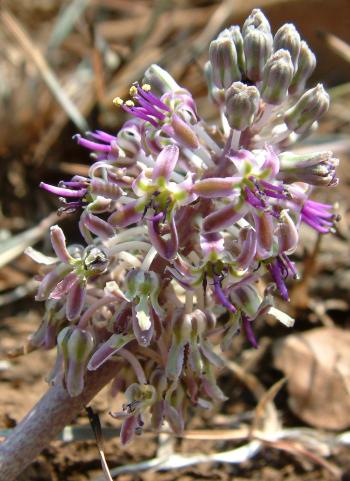 The flowers are brightly coloured, open and cup-shaped, with their pollen openly presented. This feature in flowers usually suggests opportunistic pollination by most visiting insects. In the wild, many different insects can be seen visiting the flowers, which have not been reported to be scented. The inflorescences are decumbent (laying outwards on the ground from the rosette of leaves). This may have something to do with optimizing or exposing the visibility of the flowers beyond the leaves, to attract ground-based pollinators.
The seed is small black and roundish. S. Venter (1993) suggested that Ledebouria seeds may be distributed by water wash, which is likely after summer thunder storms, which characterize the climate of the area, where the species occurs.
Uses
Use
Crouch & Edwards (2007) also report that the nominate subspecies, L. ovatifolia subsp. ovatifolia is used extensively in traditional medicine, and is consequently harvested in abundance It can be found on sale at muthi markets all around South Africa. It is used to treat a variety of ailments. It has not been reported that L. ovatifolia subsp. scabrida is used in the same way, although this may be simply due to its restricted range, and it may be targeted as rural settlements are spreading into its habitat.
The genus Ledebouria has been cited as having been used medicinally for purposes including pregnancy, diarrhoea, influenza, backache, skin irritations, wound treatment, as well as lumbago. The genus is also reported as being poisonous, although it is also reported that bushmen eat the bulbs of certain species (L. apertiflora and L. revoluta). However, these may have been cooked or prepared in some manner to destroy the toxins, which is not specifically documented.
Growing Ledebouria ovatifolia subsp. scabrida
Grow
The Mdumbeni River Valley African Hyacinth is easily maintained in containers or in the garden, away from its natural range. The species is best suited to be grown in containers, unless a similar summer rainfall regime is present.
The bulbs prefer to be planted in a well-drained, sandy loam soil, with the addition of some sifted kraal (cattle) manure or well-matured compost. Plants in containers should be watered sparingly in summer and allowed to receive moderate rainfall. During the dry winter dormancy period, the pots should be moved out of the rain and placed in a dry, cool area, with good air movement. Pots should be allowed to completely dry out during the dormant winter period. The species can withstand very cold winter temperatures, but it is best to keep them quite dry during these periods. Watering can commence at the onset of warmer weather (September to October in South Africa).
Propagation from seed is the most successful method of producing more plants. Seed must be sown fresh (as it cannot be stored) in spring or summer, in pots or trays filled with the sifted potting mixture mentioned above. Sow the seed on a firmly tamped surface and cover lightly with the same mixture, approximately 2–4 mm. deep. The seed trays should be kept in a well-lit and warm position, and kept damp for between 2 to 3 weeks, during germination. After emergence, the tiny seedlings are ideally retained in their natal container until they are large enough to handle or until 1 or more years old. Plants may reach flowering size within the third year of germination. Bulbs can be used to good effect as curiosities in containers or planted in the garden amongst rocks and at the base of larger succulent plants, such as aloes.
References
Craib, C. 2010. Penrock seeds and plants newsletter February and March 2010. http://www.penroc.co.za/newsletters2010/feb10/febmarch10.html
Crouch, N.R., Edwards, T.J. & Beaumont, A. 2007. Ledebouria ovatifolia subsp. scabrida (Hyacinthaceae), Kwa-Zulu Natal, South Africa. Flowering Plants of Africa 60: 14–19.
Crouch, N.R., Edwards, T.J. & Von Staden, L. 2016. Ledebouria ovatifolia (Baker) Jessop subsp. scabrida N.R.Crouch & T.J.Edwards. National Assessment: Red List of South African plants version 2017.1. Accessed on 2018/06/10
Dictionary of botanical epithets. http://www.winternet.com/~chuckg/dictionary.html
Hankey, A. 2011-07. Ledebouria Roth (Hyacinthaceae). PlantZAfrica. Internet 5 pp. http://pza.sanbi.org/ledebouria-genus
Hankey, A. 2016-04. Ledebouria ovatifolia (Baker) Jessop subsp. ovatifolia (Hyacinthaceae). PlantZAfrica. Internet 6pp http://pza.sanbi.org/ledebouria-ovatifolia-subsp-ovatifolia
Jessop, J.P. 1970. Studies in the bulbous Liliaceae in South Africa: 1. Scilla, Schizocarpus and Ledebouria. Journal of South African Botany 36(4): 233–266.
Venter, S. 1993. A revision of the genus Ledebouria Roth (Hyacinthaceae) in South Africa. Unpublished M.Sc. thesis, University of Natal, Pietermaritzburg.
Venter, S. 2008. Synopsis of the genus Ledebouria Roth (Hyacinthaceae) in South Africa. Herbertia 62
Credits
Andrew Hankey
Walter Sisulu National Botanical Garden
January 2019
 
Plant Attributes:
Plant Type: Bulb
SA Distribution: KwaZulu-Natal
Soil type: Sandy, Loam
Flowering season: Spring, Early Summer
PH: Alkaline, Neutral
Flower colour: Green, Pink
Aspect: Full Sun, Morning Sun (Semi Shade)
Gardening skill: Easy
Special Features:
Attracts butterflies
Drought resistant
Good potplant
Feeds honeybees
Horticultural zones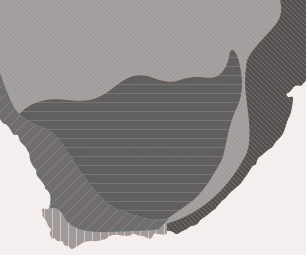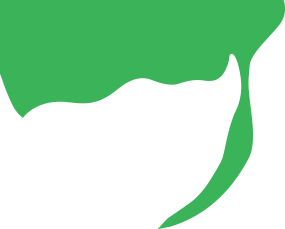 Zone 1 Coastal summer rainfall, frost free
Zone 2 Coastal winter rainfall, frost free
Zone 3 Winter rainfall Karoo, light frost
Zone 4 Summer rainfall Karoo and Highveld, Frost in winter
Zone 5 Bushveld summer rainfall, Light frost
Google QR Code Generator