Ledebouria papillata S.Venter
Family: Hyacinthaceae
Common names: Limpopo African hyacinth
Introduction
A miniature bulbous plant, which occurs mostly in Limpopo Province, South Africa. This dwarf species is often difficult to find because of its small size and well-camouflaged colouring, where it is often hidden amongst leaf litter, in bushveld.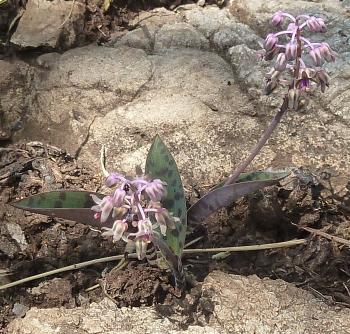 Description
Description
Deciduous, bulbous plant, mostly solitary or few bulbs occurring together, up to 100 mm high. The bulbs are small, pear-shaped, 20 × 18 mm, white. There are usually 1 or 2, erect-spreading leaves per bulb.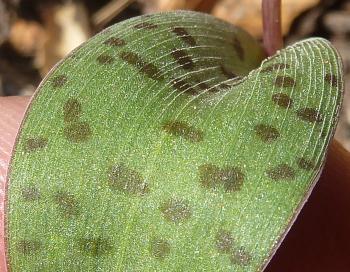 The leaves are blue green, clear or occasionally spotted above and usually red below with a small stem-like base, which is banded with black and white markings. The leaves and stem-like base of the plant are all covered with longitudinal rows of minute papillae (tiny hair-like cells), which are visible to the naked eye on close inspection.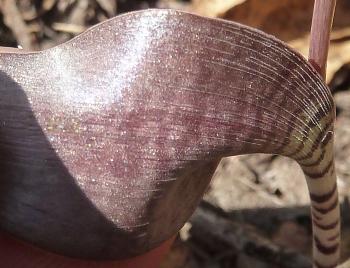 A solitary, unbranched inflorescence is produced from between the leaves, in spring or early summer (August to September in South Africa) and stands about twice the height of the plant. Tiny, green to greenish purple flowers are produced towards the tip, the lowest flowers open first to reveal brightly coloured, violet anthers. The individual florets (small flowers) are attached to the peduncle (main flower stalk), by a small lilac or whitish pedicel (flower stalk). After the flowers, green capsules develop, which split to release small, wrinkled and rounded, shiny, blackish seeds.
Conservation Status
Status
Ledebouria papillata is listed as Least Concern (LC) in the in the Red List of South African plants. The species is distributed over a large area, predominantly in the Limpopo and North West Provinces, with occurrences in the Eastern Cape. It is not faced with any major threats in its natural habitat, with the exception of habitat loss and degradation.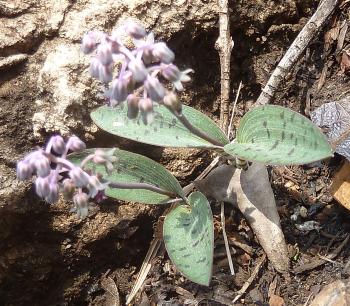 Distribution and habitat
Distribution description
Ledebouria papillata is usually found in warm, moist to dry woodland, where it is often between rocks and leaf litter, in the shade of bushveld trees. Because of its small size and cryptic colouration, it can be very difficult to locate in its natural habitat.
Derivation of name and historical aspects
History
The Limpopo African hyacinth was collected for the first time near Mokopane (previously Potgietersrus), by Mrs Reino Pott neè Leendertz (1869–1965), botanist at the Transvaal Museum and extensive botanical collector in South Africa. The specimen was not recognized as a separate species by J.P. Jessop, who revised the genus in 1974, wherein he included the specimen under Ledebouria cooperii. It was only in 1993 that the species was first recognized by Dr S. Venter in his 1993 M.Sc. thesis, revising the genus. However, the name was only formally published by him in 2008.
The genus Ledebouria is named in honour of the German-Estonian botanist, Professor Carl Friedrich von Ledebour (1785–1851). The genus is distributed across Africa, India and Madagascar with the centre of species diversity in the eastern parts of southern Africa. South Africa has 42 species of Ledebouria. The species name papillata is derived from the Latin word papillae, meaning 'small protrusions', in reference to the leaves being adorned by longitudinal rows of tiny, hair-like protrusions on the leaf surfaces.
This species is not likely to be confused with any other species of Ledebouria because of its small size, coupled with its distinctive habit and the zebra-like banding at the base of the leaves, as well as leaves being covered in minute papillae.
Ecology
Ecology
There is very little published literature on the ecology of the species. Personal observations of this species by the author, indicates that seed set in natural populations is poor, while rodents prey on the small bulbs. These factors combined may explain why many populations of this species tend to be rather sparse. The individual florets are very small and solitary bees have been observed visiting the flowers.
Uses
Use
No specific references exist in the literature to this species being used by people. The genus Ledebouria as a whole, has been used medicinally in Africa for various purposes, including pregnancy, diarrhoea, influenza, backache, skin irritations, wound treatment, as well as lumbago. The genus is also reported as being poisonous, although it is also reported that Bushmen eat the bulbs of certain other species (L. apertiflora and L. revoluta).
Growing Ledebouria papillata
Grow
Ledebouria papillata is not a difficult species to cultivate, the plants prefer full sun, but will also tolerate light shade. They prefer a mineral soil with a sandy texture. A good potting mixture would comprise of 1 part sandy loam and 1 part well-rotted compost or leaf litter; adding a little well-rotted kraal manure, will be beneficial. Plants prefer to be completely dried out during the dry, dormant, winter period. Watering can begin with the emergence of the first leaves (usually around August to September in South Africa); during summer the plants can be watered once a week under warm conditions. Since this species doesn't frequently produce bulblets from the base of the mother bulb, the best way to propagate it, is by seed. The fresh seed should be sown as soon as possible after it has been harvested, in the same mixture mentioned above, but sifted and settled in a pot or tray. Spread the seed evenly on a firmly tamped surface and lightly cover with the same mixture, approximately 2 mm deep. The trays should be kept in a bright, warm position out of direct sunlight and kept damp until germination has commenced, after which watering can be gradually reduced. Seedlings can be pricked out or left in the seedling container until flowering age is attained (usually 2 to 3 years).
References
Dave's Garden. Botanary. Accessed on 14/04/2017. http://davesgarden.com/guides/botanary/
Gunn, M. & Codd, L.E. 1980. Botanical exploration of southern Africa. Balkema, Cape town.
Hankey, A. 2011. Ledebouria Roth. PlantZAfrica. Internet 5 pp. http://pza.sanbi.org/ledebouria-genus, accessed 22 June 2016.
Venter, S. 1993. A revision of the genus Ledebouria Roth (Hyacinthaceae) in South Africa. Unpublished M.Sc. thesis, University of Natal, Pietermaritzburg.
Venter, S. 2008. Synopsis of the genus Ledebouria Roth (Hyacinthaceae) in South Africa. Herbertia 62
Von Staden, L. 2016. Ledebouria papillata S.Venter. National Assessment: Red List of South African plants version 2017.1. Accessed on 2017/04/14
Credits
Andrew Hankey
Walter Sisulu National Botanical Garden
August 2017
Plant Attributes:
Plant Type: Bulb
SA Distribution: Eastern Cape, Gauteng, Limpopo, North West
Soil type: Sandy, Loam
Flowering season: Spring, Early Summer
PH: Acid
Flower colour: Green, Pink
Aspect: Full Sun
Gardening skill: Easy
Special Features:
Attracts butterflies
Drought resistant
Good potplant
Feeds honeybees
Horticultural zones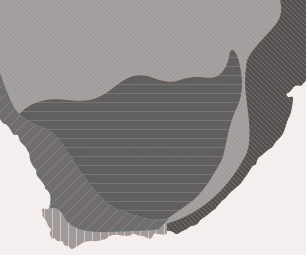 Zone 4 Summer rainfall Karoo and Highveld, Frost in winter
Google QR Code Generator