Ledebouria sandersonii (Baker) S.Venter & T.J.Edwards
Family: Hyacinthaceae
Common names: fairy African hyacinth
Introduction
An attractive dwarf species with brightly coloured flowers, which makes an attractive pot plant or addition to a grassland garden. This widespread Ledebouria occurs in the moister parts on the eastern side of South Africa, where it is often locally common, with many different regional variations.
Description
Description
Solitary or weakly gregarious (forming loose clumps), deciduous bulbous plant, with small bulbs (30 × 30 mm). Plants may produce between 3–6, mostly broadly rounded leaves, which may be unspotted or have darker spots and blotches. The leaves of this species vary considerably with many regional forms, ranging from bright green to dull green.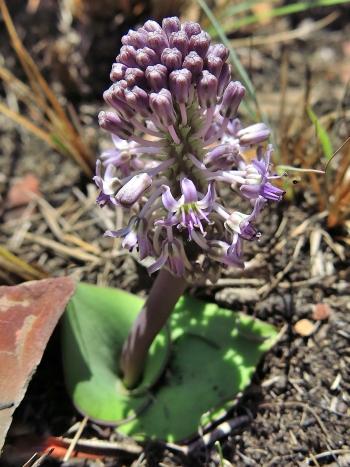 The brightly coloured flowers are produced mainly in spring and summer (September to December in South Africa) on unbranched spikes, bearing numerous single, mostly lilac to pink flowers, usually with a green keel and purple stamens. The flowers are arranged along the central peduncle (main stalk), each on a short pedicel (flower stalk), which is often lilac or pinkish in this species.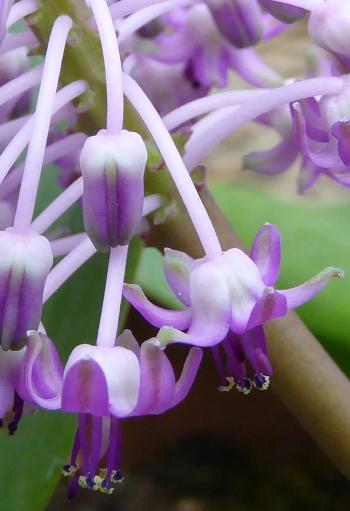 The small, drop-shaped seeds are produced following the flowers, in green capsules, which split open to reveal the shiny brownish black and wrinkled seeds.
Conservation Status
Status
Least Concern (LC). This species is widespread and very common over large areas of South Africa; it is not considered to be threatened in its natural habitat.
Distribution and habitat
Distribution description
Ledebouria sandersonii is widespread across the eastern parts of South Africa in the Limpopo, Mpumalanga, Gauteng, FreeState, KwaZulu-Natal and Eastern Cape Provinces. The species is often locally common, where it occurs mostly in moist grassland and savanna.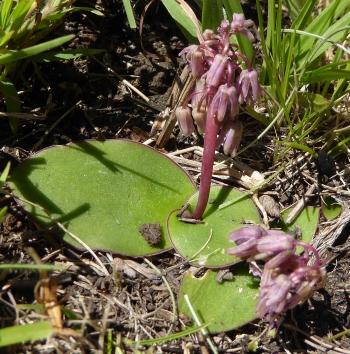 Derivation of name and historical aspects
History
This species was originally named by Baker as Scilla sandersonii in 1870. J.P. Jessop included it under the broader concept of L. cooperii in his 1970 treatment of the genus. Dr S. Venter reinstated the species in his 1993 M.Sc. revision of the genus in 1993. However, it was only formally published by the same author in 2003.
The genus Ledebouria is named in honour of the German-Estonian botanist Professor Carl Friedrich von Ledebour (1785–1851). The species name sandersonii, honours John Sanderson (1820–1881), journalist, trader and draughtsman.
South Africa has 42 species of Ledebouria. The genus is distributed across Africa, India and Madagascar, with the centre of species diversity in the eastern parts of southern Africa.
This species is most easily confused with L. cooperi which typically has more lanceolate and more erect leaves.
Ecology
Ecology
Flowers of Ledebouria sandersonii are open, cup-shaped and unscented, which suggests that they are opportunistically pollinated by most visiting insects, and in the wild, many different insects can be seen visiting the flowers. Summer rains are frequent in the range of this species and this species often grows in seepages in grassland where it is wet all summer long. The species is found in a number of different soil types, but prefers a humic clay loam. The inflorescence is decumbent (leaning outwards and downwards) from the rosette of leaves; this may have something to do with optimizing the access to the flowers by terrestrial pollinators. The seed is small, black and roundish. Venter (1993) suggests that seeds of Ledebouria are distributed by water wash, which is likely after heavy thunderstorms that are frequent across the areas where the species occurs.
Uses
Use
The genus Ledebouria has been cited as having been used medicinally for various purposes, including pregnancy, diarrhoea, influenza, backache, skin irritations, wound treatment, as well as lumbago. The genus is also reported as being poisonous, although it is also reported that Bushmen eat the bulbs of certain species (L. apertiflora and L. revoluta), however, they may have been cooked or prepared in some manner.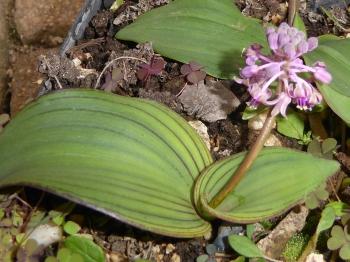 Growing Ledebouria sandersonii
Grow
Ledebouria sandersonii is not difficult to maintain in cultivation and makes a rewarding container plant. The plants prefer a cool climate, such as that found at higher altitudes and enjoys plenty of water,especially during the active growth period in summer. The species enjoys a humus-rich clay loam or loam soil, with some compost and kraal (cattle) manure added. Summer rains are frequent in the range of this species and it often grows in seepages in grassland where it is wet all summer long. During the cold, dry dormant season in winter, the pots are best kept almost dry, with a light watering occasionally, to prevent complete desiccation.
The best way to propagate this species is from seed, sown as fresh as possible and not stored for prolonged periods. Sow the seed in a sifted loamy soil, as mentioned above, in pots or trays on a firmly tamped surface. Cover the seed with about 3–5 mm of the sifted mixture and keep constantly damp, until all the seeds have germinated. Seedlings can be pricked out or left in their natal container for the first year to establish sizable bulbs. This species can reach flowering size in 2 to 3 years from seed.
References
Edwards, T.J. & Venter, S. 2003. A revision of Ledebouria (Hyacinthaceae) in South Africa. 3. The reinstatement of L. ensifolia, L. galpinii and L. sandersonii. Bothalia 33,1: 49–51.
Hankey, A. 2011-07. Ledebouria Roth (Hyacinthaceae). PlantZAfrica. Internet 5 pp. http://pza.sanbi.org/ledebouria-genus
Venter, S. 1993. A revision of the genus Ledebouria Roth (Hyacinthaceae) in South Africa. Unpublished M.Sc. thesis, University of Natal, Pietermaritzburg.
Venter, S. 2008. Synopsis of the genus Ledebouria Roth (Hyacinthaceae) in South Africa. Herbertia 62
Von Staden, L. 2015. Ledebouria sandersonii (Baker) S.Venter & T.J.Edwards. National Assessment: Red List of South African plants version 2017.1. Accessed on 2017/04/17.
Credits
Andrew Hankey
Walter Sisulu National Botanical Garden
February 2018
Plant Attributes:
Plant Type: Bulb
SA Distribution: Eastern Cape, Free State, Gauteng, KwaZulu-Natal, Limpopo, Mpumalanga
Soil type: Clay, Loam
Flowering season: Spring, Early Summer
PH: Neutral
Flower colour: Green, Pink, Mauve/Lilac
Aspect: Full Sun
Gardening skill: Easy
Special Features:
Attracts butterflies
Good potplant
Feeds honeybees
Wet sites
Horticultural zones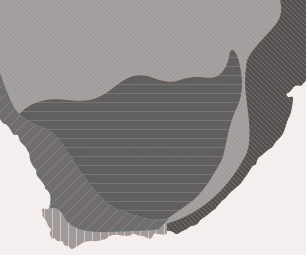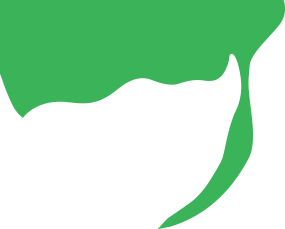 Zone 1 Coastal summer rainfall, frost free
Zone 2 Coastal winter rainfall, frost free
Zone 3 Winter rainfall Karoo, light frost
Zone 4 Summer rainfall Karoo and Highveld, Frost in winter
Zone 5 Bushveld summer rainfall, Light frost
Google QR Code Generator