Leucadendron elimense subsp. elimense
Leucadendron elimense subsp. elimense E.Phillips
Family: Proteaceae
Common names: Elim conebush
Introduction
Leucadendron elimense subsp. elimense is an attractive species not be overlooked when driving along the gravel roads between Elim and Bredasdorp.
Description
Description
All Proteaceae are monoecious, except the genera Leucadendron and Aulax, which are dioecious or unisexual. 
Leucadendron elimense subsp. elimense is a single-stemmed, sparsely branched shrub, up to 1.5 m high. The leaves are red, elliptical:on the male plant 13-49 x 5-19 mm; on the female plant 14-57 x 7-21 mm; hairless, closely spaced with a narrow, firm but flexible margin. The involucral leaves (a rim of leaves surrounding the flower head), are yellow, crowded, and overlap the base of the flower head. 
The male flower head is 19 mm long and can be up to 46 mm across, depressed, globular shaped and producing a pungent odour.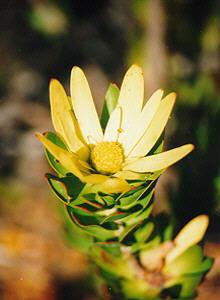 The female flowerhead is only 20 mm across with its flowers closely packed to the upper surface, with the sides closely overlapped by recurved involucral bracts and leaves. They too have a pungent smell. The tiny flowers on the female plant are situated on a seed-forming cone whereas the male's flowers are yellow, plentiful, small and fluffy.
The cones on these plants are 35 mm in diameter, are hairless above with some hairs below. They have ovate (egg-shapped) bracts and are globular shaped.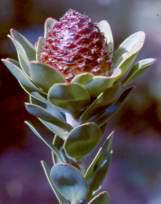 Conservation Status
Status
The current unpublished status (Oct 2007) of Leucadendron elimense subsp. elimense is Endangered and the other two subspecies are Critically Endangered. The main threat to these plants is the encroachment of farming on the natural habitat.
Distribution and habitat
Distribution description
Leucadendron elimense subsp. elimense grows in shallow soils along the gravel roads from Elim to Bredasdorp in the Overberg Region of the Western Cape and is endemic to this area.
Derivation of name and historical aspects
History
Leuca means white, dendron means tree, after Leucadendron argenteum, the silver tree, after which the genus is named. The early Dutch settlers  to the Cape dubbed the silver tree, witteboom, literally meaning white tree. In 1691, a botanist named Plukenet used the name Leucadendron to describe the silver tree and other related plants. The species name elimense is derived from the town Elim where this subspecies is found.
There are three distinct subspecies: Leucadendron elimense subsp. elimense, subsp. salteri and subsp. vyeboomense. They are very similar in growth habit but can be differentiated by the shape and length of the leaves.
Ecology
Ecology
Many small insects are found in the flower heads; most leucadendrons secrete nectar and a pungent odour is released by both male and female plants, which suggests that the flowers are probably insect pollinated.
Growing Leucadendron elimense subsp. elimense
Grow
Leucadendrons are classified into two sections: Leucadendron,  Section A; Alatosperma. Section B. Leucadendron elimense subsp. elimense falls under Section B, Alatosperma. This section is made up of species with flattened seeds which remain in the cone of the plant for one or more years. The seeds are not spontaneously released and therefore the seed-bearing cones can be collected one year after flowering and stored in a dry warm place; this will speed up seed release.
This species can be propagated both sexually and asexually; however for better results seed sowing is recommended.
Sowing is normally done in autumn, the fluctuation in day and night temperature triggers germination. Before sowing, prepare seed trays with a 50:50 ratio of fynbos mix and fine bark; this allows for good aeration and water drainage, as the seeds will rot if too moist. Sow the seeds evenly and cover with a thin layer of fine bark. Once seeds have germinated, feed seedlings with a kelp-liquid fertilizer as this will strengthen the root system. Plant into individual plant bags and keep for about one year before planting into the garden in the next rainy season.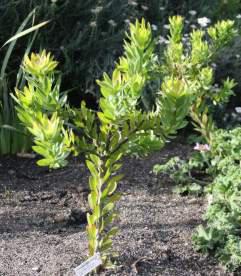 Plant amongst other fynbos species such as Elegia tectorum, also known as Chondropetalum tectorum and Protea compacta.
References
Goldblatt, P. & Manning, J. 2000. Cape plants. A conspectus of the Cape flora of South Africa, Strelitzia 9. National Botanical Institute, Cape Town and Missouri Botanic Garden, USA.
Palmer, E. & Pitman, J. 1972. Trees of southern Africa, vol. 1. Balkema, Cape Town.
Rebelo, A. (Tony). 1995. A field guide to the proteas of southern Africa. Fernwood Press, Vlaeberg, Cape Town.
Rousseau, F. 1970. The Proteaceae of South Africa. Purnell, Cape Town.
Vogts, M. 1982. South Africa 's Proteaceae. Know them and grow them. Struik, Cape Town.
Credits
Berenice Carolus
Harold Porter NBG
June 2008
Plant Attributes:
Plant Type: Shrub
SA Distribution: Western Cape
Soil type: Clay
Flowering season: Early Summer, Winter
PH: Acid
Flower colour: Yellow
Aspect: Full Sun
Gardening skill: Average
Special Features:
Attracts birds
Fragrant
Feeds honeybees
Horticultural zones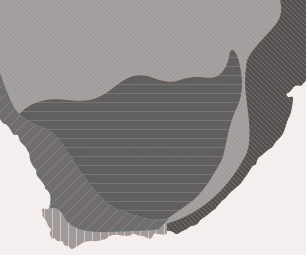 Zone 2 Coastal winter rainfall, frost free
Google QR Code Generator