Leucadendron laureolum (Lam.) Fourc. (= L. decorum R.Br.)
Family: Proteaceae
Common names: golden conebush, golden sunshine-conebush, laurel-leaf conebush (Eng.); louriergeelbos, louriertolbos (Afr.)
Introduction
In midwinter, golden conebushes turn many Cape mountainsides bright yellow. These large fynbos shrubs thrive in a wide range of soils, and bring winter colour to the garden.
Description
Description
Leucadendron laureolum is a large shrub 1 to 2 m tall and single-stemmed at the base. It is dioecious, meaning that there are separate male and female plants. Male bushes are compact, rounded and yellowish. Female bushes are more sparsely branched, bare-stemmed and greenish. Both turn bright yellow during the winter (June-July-August) flowering season. Leaves are oblong and hairless when mature and end in a blunt, recurved, fine point. Leaves on male bushes are up to 75 mm long and 15 mm wide, on female bushes up to 95 mm long and 17 mm wide.
Male flowerheads are packed full of small yellow flowers, forming an elongated globe up to 25 mm long and 14 mm wide and silky at the tip. Female flowerheads are made up of green scales with fewer yellow flowers dotted among them, forming an elongated globe up to 27 mm long and 14 mm wide. Flowering season is winter (July) and the flowerheads are lightly fruit-scented. The leaves that surround the flowerheads, known as the involucral leaves, turn bright yellow during the flowering season and conceal the flowerheads.
After flowering, the male flowerheads turn brown and drop off, but the female ones continue to grow, forming greenish yellow cones up to 46 mm long and 37 mm wide. The cones are retained on the bush for several years, becoming hard and woody. Seeds, or more correctly the fruits, are only released when the cone dries out, usually after the parent plant, or branch, dies. The fruits are winged.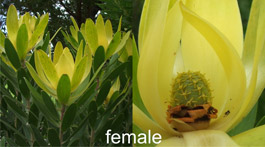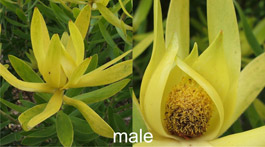 Conservation Status
Status
Least Concern. Leucadendron laureolum is not threatened. This species has lost some of its populations, mostly on the Cape Flats, to urban development and on the Agulhas Plain to invasive alien plants and agriculture, however, its remaining populations are dense and extensive and adequately conserved.
Distribution and habitat
Distribution description
Leucadendron laureolum occurs on granite, sandstone and limestone slopes and flats, most often on deep sands, from sea level to 1000 m from the Cape Peninsula eastwards to Potberg, north-east to Jonaskop and northwards to Paarl Mountain. Within this area it is found on the Cape Flats, Hottentots Holland Mountains, Kogelberg, Kleinmond, Groenland, Kleinrivier and Babylontoring Mountains, Elim Flats, Riviersonderend Mountains, Caledon Swartberg and Bredasdorp. It occurs in large, dense communities.
Derivation of name and historical aspects
History
The genus name Leucadendron is derived from the Greek leukos, meaning white, and dendron, tree; named after the most outstanding member of the genus, the Silver Tree, Leucadendron argenteum, on which the genus was based. In the 1690s when the genus was first named it was known as the Witteboom, meaning 'white tree'. The specific name means 'like a small laurel', from the Latin laureolus and refers to the leaves.
The genus Leucadendron belongs in the protea family. It consists of 83 species, most of which occur in the Western and Eastern Cape with a few outliers in KwaZulu-Natal. They are all dioecious shrubs or trees, and are known as conebushes because the female flower heads form woody cones in which the fruits are borne.
Ecology
Ecology
The flowerheads have a light fruity scent and are pollinated by insects (small beetles).
Leucadendron laureolum is serotinous, and retains its seeds in woody cone-like fruits on the female plants for several years. Plants are killed by fire, but the seeds are protected inside the cones. After the fire, the cones open and release the seeds, which germinate en masse with the autumn-winter rains. Seeds are winged and are dispersed by wind.
Like all members of the protea family, this species has proteoid roots, which are dense clusters of hairy rootlets with a surface area 15 times that of non-proteoid roots. Proteoid roots are formed in a 50 mm root mat around the plant in the soil just beneath the leaf litter, where nutrient supply is the highest. In nature they are formed only during the rainy season, but in cultivation where water is provided all year round they are formed throughout the year. They also form more readily in soil that has added compost (humus or leaf mould).
Proteoid roots are not formed in soil that has been fertilised with high levels of phosphates (P). Proteoid roots are an adaptation to the nutrient-poor soils found in the Cape mountains and allow the plants to absorb the tiny amounts of nutrients available in the soils. This adaptation makes them difficult in cultivation as they cannot cope with heavily fertilised soils.
Leucadendron laureolum has relatively large, nutrient-rich seeds, which give the seedlings a competitive advantage in nutrient-poor soils. Using the stored nitrogen and phosphate in the seed, the seedling can establish itself in soil where these nutrients are critically scarce, and survive long enough for the proteoid roots to develop.
Uses
Use
Although not widely cultivated for the cutflower or horticulture market, Leucadendron laureolum is one of the parents of many commercial hybrids such as 'Asteroid', 'Chameleon', 'Red Gem', 'Silvan Red', 'Safari Sunset', 'Inca Gold', 'Magenta Sunset', 'Laurel Yellow', 'Wilson's Wonder' and many more.
Growing Leucadendron laureolum
Grow
Leucadendron laureolum needs a sunny spot in well-drained soil. It is wind-tolerant, drought-tolerant when established, and thrives in nutrient-poor soils. It is well suited to fynbos gardens, Mediterranean gardens, coastal gardens, rockeries as well as gardens on sandy flats. It is also a good candidate for gardens where species of the protea family that need acidic soil have failed, as it tolerates a wider range of soil types than many other species. It is a large shrub, and thus needs about 2-4 m of space to develop to its full, rounded size.
Keep root disturbance to a minimum. The roots of proteaceous plants are very susceptible to fungal infection, so try not to break them by digging around the base of the plant inside the drip-line, rather put down a thick layer of mulch once or twice a year, e.g. in autumn and in spring, and leave them undisturbed. Proteas are light feeders with sensitive root systems that are adapted to very nutrient-poor soils and will be killed by strong fertilisers and manure.
Leucadendron laureolum is easily raised from seeds sown in autumn. Sow in sterile, well-drained soil, press the seeds into the surface and cover with clean sand or fine-milled bark and keep moist but not wet. Seeds germinate in 4-8 weeks. Treating the seed with a fungicide increases the number of surviving seedlings. Transplant into individual containers filled with well-drained soil mix as soon as the first pair of true leaves has developed. Grow on for a year before planting out into the garden.
This species can also be propagated by semi-hardwood cuttings taken from the current season's growth, in autumn or spring. Remove the leaves from the basal third of the cutting, treat with a rooting hormone, and place in well-drained rooting medium under intermittent mist with bottom heat of 24 °C. Rooting takes about 6 weeks; harden off for 3 weeks and transplant into individual containers filled with well-drained soil.
References
Lamont, B.B., Brown, G. & Mitchell, D.T. 1984. Structure, environmental effects on the formation, and function of proteoid roots in Leucadendron laureolum (Proteaceae). New Phytologist 97: 381-390.
Goldblatt, P. & Manning, J.C. 2000. Cape plants. A conspectus of the Cape Flora of South Africa. Strelitzia 9. National Botanical Institute, Pretoria & Missouri Botanical Garden Press, Missouri.Protea Atlas Project. http://protea.worldonline.co.za
Rebelo, A. (Tony) 2001. Proteas. A field guide to the proteas of Southern Africa, edn 2. Fernwood Press, Cape Town.Trinder-Smith, T. 2006. Wild flowers of the Table Mountain National Park. South African Flower Guide 12. Botanical Society of South Africa, Cape Town.Vogts, Marie. 1982. South Africa's Proteaceae. Know them and grow them. Struik, Cape Town.
Stock W.D, Pate, J. S. & Delfs, J. 1990. Influence of seed size and quality on seedling development under low nutrient conditions in five Australian and South African members of the Proteaceae. Journal of Ecology 78(4):1005-1020.
Credits
Alice Notten
Kirstenbosch NBG
May 2012 
Plant Attributes:
Plant Type: Shrub
SA Distribution: Western Cape
Soil type: Sandy, Loam
Flowering season: Winter
PH: Acid, Alkaline, Neutral
Flower colour: Yellow
Aspect: Full Sun
Gardening skill: Average
Special Features:
Drought resistant
Fragrant
Horticultural zones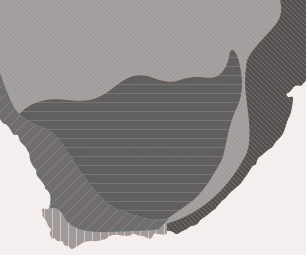 Zone 2 Coastal winter rainfall, frost free
Zone 3 Winter rainfall Karoo, light frost
Google QR Code Generator