Leucadendron teretifolium
Leucadendron teretifolium (Andrews) I.Williams
Family: Proteaceae
Common names: needle-leaf conebush, strawberry conebush (Eng.); waterbossie (Afr.)
Introduction
Rosy red cones and dense, compact growth, make Leucadendron teretifolium hard to miss, when walking in the veld.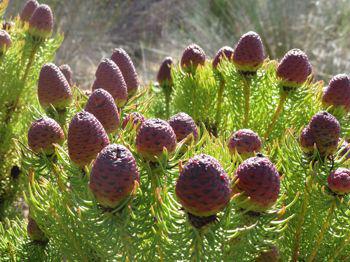 Description
Description
The strawberry conebush has a single stem but with dense, bushy branching, creating a compact shrub that grows up to 1 m tall. Leaves are dark green and needle-like.
Male plants produce clusters of small, yellow flowerheads at the branch tips. These contain large amounts of pollen, and if you brush past during flowering, a small cloud of pollen will appear. Female plants produce cones that when young, are small and green. Once fertilized and mature, they turn a beautiful rosy red, sometimes dark maroon.
Flowering occurs in spring (August–September), and the seeds are held safe on the mother plant within the cones.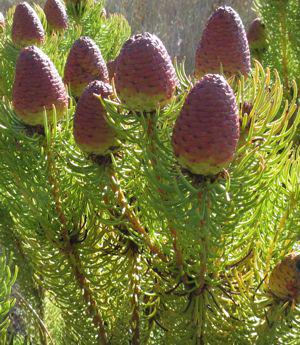 Conservation Status
Status
Leucadendron teretifolium is listed as NT (Near Threatened). This means, existing populations are not under threat of extinction. If populations continue to get smaller and eventually disappear due to habitat loss from farming and alien plant invaders, Leucadendron teretifolium could very soon appear on the Red Data List.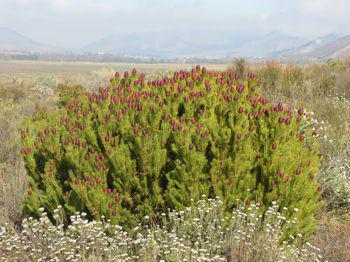 Distribution and habitat
Distribution description
The strawberry conebush occurs in the central and south-western Cape. Its preferred habitat is mountainous areas and appears along the low foothills all the way up mountain slopes up to 1 350 m altitude. It grows in fynbos and the renosterveld ecotone (the border of vegetation where fynbos meets renosterveld). Soil type can either be shale clay soils (which support renosterveld) or rocky sandstone leached soils (which support fynbos).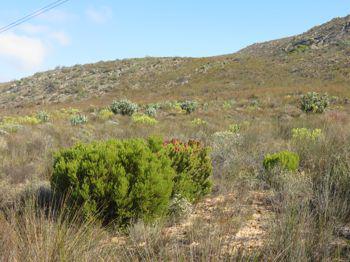 Derivation of name and historical aspects
History
Leucadendron along with 13 other genera, all form part of the Proteaceae family. This is a large family and iconic to the south-estern Cape and Fynbos Biome.
The genus name leucos means 'white' and dendron means 'tree'. This definition refers to the iconic silvertree, Leucadendron argenteum, on which the genus was based. Early Dutch Settlers referred to the silvertree as the 'witteboom' or 'white tree'. The specific epithet, tereti- means 'needle-like' and folium means 'leaves', a distinguishing characteristic for this species.
Ecology
Ecology
The Leucadendron genus is dioecious, meaning that males and females occur as separate plants. Male plants produce pollen and female plants produce sticky stigmas. The wind acts as pollinator and blows the pollen from the male plant onto the sticky stigmas on the female plant. Fertilization occurs and many little seeds form and grow within a hard cone on the female plant.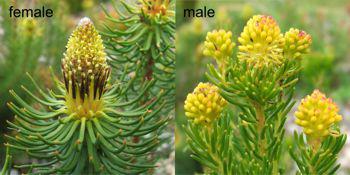 Uses
Use
There are no known traditional uses for this plant; it could possibly become an interesting horticultural pot plant subject in the future.
Growing Leucadendron teretifolium
Grow
Leucadendron teretifolium can be propagated from seed or cuttings. Growing from seed is the easier method, demanding less equipment and skills, but cuttings if taken at the correct time and using good cutting material, can also be successful.
It is difficult to advise an exact time to take cuttings, as it is very dependent on the weather. Generally the window period is anywhere between December to March (summer time). What you are looking for, is the new vegetative growth that has elongated and hardened off slightly. Once this happens, the cuttings are ready to harvest, and at this stage, will provide the highest rooting success. Take your cuttings from the tips of branches and make sure they are semi-hardwood, i.e. will not wilt and be too soft. Soft cuttings tend to rot before they manage to root. Once you have harvested material, soak in a water bath containing a very weak liquid feed, such as a seaweed extract and a fungicide. Make the cuttings about 60 mm long and dip in a rooting hormone. Place in a well-drained medium and mist lightly. A bottom heat of 25ºC will increase the rooting success. Give a dilute foliar feed once a week. Once the cuttings have rooted well, remove them from the mist and bottom heat, and harden them off for three weeks before planting up.
Sow seed in late summer to autumn (April/May) when the days are still warm but the nights have started to cool off. Sow the seed into a well-drained medium and cover lightly. Water well with a fine spray ensuring the seed and medium are not displaced. The seed can be sown in an open bed or a seed tray with a depth of at least 100 mm. Place in a sunny position. Germination will begin after two to three weeks. Once two true leaves have sprouted, plant the seedlings into small bags. Water with a half strength solution of seaweed liquid feed. Grow on in bags until the seedlings are strong and healthy. Plant them into the garden at the start of the rainy season.
Leucadendron teretifolium requires a hot, sunny situation with very good drainage. Add compost at planting and water regularly during the first year to allow plants to establish themselves. They are suited to planting in a rockery, large pot or in a mixed fynbos garden.
Once proteas become diseased, they are very difficult to treat; it is better to prevent disease rather than try to cure it. Make sure environmental conditions are correct: this includes getting direct sunlight for most of the day, a well-drained soil which does not stay saturated and good air circulation ensuring above-ground parts of the plant dry quickly after watering. Use a thick layer of mulch to ensure that the soil stays cool in the hot months and do not disturb roots by digging.
References
Rebelo, A.G., Helme, N.A., Holmes, P.M., Forshaw, C.N. et al. 2006. Leucadendron teretifolium (Andrews) I.Williams. National Assessment: Red List of South African plants version 2014.1.
Rebelo, A.G. 2001. Proteas. A field guide to the proteas of southern Africa, edn 2. Fernwood Press, Vlaeberg, Cape Town.
Vogts, M. 1982. South African's Proteaceae: know them and grow them. Struik, Cape Town.
Credits
Louise Nurrish
Kirstenbosch NBG
March 2015
Plant Attributes:
Plant Type: Shrub
SA Distribution: Western Cape
Soil type: Sandy, Clay, Loam
Flowering season: Spring
PH: Acid, Neutral
Flower colour: Green, Red, Yellow
Aspect: Full Sun
Gardening skill: Challenging
Special Features:
Drought resistant
Good potplant
Horticultural zones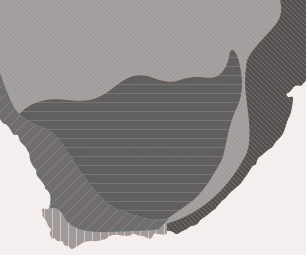 Zone 2 Coastal winter rainfall, frost free
Google QR Code Generator