Leucadendron tinctum I.Williams
Family: Proteaceae
Common names: spicy conebush ( Eng. ); toffie-appel (Afr.)
Introduction
An attractive, scented, bushy shrub of the Proteaceae family, Leucadendron tinctum makes a delightful display in a fynbos garden.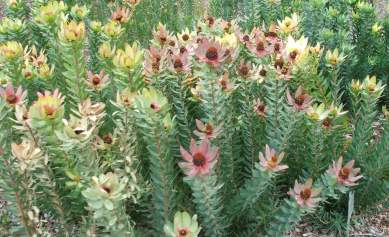 Description
Description
Leucadendron tinctum is a perennial, bushy shrub growing up to 1.3 m tall. The plant grows from a single stem at the base with side branches bearing oblong, elliptical leaves. The leaves are a pale grey-green and during flowering, end in colourful bracts which surround the inflorescence. The male and female inflorescences are borne on separate plants. The flowers are arranged up of a single terminal head. The male flowerhead is yellow, whereas the female flowerhead is a shiny maroon surrounded by 50 oily basal scales.
The flowering period for the spicy conebush is in July. Flowers have a pleasant spicy, musk scent, which gives rise to its common name. The female fruiting cones are maroon and contain round nut-like fruits.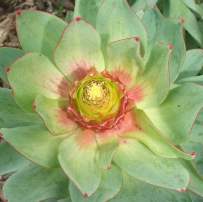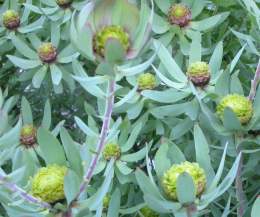 Conservation Status
Status
This Leucadendron is not listed as threatened and is frequently encountered as isolated populations of several hundred plants. However, these populations are found in distinctly variable geological districts and each population has been given a different status.
Distribution and habitat
Distribution description
As this is a widespread species, its distribution covers a rather large area of the Cape, starting on the Agulhas plain and ending in the Langeberg. The plants occur in stony, sandstone soils at an altitude of 20-300 m. Populations have been seen in Potberg, Elim and the Bredasdorp flats to Kleinmond, Groenland, the eastern Hottentots-Holland Mountains and Stettynskloof Mountains. Their higher distribution includes Gysmanshoek, Garcia's and Robinson's Passes, the Swartberg and Rooiberg Passes and Matroosberg in the Hex River Mountains. These plants prefer well-drained, sandy soils and seem adaptable to many climatic regions.
Derivation of name and historical aspects
History
Proteaceae is one of the most prominent flowering plant families. In the southern hemisphere, there are about 1400 species, in more than 60 genera such as Protea, Leucadendron, Leucospermum, Serruria and Paranomus to name a few. Australia has the most with 45 genera, followed by Africa with 14 genera, of which more than 330 species occur in the southwestern Cape alone. Other countries where they occur include Central and South America, islands east of New Guinea, New Caledonia, Madagascar, southeast Asia, New Guinea and New Zealand.
The family is an ancient one and existed in the time of the dinosaurs. The Proteaceae vary in form from groundcovers to trees. This may be the reason behind its original naming by Carl Linnaeus. Proteus was the mythological Greek god who could see the future and always spoke the truth, but in order to extract a prophecy, one had to grasp him tightly while he changed into numerous animate or inanimate forms.
Leucadendron, pronounced loo-ka-den-dron, gains its origins from the Greek word Leucos meaning white and dendron meaning a tree, referring to the silver tree, Leucadendron argenteum. The species name tinctum means dyed, tinged or coloured referring to its colourful bracts. This species was originally thought to be the extinct L. grandiflorum, but was renamed when further research discovered that its flower size and habit were not the same.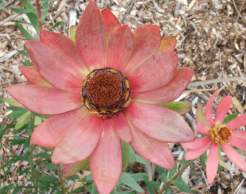 Ecology
Ecology
An unusual characteristic of Leucadendron tinctum is that its anthers act as the pollen-presenter, assuming an erect position for that purpose, instead of the short male pistil that ends at the throat of the perianth tube. The strong odour, conspicuously coloured bracts and nectar-producing hypogynous scales of the inflorescence, indicate insect pollination.
The fruit ripens four months after pollination. The seed distribution is rather limited, as it has to rely on animals to disperse its nut-like fruit. An interesting fact about this Leucadendron is that its inflorescence looks different at different times of the year and various forms are present in different distributions due to its limited seed distribution. It has an average speed of growth and can live for many years under correct, well-drained conditions.
Uses
Use
Leucadendron tinctum makes a wonderful garden specimen, especially in a fynbos garden. It can be used as a cutflower, but may be limited as its branches are stout, with a characteristic bend from its growing point on the stem.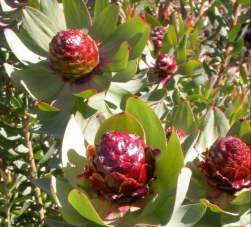 Growing Leucadendron tinctum
Grow
Propagation can be done via cuttings or seed, seed being the easiest. Sow seed in June. Seed requires warm days and cold night temperatures to germinate. Prepare seed trays containing a well-drained mix of bark and fynbos soil (50:50 mix). Scatter seed on top and lightly cover with river sand. Water in well and use a fungicide treatment. Keep seed tray moist, not wet. Seed germination varies and will sometimes only germinate the following year.
As the first true leaves appear, transplant seedlings into pots in a well-drained, sandy fynbos mix. Grow on for a year before transplanting into the garden. Take tip cuttings from December to March. Use a rooting hormone and place in a well-drained mix of bark and polystyrene . Cuttings must be kept humid, but not wet. Rooting occurs in approximately five weeks. Harden off rooted cuttings for three weeks and then transplant into pots as for seedlings.
In the garden L. tinctum can be used as a filler shrub or specimen stand. With its average height it makes a good mid-layer planting. Used in conjunction with other fynbos species such as Restio, Buchu and Erica, it makes a lovely display. It can be used in rockeries and open bed plantings.
A root pathogen, Phytophtera, is detrimental to Proteaceae. Symptoms include the plant looking wilted and dry followed by yellowing and death. As these symptoms are only seen once the fungus has damaged the plant, the best course of action is to remove the infected plant and burn it; thereafter sterilize the affected soil with a contact fungicide and refrain from replanting Proteaceae in that area. Good general plant hygiene and healthy, vigorous mother stock will increase the potential of younger plants to remain healthy.
References
Coombes, A.J. 1992. Guide to plant names. Reed International Books, London.
Germishuizen,G. & Meyer, N.L. (eds). 2003. Plants of southern Africa : an annotated checklist. Strelitzia 14. National Botanical Institute, Pretoria.
Leistner, O.A. (ed.). 2000. Seeds plants of southern Africa : families and genera. Strelitzia 10. National Botanical Institute, Pretoria .
Rebelo, T. 1995. Proteas. A field guide to the proteas of southern Africa , edn 2. Fernwood Press, Vlaeberg, Cape Town.
Rousseau, F. 1970. The Proteaceae of southern Africa . Purnell, Cape Town .
Smith, C.A. 1966. Common names of South African plants. Memoirs of the Botanical Survey of South Africa No. 35.
Stearn, W.T. 1966. Botanical Latin , edn 4. Timber Press, Oregon.
Stearn, W.T. 1992. Stearn's dictionary of plant names for gardeners . Timber Press, Oregon.
Williams, I.O. 1969. Leucadendron tinctum . The Flowering Plants of Africa 39: t. 152.
Credits
Monique Twine
Kirstenbosch National Botanical Garden
July 2006
Plant Attributes:
Plant Type: Shrub
SA Distribution: Western Cape
Soil type: Sandy, Loam
Flowering season: Winter
PH: Acid, Alkaline, Neutral
Flower colour: Red, Yellow
Aspect: Full Sun
Gardening skill: Average
Special Features:
Attracts birds
Drought resistant
Fragrant
Feeds honeybees
Horticultural zones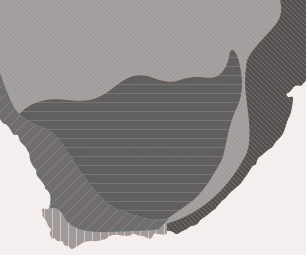 Zone 1 Coastal summer rainfall, frost free
Zone 2 Coastal winter rainfall, frost free
Zone 3 Winter rainfall Karoo, light frost
Google QR Code Generator