Leucospermum calligerum (Salisb. ex Knight) Rourke
Family: Proteaceae
Common names: arid pincushion (Eng.); luisiebossie (Afr.)
Introduction
Leucospermum calligerum is a very interesting lanky pincushion with small,  dusky pink inflorescences. It is suited to dry conditions.
Description
Description
Leucospermum calligerum is an erect or sprawling shrub that grows up to 2 m tall. The leaves are alternate, lanceolate, grey and hairy. Leaf apices rarely have as many as three teeth, usually just with a single, acute-angled tip.
The flowerheads are nearly spherical or globose, ranging from 20 mm to over 30 mm in diameter. The flowers of Leucospermum calligerum start off pale yellow to cream-coloured, fading to pinkish red as they age. The yellow, swollen pollen presenter or stigma at each style tip enables pollen shed in the bud, to be retained. Blooming lasts from midwinter to summer (July–January), and the fruit is released after two months.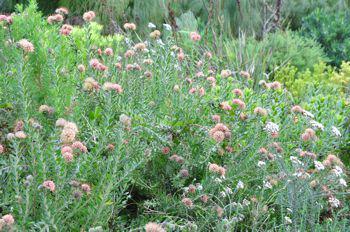 Conservation Status
Status
Leucospermum calligerum is recorded as LC (Least Concern) in the Red List of South African plants. Extensive stands of arid pincushion are still found in the wild.
Distribution and habitat
Distribution description
Leucospermum calligerum is widely distributed in the Western Cape, inland from Nieuwoudtville to Riversdale, notably also on the Houw Hoek Mountains and at Greyton. The habitat is dry, sandy, fynbos plains and slopes,150–1 350 m above sea level.
Derivation of name and historical aspects
History
The genus Leucospermum belongs to the Proteaceae family, and consists of about 50 species native to South Africa and northern Zimbabwe. Most occur in the winter-rainfall fynbos region of the Western Cape. The leaves are tough, alternately arranged and leathery, simple, linear to lanceolate, with serrated margins or serrated on the apex.  Leucospermum means 'white seed' and was coined by Robert Brown in 1810, referring to the light-cloured seeds of many species. The Afrikaans name of luisiesbos (little lice bush), is said to refer to the resemblance of the nutlet seeds to lice.
Ecology
Ecology
The small, dull pinkish red flowers are pollinated by bees, flies and butterflies. Seeds are released within two months after flowering, and contain fleshy coverings (elaiosomes) that secrete a chemical substance that attracts ants. The ants carry the seeds to their underground nests and consume only the fleshy skin. The mother plant does not survive after fire; only the underground seeds germinates, when the condition are favourable.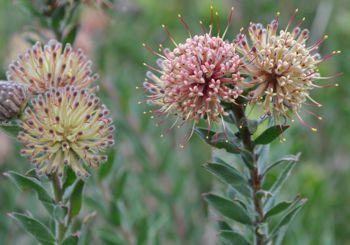 Uses
Use
The arid pincushion has horticultural potential; it makes a lovely lanky growth in the fynbos garden and does well in a warm position in full sun, and prefers a sloping bank.
Growing Leucospermum calligerum
Grow
Propagate Leucospermum calligerum from cuttings or seed. Cuttings will flower and be ready to plant into the garden a year after propagation, whereas seeds are rare and young plants will take at least two years before being large enough to plant into the garden.
Take cuttings from summer to autumn (December to March). The cuttings should be 50–80 mm long from the current season's growth. Choose vigorous, disease-free material. Dip the cuttings into a rooting hormone powder for semi-hardwood cuttings and plant into a medium of 50:50 polystyrene and finely milled, pine bark. Place in the greenhouse with bottom heat (± 25°C) and intermittent mist. Once the roots are well developed, remove from the intermittent mist and harden off for two to three weeks. Transplant into small pots using a well-drained medium made specifically for fynbos plants, such as 8 parts bark to 3 parts sand. Ensure the pH is acid to neutral, 6.0–6.5 is ideal. Grow on until ready to plant out into the garden.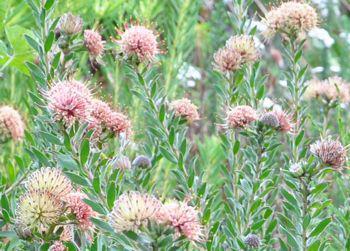 Sow seed late summer to autumn (February to April). In order to initiate germination, seeds need alternating cold night and warm day temperatures of 4–10°C to 15–21°C. Sow the seed into a seed tray and place in a brightly lit and well-ventilated position. Use a well-drained medium consisting of 1 part bark and 2 parts sand; firm down and cover with a layer of sifted sand. Water seed trays with a fungicide to prevent fungal disease, and treatment with Instant Smoke Plus Seed Primer, will also enhance germination. Germination can be erratic but should begin after four to five weeks. Once two true leaves have appeared, prick the seedlings out into small plugs. Place the seedlings in a lightly shaded area with good air circulation, and when the seedlings are ±100 mm tall, transplant them into small pots. When growing on, regularly monitor for disease and fungus, and treat as necessary. The best time to plant into the garden is at the start of the rainy season (May to August), so that the plants can be established before the dry hot, windy summer arrives.
Before planting, apply well-rotted compost to the soil. Feed twice a year during spring and autumn with a low dose of slow-release fertilizer. Choose fertilizers that have little or no phosphorous formula, as Proteaceae species do not tolerate phosphor. Water early in the morning while the soil is cool, to avoid warm moist conditions, as this creates favourable conditions for fungi and bacteria. Apply a thick layer of mulch to keep the soil cool and moist for longer. Leucospermum calligerum is best suited to a fynbos garden that has well-drained very sandy, acidic soil. A sandy slope where drainage is very good, is ideal. Leucospermum calligerum grows fast in the garden and may flower within two years. Plant it in full sun in groups of three or more to create a spectacular display. Good companion plants include Erica abietina, Thamnochortus bachmannii and Leucadendron strobilinum.
References
Eliovson, S. 1965. Proteas for pleasure: how to grow and identify them. Howard Timmins, Cape Town.
Manning, J. & Goldblatt, P. 2012. Plants of the Greater Cape Floristic Region 1: the Core Cape Flora. Strelitzia 29. South African National Biodiversity Institute, Pretoria.
Plants of southern Africa: an online checklist. http:posa.sanbi.org
Raimondo, D. et al. 2009. Red list of South African plants. Strelitzia 25. SANBI (South African National Biodiversity Institute), Pretoria.
Rebelo, T. 1999. West Coast proteas. Field guide to the proteas of the West Coast. Protea Atlas Project, National Botanical Institute, Cape Town.
Credits
Phumza Bavuma
Kirstenbosch National Botanical Garden
July 2015
Plant Attributes:
Plant Type: Shrub
SA Distribution: Western Cape
Soil type: Sandy
Flowering season: Spring, Early Summer, Winter
PH: Acid, Neutral
Flower colour: Pink, Cream
Aspect: Full Sun
Gardening skill: Average
Special Features:
Attracts butterflies
Drought resistant
Horticultural zones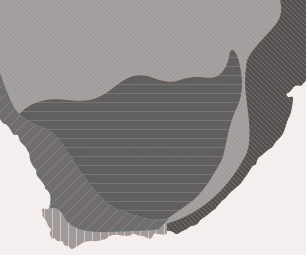 Zone 2 Coastal winter rainfall, frost free
Zone 3 Winter rainfall Karoo, light frost
Google QR Code Generator