Leucospermum glabrum E.Phillips
Family: Proteaceae
Common names: Outeniqua pincushion
SA Tree No: 84.3
Introduction
Leucospermum glabrum, a prolific flowering pincushion, water-wise and hardy, will make a great addition to any garden.
Description
Description
Leucospermum glabrum is an evergreen, erect, woody shrub with a neat, rounded shape, 1-2 m tall. It is quite a vigorous grower and remains vigorous for many years under correct growing conditions. It grows from a single stem to produce a thick trunk, with smooth wrinkled bark, with age. This pincushion has lush foliage and new leaves appearing with a soft red blush. Leaves have 7-14 glandular teeth. The inflorescence is made up of many flowers forming the flower head which is 70-90 mm in diameter. Bright orange flower heads appear from August to October. Ovoid nut seeds are released 1-2 months after flowering.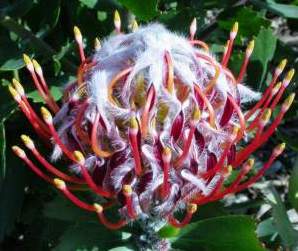 Conservation Status
Status
Endangered (Red Data List October 2007).
Distribution and habitat
Distribution description
The Outeniqua pincushion grows in a Mediterranean climate and prefers cool, southern slopes. It grows well in peat to well-drained, sandy soils, and occurs in isolated stands, at altitudes of 150-500 m. Natural distribution is the Outeniqua and Tsitsikama Mountains.
Derivation of name and historical aspects
History
The name Leucospermum is derived from the Greek leukos meaning white and sperma meaning seed. Glabrum means without hairs. Burchell and Bowie collected this species from the vicinity of George and Knysna in the early nineteenth century.
Ecology
Ecology
Flowers are pollinated by birds and once seeds are released, ants disperse the seeds by taking the nuts into their nests, where they are stored. Fynbos is a fire-dependant ecosystem and Leucospermum glabrum has adapted to this. During a fire, the seeds are safe in the ant nests and survive the blaze to re-grow and replace the mother plants which are killed in the fire.
Uses
Use
Leucospermum glabrum makes a wonderful garden plant and is used widely as such for its hardiness. Many hybrid varieties of this species are available. This species and its hybrids are widely used in the cut flower industry.
Growing Leucospermum glabrum
Grow
Propagation can be done by cuttings or seeds. Sow seeds in May. Seeds require warm day and cold night temperatures to germinate. Prepare seed trays containing a well-drained fynbos mix of bark, silica sand and loam (25:50:25 mix). Scatter seeds on top and lightly cover with river sand. Water in well and use a fungicide treatment. Keep seed tray moist, not wet.
Germination varies and the seeds will sometimes only germinate the following year. As the first true leaves appear, transplant seedlings into pots in a well-drained, sandy fynbos mix. Grow on for a year before transplanting into the garden. Take tip cuttings from December to March. Use a rooting hormone and place in a well-drained mix of bark and polyurethane. Cuttings must be kept moist, but not wet. Rooting occurs in approximately five weeks. Harden off rooted cuttings for three weeks and then transplant into pots as for seedlings.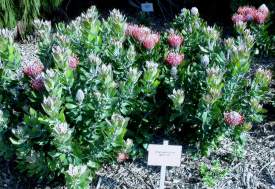 In the garden, Leucospermum glabrum can be used as filler shrub or specimen stand. With its medium height, it makes a good mid-layer planting. Used in conjunction with other fynbos species such as Restio, buchu and Erica, it makes a lovely display. It can be used in rockeries and open bed plantings.
A root pathogen, Phytophthora, is detrimental to the Proteaceae. Symptoms include the plant looking wilted and dry, followed by yellowing and death. As these symptoms are only seen once the fungus has damaged the plant, the best course of action is to remove the infected plant and burn it. Thereafter, sterilize the affected soil with a contact fungicide and refrain from replanting Proteaceae species in that area. Good general plant hygiene and healthy vigorous mother stock will increase the potential of younger plants to remain healthy.
References
Germishuizen, G. & Meyer, N.L. (eds). 2003. Plants of southern Africa : an annotated checklist. Strelitzia 14. National Botanical Institute, Pretoria.
Leistner, O.A. (ed.). 2000. Seeds plants of southern Africa : families and genera. Strelitzia 10. National Botanical Institute, Pretoria.
Leucospermum glabrum. 1928. Flowering Plants of Africa. Vol. 8. pl. 311.
Rebelo, A. (Tony). 1995. Proteas: a field guide to the proteas of southern Africa, edn 2. Fernwood Press, Vlaeberg, Cape Town.
Red Data List October 2007
Credits
Monique McQuillan
Kirstenbosch
April 2008
With additions by Yvonne Reynolds
Plant Attributes:
Plant Type: Shrub
SA Distribution: Western Cape
Soil type: Sandy, Loam
Flowering season: Spring
PH: Acid
Flower colour: Yellow, Orange
Aspect: Full Sun
Gardening skill: Average
Special Features:
Attracts birds
Drought resistant
Feeds honeybees
Horticultural zones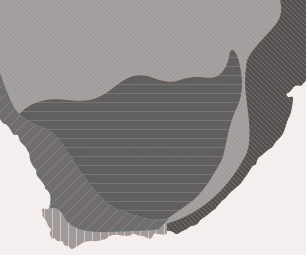 Zone 2 Coastal winter rainfall, frost free
Google QR Code Generator