Lobelia jasionoides (A.DC.) E.Wimm.
Family: Lobeliaceae
Common names: No well known common name.
Introduction
This charming, herbaceous, perennial groundcover with masses of tiny lilac and white flowers is suited to light shady places but will also grow in full sun. So far there is no well-known common name for this species, but 'Jason's lobelia' has been used on iSpot.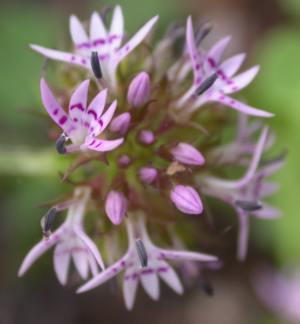 However, it should perhaps more correctly be called the Jasione lobelia -- see reason below under 'History'.
Description
Description
Often a sprawling, mat-forming herbaceous perennial, some plants may reach a height of up to 50cm. The spatula to linear-shaped, almost hairless leaves, 10-22 × 1-10mm, with serrated margins, are arranged alternately along the green ridged stems. Plants growing in shady places have the broadest leaves.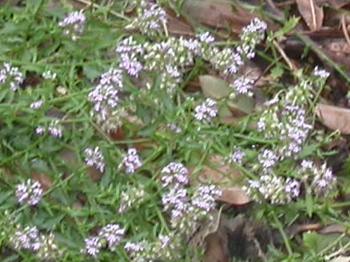 Flowering between October and February, the small lilac and white flowers are clustered in dense terminal inflorescences. The corolla is split to the base at the back, attractively marked with dark spots and stripes and flares into 5 finger-like lobes. The blue/black anthers are tipped with a tuft of white hairs. The fruit is a 2-valved capsule.
Conservation Status
Status
Distribution and habitat
Distribution description
Usually found on shady upper slopes in a band from Gifberg in the Northwest to the Agulhas plain and Swellendam in the Southwestern areas. However, it may also be found near the coast and on sunny rocky sites. It would therefore appear to be suited to a range of conditions in areas experiencing winter rainfall.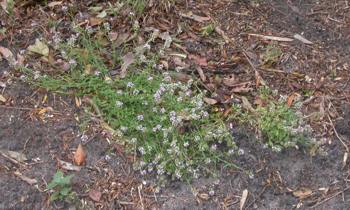 Derivation of name and historical aspects
History
Lobelia was named for a Flemish herbalist, M. de L'Obel. The specific epithet, jasionoides is derived from the genus Jasione, a group of herbs in Europe in the Campanula family and oides, which means 'looks like'. 'Jasionoides ' therefore means 'resembling Jasione'. Lobelia is a cosmopolitan genus; there are approximately 300 species occurring mostly in the tropics and subtropics. About 70 species are found in southern Africa. A number of Lobelia species have become valuable horticultural subjects, particularly strains of a South African lobelia, Lobelia erinus, and may be found in many gardens around the world.
Ecology
Ecology
Pollinators have not yet been recorded for this plant, but the strong markings on the flowers suggest that it is insect-pollinated. Plants have been recorded resprouting after fire.
Uses
Use
Apart from its use as a groundcover in gardens, there are no other known uses for this plant.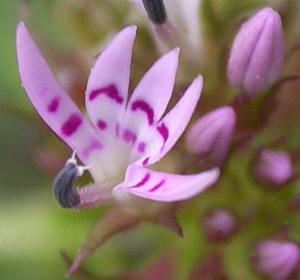 Growing Lobelia jasionoides
Grow
Lobelia jasionoides is ideal for areas where really low growing ground covers are needed and should be placed at the front of beds so that the tiny flowers may be easily seen and appreciated.
The easiest method of growing Lobelia jasionoides is from cuttings taken between July and August. Prepare the cuttings, including the final cut below a node, so that they can release their milky juice for about 5 minutes before dipping in a root hormone powder. Put the cuttings into a mix of 50% finely milled bark and 50% polystyrene, or 50% finely milled bark and 50% coarse river sand. Place in a covered mist unit, preferably with bottom heat. Cuttings should start rooting within three weeks and can then be repotted into a potting mix consisting of 50% compost and 50% coarse river sand. Feed with a kelp fertilizer every 3 weeks and pinch out tips to promote a bushy habit.
Seed is very fine and it is helpful to put a cloth under the plant to help catch seed, which may be collected from the end of February through March. Sow seed into a mixture of 50% finely milled bark and 50% sifted river sand. Top this mixture with a thin layer of fine sand so it is easier to see the seed when sowing. Cover with a very thin layer of finely sifted sand. Apply smoke treatment and water with very fine rose or mist every second day. Seeds should germinate in four weeks.
References
Bean, A. & Johns, A. 2005. Stellenbosch to Hermanus . South African Wildflower Guide 5. Botanical Society of South Africa.
Goldblatt, P. & Manning, J. 2000. Cape Plants, A conspectus of the Cape Flora of South Africa, Strelitzia 9, National Botanical Institute of SA & MBG Press, Missouri Botanical Garden, USA.
Leistner, O.A. (ed.). 2000. Seeds plants of southern Africa: families and genera. Strelitzia 10. National Botanical Institute, Pretoria.
Manning J. & Goldblatt P. 2012. Plants of the Greater Cape Floristic Region 1: The Core Cape Flora. Strelitzia 29. South African National Biodiversity Institute, Pretoria.
Raimondo, D., Von Staden, L., Foden, W., Victor, J.E., Helme, N.A., Turner, R.C., Kamundi, D.A. & Manyama, P.A. (eds). 2009. Red List of South African plants, 2009. Strelitzia 25. South African National Biodiversity Institute, Pretoria.
Trinder-Smith, T.H. 2003. The Levyns guide to the plant genera of the Southwestern Cape . Contributions from the Bolus herbarium Number 21.
Credits
Jane A. Forrester & Ebraime Hull
Harold Porter National Botanical Garden
November 2013
Plant Attributes:
Plant Type: Ground Cover
SA Distribution: Western Cape
Soil type: Sandy, Clay
Flowering season: Early Summer, Late Summer
PH: Acid
Flower colour: White, Pink, Mauve/Lilac
Aspect: Full Sun, Morning Sun (Semi Shade)
Gardening skill: Easy
Special Features:
Feeds honeybees
Horticultural zones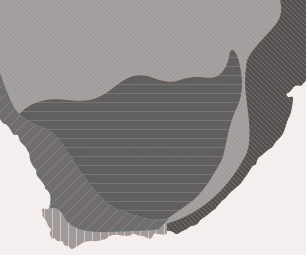 Zone 2 Coastal winter rainfall, frost free
Google QR Code Generator