Lobelia pubescens Dryand. ex Aiton
Family: Lobeliaceae
Common names: rock lobelia
Introduction
This low-growing, bushy perennial, occurring near the coast, flowers from late spring to autumn. It will make a showy container plant, a lovely addition to small damp pockets in a rock garden and can even be used as an edging plant in herbaceous borders.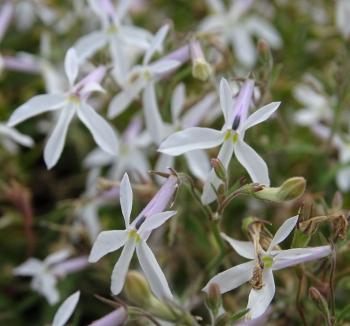 Description
Description
Lobelia pubescens is a low-growing, soft, sprawling, herbaceous perennial, with angular branches growing up to 350 mm long. Its leaves are often hairy, spoon-shaped and irregularly toothed, with the lower part of the leaf being up to 20 mm long.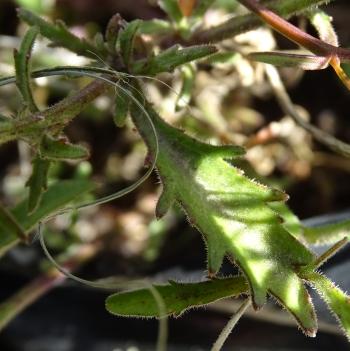 A profusion of flowers, borne singly at the tips of long pedicels, appear from October to March. The flowers are 11–17 mm long and have narrow petal lobes covered in very fine hairs. They can be white to pale blue and may have blue or white markings respectively.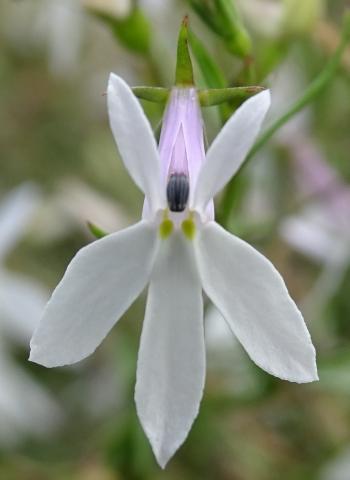 Conservation Status
Status
According to the Red List of South African plants, Lobelia pubescens is listed as Least Concern (LC).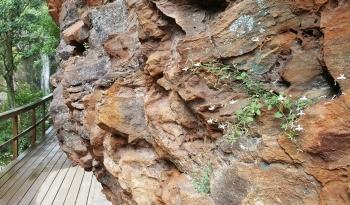 Distribution and habitat
Distribution description
Lobelia pubescens grows in sunny to semi-shaded areas, on rocky slopes and damp rocks, near the coast. It is an endemic to the area from the Cape Peninsula to Storms River Mouth. Often it can be found growing in the cracks and hollows of the rocks. One can see these plants growing along the trail to the Disa Kloof Waterfall at the Harold Porter National Botanical Garden.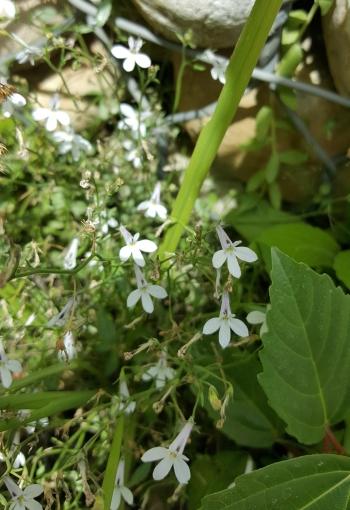 Derivation of name and historical aspects
History
In 1753, the genus Lobelia was described by Linnaeus, who named it in honour of Matthias de L Óbel, a Flemish nobleman (1538–1616). De L Óbel was a traveler, a botanist and plant collector. He studied and practiced medicine and became the physician and botanist to King James 1 of England. The species name pubescens means 'clothed with soft hair'.
The genus Lobelia consists of over 300 species. It is a cosmopolitan genus made up of herbs which are sometimes woody at the base. It belongs to the same family as Monopsis. There are 69 indigenous species occurring throughout most of South Africa as annuals, perennial herbs and small shrubs.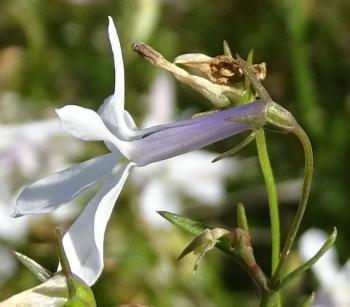 Ecology
Ecology
Lobelia pubescens is pollinated by many different insects, including bees and butterflies.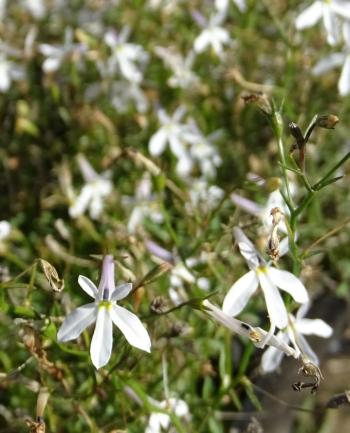 Uses
Use
Lobelia pubescens has no known medicinal uses. It can be used as a potplant or in the garden in a rockery or as an edging plant.
Growing Lobelia pubescens
Grow
This soft-stemmed, herbaceous perennial can be grown in acid soils, as a container plant or in a rock garden, in full sun or semi shaded areas in the garden. It can also be used as an edging plant to herbaceous borders.
L. pubescens is best propagated from seed sown in autumn. Sow seed in March into a medium of equal parts sand, compost and bark; and water regularly with a gentle spray. The seeds will germinate in 1–3 weeks. When large enough, plant the seedlings 15–30 cm apart in the garden.
L. pubescens can also be propagated from stem cuttings taken from February to August. When taking cuttings, cut below the node that you will use as your final node. Remove any flowers that may be present on the cutting. After a few minutes of being cut, wipe away the milky latex that has been produced by the lower wound. Dip the cutting into the rooting hormone and place into the propagation medium composed of sifted bark, coir and perlite.
With the help of mist irrigation, the cuttings should begin to root within 3 weeks. Once well rooted, remove the cuttings from the propagation unit and allow them to harden off for a week in a semi-shaded area and, depending on the soil moisture, water them once or twice a day. Pot them up into a medium made up of equal parts sand, bark and compost. Once the plants are well rooted and large enough, plant them into the garden.
References
Bagyst, H. 1992. The gardener's Dictionary of horticultural terms. Cassel Publishers, London.
Bean, A. & Johns, A. 2005. Stellenbosch to Hermanus. South African Wild Flower Guide 5. Botanical Society of South Africa, Cape Town.
Brown, N.A.C. & Duncan, G.D. 2006. Grow fynbos plants. Kirstenbosch Gardening Series. South African National Biodiversity Institute, Cape Town.
Clarke, H. & Charters, M. 2016. The illustrated dictionary of southern African plant names. Flora & Fauna Publications Trust, Jacana, Johannesburg.
Goldblatt, P. & Manning, J. 2000. Cape Plants. A conspectus of the Cape flora of South Africa. Strelitzia 9. National Botanical Institute, Pretoria & Missouri Botanical Garden, Missouri.
Goldblatt, P. & Manning, J. 2000. Wildflowers of the fairest Cape. National Botanical Institute, Cape Town.
Jackson, B.D. 1900. A glossary of botanical terms. Edition 4. Hafner Publishing Co., New York.
Jackson, W.P.U. 1990. Origins and meanings of names of South African plant genera. University of Cape Town.
Mustart, P., Cowling, R. & Albertyn, J. 1997. Southern Overberg: South African Wild Flower Guide 8. Botanical Society of South Africa, Cape Town.
Raimondo, D. et al. 2009. Red list of South African plants. Strelitzia 25. SANBI (South African National Biodiversity Institute), Pretoria.
Trinder-Smith, T.H. 2003. The Levyns Guide to the plant genera of the south western Cape. Bolus Herbarium, UCT, Red Roof Design CC, Cape Town
Credits
Karen Wall
Harold Porter National Botanical Garden
April 2018
Plant Attributes:
Plant Type: Ground Cover, Perennial
SA Distribution: Western Cape
Soil type: Sandy
Flowering season: Spring, Early Summer, Late Summer, Autumn
PH: Acid
Flower colour: Blue, White
Aspect: Full Sun, Morning Sun (Semi Shade), Afternoon Sun (Semi Shade)
Gardening skill: Easy
Special Features:
Good potplant
Horticultural zones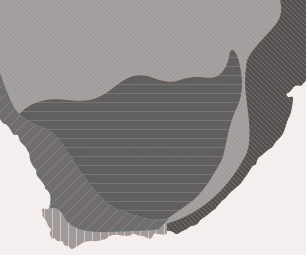 Zone 2 Coastal winter rainfall, frost free
Google QR Code Generator