Macaranga capensis (Baill.) Benth.ex Sim
Family: Euphorbiaceae
Common names: river macaranga, false-poplar, spiny macaranga, wild-poplar (Eng.); riviermakaranga, valspopulier, wildepopulier (Afr.); umbengele, umphumelezi, umphumeleli (isiXhosa); umfongafonga, iphubane, iphumela, umompumelelo (isiZulu)
SA Tree No: 335
Introduction
A perfect feature plant for a tropical garden, Macaranga capensis is also used medicinally for various ailments, and it attracts bees and birds to the garden.
Description
Description
Macaranga capensis is a deciduous, medium to large tree, up to 25 m high. It has a round, spreading crown. Its stem is tall, straight and armed with spines. The sap is watery. The leaves are large, ovate to triangular-ovate, 100–150 × 80–120 mm, apex with a short drip tip, base square to lobed, 3–5-veined from the base, shiny, dark green, with dotted glands below, entire to irregular toothed, midrib and veins prominent below, yellow, tinged pink.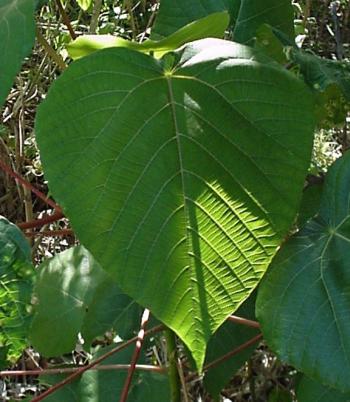 The flowers are small, in panicles up to 120 mm long, cream-coloured to yellowish, honey-scented. Macaranga capensis is dioecious, and flowers from October to January.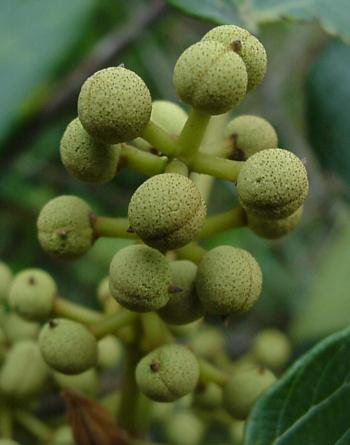 The fruit is a small, round, single-lobed capsule, up to 6 × 7 mm, yellowish green, dehiscent. The seed is purplish and fleshy. The fruits appear from February to April.
Conservation Status
Status
According to Raimondo et al. (2009), Macaranga capensis is Red Listed as Least Concern (LC), as evaluated against the five IUCN criteria.
Distribution and habitat
Distribution description
Macaranga capensis is found naturally on the KwaZulu-Natal and Eastern Cape coasts, to tropical Africa. It is usually occurs in low-altitude forest, along streams and in most wet areas.
Derivation of name and historical aspects
History
The name Macaranga is the Malagasy name for the first species described, Macaranga tanarius. The specific name capensis means 'from the Cape'. M. tanarius is also commonly known as 'David's Heart', due to its large heart-shaped leaves.
The genus Macaranga consists of about 300 species of trees or shrubs, found mainly in the tropics, with this one species in southern Africa.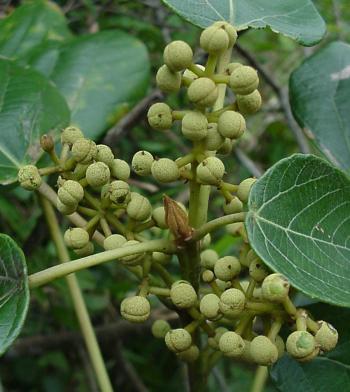 Ecology
Ecology
Macaranga capensis flowers are pollinated by bees. The fruits and seeds are eaten by birds. It is an important plant for securing watercourses. Its roots make a mat, lining the stream bed and interweave across the stream to create small weirs. These weirs create stable ponds and stream flow is reduced and therefore, erosion is mimimised.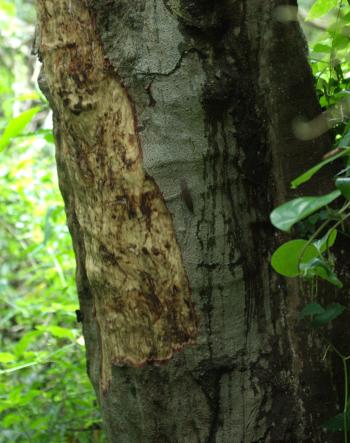 Uses
Use
The bark of river macaranga is used to treat sunburn and other skin diseases. The root decoction is drunk for the treatment of mental illness. The wood is reddish brown or greyish, strong and used for furniture and woodboxes.
In the Eastern Cape (Pondoland), the river macaranga is used as a love charm. Young men make themselves attractive to the opposite sex by taking an infusion of the bark as an emetic (known as ukugabha in Xhosa) as well as a steam treatment (ukugquma). This treatment is known as isitsha, meaning 'to attract attention'. It is believed that the medicine causes the blood to circulate at a faster rate, becoming hot, and thus cleansing the whole body and improving the complection. It is also believed that the same steam treatment prevents and eliminates misfortune, and thus increases success (impumelelo).
Growing Macaranga capensis
Grow
Macaranga capensis can be propagated by seed or more practically by collecting young seedlings beneath a parent tree. It grows extremely fast, at least 1 m per year and prefers warm and high rainfall summer climate. The River Macaranga makes a good shade tree. The first fruiting occurs at about 5 years. It makes a perfect focal point for a tropical garden.
References
Archer, R.H. & Victor, J.E. 2005. Macaranga capensis (Baill.) Benth. ex Sim var. capensis. National Assessment: Red List of South African plants version 2015.1. Accessed on 14/02/2017.
Boon, R. 2010. Pooley's trees of eastern South Africa, a complete guide. Flora & Fauna Publications Trust, Durban.
Clarke, H. & Charters, M. 2016. The illustrated dictionary of southern African plant names. Flora & Fauna Publications Trust, Jacana, Johannesburg.
Coates Palgrave, K. 2002. Trees of southern Africa. Struik, Cape Town.
Hutchings, A., Scott, A.H., Lewis, G. & Cunningham, A.B. 1996. Zulu medicinal plants: an inventory. University of Natal Press, Pietermaritzburg.
Johnson, D., Johnson, S. & Nichols, G. 2002. Down to Earth, gardening with indigenous shrubs. Struik Publishers, Cape Town.
Neuwinger, H.D. 2000. African traditional medicine: a dictionary of plant use and applications. MedPharm, Scientific Publishers, Stuttgart.
Raimondo, D. et al. 2009. Red list of South African plants. Strelitzia 25. SANBI (South African National Biodiversity Institute), Pretoria.
Van Wyk, B., Van den Berg, E., Coates Palgrave, M. & Jordaan, M. 2011. Dictionary of names for southern African trees: scientific names of indigenous trees, shrubs and climbers with common names from 30 languages. Briza Publications, Pretoria.
Van Wyk, A.E. (Braam) & Van Wyk, P. 2013. Field guide to trees of southern Africa, edn 2. Struik, Cape Town.
Van Wyk, A.E., Van Wyk, P. & Van Wyk, B-E. 2000. Photographic guide to trees of southern Africa. Briza Publications, Pretoria.
Zukulu, S., Dold, T., Abbott, T. & Raimondo, D. 2012. Medicinal and charm plants of Pondoland. South African National Biodiversity Institute, Pretoria.
Credits
M.S. Mothogoane
National Herbarium, Pretoria
March 2017
Plant Attributes:
Plant Type: Tree
SA Distribution: Eastern Cape, KwaZulu-Natal
Soil type: Sandy, Clay, Loam
Flowering season: Spring, Early Summer, Late Summer
PH: Acid, Neutral
Flower colour: Cream, Yellow
Aspect: Full Sun
Gardening skill: Average
Special Features:
Attracts birds
Hedge/screen
Medical plant
Useful plant
Feeds honeybees
Wet sites
Horticultural zones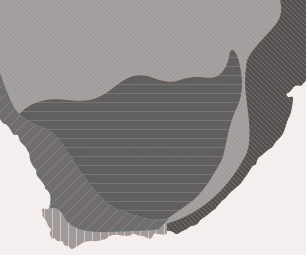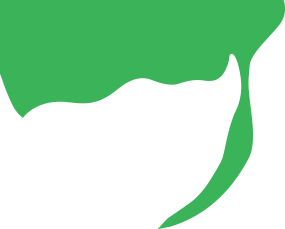 Zone 1 Coastal summer rainfall, frost free
Zone 4 Summer rainfall Karoo and Highveld, Frost in winter
Zone 5 Bushveld summer rainfall, Light frost
Google QR Code Generator