Maclura africana (Bureau) Corner
Family: Moraceae
Common names: African Osage-orange, thorny mulberry (Eng.); Afrikasoetlemoen (Afr.); mupulumbu (Tshivenda); pumbula (Tsonga);
SA Tree No: 44.1
Introduction
A dioecious, evergreen, spiny, climbing shrub whose stems provide a yellow dye.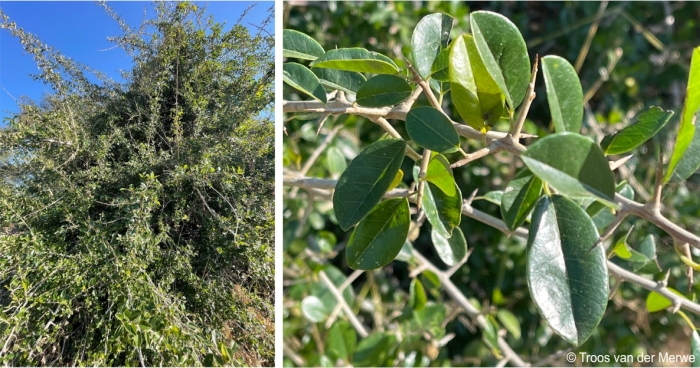 Description
Description
Maclura africana is a scrambling shrub with long, arching branches or a small evergreen tree that grows to be around 4-5 m tall. Its pale grey-brown, vertically fissured main stem is furnished with spiny branchlets and secrete cream to yellowish latex. It has smooth, spine-tipped, grey-green twigs. At the base of the spines, the twigs bear simple, alternating leaves that are leathery, elliptic, rarely oval and are borne in clusters. Each leaf measures 25-90 x 15-45 mm and is dark, glossy green on top, paler on the underside, and hairless throughout, with an elevated midrib and entire margins.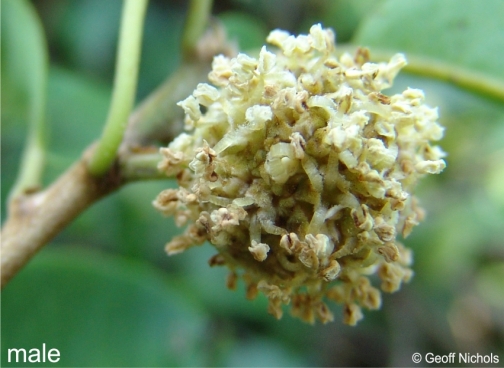 Flowers are in separate male and female inflorescences, that are borne on different plants, during the autumn months (February to May). The flowers are white, sweetly scented, in spherical heads with a diameter of 5-15 mm, and are borne singly or in pairs in the leaf axils. Finely segmented, greyish to orange, spherical fruits are formed after flowering. In spring, between August and November, these 18 mm diameter, edible fruits, with fine hairs, are on the tree.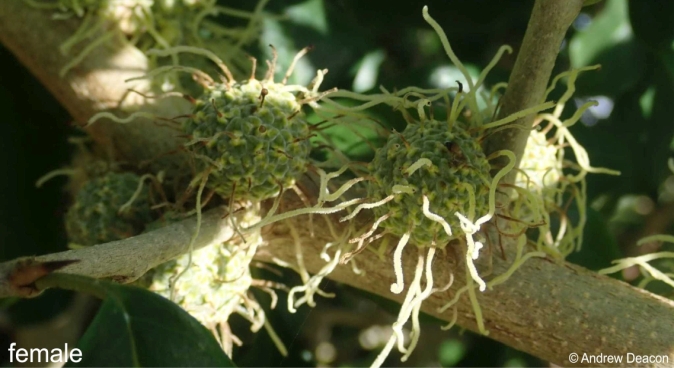 Conservation Status
Status
According to the Red List of South African Plants, Maclura africana is assessed as Least Concern (LC). This is largely due to less disturbance in its natural habitat and less harvesting of this species. 
Distribution and habitat
Distribution description
Maclura africana has a wide distribution from northern South Africa, Eswatini, Mozambique and Zimbabwe to Malawi, Tanzania and Kenya. In South Africa it occurs in the eastern lowveld, in Limpopo and Mpumalanga Provinces. It is found in hot, arid, low-altitude forests, bushveld and riverine thicket, along watercourses, and on coastal dunes and dune forest.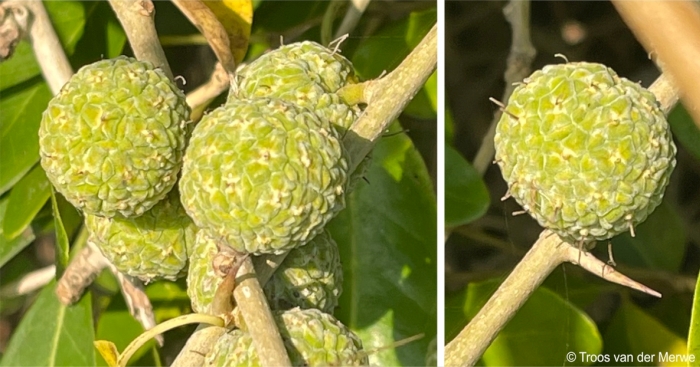 Derivation of name and historical aspects
History
Maclura africana belongs to the Moraceae family. It is commonly known as the mulberry and fig family of the rose order (Rosales). With approximately 40 genera and 1 000 species of deciduous or evergreen trees and shrubs found primarily in tropical and subtropical regions. Plants in this family feature milky latex, alternate or opposite leaves, and small, inconspicuous, petalless male or female flowers, clustered into frequently complex inflorescences. Several species have compound fruits made up of the numerous fruits from the many blooms in the inflorescence that become entwined. For example, figs (Ficus species) have an inflorescence that is a hollow, vase-like receptacle containing several tiny flowers. Breadfruit (Artocarpus altilis), Jackfruit (Artocarpus heterophyllus) and Mulberries (Morus species) have fruits that are more similar to those of Maclura, where each flower produces a nutlet (achene) that is embedded in pulp and they are all held together in the compound fruit.
With 10 accepted species, the genus Maclura has representatives in Asia, South West Pacific, North and South America as well as Africa. Maclura africana is the only species found in Africa. The genus is named after Scottish-born American geologist and educational reformer William Maclure (1763-1840). For 22 years, he presided over the American Academy of Natural Sciences in Philadelphia. Maclure made significant contributions to his field, including the creation of the first true geological map of any part of North America, and was an outspoken supporter of universal education, particularly for women.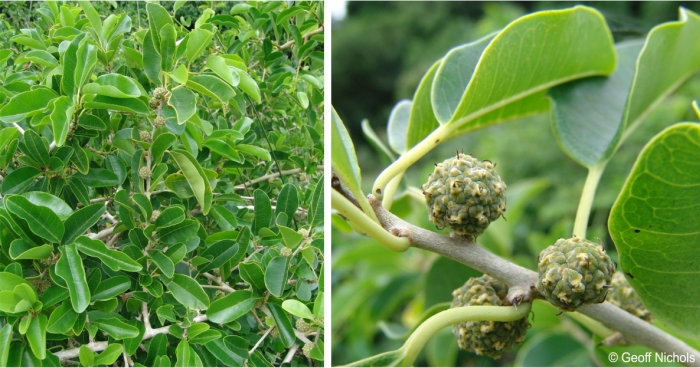 Ecology
Ecology
Maclura africana, naturally grows in low altitude woodland, along watercourses and in dune forest. In South Africa, Maclura africana is common along the coast in bushland and dry evergreen forest, also extending inland many along rivers, sometimes in saline places; 0-720 m altitude.
Uses
Use
Fresh branches of African Osage-orange produce a yellow dye which has been used to paint clothes and other household items. In Mozambique, and northern parts of Limpopo and Mpumalanga, the roots of Pumbula tree are used medicinally to relieve lumbago and snake bite. The roots also have important symbolic and religious significance for the people of southern Mozambique. Fruits are edible, and are eaten by birds and humans. The fruit leaves a lingering flavour in your mouth and is somewhat sweet and mushy or gooey.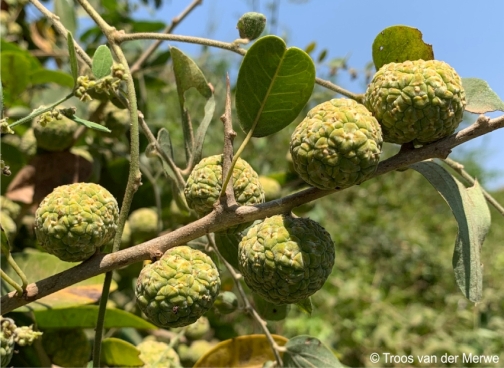 Growing Maclura africana
Grow
The African Osage orange can be grown from cuttings or seeds. While it could be challenging to take cuttings without a greenhouse or some other way to keep the humidity level high. Osage-oranges can also be grown using the air-layering technique, to make a clone of the mother plant. Root cuttings can also be used to propagate them.
To grow Osage oranges from stem cuttings, collect semi-hardwood cuttings in mid to late summer, place them in a greenhouse propagation bed after treating them with rooting hormones, and maintain high humidity to prevent leaf loss. In the late autumn and winter, one can also harvest cuttings while the tree is dormant. Use rooting hormones on these stem cuttings as well, but wrap them in plastic to keep them from drying out and store them in the refrigerator (3-5°C). After 6 weeks, place the cuttings in wet potting soil in a warm spot to allow growth to begin. Keep moisture in the soil and humidity around the stems.
Root cuttings may be less difficult. In late January, collect 7 to 9 cm portions of roots. Place these root cuttings horizontally in a pot filled with quality potting soil. Keep them warm and moist by covering them to 3 cm depth.
When propagating Osage oranges through seeds, clean all the pulp from the seeds before stratification. Stratification is the process of storing seeds in moist peatmoss in a refrigerator for 2 to 3 months before planting them in potting soil in pots in a warm room or greenhouse.
References
Arnold, J. 1979. The illustrated Encyclopedia of house plants. Ward Lock, London.
Boon, R. 2010. Pooley's trees of eastern South Africa, a complete guide. Flora & Fauna Publications Trust, Durban.
Deacon, A. 2019. Observation of Maclura africana, Zavala, Mozambique. iNaturalist. Online. https://www.inaturalist.org/observations/22230643
Palmer, E. & Pitman, N. 1972. Trees of southern Africa. Balkema, Cape Town.
Plants of the World Online, Maclura Nutt. https://powo.science.kew.org/taxon/urn:lsid:ipni.org:names:331741-2. Accessed 18/07/23.
Raimondo, D., Von Staden, L., Foden, W., Victor, J.E., Helme, N.A., Turner, R.C., Kamundi, D.A. & Manyama, P.A. (eds) 2009. Red list of South African plants. Strelitzia 25. South African National Biodiversity Institute, Pretoria.
Van der Merwe, T 2019. Observation of Maclura africana, Limpopo National Park, Mozambique. iNaturalist. Online. https://www.inaturalist.org/observations/33493194.
Van der Merwe, T 2021. Observation of Maclura africana, Inhambane, Mozambique. iNaturalist. Online. https://www.inaturalist.org/observations/93180875.
Van der Merwe, T 2021. Observation of Maclura africana, Makuleke, South Africa. iNaturalist. Online. https://www.inaturalist.org/observations/83257157.
Van Wyk, B. & Van Wyk, P. 2013. Field guide to trees of southern Africa. Struik Publishers, Cape Town, Johannesburg.
Watt, J.M. & Breyer-Brandwijk, M.G. 1962. The medicinal and poisonous plants of southern and eastern Africa , edn 2. Livingstone, Edinburgh & London.
Credits
Mpho Mathalauga
Pretoria National Botanical Garden
July 2023
Acknowledgements: the author thanks Troos van der Merwe, Geoff Nichols and Andrew Deacon for the images.
Plant Attributes:
Plant Type: Climber, Scrambler, Shrub, Tree
SA Distribution: Limpopo, Mpumalanga
Soil type: Loam
Flowering season: Late Summer, Autumn
PH: Acid, Neutral
Flower colour: White, Cream
Aspect: Full Sun
Gardening skill: Average
Special Features:
Attracts birds
Edible plant
Medical plant
Useful plant
Horticultural zones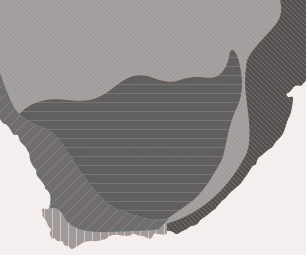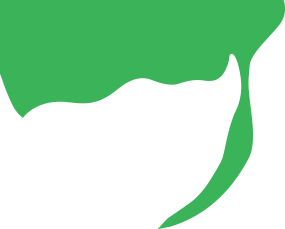 Zone 1 Coastal summer rainfall, frost free
Zone 5 Bushveld summer rainfall, Light frost
Google QR Code Generator