Macowania revoluta Oliv.
Family: Asteraceae
Common names: Amathole macowania
Introduction
Macowania revoluta is the particular species to which the defining features of the genus Macowania is formally attached. This easily distinguished shrub is endemic to the Amatole Mountains of the Eastern Cape, at an altitude of up to 1 200 m and it's the only species of Macowania found in this region.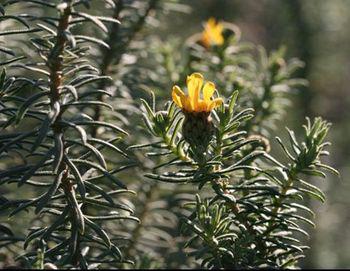 Description
Description
Macowania revoluta is a sparsely branched and erect shrub, up to 1.2 m high.
The leaves are very distinctive, linear-lanceolate with and rolled under margins, glandular on the upper surface, and white on the underside with the exception of the midrib, which is green, therefore the underside resembles three green stripes, separated by two white stripes.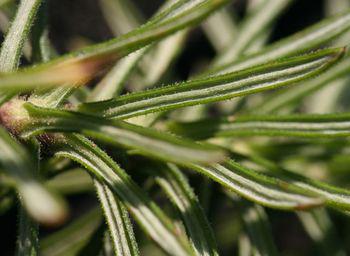 The typical daisy flower heads are solitary on branch tips, urn-shaped, yellow, with dark brown-margined involucral bracts, and attached on white-woolly, glandular pedicels.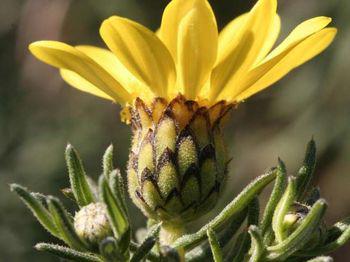 According to Hilliard & Burtt 1976, in M. revoluta there are about 8 to 10 ray florets and nearly all the achenes (plural for the fruiting body) are derived from these. It mainly flowers in spring, September to November, but also in autumn, April and May.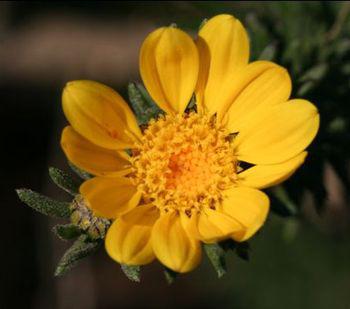 Conservation Status
Status
This species is currently Red Listed as DDD, which means Data Deficient-Insufficient Information. Adequate information is lacking to give it a proper conservation status and this is because few collections have been made in the past. Although recent collections indicate abundance of this species population, a paper written by Ralph Clark and others, recommends that this species should be now listed as 'Rare', as its current habitat is under severe pressure of alien infestation, and potential impact of climate change has not yet been established.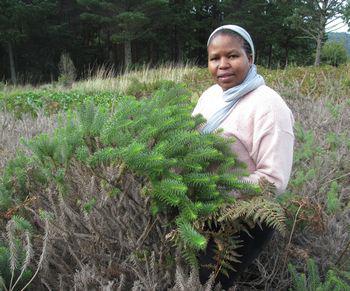 Distribution and habitat
Distribution description
There are 12 species in the genus Macowania, and most occur in the Alpine-like regions of the Drakensberg and Highlands of Ethiopia, Eritrea and Yemen. Due to its habitat preference of wet areas, M. revoluta is confined on the steep south-facing slopes, forest and plantation margins of the Amathole Mountains, and can form dominant component of mountain fynbos under these habitat conditions.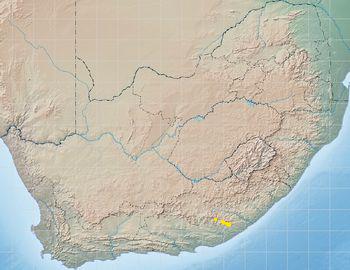 Derivation of name and historical aspects
History
The genus Macowania is named after Dr Peter MacOwan (1830–1901), who made the first collection of M. revoluta in the eastern parts of the Amatholes. Sir Joseph Dalton Hooker described the species in Icones plantarum (Hooker 1867–1871) and the genus was revised in 1927 by A.C. Smith. The specific name revoluta meaning 'rolled under' and refers to its distinctive leaf margins, by which this particular species can be easily recognised, even without flowers.
M. revoluta can be distinguished from its closest ally M. corymbosa from the KwaZulu-Natal Drakensberg, by having solitary flower heads, fertile rays and non-imbricated leaves.
Ecology
Ecology
This species' current conservation status also means that its ecological information is not well known; only the vegetation type, geology and habitat conditions have been documented in recent publications. Ralph Clark et al. (2016) list other species which are co-occurring with this species and judging from his list, M. revoluta thrives well in mountain fynbos. M.revoluta is a re-seeder, and too frequent occurrence of fires can drive this species to the brink of extinction. However, its habitat choice, being closer to the stream beds, might assist as an escape zone when such incidents occur.
"Amathole Macowania appears to be an exceptionally important keystone species. This is because it forms one of the dominant members of the valuable mountain wetland communities and, thus, likely plays a very important role in wetland functioning and soil protection. It appears to be somewhat tolerant of woody alien species and a valuable pioneer species protecting its native co-habitants. Plants like this one buffer more sensitive plants from sudden changes in environment (such as forestry, alien invasion and fire), and provide an opportunity for the ecosystem to 'bounce back'" (PHYS.ORG )
Although there is no record of the specific pollinator for M. revoluta, many members of the daisy family are pollinated by insects, which explain their value in attracting beneficial insects. Seeds are normally dispersed intact with the fruiting body, botanically known as the achene, and wind is the common mode of dispersal, How far the seed can be distributed, depend on the size of the pappus bristles (parachute of fine, fluffy hairs), but these details have not yet been documented for the entire genus, including this species.
Uses
Use
There are no documented medicinal or cultural uses for M. revoluta, but its attractive flowers, as well as its foliage structure, would make it an ideal garden shrub, if it cultivates well.
Growing Macowania revoluta
Grow
To my knowledge there hasn't been any cultivation done for this species, but given its habitat conditions, it would thrive well in wetter and shady areas.
References
Busch, B. & Bergh, N.G. 2013. An interactive digital key to the Relhania clade of southern African daisies using Delta-Intkey. Available free for download at: http://biodiversityadvisor.sanbi.org/research-and-modelling/identification-keys/
Clark, V.R. et.al. 2016. The rediscovery of the Great Winterberg endemic Lotononis harveyi B.–E.van Wyk after 147 years, and notes on the poorly known Amathole endemic Macowania revoluta Oliv. (southern Great Escarpment, South Africa)
Hilliard, O.M. & Burtt, B. 1976. Macowania. Notes from the Royal Botanical Garden, Edinburgh 34,3: 260–279.
PHYS.ORG: Poorly known South African mountain endemic appears to be a very valuable keystone species. Published 20 April 2016. Accessed 11 April 2017. https://phys.org/news/2016-04-poorly-south-african-mountain-endemic.html
Raimondo, D. 2008. Macowania revoluta Oliv. National Assessment: Red List of South African plants version 2017.1. Accessed on 2017/04/11.
Smith, A.C. 1927. The genus Macowania Oliv. Bothalia, 2: 347, 348.
Credits
Vathiswa Zikishe
Threatened Species Programme: CREW
May 2017
 
Plant Attributes:
Plant Type: Shrub
SA Distribution: Eastern Cape
Soil type: Loam
Flowering season: Spring, Autumn
PH: Acid, Neutral
Flower colour: Yellow
Aspect: Shade, Morning Sun (Semi Shade), Afternoon Sun (Semi Shade)
Gardening skill: Challenging
Special Features:
Horticultural zones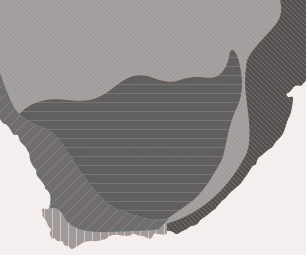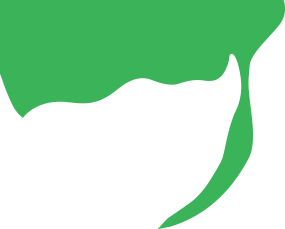 Zone 1 Coastal summer rainfall, frost free
Zone 5 Bushveld summer rainfall, Light frost
Google QR Code Generator