Manochlamys albicans (Aiton) Aellen
Family: Amaranthaceae
Common names: spanspek soap bush (Eng.); spanspekbos, bobbejaanseep, seepbos, spekbos, hondebossie (Afr.)
Introduction
Manochlamys albicans is a fast-growing shrub that has a striking appearance and great potential to rehabilitate saline soils.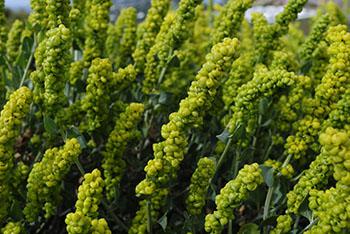 Description
Description
Manochlamys albicans is a semi-decumbent shrub with spreading branches growing on the ground, with the tips curved upwards. It has a fibrous root system with strong, well-developed lateral roots. It grows up to 1–2 m high, with silvery, spear-shaped leaves that are 25 mm long, including the leaf stalk, with a visible main vein. The leaves are arranged alternately on the branches, and young branches have visible raised stripes. The old stems are woody that become light brown with age; the stripes vanish and the old stems become cylindrical.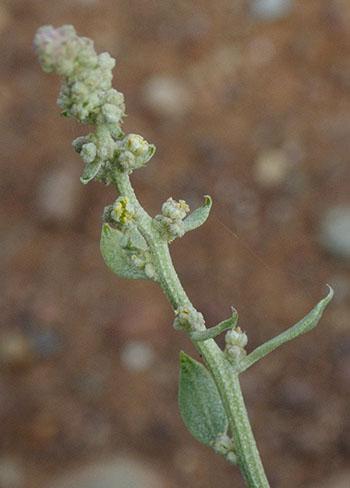 Spanspekbos has inconspicuous pale yellow flowers that are found in clusters at the tips of the stems. It flowers from spring to midsummer (September to January). The striking fruitlets have succulent green bracts that enclose the fruit that appears from early summer (October to November). The fruitlets produce a strong, sweet melon-like scent when crushed, reminiscent of the spanspek melon. Later in summer from midsummer (January to February), the fruit matures and turns brown.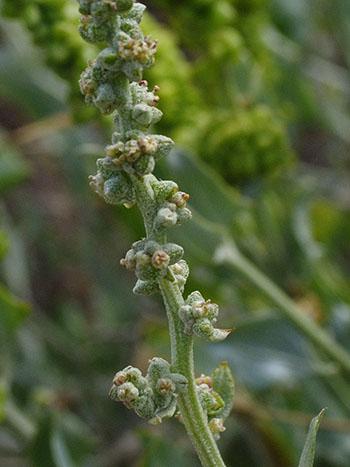 Conservation Status
Status
According to the website http://redlist.sanbi.org, checked on 16 March 2016, the conservation status of Manochlamys albicans is assessed as Least Concern (LC).
Distribution and habitat
Distribution description
The spanspekbos is widely distributed and found in arid regions from southern Namibia through the Northern Cape to the Cape Peninsula and eastwards to the Eastern Cape and the Little Karoo. It is found along mountains slopes, valleys, river beds and disturbed areas, such as roadsides. The spanspekbos grows in sandy, clay, saline and loam soils.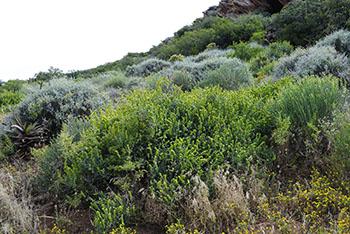 Derivation of name and historical aspects
History
The genus name Manochlamys is derived from the Greek word manos meaning 'loose' or 'flaccid' and chlamys meaning 'a cloak', referring to the fleshy bracts that encircle the fruit. The species name albicans means 'becoming white'.
Ecology
Ecology
Manochlamys seeds remain enclosed in the bracts, and matured seeds will drop near the mother plant to ensure natural propagation. The spanspekbos is highly palatable and has a summer-growing period, which provides food for herbivores at a time when there isn't much food available. The spanspekbos is becoming increasingly scarce in the veld because it is heavily browsed in summer and also in winter. Having the spanspekbos growing in your veld when you have herbivores, is an indicator of good veld management.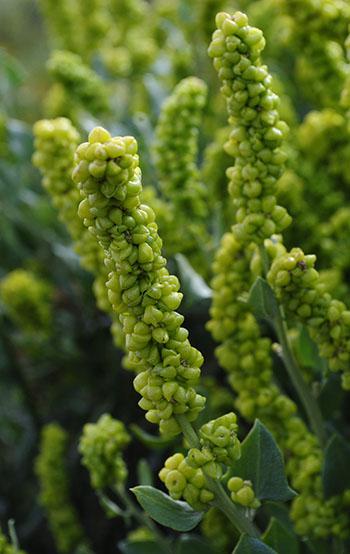 Uses
Use
The Khoisan traditionally used the whole plant as a soap substitute to wash hands or clothes. The fruitlets were rubbed to produce a foamy lather.
Growing Manochlamys albicans
Grow
Manochlamys albicans can easily be propagated from seeds that will still be enclosed in the bracts when harvesting. Collect the brown fruits in summer and spread them in an airy place for approximately 2 weeks to dry the seeds out. Sow the tiny seeds in autumn or spring in a sandy medium and cover the seeds with a thin layer of sand. Keep the soil moist, and germination will take place in two weeks. When seedlings reach about 10 cm, they can be transplanted in containers or even directly in the veld on well-prepared soil. Spanspekbos can tolerate a wide range of soils and should be planted in a sunny position. Plants need little water and can withstand periods of drought. No known pests have been recorded for this species.
Manochlamys albicans is an indigenous saltbush which is well grazed. It is striking when planted in mixed beds or as a border plant, in rock gardens and in retaining walls, with companion plants such as the cancer bush (Lessertia frutescens), the wild rosemary (Eriocephalus africanus), wild pomegranate (Rhigozum obovatum), Karoo aloe (Aloe microstigma) and pig's ear (Cotyledon orbiculata).
References
Maphisa, T. (n.d.), Operation wildflower, accessed on 10 February 2016, available from http://www.operationwildflower.org.za/index.php/albums/shrubs/manochlamys-albicans-thabo-7-4470.
Uconn, accessed on 10 February 2016, available from
Van Wyk, B.-E. & Gericke, N. 2000. People's plants . Briza Publications, Pretoria.
Vlok, J. & Schutte-Vlok, A. 2010. Plants of the Klein Karoo. Umdaus Press, Hatfield, Pretoria.
Credits
Vuyelwa Ndevu
Karoo Desert National Botanical Garden
May 2016
Plant Attributes:
Plant Type: Shrub
SA Distribution: Eastern Cape, Northern Cape, Western Cape
Soil type: Sandy, Clay, Loam, Brack/saline
Flowering season: Spring, Early Summer
PH: Neutral
Flower colour: Yellow
Aspect: Full Sun
Gardening skill: Easy
Special Features:
Drought resistant
Fragrant
Good potplant
Useful plant
Pioneer plant
Horticultural zones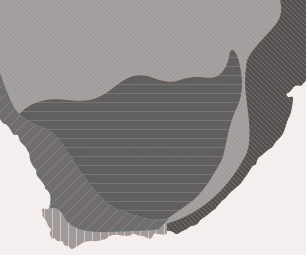 Zone 1 Coastal summer rainfall, frost free
Zone 2 Coastal winter rainfall, frost free
Zone 3 Winter rainfall Karoo, light frost
Zone 4 Summer rainfall Karoo and Highveld, Frost in winter
Google QR Code Generator