Manulea tomentosa (L.) L.
Family: Scrophulariaceae
Common names: woolly manulea (Eng.); duine vingertjies (Afr.)
Introduction
This is a perennial herb that can blossom in the seedling stage. It has grey, woolly, fleshy leaves, conspicuous finger-like heads of brownish yellow or deep orange flowers from winter to midsummer, and it thrives in coastal areas. This plant has a much more dense growth habit with thicker, more hairy leaves when it grows near the sea, but is a more upright, rounded bushy plant when it grows in coastal sands further inland.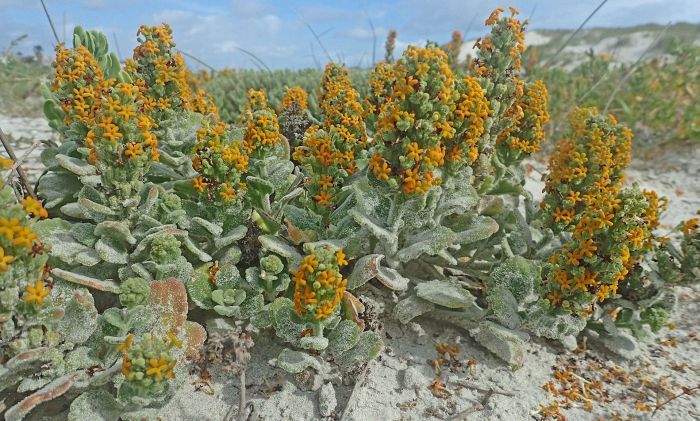 Description
Description
Manulea tomentosa is a perennial herb, branching from the base and along the stems, to become bushy shrublets 600 to 800 mm tall. Stems are leafy to the tip, erect or decumbent, with spreading, white, acute hairs (villous), up to 1–2 mm long.
The fleshy leaves are opposite, base connate, often crowded and sometimes becoming more distant upwards and passing into the inflorescence. Leaves narrowing upwards, broadly spathulate (spoon-shaped) to obovate (egg-shaped), toothed on the margins, both surfaces villous (with shaggy hairs) or slightly hairy, reddish, and margins are rolled back a little in the young leaves.
This plant produces a many-flowered inflorescence, a crowded thyrse, in a finger-like shape, made up of often dull brownish yellow to deep orange flowers. The corolla tube is hairy on the outside, and has longitudinally rolled petals, hairs inside the throat, and stamens inserted in the upper third of the corolla tube. The corolla lobes are quite as long as broad, with rounded tips. It flowers in early spring to midsummer (August to December).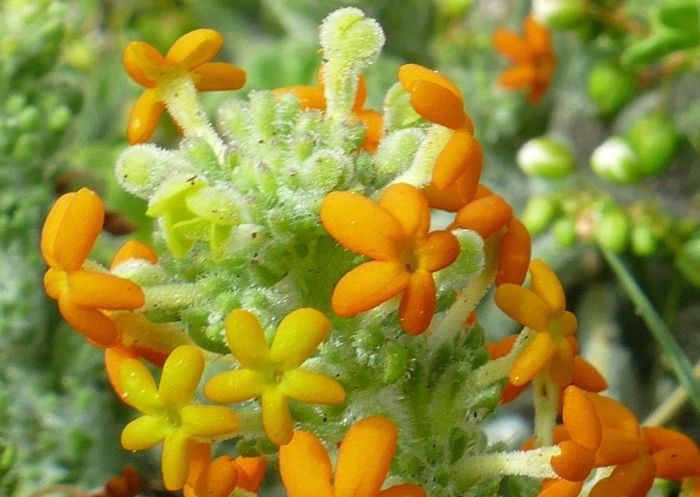 Conservation Status
Status
Manulea tomentosa is not threatened and, therefore, has a Red List status of Least Concern (LC).
Distribution and habitat
Distribution description
This species is found in the coastal region of the Western Cape. It grows on sand dunes and coastal sands along the coast from about Stompneus Point north of Saldanha Bay to Pearly Beach in Bredasdorp Division, between Danger Point and Quoin Point. It occurs on the Cape Peninsula, from Simonstown to Hout Bay, on the Cape Flats and Muizenberg, and inland to the Drakenstein Mountains near Tulbagh.
Derivation of name and historical aspects
History
The genus name Manulea in botany means 'small hand' in allusion to the hand-like form of the corolla with its 5 corolla lobes. The species name tomentosa means 'hairy'.
The plant was illustrated by Plukenet in 1691 and described by Linnaeus in 1760. This species was described by Linnaeus in Amoenitates academicae under the name Selago tomentosa. It was then moved to the genus Manulea as he noticed that in this species, the corolla is more regular than in Selago. This species was again confused by Hiern with Manulea rubra. The 2 species are quite closely related, but M. rubra can be distinguished by its simple stems, that are leafy near the base, hairless and it has fewer flowers and often narrower corolla lobes.
The genus Manulea is a southern African genus of 72 accepted species.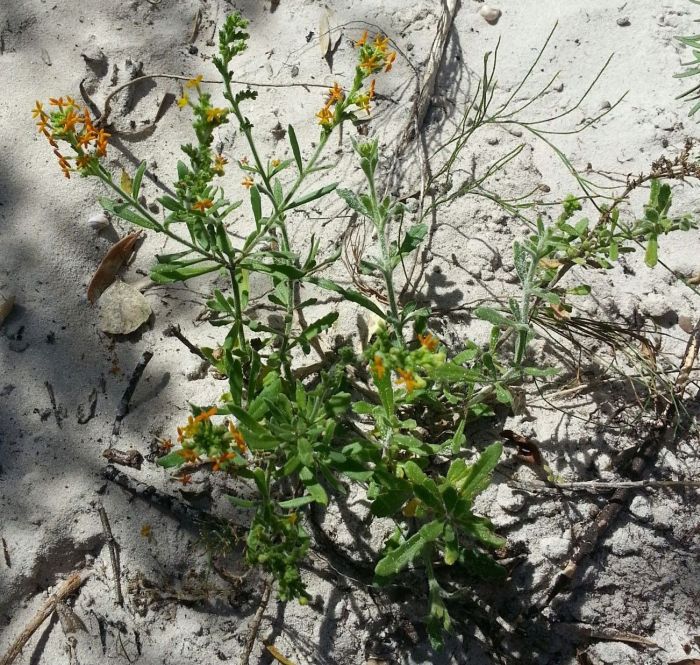 Ecology
Ecology
This species has 2 different growth forms. When it grows close to the sea, it becomes more compact, closely leaved, with thick-textured leaves that merge into inflorescence bracts and the inflorescences are very dense. When the plant grows further from the sea or on sandy flats and slopes inland, it develops leaves that are thinner in texture and often narrower, longer and more lax. The inflorescence too becomes less compact and appears very thinly hairy, nearly glabrous (hairless).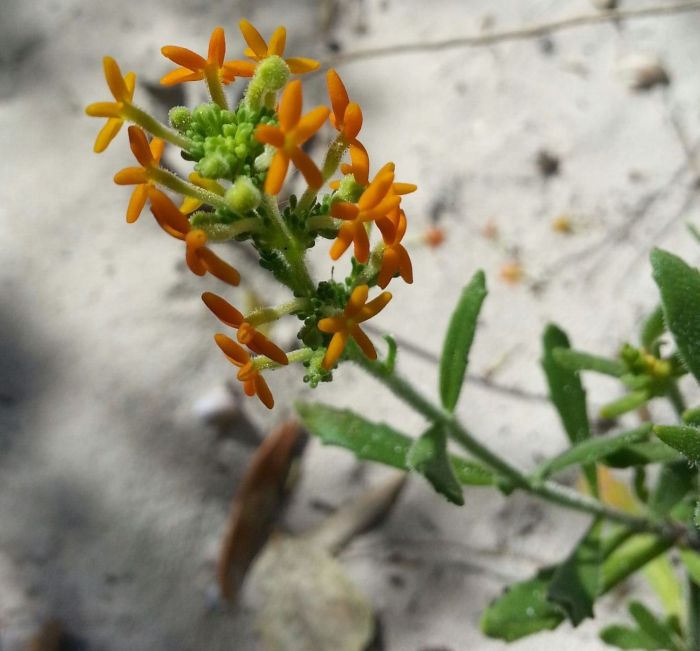 Not much is known of its pollination biology. The flowers are unscented during the day, but at night they emit a slight, unpleasant smell.
Uses
Use
Manulea tomentosa is not known to be used in traditional medicine. It is not well known in horticulture, but shows potential as a water-wise ornamental for sandy, coastal gardens.
Growing Manulea tomentosa
Grow
The flowers are usually succeeded by seeds, by which the plant is propagated. Sow seeds in autumn in a mixture of river sand and fine bark.
This plant can also be propagated by tip cuttings, taken from the side shoots in spring or autumn.
Grow it in well drained, sandy soil in full sun. It is well suited to coastal gardens and Cape Flats gardens. It is suitable for containers. It is short-lived and can be treated as a biennial in the garden, replaced every second year.
References
Candolle, D. & Augustin, P. 1841. Prodromus systematis naturalis regni vegetabilis, sive, Enumeratio contracta ordinum generum specierumque plantarum huc usque cognitarium, juxta methodi naturalis, normas digesta, Vol. 10: 365.
Curtis, W. 1795. Manulea tomentosa. Woolly manulea. The Botanical Magazine, Vol. 9. Plate 322.
Foden, W. & Potter, L. 2005. Manulea tomentosa (L.) L. National Assessment: Red List of South African plants version 2017.1.  Accessed on 5 Dec 2019.
Harvey, S. & Sonder, W.H. 1904. Flora capensis: being a systematic description of the plants of the Cape colony, Caffraria, & Port Natal (and neighbouring territories), Vol. 4
Hillard, O.M. 1994.  Manulea: a tribe of Scrophulariaceae. Edinburgh University Press Edinburgh, Edinburgh.
Plants of the World Online. Manulea L. http://www.plantsoftheworldonline.org/taxon/urn:lsid:ipni.org:names:37801-1 Accessed 13 Dec. 2019.
Credits
Wanga Ncise
Kirstenbosch National Botanical Garden
December 2019
Acknowledgments: the author thanks Felix Riegel, Gerda Theron and Bernhard Fischer for allowing the use of their pictures from their observations of Manulea tomentosa on iNaturalist.
Plant Attributes:
Plant Type: Bi/Annual, Perennial
SA Distribution: Western Cape
Soil type: Sandy
Flowering season: Spring, Early Summer
PH: Acid, Alkaline, Neutral
Flower colour: Yellow, Orange
Aspect: Full Sun
Gardening skill: Average
Special Features:
Drought resistant
Good potplant
Horticultural zones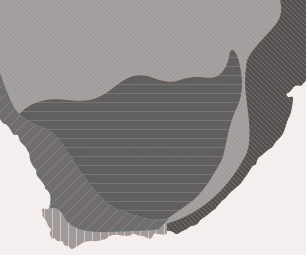 Zone 1 Coastal summer rainfall, frost free
Zone 2 Coastal winter rainfall, frost free
Zone 3 Winter rainfall Karoo, light frost
Google QR Code Generator