Marasmodes dummeri Bolus ex Hutch.
Family: Asteraceae
Common names: whip autumn-aster
Introduction
The extremely small, adpressed leaves of Marasmodes dummeri and the terminal, clustered flower heads make it distinct from other species of the same genus. This plant species is frequently overlooked due to its sparsely branched form.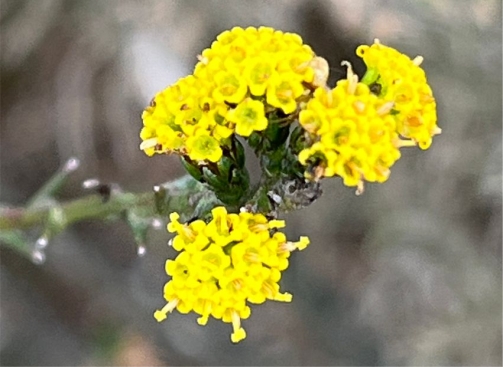 Description
Description
Marasmodes dummeri is, a laxly branched shrublet about 0.4–0.6 m tall. The leaves are very short, 2-3 mm long, simple, lanceolate to linear, with pointed tips about 0.5 mm long; they are alternate, adpressed (lie flat against the stem) and arranged in a regular pattern along the branches; secondary basal lobes are undeveloped or absent; and axillary fascicles are absent. There are about 2 to 12 clusters of capitula (flower heads) at branch tips, with involucres that are narrowly oblong to narrowly obconical. The apices and bract margins are dry and membranous (scarious), there are sessile glands at the appendage base, and the stereome (cartilaginous tissue on the bracts) is prominent. Florets range from 4 to 6. From the midpoint, the limb is 5-lobed, with lobes ranging from erect to recurved. Pappus with adaxial scales is less than half the length of the corolla tube.
Marasmodes dummeri is easily distinguished by the very short adpressed leaves, and the heads arranged in terminal clusters.
Conservation Status
Status
The South African Red List classifies Marasmodes dummeri as Endangered (EN). This is because it occurs in two nutrient-rich habitat types that are used for agriculture. Only a small amount of natural vegetation remains scattered in isolated fragments among crop fields. This species is said to be locally extinct in historical localities where it used to occur, but fortunately there is one large subpopulation in a provincially protected area with around 200 plants from the roughly 500 plants left in the wild. This species remains endangered because of the ongoing agricultural expansion and other developments in its remaining habitat. As a conservation intervention, the Millennium Seed Bank Partnership in South Africa, particularly in the Western Cape, has collected the seeds of this threatened species at Paarl in 2022. This collection is new to the bank and will be kept safe in the bank in Kew until the Seed Bank at Kirstenbosch National Botanical Garden is developed and running, then half of this collection will be withdrawn to be banked in our own bank in South Africa. In another great conservation intervention, the Custodian of Rare and Endangered Wildflowers (CREW) designated "Marasmodes Day" on Freedom Day, 27 April, as a day to advocate for the freedom and protection of plants of this genus, and for CREW volunteers to visit all the locations to monitor these endangered species.
Distribution and habitat
Distribution description
The species is historically known from a small area between Klipheuwel, Kraaifontein and Agter-Paarl and occurs on seasonally moist flats in two nutrient-rich habitat types: Swartland Alluvium Fynbos and Swartland Shale Renosterveld.
Derivation of name and historical aspects
History
The genus name Marasmodes is derived from the Greek marasmus, which means 'wasting away' and odes, which means 'resembling', since the plants seem malnourished. The species name dummeri commemorates Richard Arnold Dümmer (1887–1922), a South African horticulturist, plant collector and botanist. He collected plants in South Africa, Kenya and Uganda, collecting more than 20 000 specimens during his career, including the type specimen for this species in 1908.
Marasmodes is a small genus comprising of 13 species in the Asteraceae family. Historically, de Candolle initially created the genus Marasmodes in 1837. Hutchinson updated the genus in 1917, and Magee and Manning defined it further in 2010. Marasmodes is distinguished by its whole to divided, sessile to subsessile ericoid leaves and homogamous discoid flower heads (i.e., they are made up of one type of floret, either all ray florets or all disc florets – in this case all disc florets). The genus is closely related to Cymbopappus B.Nord. and Pentzia Thunb but differs from them by its inconspicuous woody habit with sclerophyllous ericoid leaves, sessile discoid flower heads and a pappus of more than 7 scales, which make this genus cryptic.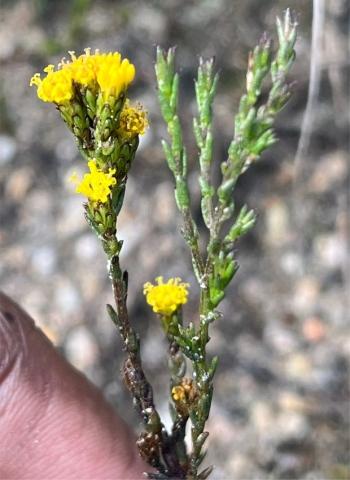 Ecology
Ecology
Marasmodes dummeri is pollinated by small flies, bees and other insects. The seeds are wind-dispersed, like many other daisy plants. Their inedible, small, tough leaves are rarely grazed. Marasmodes dummeri starts to flower in autumn and continues throughout the winter months. Like other species of Marasmodes, they are under-collected because of their irregular flowering  and because they flower and seed when few plant collectors are out in the field. Also, the plant form is sparse which does not make it easier for the collectors to see it in the field, as a result this plant species is often overlooked during field surveys and collections.
Uses
Use
Marasmodes dummeri has potential as an ornamental plant in the landscape and horticultural industries. Its laxly branched habit  and bright yellow flowers makes it a good candidate as an outdoor pot plant as well as in renosterveld, fynbos or mediterranean-climate gardens, and it can be interplanted with other colourful herbs and low shrubs.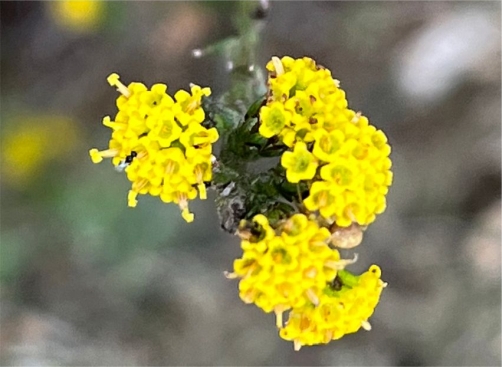 Growing Marasmodes dummeri
Grow
Marasmodes dummeri can be propagated by means of cuttings and seeds. Prepare a propagating tray and fill it with a propagation mix consisting of fynbos sand and milled bark. Using a rose spray, spray the mix using a solution of terminator, to eliminate any pathogens from the soil, and let it drain. Make cuttings of about 5–7 cm long. Cut the tips off and remove leaves 1–2 cm from the bases. Also, remove any flowers and developing buds. Dip the base of the cutting in a rooting hormone. Make holes in the propagation mix, place your cuttings, and then carefully cover the tray. Place your cuttings in a propagation tunnel, with normal temperature and water every 30 minutes. Sow seeds in autumn, using a sterilized, sandy sowing medium, cover lightly with clean sand, place in a warm, lightly shaded position with good aeration and keep damp. Grow Marasmodes dummeri in heavy loam soils and expose it to full sunlight.
References
Charters, M.L. 2006–2016. The Eponym Dictionary of South African plants. Published online at http://www.calflora.net/southafrica/1Titlepage.html
Cowell, C. 2010. Marasmodes DC (Asteraceae). PlantZAfrica. Online. http://pza.sanbi.org/marasmodes
Ebrahim, I. 2009. Marasmodes day. Veld and Flora 95: 130, 131.
Jackson, W.P.U. 1990. Origins and meanings of names of South African plant genera. University of Cape Town.
Magee, A.R., Ebrahim, I., Koopman, R. & von Staden, L. 2017. Marasmodes (Asteraceae, Anthemideae), the most threatened plant genus of the Cape Floristic Region, South Africa: conservation and taxonomy. South African Journal of Botany 111: 371–386.
Manning, J. & Goldblatt, P. 2012. Plants of the Greater Cape Floristic Region 1: the Core Cape Flora. Strelitzia 29. South African National Biodiversity Institute, Pretoria.
Mdayi, N. 2019. Marasmodes trifida S.Ortiz. (Asteraceae). PlantZAfrica. Online. https://pza.sanbi.org/marasmodes-trifida.
Ortiz, S. 2009. Eight new species of Marasmodes (Asteraceae, Anthemideae) from South Africa. Botanical Journal of the Linnean Society 159: 330–342.
Plug, C. 2020. Dümmer, Mr Richard Arnold (botany). S2A3 Biographical Database of South African Science. Online. https://www.s2a3.org.za/bio/Biograph_final.php?serial=795. Accessed 2 Jan 23.
Raimondo, D., von Staden, L., Ebrahim, I. & Magee, A.R. 2016. Marasmodes dummeri Bolus ex Hutch. National Assessment: Red List of South African Plants version 2020.1. Accessed on 2023/01/02.
Credits
Naomi Mdayi
MSBP (Millennium Seed Bank Partnership)
January 2023
Acknowledgements: the author thanks Kamogelo Modimola for providing information on how to grow Marasmodes dummeri.
Plant Attributes:
Plant Type: Shrub
SA Distribution: Western Cape
Soil type: Loam
Flowering season: Autumn, Winter
PH: Acid, Neutral
Flower colour: Yellow
Aspect: Full Sun
Gardening skill: Challenging
Special Features:
Good potplant
Feeds honeybees
Horticultural zones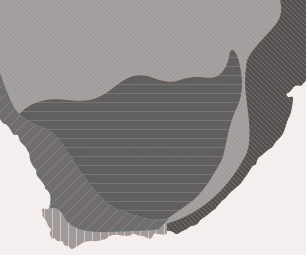 Zone 2 Coastal winter rainfall, frost free
Google QR Code Generator