Melianthus villosus Bolus
Family: Melianthaceae
Common names: maroon honey flower, Drakensberg honey flower (Eng.); Drakensbergse kruidjie-roer-my-nie (Afr.); ibhonya (Zulu)
Introduction
A multi-stemmed, soft, evergreen shrub, with showy, serrated leaves that provide a beautiful tropical effect in the garden.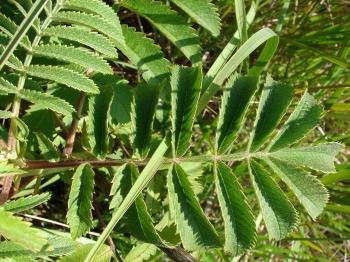 Description
Description
Melianthus villosus is a multi-stemmed shrub that grows up to 2 m tall and 3 m wide. The leaves are large, densely hairy, with serrated margins and have an unpleasant scent when crushed.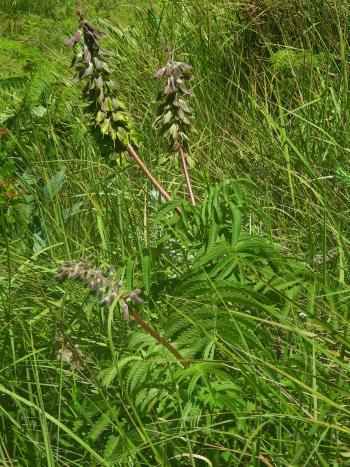 Maroon-brown flowers, with chocolate-brown bracts and green stamens in erect, terminal inflorescences, are carried above the foliage, in summer (Nov. –Feb.).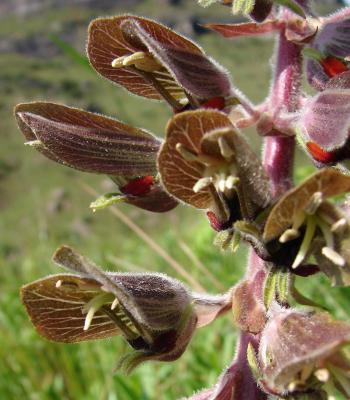 A closer look at the flowers shows that it is the sepals that are maroon-brown with green veins and inside them are small, pink to purple petals.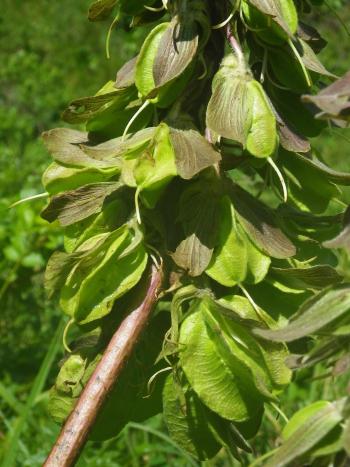 Fruits are 4-angled, inflated, green drying brown, containing shiny black seeds.
Conservation Status
Status
Melianthus villosus is not a threatened or protected plant in South Africa, and is assessed as Least Concern (LC) on the Red List of South African plants.
Distribution and habitat
Distribution description
Melianthus villosus grows in moist areas, on forest margins and below cliffs in the mid-altitude belt (up to 1 800 m), in the Drakensberg Mountains in KwaZulu-Natal, Free State and Lesotho. It is endemic to the Eastern Mountain Region (EMR) of southern Africa and grows in basaltic soils.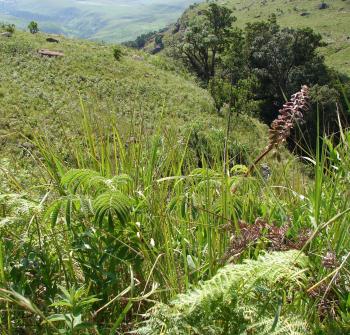 Derivation of name and historical aspects
History
The genus name Melianthus comes from the Greek words meli, meaning 'honey' and anthos, meaning 'flower', referring to the flowers that secrete abundant nectar. The species name villosus, which is Latin for 'shaggy' or 'hairy', means 'softly hairy' in botany, and refers to the leaves.
A common name for this plant is Honey Flower, which is also the English translation of the scientific name. The Afrikaans common name kruidjie-roer-my-nie, which means 'touch-me-not-herb', refers to the unpleasant smell of the leaves when they are touched, and their reputation of being poisonous. These names are also attached to the species M. comosus and M. major, which are also found in cultivation.
Melianthus is a genus of 6 species of flowering plants native to southern Africa, where they are widespread and occupy a wide variety of habitats, in both dry and moist areas.
Ecology
Ecology
The flowers of this plant produce abundant nectar and are visited by a broad range of bird species, especially nectarivores (such as sunbirds) and occasional nectarivores (such as white-eyes).
Melianthus villosus has a persistent rootstock, which allows the plant to survive periods of drought and cold, and fires, where the stems die, but the rootstock survives and the plant resprouts when conditions are favourable.
Uses
Use
This shrub attracts insects, particularly honeybees, and a variety of birds in the garden. It is a decorative garden subject and for flower arrangements.
It is not recorded as being used in traditional medicine, but may be used in the same way as Melianthus comosus, which is used to treat bad sores, wounds, bruising and snakebite. Both M. major and M. comosus are poisonous when ingested, and this species should also be treated with caution.
Growing Melianthus villosus
Grow
Melianthus villosus is easily propagated from seeds. After harvesting and cleaning the seeds, keep them in a cool, dry area. They can be sown at any time of the year. Use a sterilised, well-drained, sandy soil. Cover the seeds thinly with sand or grit and keep them warm and moist at all times.  Germination takes about 3 weeks. After germination, leave the seedlings growing in the tray, and transplant them after the fourth leaf stage.
Grow Melianthus villosus in full sun, composted, well-drained soil and ample water. It is a hardy, evergreen, low maintenance shrub. All it needs is an occasional pruning to remove dead leaves and encourage growth. If burned or frosted, the stems will die back, but the plant has a persistent rootstock and will resprout. It is suitable for mixed beds and borders, pond-side planting and for containers. It is a showy foliage plant and more manageable in the garden than its larger relative, M. major.
References
Annies annuals & perennials. https://www.anniesannuals.com/plants/view/?id=1233, accessed on 2017/05/04.
Foden, W. & Potter, L. 2005. Melianthus villosus Bolus. National Assessment: Red List of South African plants version 2017.1. Accessed on 2017/05/16.
Hutchings, A., Scott, A.H., Lewis, G. & Cunningham, A.B. 1996. Zulu medicinal plants: an inventory. University of Natal Press, Pietermaritzburg.
iSpot southern Africa http://www.ispotnature.org/species-dictionaries/sanbi/Melianthus%20villosus?nav=search
Leistner, O.A. (ed.). 2000. Seed plants of southern Africa: families and genera. Strelitzia 10. National Botanical Institute, Pretoria.
Linder, H.P., Dlamini, T., Henning, J. & Verboom, G.A. 2006. The evolutionary history of Melianthus (Melianthaceae). American Journal of Botany 93(7): 1052–1064.
Pooley, E. 1998. A field guide to wild flowers Kwazulu-Natal and the eastern region. Natal Flora Publications Trust, Durban.
Pooley, E. 2003. Mountain flowers, a field guide to the flora of the Drakensberg and Lesotho. Natal Flora Publications Trust, Durban.
Credits
Samuel Lekhetho
Free State National Botanical Garden
and Alice Notten
Kirstenbosch National Botanical Garden
June 2017
Plant Attributes:
Plant Type: Perennial, Shrub
SA Distribution: Free State, KwaZulu-Natal
Soil type: Sandy, Loam
Flowering season: Early Summer, Late Summer
PH: Acid
Flower colour: Brown, Green, Purple
Aspect: Full Sun
Gardening skill: Easy
Special Features:
Attracts birds
Fragrant
Poisonous
Feeds honeybees
Horticultural zones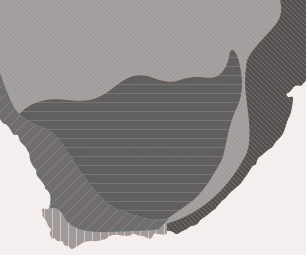 Zone 4 Summer rainfall Karoo and Highveld, Frost in winter
Google QR Code Generator