Mesembryanthemum crystallinum
Mesembryanthemum crystallinum L.
Family: Aizoaceae
Common names: common ice plant, crystalline ice plant, rosa de jericho (Eng.); brakslaai, brakvy, noeta, olifantslaai, slaai, slaaibos, slaaibossie, soutslaai, volstruisslaai (Afr.)
Introduction
This is an extremely stress-tolerant, prostrate, succulent annual with distinctive, glistening bladder cells on its leaves and stems, that look like ice crystals, and it has large, attractive, daisy-like flowers in spring and early summer.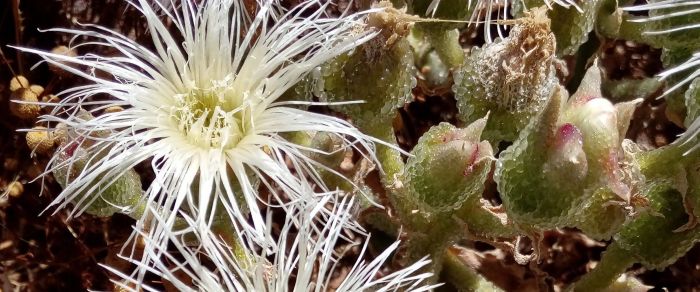 Description
Description
Mesembryanthemum crystallinum is a large, mat-forming annual with sprawling stems. It has peculiar leaves and stems that are covered with many, tiny membranes that form papillae filled with sap, which look like ice crystals from a distance, and give the leaf a succulent texture.
The leaves are ovate to spathulate, forming a tear-drop-shape, with wavy margins, and die from the apex when they are older. Their arrangement is simple, opposite or alternate, and they can be found in sparse or dense clusters. Lower leaves are very large and crowded.
Each flower appears singly and has numerous thin petals, 5 sepals, and many short stamens. The flowers are 30–50 mm across and the colour of the flowers ranges from white to pink to mauve. The flower stalks are also succulent, with the crystals ranging from green to red, however, this varies from location to location.
The fruits of this plant are borne singly, containing many seeds per cell. These plants germinate with the first rains, from late summer to autumn (March), grow and flower in winter and spring (May–September) and continue flowering into early summer (November–December).
M. crystallinum can sometimes be mistaken with M. nodiflorum, this difficulty to distinguish the two is justifiable as the 2 species have the same characteristics; the only difference is that M. nodiflorum is smaller than M. crystallinum.
Conservation Status
Status
According to the Red List of South African plants website, the conservation status of this plant is Least Concern (LC).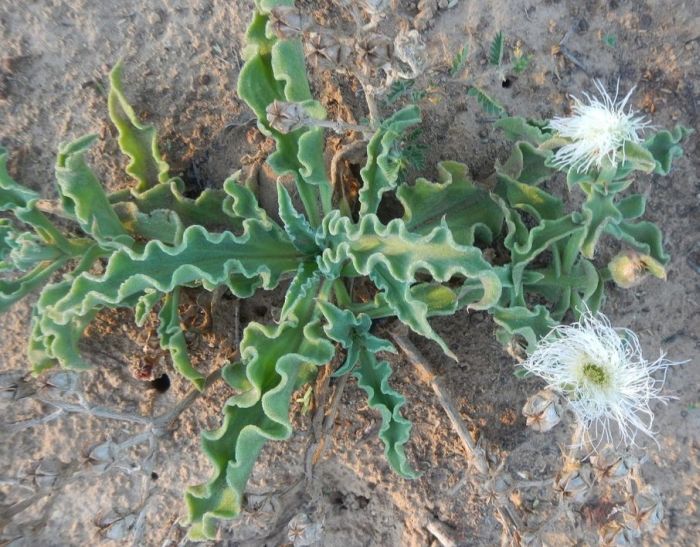 Distribution and habitat
Distribution description
Mesembryanthemum crystallinum grows in a wide range of habitats in southern and North Africa and southern Europe, where it is widely distributed in dry areas, as well as along coastal areas, where soil is highly salty because of salt spray from the sea. In South Africa in particular, it can be found growing in 3 Provinces namely; the Eastern, Western and Northern Cape, on cliffs, sand dunes, roadsides, and even disturbed habitats. In countries where it has been introduced, such as South America, Australia and USA, it has been recorded in regions with a Mediterranean type climate. This plant shows variation in distribution and habitat, and can survive in climates with short, cool, moist winters and long, dry summers. It can survive in areas where temperatures are as low as 10ºC in winter with a maximum of 81% in humidity, with tolerance of 91.6 to 175.2 mm of rainfall. As much as this plant can tolerate different habitats, it can, however, be very sensitive to frost.
Derivation of name and historical aspects
History
Mesembryanthemum was first published as Mesembrianthemum by Breyne, in 1684. This name was derived from the Greek mesembria, meaning 'midday' and anthemum, meaning 'flower', and came from a belief that the plants only flowered at midday. After some time, night-flowering species were discovered, and the name seemed inappropriate and was then changed so that it could indicate a flower with its fruit in the middle i.e. mesos,  meaning 'middle', embryon, 'embryo' or 'fruit', and anthemom, 'flower'. The group has since been divided into 127 genera, where 95% are found growing in the winter rainfall areas of South Africa.
The species name crystallinum, meaning 'with crystals', refers to the ice-like bubbles which are found on the leaves and stems. The common name ice plant is thought to be inspired by the glistening, ice-like bubbles on the leaves and stems, but is also reported to have arisen because it is claimed that even on the hottest day, the leaves are cool to the touch.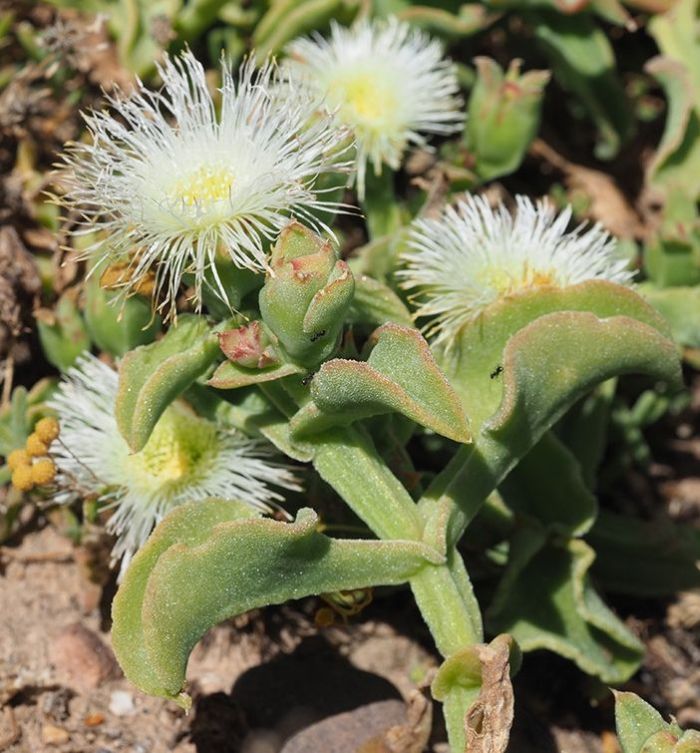 Ecology
Ecology
Mesembryanthemum crystallinum flowers are pollinated by many insects, including bees. Rabbits and mice eat the fruits and aid in the dispersal of seeds. This plant has a tolerance to high saline soils, and it accumulates the salt during its growing stage, but the salt is later leached to the soil on death, suppressing growth of other species, which do not tolerate saline soils.
Uses
Use
The leaves and fruits of Mesembryanthemum crystallinum are edible. The leaves can be crushed and used as soap substitute and have some medicinal uses. The leaves are boiled and can be eaten as a substitute for spinach; however, the difference is that they have an acidic flavour, with a salty taste. The leaves can also be pickled or used as a garnish in dishes. M. crystallinum has also been used as a model in many plant physiologic researches. It has been grown for its glistening leaves and striking flowers in gardens as a groundcover. Also, because of its salt accumulation capability, M. crystallinum may be useful for bio-remediation.
Growing Mesembryanthemum crystallinum
Grow
This annual can be used a groundcover and covers quite a large amount of space, but it should be always pruned once it reaches a desired size, as it can dominate the area when not maintained well. No species are recorded as particular associates for M. crystallinum because of its wide tolerance and occurrence in a number of vegetation types. The associated species which are recorded on specimen labels in the Australian National Herbarium, include chenopods Muehlenbeckia sp., Acacia spp., Zygophyllum spp. and Eucalyptus largiflorens.
These plants are best cultivated in full sun positions. The young plants need water but older plants require little to no watering, as the roots restrict the consumption of water once the plant has accumulated enough water.
This plant can only be propagated by seed. To propagate it, mix equal amount of compost, peat moss or sand and vermiculite or perlite. Sift the material to remove any debris or small rocks. Place the medium in sowing trays, level and water it. Sow seeds and apply a thin layer of the medium on top, to cover the seeds, water again and place the trays in a warm area, where they will receive at least 10 hours of filtered light a day. Mist the pots as often as needed to encourage germination, thereafter the seeds will begin sprouting in about 14–21 days, depending on conditions. You can directly transplant the seedlings into a full sun area in your garden as soon as the seedlings are up to 2–3 cm tall. The plants must be watered upon transplanting, until the plants have fully developed into the soil.
References
Abd El-Gawad, A.H., & Shehata, H.S. 2014. Ecology and development of Mesembryanthemum crystallinum L. in the Deltaic Mediterranean coast of Egypt. Egyptian Journal of Basic Applied Sciences, 1(1): 29–37.
Adams, P., Nelson, D. E., Yamada, S., Chmara, W., Jensen, R. G., Bohnert, H. J., & Griffiths, H. 1998. Growth and development of Mesembryanthemum crystallinum (Aizoaceae). New Phytologist 138: 171-190.
Australian National Botanic Gardens. 2004. Mesembryanthemum crystallinum and M. nodiflorum. Online. http://www.cpbr.gov.au/cpbr/WfHC/Mesembryanthemum/index.html. Accessed 24 June 2019.
Mallon, L. 2012. Mesembryanthemum cristallinum—New Crop Summary & Recommendations. Part of the requirements for Horticultural Science 5051, University of Minnesota.
Natural History of Orange County, California and nearby places. Mesembryanthemum crystallinum. Online. http://nathistoc.bio.uci.edu Accessed 24 June 2019.
Plant Right. (ND). Crystalline iceplant (Mesembryanthemum crystallinum). Online. https://plantright.org/invasive/mesembryanthemum-crystallinum/. Accessed 24 June 2019.
Plants of the World online. Mesembryanthemum crystallinum L. http://powo.science.kew.org/taxon/urn:lsid:ipni.org:names:362764-1. Accessed 1 July 2019.
Van Jaarsveld, E.J. & Pienaar, U. de V. 2000. Vygies, gems of the veld. Cactus & Co. Libri, Venegono, Italy.
Voigt, W.E. 2005. Ruschia Schwantes (Aizoaceae). PlantZAfrica. Online. http://pza.sanbi.org/ruschia
Credits
Sinikeziwe Ncaphayi
Kirstenbosch National Botanical Garden
July 2019
Plant Attributes:
Plant Type: Bi/Annual, Ground Cover, Succulent
SA Distribution: Eastern Cape, Northern Cape, Western Cape
Soil type: Sandy, Brack/saline
Flowering season: Early Summer
PH:
Flower colour: White, Cream
Aspect: Full Sun
Gardening skill: Easy
Special Features:
Drought resistant
Edible plant
Feeds honeybees
Pioneer plant
Horticultural zones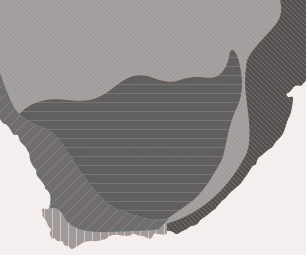 Zone 2 Coastal winter rainfall, frost free
Zone 3 Winter rainfall Karoo, light frost
Google QR Code Generator