Metalasia aurea D.Don
Family: Asteraceae
Common names: golden metalasia, yellow metalasia (Eng.); geelsteekbossie, geelblombos (Afr.)
Introduction
Metalasia aurea has the most unusual flower colour for Metalasia, and may be seen when travelling along the N2 freeway from Humansdorp to Port Elizabeth. It presents as beautiful stands of bright yellow bushes, illuminating the winter lowlands. There are few other yellowish Metalasia species such as Metalasia octoflora, which is dull yellow and grows in the renosterveld and Metalasia luteola, a limestone endemic on the Agulhas plains, with pale yellow flowers and very stiff hard leaves.
Description
Description
Metalasia aurea is a densely branched shrub, ranging from about 0.8–1.2 m in height. The leaves are dark green, needle-like and prickly to touch. They are arranged in tight, twisted knots.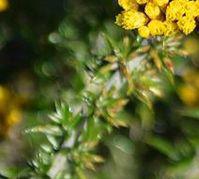 The flowers are numerous, small and arranged in flat topped clusters composed of papery bracts 2 mm in diameter. The golden-yellow capitula (flower heads) are quite unique in Metalasia. The attractive flowers appear from April to June and have a yeasty fragrance.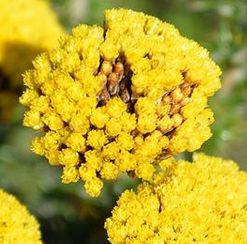 Conservation Status
Status
This species is widespread and not declining and therefore, classified as Least Concern (LC) in the Red List of South African plants.
Distribution and habitat
Distribution description
Metalasia aurea occurs in grassy fynbos, in quartzitic sandstone soils on the lowlands, from about 50–250 m altitude, from Joubertina in the Langkloof and eastwards, and also along the coast around Cape St. Francis and around Port Elizabeth. It also grows in clay to loamy soils derived from shale around Jeffreys Bay and Humansdorp, but not on dunes where Metalasia muricata replaces it. This species is particularly prevalent on hills and slopes north of Humansdorp, in dry grassy fynbos.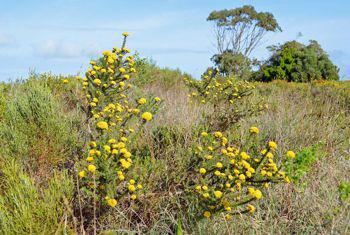 Derivation of name and historical aspects
History
The name Metalasia is derived from the Greek word meta, which here is interpreted as 'backwards/reverse' and lasios, 'woolly', referring to the woolly undersides of the leaves. The species name is derived from the Latin word aurea meaning 'golden', which refers to the colour of the flowers
Ecology
Ecology
Metalasia aurea occurs over a relatively wide area, ranging from dry grassy fynbos to renosterveld. The habitat includes low hills on quartzitic sandstone outcrops, sandy flats and stony to gravelly clayey-loam, derived from shale.
This species is associated with grassy-fynbos found at the eastern range of the Fynbos Biome. It generally grows in nutrient-poor soils and is subject to hot, dry summers, cool, wet winters, and periodic fires. The plants have evolved strategies to cope with these factors. Metalasia leaves are small and the edges are rolled back until they almost meet under the leaf. This reduces the amount of water lost through the leaves, and enables the plant to cope with periods of drought and desiccation by hot, dry winds. It lasts for quite a while in undisturbed areas, that have not burnt for at least 10–15 years. In these conditions it becomes dominant together with Phylica gnidioides as well as with Agathosma gonaquensis on rocky outcrops where fire is excluded.
It has many concentrated flower heads producing large numbers of light seeds, with small papery parachutes, that are wind distributed, and readily germinate in disturbed areas such as exposed land after fire and along road reserves. It may, therefore, be called a pioneer plant. It is visited by bees which appear to assist in pollination.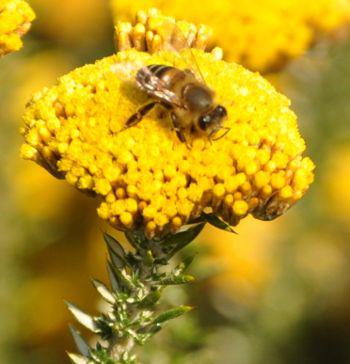 Uses
Use
Metalasia aurea is a new collection at Kirstenbosch, having been collected in 2012. It was noticed because of its bright, showy, yellow flowers contrasting with the bleak winter landscape near Humansdorp. It proved to be easy to grow and a very attractive addition to the protea garden at Kirstenbosch attracting much favourable comment. It has unusual, eye-catching, yellow flowers and is, therefore, seen as a good horticultural prospect. Cut stems apparently do well in a vase.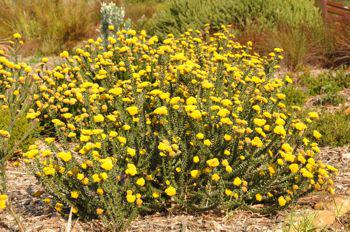 Growing Metalasia aurea
Grow
Metalasia aurea is easy to grow from cuttings and seed. Take 20–30 mm long heel or stem cuttings from semi-hard wood, from healthy plants. Remove the leaves from the lower third of the cutting, dip into a rooting hormone and place into a tray filled with 50% peat, or milled pine bark, and 50% perlite. Place the trays in a propagation unit with overhead mist and bottom heating of between 22–24°C. Once the cuttings are rooted, pot them up into small plugs in multi-trays or 1litre plastic bags. Young cuttings must be watered well and kept under shade for about three to four weeks until hardened off, after which, they should be grown in full sunlight.
Seed is collected about eight to ten weeks after flowering, depending on how warm and dry the weather has been. The flower heads begin to fluff out, expelling hundreds of small seeds with a silvery, tufted parachute attached.
The growing medium should be well drained, consisting of a combination of river sand and well-decomposed pine bark or equivalent peat product, in roughly equal proportions. The potting medium should be acidic, roughly between pH5 and 7. Metalasia germinate well if subjected to smoke treatment. It is recommended that seed is sown in late summer or autumn, but will probably germinate during other months. Seed usually germinates within six weeks and emerge as very small plantlets that should be fed with a dilute organic liquid fertilizer. The young plantlets should be pricked out into multi-trays when they are about 5 mm tall, and grown on undercover, to protect them from hard rain and direct sun. They grows quite quickly and should be planted into bigger containers when the root ball has filled the plug. Regular feeding with liquid fertilizers is recommended, but slow release fertilizers may also be used.
Metalasia aurea should be planted out in full sunlight. It appears to be good tempered and able to tolerate a range of growing conditions and soils, as long as they are well drained. This species may be planted in large groups to give a dramatic effect when in flower or in small groups, or as a single specimen in a rockery. Pruning is recommended to keep the plant compact, and to increase branching and flower production.
References
Adriaan Grobler, personal communication
Manning, J. 2001. Eastern Cape. South African Wild Flower Guide 11. Botanical Society of South Africa, Cape Town.
Manning, J.C. & Goldblatt, P. 2013. Plants of the Greater Cape Floristic Region. 1: The Core Cape Flora. Strelitzia 29. South African National Biodiversity Institue, Pretoria.
Per Ola Karis, personal communication.
Raimondo, D. et al. 2009. Red list of South African plants. Strelitzia 25. SANBI (South African National Biodiversity Institute), Pretoria.
Credits
Anthony Hitchcock
Kirstenbosch National Botanical Garden
March 2015
Acknowledgements
Adriaan Grobler for ecological and distribution information and images
Plant Attributes:
Plant Type: Shrub
SA Distribution: Eastern Cape
Soil type: Sandy, Loam
Flowering season: Autumn, Winter
PH: Acid
Flower colour: Yellow
Aspect: Full Sun
Gardening skill: Average
Special Features:
Feeds honeybees
Pioneer plant
Horticultural zones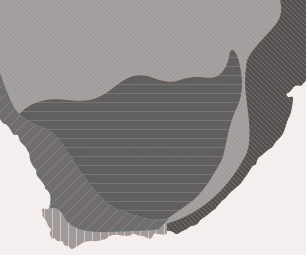 Zone 2 Coastal winter rainfall, frost free
Google QR Code Generator