Monsonia speciosa L.
Family: Geraniaceae
Common names: umbrella (Eng.); sambreeltjie (Afr.)
Introduction
Monsonia speciosa is a hardy, summer-deciduous herb bearing masses of large showy pink flowers in spring (southern hemisphere).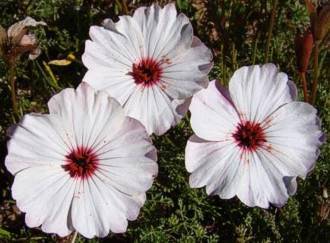 Description
Description
Monsonia speciosa is a hardy herbaceous perennial. The plant is clump-forming and may attain a height of 200 mm. Annual branches are produced from a woody rootstock. Leaves are slightly to deeply digitately compound (like the fingers of a hand). The leaves in most cases are hairless. Solitary flowers are borne on strong stalks about 150 mm in length. Flowers are pink with a deep pink/yellow reverse. Individual flowers are 40-65 mm in diameter.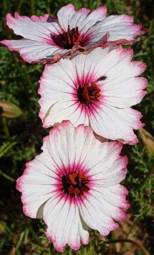 Monsonia speciosa has a semifibrous, shallow, not succulent-like root system. The roots are not destructive and plants can be planted right next to structures.
Monsonia speciosa is perennial and may live as long as 20 years in its natural habitat. In cultivation it can live as long as 18 years. Monsonia speciosa is summer deciduous and care must be taken not to over-water the plant. Over-watering may cause the summer dormant rootstock to rot.
Conservation Status
Status
Monsonia speciosa is listed as Endangered.
Distribution and habitat
Distribution description
Monsonia speciosa is relatively widespread. It occurs naturally only in the winter rainfall areas of the Western Cape, from Clanwilliam in the north to Mossel Bay in the southeast. 
It is estimated that there are 40 species of Monsonia in Africa, Madagascar and south western Asia. Seventeen have been recorded from South Africa.
Derivation of name and historical aspects
History
The genus was named in honour of Lady Anne Monson, great-granddaughter of Charles II, by Carl Linnaeus (1707-1778). Apparently Linnaeus and Lady Anne Monson never met, but corresponded in a fairy tale-like manner. The specific epithet speciosa means showy or attractive.
Ecology
Ecology
Monsonia speciosa flowers from September to late October, its peak flowering time being September. The flowers tend to open fully from 09:00 onwards.  Mainly bees pollinate the flowers during the day.
Uses
Use
Monsonia speciosa is rarely cultivated in public and private gardens. It is, however, cultivated at the Karoo Desert National Botanical Garden in Worcester. Monsonia speciosa is best cultivated in rocky flower beds. There are no known ethnobotanical or medicinal uses for Monsonia speciosa.
Growing Monsonia speciosa
Grow
Monsonia speciosa is best cultivated from seed. "Seed capsules" (dry fruit splitting up into five 1-seeded parts, when ripe) are long and thin, resembling Pelargonium seed capsules. The elongated seed capsule will start to split longitudinally when the seeds reach maturity. Seeds take nearly two months after flowering to mature. Once the seed capsule is dry (pale brown colour) and starts splitting open, seeds must be harvested as soon as possible otherwise they are likely to be blown away. Seeds are spear-shaped with a corkscrew tail attached to them.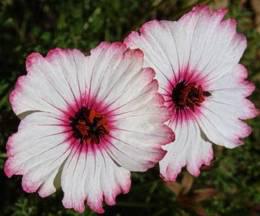 Seed can be sown at most times of the year. Avoid very hot weather (January/February). Sow the seeds in a flat seed pan. Ensure that there is adequate drainage in the bottom of the seed pan. If the seeds stand in too much water, they will more than likely rot. The best medium to sow the seeds in is coarse sand and a loam mixture with one part sieved compost. On top of this mixture, sprinkle a thin layer of coarse river sand, 5 mm in depth. Sow the seeds on this mixture and cover them with a similar sand topping to a depth of 5 mm. Ensure the sand topping is firmed down. Keep the area weed-free and water every second day. During very hot and dry weather water daily, preferably in the early morning when it is cool. Ensure, when watering, that the seeds are not blasted out of the soil; gentle watering is advised. Ensure that the seed trays are positioned in a partly sunny area. The ideal is morning sun only. Do not sow the seeds too deep. If sown too deep, they will be smothered and probably will not germinate. Under ideal conditions, seedlings will grow rapidly. Plant the seedlings out when they are 30-50 mm high.
Monsonia speciosa flourishes in well-drained, loam soils. It can also be grown successfully in compost-rich soils, but the medium must drain well. They are most effectively cultivated in groups in the garden. Remember to plant them in a sunny position, otherwise they will not flower properly.
A word of warning - great care must be taken not to plant this species in heavy clay soils.
References
Bean, A. & Johns, A. 2005. Stellenbosch to Hermanus. South African Wild Flower Guide 5. Botanical Society of South Africa, Cape Town.
Jackson,W.P.U. 1990. Origins and meanings of names of South African plant genera. University of Cape Town Printing Department.
Trinder-Smith, T.H. 2003. The Levyns guide to the plant genera of the southwestern Cape. Bolus Herbarium, University of Cape Town.
Van Rooyen, G. & Steyn, H. 2004. Cederberg, Clanwilliam and Biedouw Valley. South African Wild Flower Guide 10. Botanical Society of South Africa, Cape Town.
Watt, J.M. & Breyer-Brandwijk, M.G. 1962. The medicinal and poisonous plants of southern and eastern Africa. Livingstone, Edinburgh and London.
Credits
Ian Oliver
Karoo Desert National Botanical Garden
April 2010
Plant Attributes:
Plant Type: Perennial
SA Distribution: Western Cape
Soil type: Sandy, Loam
Flowering season: Spring
PH: Acid, Neutral
Flower colour: Pink, Yellow
Aspect: Full Sun
Gardening skill: Average
Special Features:
Good potplant
Feeds honeybees
Horticultural zones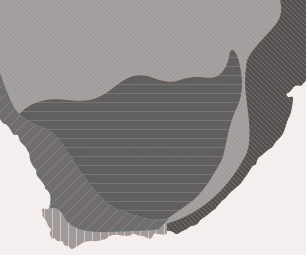 Zone 2 Coastal winter rainfall, frost free
Zone 3 Winter rainfall Karoo, light frost
Google QR Code Generator