Moraea longiaristata Goldblatt
Family: Iridaceae
Common names: no names recorded
Introduction
Moraea longiaristata is endemic to the Caledon Swartberg, which is a very special mountain home to many endemic and threatened plant species. This area is highly impacted by woody alien invasive species which make the survival of these species challenging.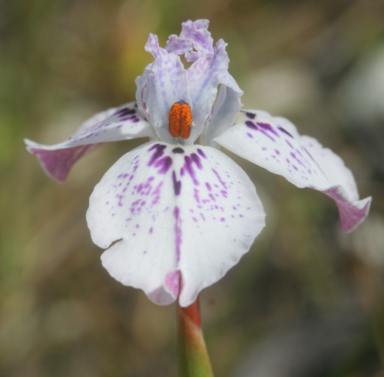 Description
Description
A cormous geophyte 15-20 cm high. The stem is usually unbranched and plants have a very slender and delicate habit. Corms are 8-12 mm in diameter with light brown coarsely fibrous netted tunics. Leaf single, linear, narrowly channelled, usually exceeding the inflorescence, 4-8 mm wide with a smooth surface. Leaves usually dry towards the tip. Spathes herbaceous, dry and brown above, with a sharply pointed tip. Flowers white, outer tepals with yellow nectar guides outlined with dark blue. Usually stripe extends down the tepal and blue to purple spots present around and below the nectar guides. Style branches about 10 mm long with erect crests. Flowering September to October and most profusely in the first year after a fire.
Moraea longiaristata 's distinguishable characteristics are the white flowers with large outer tepals and long filiform inner tepals. Its closest relative is Moraea barnardii, which is another range-restricted species occurring about 5 km south of Caledon. The difference between them is the lack of the long inner tepals in M. barnardii. In most other respects these species are very similar.
Conservation Status
Status
Moraea longiaristata is listed as Critically Endangered. It is only known from a handful of localities on the Caledon Swartberg Mountain range. It is mainly threatened by woody alien invasive species and development on the lower slopes of the mountain.
Distribution and habitat
Distribution description
This Moraea species is a narrow endemic of the southern African winter-rainfall region and restricted to the Caledon Swartberg Mountain near Caledon.
Derivation of name and historical aspects
History
The specific name `longiaristata' means `with long cusp' which refers to the long filiform erect inner tepals. It was first collected by Harry Bolus in the late nineteenth century. It was originally identified as a form of Moraea tripetala. This was the case until 1978 when Dr Peter Goldblatt saw live specimens at the Caledon flower show. Then it became quite clear that this species was very different to Moraea tripetala. It was separated from Moraea tripetala and described as a new species. There are only a handful of collections of this species. In 2012 the CREW ( Custodians of Rare and Endangered Wildflowers) team conducted surveys on the Caledon Swartberg Mountain, which burnt in January 2012, and discovered one new very large population.
Ecology
Ecology
The species flowers after fires and occurs on lower to middle stony slopes on nutrient-poor sandstone soils, usually in rock clusters, which could be a strategy to stay safe from porcupines which favour the corms.
Uses
Use
Moraea longiaristata has no known cultural or medicinal use. Growing this species is not a task for the novice, but for the specialist and enthusiastic bulb grower. It is possible to cultivate it as a garden or container plant. It has small but very attractive flowers, and although not popularly cultivated, can provide a great challenge to the avid bulb grower.
Growing Moraea longiaristata
Grow
There are no recorded guidelines for growing this species, but because it is related to Moraea tripetala the same advice could be followed. Plants can either be grown from seed, or the underground stems can be split up. Seed may be sown in April at the start of the winter rains (southern hemisphere), and the underground stems can be split up in January or February when the plant is dormant.
References
Barnhoorn, F. 2005. Growing bulbs in southern Africa , edn 2. Struik, Cape Town.
Goldblatt, P. 1976. The genus Moraea in the winter rainfall region of southern Africa . Annals of the Missouri Botanical Garden 63: 657-786.
Goldblatt, P., Manning, J. 2000. Cape plants: A conspectus of the Cape Flora of South Africa. Strelitzia 9. National Botanical Institute, Cape Town.
Manning, J., Goldblatt, P. & Snijman, D. 2002. The color encyclopedia of Cape bulbs . Timber Press, Oregon.
Raimondo, D., Von Staden, L., Foden, W., Victor, J.E., Helme, N.A., Turner, R.C., Kamundi, D.A., Manyama, P.A. (eds) 2009. Red List of South African plants 2009. Strelitzia 25. South African National Biodiversity Institute, Pretoria.
Credits
Martina Treurnicht
Custodians of Rare and Endangered Wildflowers (CREW)
March 2013
Plant Attributes:
Plant Type: Bulb
SA Distribution: Western Cape
Soil type: Sandy
Flowering season: Spring
PH: Acid, Neutral
Flower colour: Purple, White, Mauve/Lilac
Aspect: Full Sun, Morning Sun (Semi Shade)
Gardening skill: Average
Special Features:
Good potplant
Horticultural zones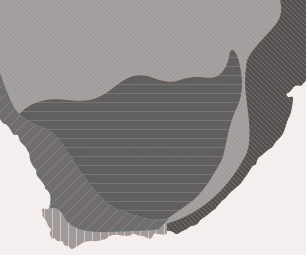 Zone 2 Coastal winter rainfall, frost free
Zone 3 Winter rainfall Karoo, light frost
Google QR Code Generator