Moraea worcesterensis Goldblatt
Family: Iridaceae
Common names: No names recorded
Introduction
The critically endangered Moraea worcesterensis with striking dark purple flowers is very scarce in cultivation.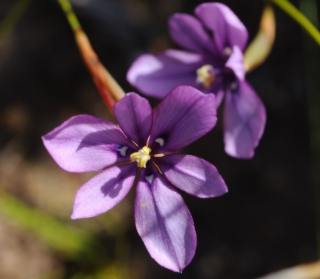 Description
Description
Moraea worcesterensis is a winter-growing, spring-flowering geophyte that goes dormant in the hot summer months. It is 12-25 cm high with a small (15-20 mm) fibrous corm. The solitary, linear, grass-like leaves are channelled and a little longer than double the length of the stem.
The dark violet-purple flowers have yellow stamens and diamond-shaped nectar guide markings on the inner and outer tepals. The inner tepals are a bit smaller and narrower than the outer tepals. The flowers appear from late September to October.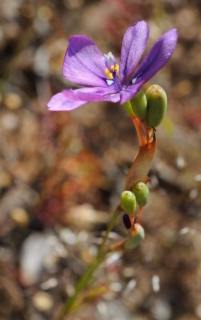 The narrowly obovoid seed capsule splits open in three dry valves when ripe. The small, angled seeds have a spongy testa (seed coat) that may help the seeds to be dispersed by the wind.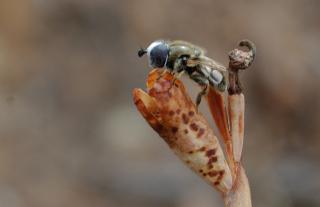 Conservation Status
Status
Moraea worcesterensis is listed as critically endangered. It is only known from three locations near Worcester and is under severe threat, due to habitat loss mainly from urban development and vineyard expansion.
Distribution and habitat
Distribution description
Moraea worcesterensis is endemic to the Worcester area where it was first discovered in a transition zone between fynbos and renosterveld. However, the one site currently visited by the the personnel of the Karoo Desert National Botanical Garden is in the Robertson Karoo vegetation type.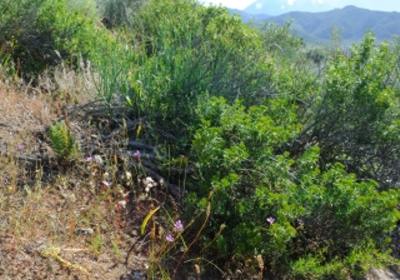 Derivation of name and historical aspects
History
This species was only discovered in 1983 when the site was going to be developed for an expanding suburb. The species went extinct at that site, but was rediscovered in 1996 elsewhere.
The genus name Morea was first given by Philip Miller in 1758, but was later changed by Carl Linnaeus to Moraea to acknowledge his wife's father's family name Moraeus. The specific name refers to the town where the species is found.
This genus contains about 200 species that include well-known species such as the peacock Moraeas, e.g. Moraea villosa, M. elegans and M. tulbaghensis. The genus is widespread in Africa south of the Sahara, and grows mostly in the winter rainfall region of the Western Cape.
Ecology
Ecology
The flowers last for 2-3 days and rely on insects such as small bees for pollination. This Moraea has a typical Homeria -type flower that produces nectar at the base of the tepal whorls. When observed closely it appears that nectar is only produced on the outer tepals in this moraea. The brightly coloured flowers of moraeas, together with contrasting nectar guides and often a strong scent, lure potential pollinators.
Uses
Use
No use is recorded for this moraea. The corm may be poisonous, as several Moraea species are known to be poisonous to livestock.
Growing Moraea worcesterensis
Grow
Moraea worcesterensis is not a well-known plant in cultivation.
Moraeas generally are easy to grow and maintain. Corm offsets or cormlets can be removed in late summer. Plant the corms 2-4 cm deep in well-drained soil. It is best to plant them in a 20 cm diameter pot, as porcupines, moles and even guineafowl are known to favour them. Ideally they should be planted from late March to April, or May at the latest (autumn in the southern hemisphere). Drench the soil once after planting and then keep dry until the leaf shoots appear. The plants should be placed in a sunny position and should be kept dry in summer. Water them well twice a week during their growing season; water early in the morning on warm days.
Sow seeds in autumn, 3-4 mm deep in an even mixture of sand and compost. Keep the soil moist. Germination takes place after about 4-5 weeks. Transplant the seedlings only after two years. Pests include aphids on the flowering buds and red spider mites beneath the leaves.
References
Duncan, G. 1997. Moraeas of the Western Cape . Veld & Flora 83: 42-44.
Duncan, G. 2010. Grow bulbs . South African National Biodiversity Institute, Cape Town.
Goldblatt, P. 1986. The moraeas of southern Africa . Annals of Kirstenbosch Botanic Gardens 14.
Jackson, W.P.U. 1990. Origin and meanings of names of South African plant genera . University of Cape Town , Rondebosch .
Manning, J. Goldblatt, P. & Snijman, D. 2002. The color encyclopedia of Cape bulbs. Timber Press, Oregon, USA.
Raimondo, D., Von Staden, L.,Foden, W., Victor, J.E., Helme, N.A., Turner, R.C., Kamundi, D.A. & Manyama, P.A. (eds) 2009. Red List of South African plants 2009. Strelitzia 25 . South African National Biodiversity Institute, Pretoria .
Credits
Lize Wolfaardt
Karoo Desert National Botanical Garden
March 2013
Plant Attributes:
Plant Type: Bulb, Perennial
SA Distribution: Western Cape
Soil type: Clay
Flowering season: Spring
PH: Neutral
Flower colour: Purple
Aspect: Full Sun
Gardening skill:
Special Features:
Good potplant
Horticultural zones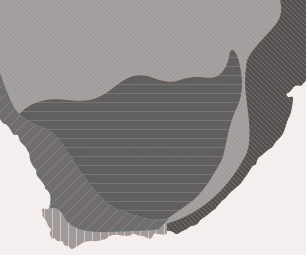 Zone 2 Coastal winter rainfall, frost free
Zone 3 Winter rainfall Karoo, light frost
Google QR Code Generator