Nemesia diffusa var. diffusa
Nemesia diffusa Benth. var. diffusa
Family: Scrophulariaceae
Common names: white cape snapdragon (Eng.); witleeubekkie (Afr.)
Introduction
This beautiful, dainty little herb is covered in small, white flowers in spring and early summer, and makes a spectacular display in a mass planting.
Description
Description
Nemesia diffusa is a short-lived perennial herb that grows to a height of between 300 and 400 mm. The plant is multi-stemmed and stems are square shaped. The leaves are in opposite pairs, with adjacent pairs at right angles to each other (decussate), lanceolate to ovate, with serrated edges and are 3 to 5 veined from the base.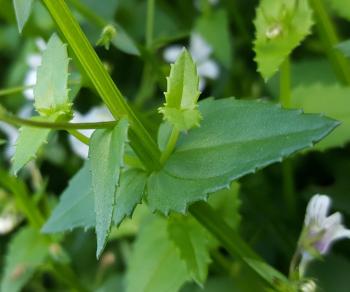 Flowering time occurs mainly from September through to February (spring to midsummer), but may start as early as July (midwinter) in some areas. Flowers occur in racemes that bend in a zigzag (flexuose). The flowers are white to light lilac, with darker veins and have a raised, velvety, yellow palate. The upper lobes of the flower are oblong and the spur is 2.5 mm to 3 mm long.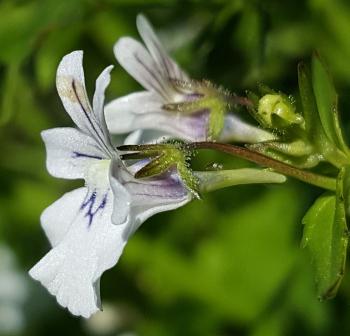 The seed capsules, which are longer than wide, turn brown as the seeds develop and ripen.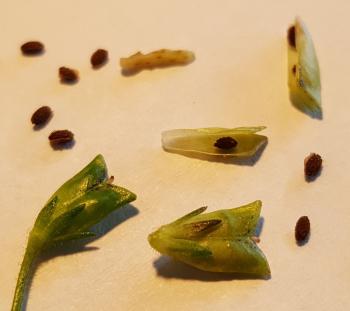 Conservation Status
Status
According to the Red List of South African plants, assessed on the 30 June 2005, this species is not threatened and has a conservation status of Least Concern (LC).
Distribution and habitat
Distribution description
Nemesia diffusa occurs from sea level to the lower, south-facing sandstone slopes of mountains, in the Fynbos Biome. It is found growing in well-drained soil from the Cedarberg Mountains to Humansdorp, in semi shade to full sun. In the Overberg it experiences temperatures below 10°C in winter to temperatures over 30ºC in summer. It experiences winter rainfall and hot dry summers and is found growing under larger shrubs or in areas which are more protected from the elements.
Derivation of name and historical aspects
History
The generic name Nemesia is derived from the word nemesion, a name used by Dioscorides. It is the Greek name for a similar plant. Diffusa means 'diffuse' and refers to its open or straggling growth, with widely or loosely spreading stems.
Nemesia belongs to the Scrophulariaceae, also known as the snapdragon family. Other members of the family include Diascia and Jamesbrittenia. The family consists of 269 genera and 5 100 species. In southern Africa there are 66 genera with 900 species (Koekemoer, Steyn & Bester 2013).
The genus Nemesia is comprised of more than 60 species occurring in South Africa. Many of the plants have been given the common name of Cape snapdragon, or Kaapse leeubekkie or weeskindertjies in Afrikaans. The genus is comprised of annuals, perennial herbs or subshrubs.
Ecology
Ecology
It is accepted that solitary bees pollinate plants with this type of flower. However, honeybees have also been seen visiting these flowers.
Uses
Use
No medicinal uses are known for this plant. N. diffusa, like many other species and hybrids of Nemesia, makes a good landscaping plant.
Growing Nemesia diffusa var. diffusa
Grow
Nemesia diffusa is a vigorous growing, soft-stemmed herb. It provides seasonal colour and can be grown in a sunny position in the garden or even in semi-shade. It serves as an excellent filler plant, and can be used in an herbaceous border or even as a pot plant, as it is a low-growing shrub.
These plants are easily grown from seed sown in autumn or even from stem cuttings. Stem cuttings can be taken from the plant once flowering has finished and while the plant is actively growing in early spring. Cuttings can be placed in a mix of sifted bark, coir and perlite. With the help of a rooting hormone, the cuttings can root within 2 weeks under mist irrigation.
Once well rooted, remove the cuttings from the propagation unit and allow them to harden off for a week in a semi-shaded area and, depending on the soil moisture, water them once or twice a day. Pot them up into a medium made up of equal parts sand, bark and compost. Once the plants are well rooted and large enough, plant them into the garden.
If grown from seed, sow seed in March, in a mix made up of equal parts sand, compost and bark; and water regularly with a gentle spray. The seeds germinate in 1–3 weeks. When large enough, plant the seedlings 15–30 cm apart in the garden.
References
Bean, A. & Johns, A. 2005. Stellenbosch to Hermanus South African wild flower guide 5. Botanical Society of South Africa, Cape Town.
Harris, G. & Harris, M.W. 1994. Plant identification terminology, an illustrated glossary. Spring Lake, Utah.
Jackson, W.P.U. 1990. Origins and meanings of names of South African plant genera. University of Cape Town.
Koekemoer, M., Steyn, H.M. & Bester, S.P. 2015. Guide to Plant Families of southern Africa. Strelitzia 31. 2nd ed., 2nd print. South African National Biodiversity Institute, Pretoria, South Africa.
Leistner, O.A. (ed.). 2000. Seed plants of southern Africa: families and genera. Strelitzia 10. National Botanical Institute, Pretoria.
Goldblatt, P. & Manning, J. 2000. Cape Plants. A conspectus of the Cape flora of South Africa. Strelitzia 9. National Botanical Institute, Pretoria & Missouri Botanical Garden, Missouri.
Manning, J. 2017. Email. Identification and ecology of Nemesia diffusa. 25 August.
Manning, J. & Goldblatt, P. 2012. Plants of the Greater Cape Floristic Region 1: the Core Cape Flora. Strelitzia 29. South African National Biodiversity Institute, Pretoria.
Credits
Karen Wall
Harold Porter National Botanical Garden
October 2017
Plant Attributes:
Plant Type: Perennial
SA Distribution: Western Cape
Soil type: Sandy
Flowering season: Spring, Early Summer, Winter
PH: Acid
Flower colour: White, Mauve/Lilac
Aspect: Full Sun, Morning Sun (Semi Shade), Afternoon Sun (Semi Shade)
Gardening skill: Easy
Special Features:
Good potplant
Feeds honeybees
Horticultural zones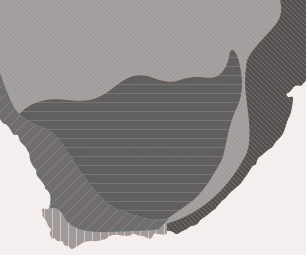 Zone 2 Coastal winter rainfall, frost free
Zone 3 Winter rainfall Karoo, light frost
Google QR Code Generator