Nemesia leipoldtii Hiern
Family: Scrophulariaceae
Common names: Karoo nemesia (Eng.); Karooleeubekkie (Afr.)
Introduction
A cheerful annual with white or purple flowers, to create a glistening carpet in your garden, from late winter to spring. This species is not well-known as a garden ornamental.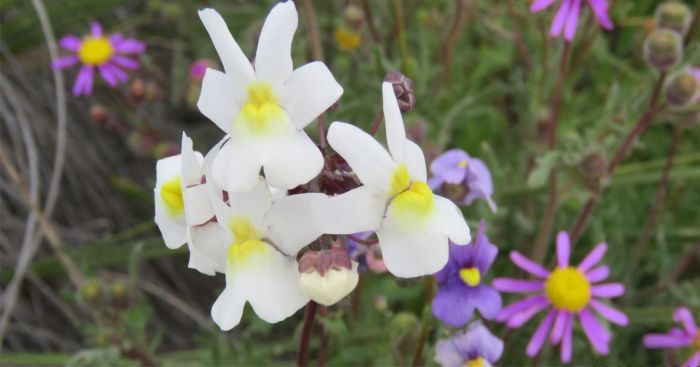 Description
Description
A slender and low-growing, branched annual of 200 × 200 mm. Leaves are  lightly serrated, ovate and oppositely arranged. The flowers are 2-lipped, white or purple, in short racemes of 15–18 mm across. The lower lip has a yellow pouch and a short, sac-like spur. The upper lip consists of 4 broad lobes and a yellow patch at the base. Flowering is from late winter until mid-spring (August to October). Fruiting is from September to October. The septicidal seed capsules, which are equal in length and breadth, disperse wing-shaped seeds from October to November.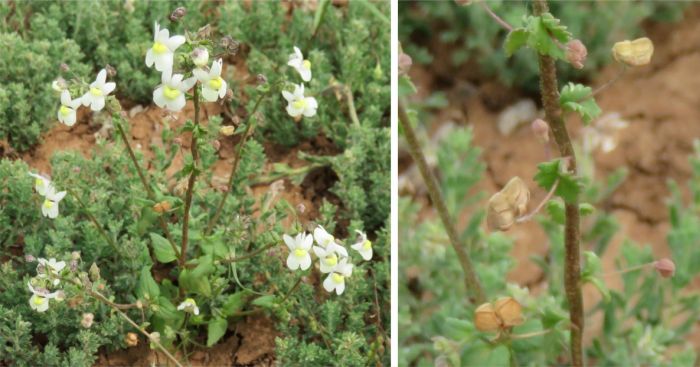 Conservation Status
Status
Nemesia leipoldtii is not considered threatened in the wild according to the Red List of South African plants. This species is therefore afforded a status of Least Concern (LC).
Distribution and habitat
Distribution description
Nemesia leipoldtii is endemic to South Africa and occurs naturally within the Succulent Karoo Biome along the trans-escarpment succulent bio region in the Northern Cape and a segment of the Western Cape in the greater part of Onder Bokkeveld and Hantam Region within Nieuwoudtville and Calvinia. It frequents clay flats, and in particular dolerite flats, in these areas.
Derivation of name and historical aspects
History
The name Nemesia was derived from the Greek word nemesion, this name was used by Dioscorides. It is a Greek name used for a similar herb of unknown identity.
This species is named after Dr. Christian Frederick Louis Leipoldt (1880–1947), a collector and friend of (H.M.L.) Louisa Bolus, a South African botanist and taxonomist. He was a well-known, South African-born poet, author, medical doctor and journalist, and he was known for being a collector of plants and insects. His poetry reflected his concern for his country and the conditions during the Anglo-Boer Wars, as well as his love of nature and the beautiful landscapes and legends of Hantam, where he grew up. He frequently collected plants, particularly succulents and aloes. In 1921, he created a herbarium collection, centered on Piet Retief. Bolus named the plant genus Leipoldtia after him. Babiana leipoldtii, Ixia leipoldtii, Aspalathus leipoldtii and Serruria leipoldtii are all plant species named after him. His plant specimens are now housed in the Compton Herbarium in Cape Town, the National Herbarium in Pretoria, and the herbarium in Kew Gardens.
The genus Nemesia belongs to the Scrophulariaceae, a family commonly known as the figwort or snapdragon family. This family consists mostly of perennial or annual herbs, shrubs of variable sizes and a few tree species, predominantly confined to temperate zones and tropical mountain regions. The name of this plant family is derived from Scrophularia, which was the very first genus described. This particular European plant was believed to be useful in the treatment of a tuberculous disease named scrofula. 
Nemesia forms part of the tribe Hemimerideae. This tribe also includes several well-known South African genera such as Diascia and Hemimeris. Nemesia comprises of more than 60 species of annual and perennial herbs, of which most are endemic to South Africa.
The winter-rainfall area of southern Africa can be regarded as the Nemesia hotspot. This region stretches from the southwestern corner of Namibia, into South Africa's Namaqualand Region and the Western Cape towards the Cape Peninsula. Their distribution range further extends along a narrow band towards Port Elizabeth in the Eastern Cape. In contrast to this, the distribution range for species in the summer rainfall area comprise parts of eastern southern Africa as well as Zimbabwe, Botswana and the northern region of Namibia.
Ecology
Ecology
At the Hantam National Botanical Garden in Nieuwoudtville, where a large population of the Karooleeubekkie occurs naturally, bees have been mostly observed visiting plants (Eugene Marinus, pers. obs.). Bees and other insects, which potentially assist in pollination, can expect either nectar or pollen as their reward.
The light-weight seeds are winged, an adaptation that is most likely aiding its dispersal by wind, in spring.
Plants survive the harsh, hot summer conditions in the form of seed and will only germinate in more favourable conditions, which include sufficient moisture, lower temperatures and/or light or a lack of it.
It is not known whether the plants are browsed.
Uses
Use
Apart from being a wonderful addition to any garden, no other uses for this species have been recorded.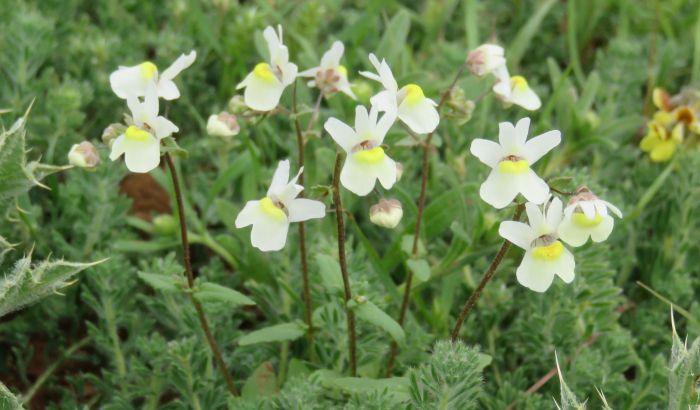 Growing Nemesia leipoldtii
Grow
At Kirstenbosch NBG fresh, wild-collected seed of this species germinated after an after-ripening period of 18 months, having stored the seeds in the local seedroom at 15°C with a 15% relative humidity (RH). This was not compared to any ambient conditions.
Sow the seed in early to mid-autumn, in a free-draining medium. Level the medium, sow the seed evenly, water it gently and cover it lightly, with fine-milled bark or sand. Seedlings can be pricked out from the trays or beds once they are large enough to be handled.
Use Nemesia leipoldtii in pots, mass plantings or mixed plantings with other annual species in small or larger flower beds. There are various other annuals which either occur with this species in its natural habitat or which have been found to complement it rather well in the garden. These include: Pelargonium crithmifolium, Zygophyllum flexuosum, Pentzia incana, Eriocephalus africanus subsp. africanus and E. ericoides subsp. ericoides, Felicia filifolia subsp. filifolia, Gazania rigida, Chrysocoma ciliata, Pteronia glomerata, Gonialoe variegata, Elytropappus rhinocerotis, Dimorphotheca cuneata, D. tragus, D. pluvialis and D. sinuata, Euphorbia mauritanica, Diospyros austro-africana, Ursinia nana, U. cakelifolia, U. anthemoides and U. calenduliflora, Hemimeris centrodes, Diascia cardiocephala and Senecio arenarius.
References
Bester, S.P. & Steyn, H.M. 2015. Nemesia arenifera Bester & H.M.Steyn (Scrophulariaceae). PlantZAfrica.Online. http://pza.sanbi.org/nemesia-arenifera.
Manning, J. & Goldblatt, P. 2012. Plants of the Greater Cape Floristic Region 1: the Core Cape Flora. Strelitzia 29. South African National Biodiversity Institute, Pretoria.
Huxley, A. 1992. The new RHS dictionary of gardening. MacMillan Press, London.
Jackson, W.P. 1980. Wild flowers of the Fairest Cape. Howard Timmins (Pty) Ltd. Cape Town.
Johannsmeier, M.F. 2016. Bee plants of South Africa. Strelitzia 37. SANBI, Pretoria.
Koekemoer, M., Steyn, H.M. & Bester, S.P. 2015. Guide to Plant Families of southern Africa. Strelitzia 31. 2nd ed., 2nd print. South African National Biodiversity Institute, Pretoria, South Africa.
Leistner, O.A. (ed.). 2000. Seed plants of southern Africa: families and genera. Strelitzia 10. National Botanical Institute, Pretoria.
Le Roux, A. & Schelpe, T. 1997. Namaqualand. South African Wild Flower Guide 1. Botanical Society of South Africa, Cape Town.
Manning, J. & Goldblatt, P. 1997. Nieuwoudtville. South African Wild Flower Guide 9. Botanical Society of South Africa, Cape Town.
Mosyakin, S.L. & Tsymbalyk, Z.M. 2017. Pollen morphology of the tribe Hemimerideae: possible evidence of ancestral pollen types and parallel evolution in the basal most clade of Scrophulariaceae s.str. Willdenowia 47(1): 15–27.
Mucina, L. & Rutherford, M.C. (eds) 2006. The vegetation of South Africa, Lesotho and Swaziland. Strelitzia 19. South African National Biodiversity Institute, Pretoria.
Plug, C. 2020. S2A3 Biographical Database of Southern African Science. http://www.s2a3.org.za/bio/Biograph_final.php?serial=1651. Accessed 5 August 2021.
Raimondo, D. et al. 2009. Red list of South African plants. Strelitzia 25. SANBI (South African National Biodiversity Institute), Pretoria.
Ready, J. 2013. Nemesia suaveolens K.E.Steiner (Scrophulariaceae). PlantZAfrica. Online. http://pza.sanbi.org/nemesia-suaveolens.
Stearn, W. 2002. Stearn's dictionary of plant names for gardeners. Timber Press, Portland, Oregon.
Steiner, K.E. 1994. A new Nemesia from the interior of the southern Cape, South Africa. South African Journal of Botany 60(4): 211–213.
Williamson, G., 2000. Richtersveld the enchanted wilderness. Umdaus Press, Hatfield, Pretoria.
Credits
Roger Oliver & Sithandokuhle Wendy Ngcongo
Kirstenbosch National Botanical Garden
August 2021
Plant Attributes:
Plant Type: Bi/Annual
SA Distribution: Northern Cape, Western Cape
Soil type: Clay, Loam
Flowering season: Spring
PH:
Flower colour: Purple, White, Yellow
Aspect: Full Sun
Gardening skill: Easy
Special Features:
Drought resistant
Good potplant
Feeds honeybees
Horticultural zones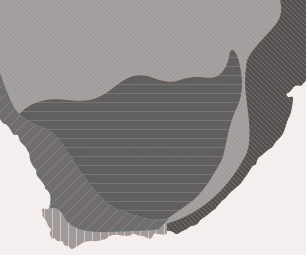 Zone 2 Coastal winter rainfall, frost free
Zone 3 Winter rainfall Karoo, light frost
Zone 4 Summer rainfall Karoo and Highveld, Frost in winter
Google QR Code Generator