Nephrotheca ilicifolia (L.) B.Nord. & Källersjö
Family: Asteraceae
Common names: None recorded
Introduction
This aromatic shrub is a good addition to a fynbos garden.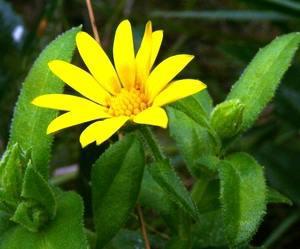 Description
Description
Nephrotheca ilicifolia is a roughly hairy, sprawling, compactly leafy, aromatic, sticky shrub growing up to 1 m high. New growth is sometimes lightly woolly. The leaves are slightly fleshy, oval to spear-shaped and somewhat clasping at the base; the margins are rolled under and usually sharply toothed.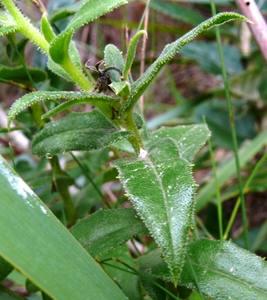 The shrub bears solitary, radiate flowerheads at the branch tips with yellow rays and a disc 30 mm across; the flowers of the disc are also yellow. The flowerheads are surrounded by large bracts in one row, acuminate, slightly cobwebby and rough, with translucent toothed margins. Nephrotheca ilicifolia flowers from August to March.
The fruits are kidney-shaped, warty, and pitted with a small cavity on one side, 4-5 mm long.
Conservation Status
Status
The conservation status of Nephrotheca ilicifolia is Least Concern. It is not regarded as threatened in its native habitat.
Distribution and habitat
Distribution description
Nephrotheca ilicifolia occurs on sandstone or limestone slopes in the southwestern Western Cape where it is found on the Cape Peninsula and from Ceres to Cape Infanta. It is frequently spotted on Table Mountain around August to April.
Derivation of name and historical aspects
History
Nephrotheca comes from Greek nephros, meaning kidney. Theca means a case, covering or sheath. Ilicifolia means having leaves like the holly (Ilex sp.)
Nephrotheca ilicifolia belongs to the Daisy Family, or Asteraceae, an important plant family in the Cape Floral Region where 121 genera with 1036 species occur. The southwestern Western Cape has 111 genera with 517 species (32 introduced). The Asteraceae is the largest plant family in southern Africa where it is represented by 264 genera with 2481 species. Many species of the family have economic value such as sunflower, lettuce, chicory, artichoke, and herbal teas such as chamomile.
There are two species in the genus Nephrotheca: N. scabra which is found in the Eastern Cape from Knysna to Uitenhage, and N. ilicifolia which is confined to the winter-rainfall area of the Western Cape.
Uses
Use
Nephrotheca ilicifolia is not widely used in horticulture at present.
Growing Nephrotheca ilicifolia
Grow
Neprotheca ilicifolia can be planted in a fragrance garden. It thrives in fynbos gardens. The shrub is very striking in winter, when the bright yellow flowers appear. Giving compost annually during winter or spring will enhance growth and performance.
N. ilicifolia can be grown from seeds and cuttings. Seeds are produced from fertile flowers at the centre of the flowerheads. Asteraceae seeds often germinate better in response to smoke treatment. Only mature, plump and fully formed seeds should be used. Smoke seed trays after sowing or soak seed in aqueous smoke extract for 24 hours. Sow seeds in a sandy, well drained soil. Sow seeds in autumn.
Cuttings can be taken in spring. Take cuttings early in the morning to avoid wilting. Root them in a propagation medium consisting of fine bark and polystyrene.
References
Brown, N. & Duncan, G. 2006. Grow Fynbos plants . South African National Biodiversity Institute, Cape Town.
Goldblatt, P. & Manning, J. 2000. Cape Plants. A conspectus of the Cape Flora of South Africa. National Botanical Institute of South Africa, Pretoria.
Leistner, O.A. (ed.). 2000. Seed plants of southern Africa: families and genera. Strelitzia 10. National Botanical Institute, Pretoria.
Manning, J. 2007. Field guide to Fynbos . Struik, Cape Town.
Trinder-Smith, T. 2006. Wild flowers of the Table Mountain National Park . Botanical Society of South Africa, Cape Town.
Trinder-Smith, T.H. 2003. The Levyns guide to the plant genera of the Southwestern Cape . Bolus Herbarium, Cape Town.
Website of results list - California Plant Names:
Latin and Greek Meanings and Derivations: http://www.calflora.net/botanicalnames/index2.html . Accessed on the 2013/09/27.
Website of Results List - Jason Hollinger: Botany: Plant Latin Dictionary:
http://alumnus.caltech.edu/~hollin/botany/latin/dictionary.html. Accessed on 2013/09/27.
Credits
Zoleka Maphanga
Kirstenbosch Gardens, Millennium Seed Bank
October 2013
Plant Attributes:
Plant Type: Perennial, Shrub
SA Distribution: Western Cape
Soil type: Loam
Flowering season: Spring, Early Summer, Late Summer, Winter
PH: Neutral
Flower colour: Yellow
Aspect: Full Sun, Afternoon Sun (Semi Shade)
Gardening skill: Easy
Special Features:
Fragrant
Horticultural zones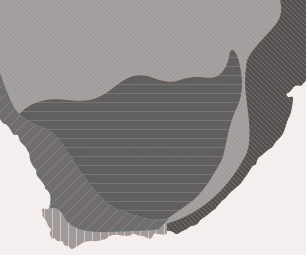 Zone 2 Coastal winter rainfall, frost free
Google QR Code Generator