Ochna pretoriensis E.Phillips
Family: Ochnaceae
Common names: Magalies plane ( Eng. ); Magalies-rooihout (Afr.)
SA Tree No: 480.2
Introduction
Ochna pretoriensis is one of the magnificent evergreen shrubs in South Africa, especially in the warm northern regions of South Africa. It flowers in spring and is a must-have to enhance the beauty of the spring garden. Its very distinctive yellow flowers colour and fragrance will attract many birds and insects to your garden. It is also extremely attractive in fruit.
Description
Description
Ochna pretoriensis is a much-branched evergreen shrub up to ± 2 m high. Stems and branches have a rough brown bark, flaking in thin, small, longitudinal strips. The main stem is pale grey to white and covered in white lenticels; sometimes longitudinal flaking occurs in papery strips.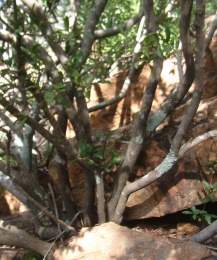 Leaves are dark green, shiny, tardily deciduous, obovate (broad and rounded at the base, becoming narrower at the tip) to narrowly obovate or oblong, ± 35 x 10-15 mm. The apex is acute to obtuse, the base is cuneate; the margin has small, shallow, (elongate teeth; the midrib is occasionally arched with the convex half of the lamina somewhat larger than the other side; the petiole is 1-2 mm; interpetiolar stipules are elongate-deltoid, fused at the base.
Flowers are solitary or arranged sometimes in pairs on the tips of short branchlets, appearing before the leaves, yellowish, buttercup-like, releasing a strong fragrance, and appear from Sept. -Nov. The enlarged, persistent sepals are elliptic, ± 5 mm long, becoming wine-red on stalks up to 14 mm long, loosely enveloping the drupelets;. Pedicels are ± 8 mm at anthesis, up to 15 mm and erect or spreading in fruit. The pedicel is articulated at or near the base. Petals are broadly obovate, clawed, ± 14 mm long, rounded at the apex, yellow. Stamens have filaments 3 mm long. There are 5 carpels attached basally to the torus (receptacle). Styles are fused with free apical, recurved tips. The fruits are elliptic-globose, fleshy, green, becoming black and shiny when matured.
Ochna pretoriensis is closely related to O. inermis but can be distinguished by the shorter, usually erect pedicels articulated just above the base and somewhat smaller leaves.
Conservation Status
Status
Not listed, not threatened.
Distribution and habitat
Distribution description
Ochna pretoriensis is widespread in its distribution range. It occurs in the northern provinces of South Africa and is very common around Pretoria. It is also found near Gaborone in Botswana. It is found on rocky outcrops on mainly N-facing slopes, at altitudes between 500 and1520 m.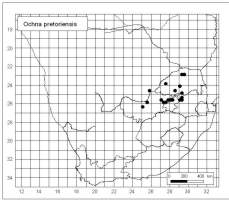 Derivation of name and historical aspects
History
The word Ochna is derived from the Greek word, ochne, which means wild pear, because the leaves resemble that of the wild pear. The specific name pretoriensis refers to Pretoria, which is the area where it was first collected.
The Ochnaceae family contains about 30 genera and 250 species world-wide, of which two genera ( Ochna and Brackenridgea ) covering 13 species are indigenous to southern Africa.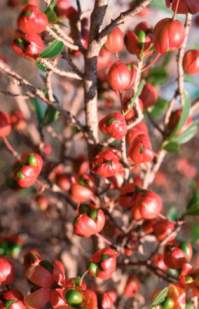 Growing Ochna pretoriensis
Grow
The seeds of Ochna pretoriensis are simple to germinate, if fresh seed is collected before the fruits become fully ripe. Collect fruit, clean off the outer seed coat and sow it as quickly as possible. Sow the seeds in a seedling mix on a heated tray. Keeping the seedling mixture damp helps the seeds to germinate, which takes about 10 days. The seedlings need a lot of sunlight. Seedlings tend to grow slowly, so one needs to weed the tray regularly as the weeds may overshadow the Ochna seedlings.
References
Coates Palgrave, M. 2002. Keith Coates Palgrave Trees of southern Africa, edn.3: 729, 730. Struik, Cape Town.
Du Toit, P.C.V. & Obermeyer, A.A. 1976. Ochnaceae. Flora of southern Africa 22: 1-12. Botanical Research Institute, Pretoria.
Germishuizen, G. & Fabian, A. 1997. Wildflowers of northern South Africa. Fernwood Press, Vlaeberg, Cape Town.
Germishuizen, G. & Meyer, N.L. (eds). 2003. Plants of southern Africa : an annotated checklist. Strelitzia 14. National Botanical Institute, Pretoria.
Nichols, G. 2005. Growing rare plants, a practical handbook on propagating the treatened plants of southern Africa. Southern African Botanical Diversity Network Report No. 36: 116. SABONET, Pretoria.
Phillips, E.P. 1922. Ochna pretoriensis. The Flowering Plants of South Africa 2: t. 70.
Pooley, E. 1993. The complete field guide to the trees of Natal, Zululand and Transkei. Natal Flora Publications Trust, Durban.
Schmidt, E., Lötter, M. & McCleland, W. 2002. Trees and shrubs of Mpumalanga and Kruger National Park. Jacana, Johannesburg.
Van Wyk, A.E. & Malan, S. 1997. Field guide to the wild flowers of the Highveld : 24, 166, 226. Struik, Cape Town.
Van Wyk, A.E. (Braam) & Van Wyk, P. 1997. Field guide to trees of southern Africa. Struik, Cape Town.
Credits
Grunyuza, T. Mothapo, M.A. Mothogoane, M.S. Nonyane, F.M. Rampho, E.T. Ready, J.
Sebothoma, P.N.
National Herbarium, Pretoria
April 2008
Plant Attributes:
Plant Type: Tree
SA Distribution: Gauteng, Limpopo, Mpumalanga, North West
Soil type: Sandy
Flowering season: Spring
PH: Acid, Neutral
Flower colour: Yellow
Aspect: Full Sun
Gardening skill: Challenging
Special Features:
Attracts birds
Horticultural zones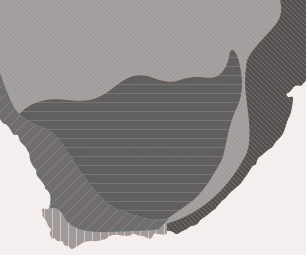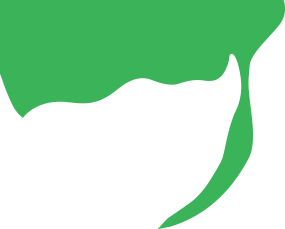 Zone 4 Summer rainfall Karoo and Highveld, Frost in winter
Zone 5 Bushveld summer rainfall, Light frost
Google QR Code Generator