Ornithogalum conicum Jacq.
Family: Hyacinthaceae
Common names: chincherinchee, pure white star-of-Bethlehem (Eng.); tjienkerintjee, viooltjie (Afr.)
Introduction
A stunning, early summer-flowering, bulbous plant, with bright white flowers, with prominent yellow centres, in dense heads; a good pot plant, rockery plant and cutflower.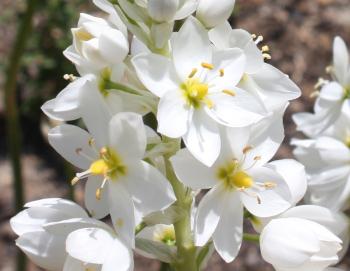 Description
Description
Ornithogalum conicum is a half-hardy, deciduous, winter-growing, bulbous plant, 350–600(–900) mm tall. The bulb is nearly globose, 25–45 mm in diameter, with whitish, papery outer tunics. It has a basal rosette of leaves that are oblong to lanceolate, spreading or suberect, and with entire margins, with a dense fringe of slender hairs. The leaves are 45–100(–120) mm long and 6–25(–30) mm broad and are one-third to one-quarter as long as the flowering stem. The plants grow during the rainy winter months, and the leaves wither in spring (Sep. –Oct.) so that the leaves are partially or completely dry at flowering. Each bulb produces a raceme of 15–30, star-shaped, shiny white flowers, tinted greenish yellow in the centre, in early summer (Nov. –Dec.). The flowers are unscented to faintly honey-scented. The raceme is compact, conical to cylindrical in shape, and 30–80 mm long, elongating to 60–100 mm long in fruit. The ovary is greenish yellow to bright yellow and the anthers are yellow. The 2–3 mm long seeds, are produced in loculicidal capsules (splitting lengthwise).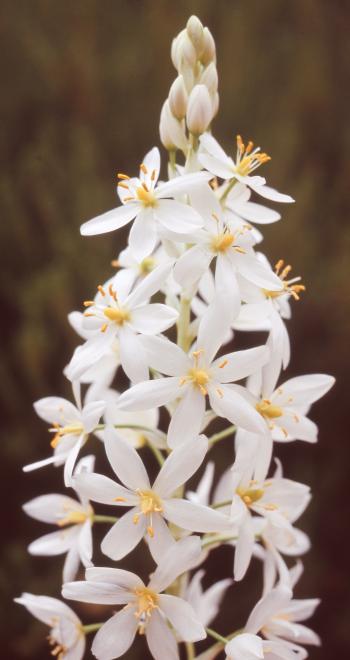 Ornithogalum conicum is very similar to the 'true' chincherinchee, O. thyrsoides, but the latter differs in having smooth-, not hairy-margined leaves and smaller bulbs (seldom more than 20 mm in diameter). O. conicum flowers are pure white, the sepals acuminate, spreading, but never curled back as in O. thyrsoides. Also, the flowers of O. thyrsoides often have a dark centre, whereas those of O. conicum never do. Both these species flower in early summer, from November to December, although O. thyrsoides generally flowers earlier (Sep. –Oct.) than O. conicum (Nov. –Dec.). O. conicum can also be confused with a white-flowered form of O. dubium on Table Mountain, but O. dubium differs having a smaller bulb that has dark tunics, and the ovary in the centre of the flower is usually blackish, where O. conicum has a yellow ovary.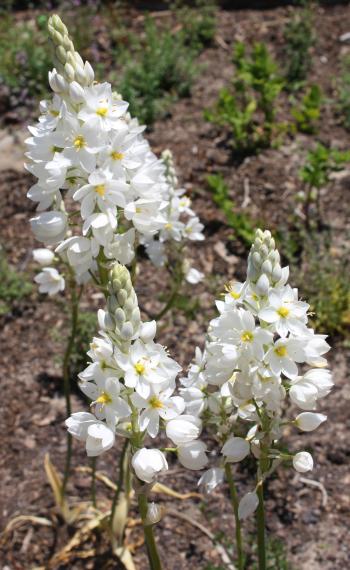 Conservation Status
Status
According to the Red List of South African plants, accessed on 19 April 2017, the conservation status of Ornithogalum conicum is Least Concern (LC). Although threatened in some areas by habitat loss to urban expansion, it is a widespread and still fairly common species, and not in danger of extinction.
Distribution and habitat
Distribution description
Ornithogalum species are widely distributed over Africa, Madagascar, Western Asia and Europe. This species is native to South Africa, endemic to the coastal area in the Western Cape, from Graafwater to Gordon's Bay. This species was previously thought to occur in the Eastern Cape, from Umqanduli Road to Coffee Bay, but the Eastern Cape plants are now recognised as a separate species, O. synanthifolium. Its former subspecies strictum from the Olifants River Valley, is now also treated as a separate species, O. strictum. Both have longer, thinner leaves that are still green at flowering.
Its major habitat is within the Fynbos Biome, where it grows on coastal limestone, stony hills and granite and shale outcrops.
Derivation of name and historical aspects
History
Ornithogalum is an old name meaning 'bird's milk' derived from two Greek words ornithos, which means 'a bird' and gala, 'milk'; in ancient Greek and Roman times 'bird's milk' was used to describe something wonderful or rare, or the name could be referring to the whiteness of the flowers, resembling bird's droppings from a distance. This species is named for the conical shape of its flowerheads. The common names chincherinchee, tjienkerintjee and viooltjie (meaning little violin), all come from the squeaky sound the stems make when rubbed against each other.
Species of Ornithogalum are perennial, bulbous geophytes that belong in the Hyacinthaceae, a large family of about 46 genera and 900 species, with 27 genera and more than 340 species in southern Africa. The genus Ornithogalum has about 250 species with about 90 in southern Africa and about 40 in the Western Cape. Only a few species are well known in cultivation. The South African species O. thrysoides and O. dubium, are probably the best known as garden plants, pot plants and cutflowers.
Ornithogalum conium was introduced to Europe by Baron C.F.H. von Ludwig, who sent bulbs from the Cape of Good Hope to the Glasgow Botanic Garden, in 1835. The specimens were produced in the greenhouse in the summer of the same year. Specimens of this species are distributed throughout South African herbariums, such as the Bolus Herbarium at UCT, the Compton Herbarium at Kirstenbosch National Botanical Garden and the National Herbarium in Pretoria.
Ecology
Ecology
The leaves are deciduous and winter-growing, and the plant goes dormant underground during the dry summer months, allowing it to survive the heat and drought, characteristic of the Western Cape summer.
The flowers are visited by monkey beetles in cultivation at Kirstenbosch, and the seeds are dispersed from the capsules by the shaking action of wind.
Uses
Use
Ornithogalum species are sold as cut flowers, especially O. arabicum, O. dubium, O. saundersiae, O. conicum and O. thyrsoides. They are also sold as bulbs for ornamental garden flowers. The stem has a long vase life of 2 to 4 weeks. In the garden, this species is ideal for containers and rock garden pockets.
O. conicum, O. strictum, O. synanthifolium and O. thyrsoides, are said to be poisonous and are known to kill grazing animals, particularly horses, thus treat with caution, and when making floral arrangements, they must be kept away from pets and toddlers, and hands must be washed after handling the stems. The bulb contains alkaloids and cardenolides which are very toxic. The seeds and flowers are also poisonous.
The genus Ornithogalum was listed as one of the 38 plants used to prepare batch flower remedies, a kind of alternative medicine promoted for its effect on health. However, there is no scientific evidence to prove that the flower remedies can control or prevent any type of disease, including cancer.
Growing Ornithogalum conicum
Grow
Ornithogalum conicum is propagated from seeds at Kirstenbosch. Like all winter-growing bulbous plants, seed of O. conicum should be sown in autumn (March to May). Use 10 cm deep seed trays or pots and a well-drained, sterile sowing medium. Sow seeds thinly to prevent overcrowding and damping off. Cover with a thin layer of clean sand. Keep moist, but not wet, and place in a warm position. The young bulbs prefer a sunny position and very little moisture. Plant them in a potting mix that is sandy to loamy and very well-drained.
O. conicum can also be propagated by separation of offsets in late summer.
Grow O. conicum in a sunny position in very well-drained soil. They are well suited to fynbos gardens, coastal gardens, rockeries and containers. Plant the bulb just below the ground. The bulb is dormant in summer and starts emerging in late autumn. It grows in winter and flowers in early summer. Water in autumn and winter, and keep dry in summer, although it can withstand summer moisture as long as it is planted in well-drained soil. These plants are half hardy, meaning they can take temperatures down to 0ºCelsius for short periods of a few hours. Generally speaking, this plant can grow without supplementary feeding, as it has very low nutrient requirements. Feed with well-rotted compost applied as a mulch in autumn, but take care not to smother the plants. Care should also be taken not to over water and cause them to rot.
Pests and diseases are something to look out for in cultivated plants. Environmentally friendly control measures need to be adopted where infestations occur in this species, such as infestations of aphids and mealy bugs. This species is susceptible to Ornithogalum Mosaic Virus which is transmitted by aphids and mealy bugs, and infected plants should be removed and destroyed, as there is no cure.
References
Duncan, G.D. 2010. Grow bulbs. Kirstenbosch Gardening Series. South African National Biodiversity Institute, Cape Town.
Fabian, A. & Germishuizen, G. 1997. Wild flowers of northern South Africa. Fernwood Press, Vlaeberg.
Klopper, R.R., Victor, J.E. & Von Staden, L. 2012. Ornithogalum conicum Jacq. National Assessment: Red List of South African plants version 2017.1. Accessed on 2017/04/19.
Leistner, O.A. (ed.). 2000. Seed plants of southern Africa: families and genera. Strelitzia 10. National Botanical Institute, Pretoria.
Goldblatt, P. & Manning, J. 2000. Cape Plants. A conspectus of the Cape flora of South Africa. Strelitzia 9. National Botanical Institute, Pretoria & Missouri Botanical Garden, Missouri.
Manning, J.C., Martinez-Azorin, M. & Crespo, M.B. 2007. A revision of Orithogalum subgenus Aspasia section Aspasia, the chincherinchees (Hyacinthaceae). Bothalia 37,2: 133–164.
Obermeyer, A.A. 1978. Ornithogalum: a revision of the southern African species. Bothalia 12,3: 323–376.
Powrie, F. 1998. Grow South African Plants. A gardener's companion to indigenous plants. National Botanical Institute, Cape Town.
Smith, C.A. 1966. Common names of South African plants. Memoirs of the Botanical Survey of South Africa No. 35. Government Printer, Pretoria.
Website: Hortipedia, Ornithogalum conicum: http://en.hortipedia.com/wiki/Ornithogalum_conicum, accessed 19 April 2017.
Website: Hortus camdenensis, Ornithogalum conicum Jacq.: http://hortuscamden.com/plants/view/ornithogalum-conicum-jacq, accessed 19 April 2017.
Website: Seeds for Africa: https://www.seedsforafrica.co.za/products/ornithogalum-conicum-indigenous-south-african-bulb-10-seeds. Accessed 19 April 2017.
Website: Wikipedia. Ornithogalum. https://en.wikipedia.org/wiki/Ornithogalum. Accessed 19 April 2017.
Credits
Nomama Mei and Alice Notten
Kirstenbosch National Botanical Garden
May 2017
Acknowledgements: our thanks to Graham Duncan (Senior Horticulturist) and Siyabonga Xolilizwe (Groundsman) of the bulb collection at Kirstenbosch, for the photographs and information on the cultivation of this plant.
Plant Attributes:
Plant Type: Bulb
SA Distribution: Western Cape
Soil type: Sandy, Loam
Flowering season: Early Summer
PH: Acid, Alkaline, Neutral
Flower colour: White, Yellow
Aspect: Full Sun
Gardening skill: Average
Special Features:
Good potplant
Poisonous
Horticultural zones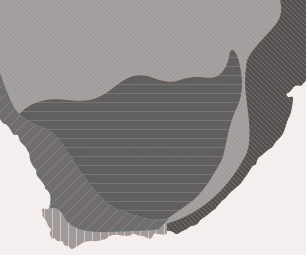 Zone 1 Coastal summer rainfall, frost free
Zone 2 Coastal winter rainfall, frost free
Zone 3 Winter rainfall Karoo, light frost
Google QR Code Generator