Othonna quinquedentata Thunb.
Family: Asteraceae
Common names: Five-tooth baboon cabbage, heavenly daisy (Eng.); bobbejaankool (Afr.)
Introduction
The five-tooth baboon cabbage, with its thick, light green, slightly fleshy leaves, looks inconspicuous at most times of the year but a few months after a fire, it puts on a wonderful floral display that turns the landscape bright yellow.
Description
Description
Othonna quinquedentata is an erect, short-lived shrub that grows to 2 m tall. It is singled-stemmed or sparsely branched from the base and becomes woody with age. The leaves are slightly fleshy, smooth and hairless and are clustered untidily on the lower stems. They are 50–150 mm long and 10–50 mm wide, broadest in the upper half and often with toothed edges. The leaves are often streaked or spotted with red. The flowerheads occur on almost leafless, branched stems. The flowerheads are radiate, in lax terminal corymbs and each flowerhead is up to 30 mm across, with a single row of joined bracts shorter than the flowers. The yellow flowers appear throughout the year but especially in spring and summer, from October to March, and after fires.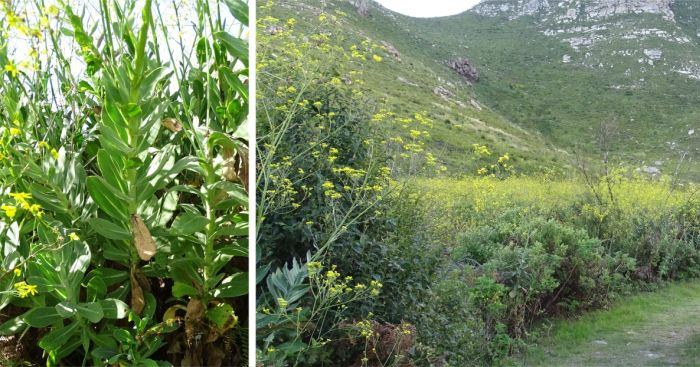 Conservation Status
Status
Distribution and habitat
Distribution description
Othonna quinquedentata grows in the Western Cape and southern Eastern Cape, a Mediterranean climate where it experiences rainfall in winter and a dry summer. It grows in damp places on lower slopes and flats from Worcester and the Cape Peninsula to Mossel Bay and the Swartberg and Langkloof Mountains.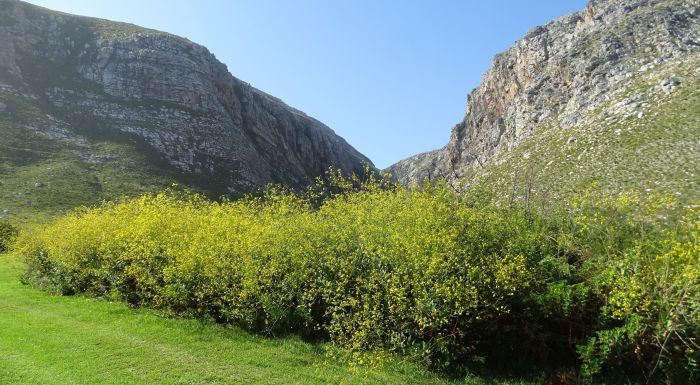 Derivation of name and historical aspects
History
The genus name Othonna is an ancient Greek name, probably from othonne, meaning 'linen or cloth'. The name refers to the soft texture of the leaves of some species. The species name quinquedentata means 'with five teeth'.
This species belongs to the daisy family, which is an enormous group of herbs, shrubs, trees and climbers, made up of nearly 1 535 genera and 25 000 species worldwide, with 246 genera and 2 305 species in southern Africa. Of the 246 genera, 121 are found in the Cape, with 1 036 species. The family Asteraceae forms a large portion of the vegetation found in the Fynbos Biome.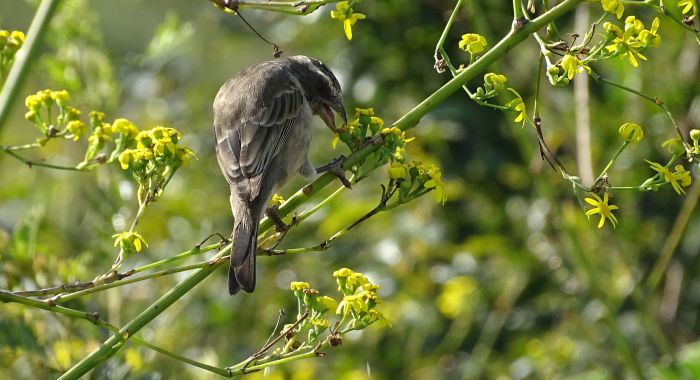 Ecology
Ecology
Fire plays a major role in the processes found in the Fynbos vegetation. Many Fynbos species are resprouters while many others are reseeders. More than a year after fire, Othonna quinquedentata becomes abundant and is very noticeable in the early succession of Fynbos.
Othonna quinquedentata can withstand harsh environments, where it requires light to survive and produces a large number of seeds that are dispersed by wind. It is pollinated by various insects and the flowers are eaten by birds.
On the mountain slopes, it can be seen growing with Mimetes cucullatus, Nerine sarniensis, Metalasia spp., Protea cynaroides, Erica rhopalantha and Tetraria thermalis.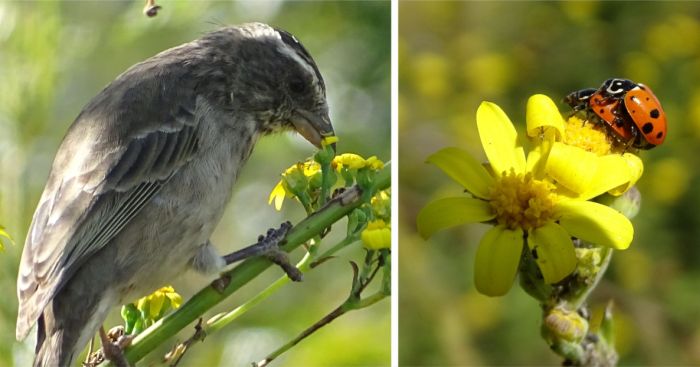 Uses
Use
Othonna quinquedentata has no known uses.
Growing Othonna quinquedentata
Grow
Othonna quinquedentata has not been commercially grown for home gardens because it is often regarded as a weed when seen growing in the wild. However, this plant has potential, especially in a sunny area in a Fynbos garden with damp, sandy, acidic soil, where it can put on a good display.
Stem cuttings can be taken in late winter to early spring. Ensure that the material used for cuttings is healthy and pest free. Apply a suitable rooting hormone to the basal cut to encourage rooting. Strike the cuttings in a well-drained medium, such as coarse river sand or a mixture of coir and perlite. Place the newly made cuttings in a propagation unit under mist irrigation. Bottom heat of 24˚C is not entirely necessary but it can help to speed up rooting, especially during the colder months. After a month, the cuttings will have rooted and can be removed from the mist unit and hardened off. After a week of hardening off, pot the plantlets into a pot of a suitable size and in a well-drained potting soil. Allow the plantlets to grow until they are ready to be planted into a sunny spot in the garden. Check the plants regularly for aphids and mealy bug.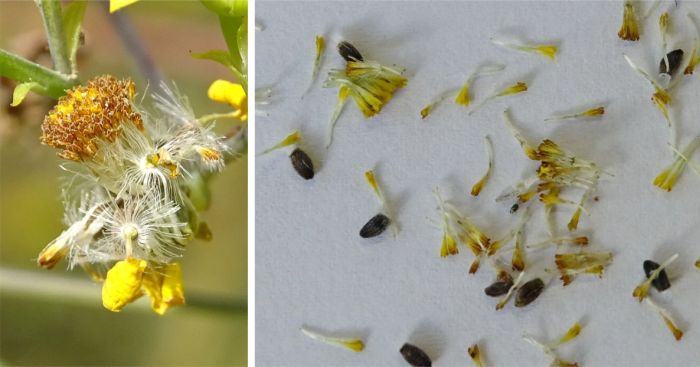 Seeds can be sown once they are ready to disperse, but it is preferable to sow them in the autumn months. Sow seeds into seed trays filled with a mixture of composted pine bark and coarse river sand and treat them with the Fynbos Smoke Plus Seed Primer. Cover the seeds with a very thin layer of medium and keep the medium damp but not wet, using a fine rose nozzle when watering. Place the trays in a slightly shaded but warm area and scatter snail bait around the perimeter of the tray.
Once the seeds have germinated and the seedlings have grown enough, prick them out into larger plug-trays or pots and grow them on until they have grown large enough to plant into the garden.
References
Bean, A. & Johns, A. 2005. Stellenbosch to Hermanus. South African Wild Flower Guide 5. Botanical Society of South Africa, Cape Town.
Burman, l. & Bean, A. 1985. Hottentots Hollands to Hermanus. South African Wild Flower Guide 5. Botanical Society of South Africa, Cape Town.
Clarke, H. & Charters, M. 2016. The illustrated dictionary of southern African plant names. Flora & Fauna Publications Trust, Jacana, Johannesburg.
Fernkloof Nature Reserve. All Plants – Othonna quinquedentata. https://www.fernkloof.org.za/index.php/all-plants/plant-families/item/othonna-quinquedentata Accessed 2/08/21
Foden, W. & Potter, L. 2005. Othonna quinquedentata Thunb. National Assessment: Red List of South African Plants version 2020.1. Accessed on 2021/04/22
Goldblatt, P. & Manning, J. 2000. Cape Plants. A conspectus of the Cape flora of South Africa. Strelitzia 9. National Botanical Institute, Pretoria & Missouri Botanical Garden, Missouri.
Jackson, W.P.U. 1990. Origins and meanings of names of South African plant genera. University of Cape Town.
Manning, J. 2007. Field guide to Fynbos. Struik Publishers, Cape Town.
Mustart, P., Cowling, R. & Albertyn, J. 1997. Southern Overberg. South African Wild Flower Guide 8. Botanical Society of South Africa, Cape Town.
Trinder-Smith, T.H. 2003. The Levyns Guide to the plant genera of the south western Cape. Bolus Herbarium, UCT, Red Roof Design CC, Cape Town
Wikipedia. Asteraceae. https://en.wikipedia.org/wiki/Asteraceae. Accessed 1July 2021
Credits
Karen Wall
Harold Porter National Botanical Garden
August 2021
Plant Attributes:
Plant Type: Shrub
SA Distribution: Eastern Cape, Western Cape
Soil type: Sandy, Loam
Flowering season: Spring, Early Summer, Late Summer
PH: Acid
Flower colour: Yellow
Aspect: Full Sun
Gardening skill: Average
Special Features:
Attracts birds
Attracts butterflies
Feeds honeybees
Wet sites
Pioneer plant
Horticultural zones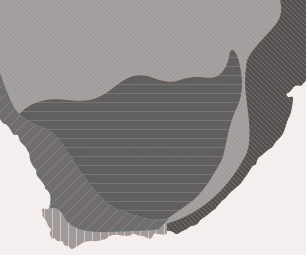 Zone 2 Coastal winter rainfall, frost free
Google QR Code Generator