Pavetta zeyheri subsp. zeyheri
Pavetta zeyheri Sond. subsp. zeyheri
Family: Rubiaceae
Common names: grey-leaved bride's bush, small-leaved bride's bush, narrow-leaved bride's bush (Eng.); fynblaarbruidbos (Afr.); igcegceleya, igceya (isiXhosa); murunda (Tshivenda); maitla-a-diluk, tshithabani (Shangaan); matiadule, tshitabanna (Setswana)
SA Tree No: 722
Introduction
A flowering plant from the genus Pavetta, P. zeyheri is a shrub or small tree that has beautiful, radiant, faintly scented white flowers in summer, that almost resemble a bridal bouquet.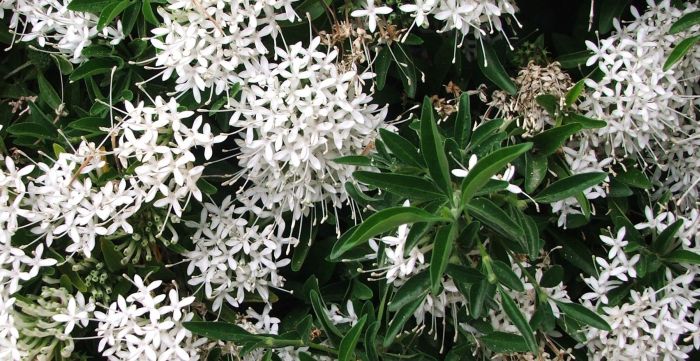 Description
Description
This is an evergreen, large shrub or small tree that grows from 1 m up to 5 m in height, usually single-stemmed. The bark is grey becoming rough as the tree ages; the branches are smooth. The leaves are dull green, narrowly lanceolate, hairless (glabrous), leathery, opposite, on short stalks, with an entire margin. The leaves have very distinct bacterial nodules (knots/bumps/lumps) scattered over the leaf surfaces. The flowers are faintly scented, white with a slight pink tinge when young, and arranged in small, branched, umbrella-like clusters on short side branches. They are about 10 mm long and 12 mm in diameter and appear in early to mid summer, from October to January and possibly into February. The fruit is spherical, as large as a pea, and ripens from green to black.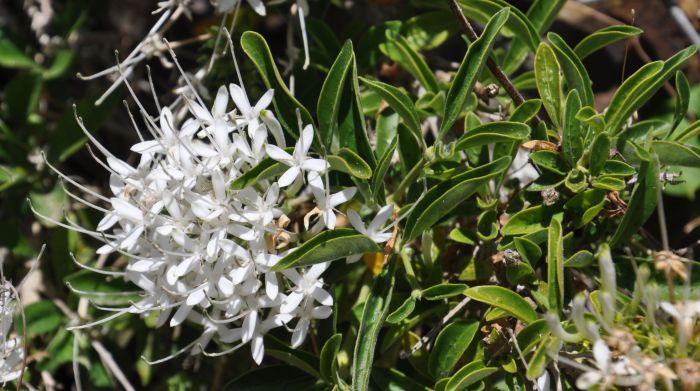 Conservation Status
Status
According to the SANBI Red List, Pavetta zeyheri is not threatened and falls in the category of Least Concern (LC).
Distribution and habitat
Distribution description
Pavetta zeyheri is not endemic to South Africa and also occurs in Botswana. In South Africa it is found in the Free State, Gauteng, Limpopo, Mpumalanga and North West, in dry woodland, on stony hillsides and rocky ridges, often in sandy soil.
Derivation of name and historical aspects
History
The name Pavetta is derived from the Sinhalese vernacular name pawatta, a Sri Lankan name for a plant in the genus. This species is named after Carl Zeyher, 1799–1858, a German naturalist who collected in South Africa.
Pavetta is a genus of flowering shrubs and trees in the family Rubiaceae. It comprises about 350 species of trees, evergreen shrubs and sub-shrubs, often found in forests, riverine forests and on forest margins, in woodlands, grasslands and thickets in sub-tropical and tropical Africa and Asia. There are 26 species occurring in South Africa with 9 of them endemic species.
Pavetta zeyheri was originally described by Sonder in 1865. Bremekamp revised the South African species of Pavetta in 1929 and described many new species. When Launert revised the Rubiaceae in 1966, he sank, P. lasiopepulus, one of Bremekamp's new species, under P. zeyheri. Kok & Grobbelaar, in 1984, placed 10 of Bremekamp's new species in synonymy under P. zeyheri. Bridson re-instated one of them, P. lasiopepulus, in 2003, and Herman re-instated two more, P. middelburgensis and P.microlancea, as subspecies of P. zeyheri in 2005.
The subspecies middelburgensis and microlancea both differ from the type in growth habit, being small shrubs, and subspecies middelburgensis is endemic to the Middelburg area in Mpumalanga, and subspecies microlancea is endemic to the Komatipoort area in Mpumalanga.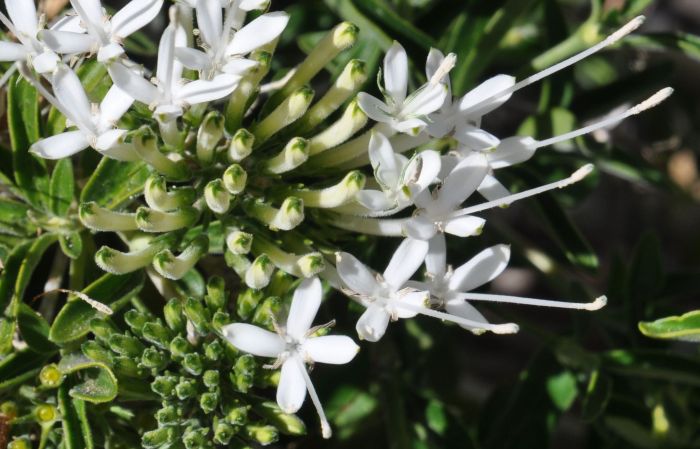 Ecology
Ecology
The flowers are faintly scented and attract many pollinators, such as bees, wasps, beetles, ants, and moths.
Birds eat the pea sized fruits and are thus responsible for their distribution. Larva of a limacodid moth feed on leaves.
Uses
Use
The leaves can be cooked and eaten as a vegetable, and the leaves of this tree are sometimes harvested from the wild for local use as a food.
Growing Pavetta zeyheri subsp. zeyheri
Grow
Most species from this genus are quite hardy plants, including this one, so it will be able to withstand most weather conditions. It is a naturally neat plant, but specimens can be pruned to stimulate new growth and to shape the plant for topiaries. It can also safely be planted close to pools, paving, walls, and other permanent structures as the roots are not invasive. At Kirstenbosch, it was one of the species planted against the north-facing gabion walls in the nursery, which were chosen because they have the ability to thrive in hot, exposed conditions, and have a natural tendency to scramble and produce adventitious roots. The plants cover and screen the stark walks, and over time their branches and roots take the place of the wire baskets, thus stabilizing the bank even if the wire corrodes. Pavetta zeyheri has flourished on these walls. It is also easy to manipulate by pruning.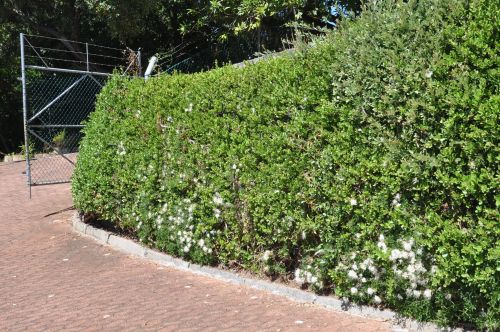 Propagate by seed and cuttings. Seeds may be sown in spring or early summer, in a seed tray, in a well-drained, well-aerated soil mix. Take semi-hardwood cuttings in spring to early summer and dip in rooting hormone number 2 or 3 to stimulate root development. The growth medium should be well-aerated and able to hold the cutting firmly while staying moist. All potting equipment needs to be sterilized to prevent fungal infections and other diseases affecting the plant and inhibiting its growth.
Air layering may also be done to propagate the plant. Air layering is a method of propagating new trees and shrubs from stems still attached to the parent plant. The stem is wrapped with damp moss to encourage roots to form.
Pavetta zeyheri grows well in full sun, in fertile and well-drained soils. It is water wise and hardy. Flowers may be used in flower arrangements and kept in a vase at home. Its small size makes it ideal to grow in a smaller garden, whether as shrub or small tree, and perfect for containers. It will attract birdlife and other insects, because it produces fruits edible to birds. Add organic matter, such as mulch and compost, to the soil once every season to make it fertile.
References
Fox, F.W. & Norwood Young, E. 1982. Food from the veld: edible wild plants of southern Africa. Delta Books, Cape Town.
Germishuizen, G. & Fabian, A. 1997. Wild flowers of northern South Africa. Fernwood Press, Vlaeberg, Cape Town.
GOOGLE SEARCH: Limacodid moth. https://www.google.com/search?q=limacodid+moth&rlz=1C1GCEU_enZA821ZA821&oq=limacodid+moth&aqs=chrome..69i57j69i60.470j0j7&sourceid=chrome&ie=UTF-8 / Accessed 3 Feb 2021
Herman, P.P.J. & Hyde-Johnson, J. 2011. Pavetta zeyheri subsp. zeyheri. Flowering Plants of Africa 62: 134-139. Accessed via ResearchGate.
Herman, P.P.J. 2007. Pavetta L. (Rubiaceae). PlantZAfrica. Online. http://pza.sanbi.org/pavetta.
Coates Palgrave, K. 1977. Trees of southern Africa. Struik, Cape Town.
Stearn, W.T. 1972. Stearn's dictionary of plant names for gardeners; A handbook on the origin and meaning of the botanical names of some cultivated plants. British Library Cataloguing in Publication Data, UK.
Useful Tropical Plants, Pavetta zeyheri. http://tropical.theferns.info/viewtropical.php?id=Pavetta+zeyheri/ Accessed 5 Feb 2021
Van Jaarsveld, E. 1997. Gardening with gabions, indigenous plants for terraced gardens. Veld & Flora 83(2):56-57.
Victor, J.E. 2009. Pavetta zeyheri Sond. subsp. zeyheri. National Assessment: Red List of South African Plants version 2020.1. Accessed on 2021/02/05
Wildflower Nursery, Pavetta zeyheri. https://wildflowernursery.co.za/indigenous-plant-database/pavetta-zeyheri/ Accessed 2 Feb 2021
Credits
Sisanda Velembo
Kirstenbosch National Botanical Garden
March 2021
Acknowledgements: photos of Pavetta zeyheri subsp. zeyheri by Ernst van Jaarsveld and Alice Notten.
Plant Attributes:
Plant Type: Shrub, Tree
SA Distribution: Free State, Gauteng, Limpopo, Mpumalanga, North West
Soil type: Sandy, Loam
Flowering season: Early Summer, Late Summer
PH:
Flower colour: White
Aspect: Full Sun
Gardening skill: Average
Special Features:
Attracts birds
Drought resistant
Fragrant
Good potplant
Hedge/screen
Edible plant
Feeds honeybees
Horticultural zones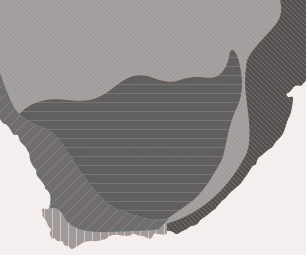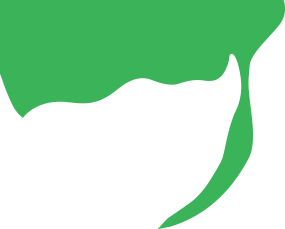 Zone 1 Coastal summer rainfall, frost free
Zone 2 Coastal winter rainfall, frost free
Zone 4 Summer rainfall Karoo and Highveld, Frost in winter
Zone 5 Bushveld summer rainfall, Light frost
Google QR Code Generator