Pelargonium cucullatum x betulinum 'Kommetjie'
Pelargonium cucullatum (L.) L'Herit. × P. betulinum (L.) L'Herit. 'Kommetjie'
Family: Geraniaceae
Common names: Kommetjie hybrid pelargonium
Introduction
Bright, floriferous and hardy, this is a natural hybrid between two of the Cape's finest pelargoniums, Pelargonium cucullatum and P. betulinum, that was found growing in Kommetjie on the Cape Peninsula.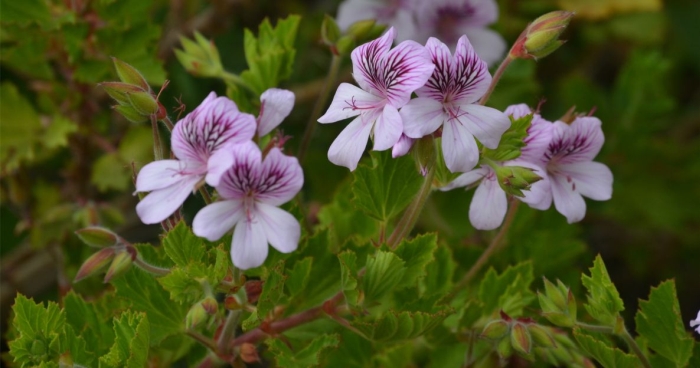 Description
Description
Small, upright shrub 0.3–1 m tall with a diameter of 0.3–0.5. The stems of younger plants are green and herbaceous, turning brown with age and becoming woody at the base. Stems are often pubescent to villous and covered with glandular hairs. The leaves are simple, green, 25–40 mm long and 35–60 mm wide, covered in hairs. Lamina flat to hood-shaped. Margins smooth, but often dentate, with reddish teeth. The petioles, 15–30 mm long, hairy, either pubescent or villous. Small triangular stipules, no larger than 10 mm, may persist for some time.
Small foliar leaves project pseudo-umbels with 3–6 flowers each; the peduncle is between 30–70 mm long. The pedicels are 4–8 mm long, pubescent to villous. The hypanthium is 3–9 mm long. The sepals, 10–16 mm long and 2–6 mm wide, green to reddish-brown, elliptic to lanceolate, and pubescent to villous. The 5 petals are pinkish-purple and can be distinguished as follows: the lower three are narrowly obovate, have purple to reddish-purple streaks, and are 16–28 mm long and 8–12 mm wide; the posterior two are obovate, have dark purple to reddish-purple streaks and are 20–32 mm long and 13–18 mm wide. Approximately seven fertile stamens display orange pollen. Flowering is in spring and early summer, from September to December. Mericarps (seeds) measure 4–6 mm long, with a tail of 21–25 mm long. These can be harvested in midsummer, between December and January.
Conservation Status
Status
The current conservation status of this taxon has not been determined by the SANBI Red List because natural hybrids are not being assessed.
Distribution and habitat
Distribution description
Natural hybrids between Pelargonium betulinum and several different forms of P. cucullatum occur. Hybrids have been found in Betty's Bay (coastal form) and Fish Hoek, Wynberg and Llandudno (all Table Mountain forms). This one was found in Kommetjie, southern Cape Peninsula, and was collected by Ernst van Jaarsveld in 1976. These hybrids grow in well-draining, sandy or rocky, sandstone-derived, acidic soil. Rainfall for these areas is between 600 and 800 mm per annum, most falling during winter.
Derivation of name and historical aspects
History
The name of the genus Pelargonium is derived from the Greek word pelargos, which means 'stork', since the fruit resembles the shape of the beak of a stork. As for the species names of the two parent plants, cucullatum means 'hood' in Latin and refers to the shape of the cupped leaves, while betulinum is derived from the resemblance of the leaves of this species to those of European birches, Betula species.
The genus Pelargonium belongs in the Geraniaceae, a family of 11 genera and 800 species in the subtropical and tropical world. Pelargonium can be found in southern, eastern and northeastern Africa, Australia, New Zealand, St Helena, Tristan da Cunha, Madagascar and Asia. Southern Africa is the hotspot of Pelargonium species where 219 of the almost 270 species are found (81%).
This group of plants has been an attraction to botanists, collectors and travellers since the years of exploration around the coast of Africa around the 1600 and 1700s. The Dutch botanist Hermann, collected Pelargonium cucullatum, the parent of many modern hybrids, on Table Mountain in 1672. In 1690 this species was established at the Royal Botanical Gardens at Kew, in London, by Bentick.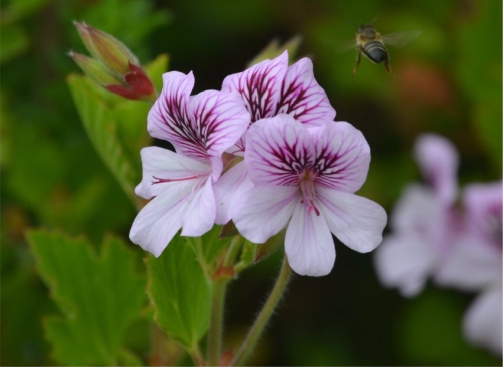 Ecology
Ecology
Sunbirds and several types of insects, including moths, butterflies and long-tongued flies have been noticed visiting the flowers of the parent species.
This specific hybrid is an intermediate between the two parent species with regards to flower structure, indumentum, habit and leaf form. Since individual plants indicate a high level of variation in terms of morphological characteristics, it points to a lack of genetical stability and therefore stands to reason why it has not been regarded as a separate species.
All seeds are equipped with a tail-like structure that is coiled in a spiral arrangement. This tail enables the light seed to twist around in the wind and drills itself into the soil. This functional purpose provides more seeds with a realistic chance to germinate successfully and survive as seedlings.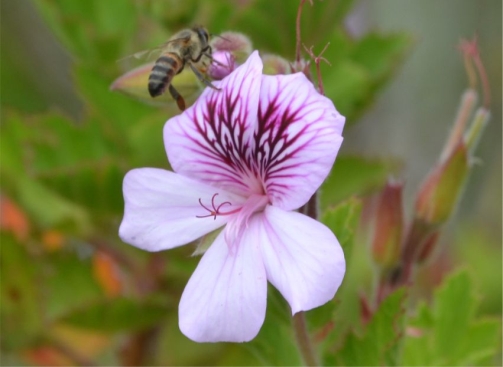 Uses
Use
No medicinal uses have been recorded, but this hybrid makes for an amazing addition to the mixed fynbos or pelargonium garden. It will also thrive in pots or rockeries.
Several medicinal or other uses have been recorded for both parent plant species. Pelargonium cucullatum was traditionally applied as poultice for bruises, abscesses and stings. It was also used to treat ailments related to coughs, fevers, colic, diarrhoea and kidneys. Its makes for a long-lasting cut flower and during the 1800s century it was rather in vogue as a hedgerow ornamental.
Pelargonium betulinum was used to address ailments relating to the chest. For this fresh leaves needed to be placed in boiled water and the resulting vapour from the steamed leaves was inhaled. The presence of essential oils in the leaves, in addition to its use in the production of wound healing ointments, are well-documented facts.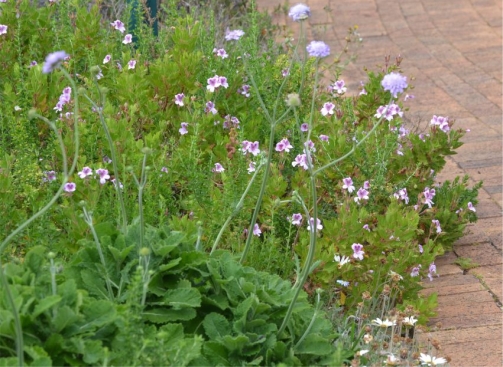 Growing Pelargonium cucullatum x betulinum 'Kommetjie'
Grow
This species is propagated by means of cuttings right through the year. Take stem cuttings larger than 70 mm, cut below the node and treat with rooting hormone powder. Place the cutting in prepared holes, taking care not to wound the cutting, in a tray filled with coarse river sand. Cuttings can then be transferred to a cold frame or an area with some shade. Roots will form within 3 to 4 weeks.
No records currently exist of this hybrid being grown from seed at Kirstenbosch NBG. Since it is strongly suggested that this natural hybrid has not achieved genetic stability, the resultant forms will be interesting to observe. For normal sexual propagation, same processes as for other species of (fynbos) Pelargonium can followed. Sow seed in early autumn in a well-draining medium, use either compost or fine river sand, to cover the seed. Water seed gently with a very fine spray and take great care in ensuring that the medium does not get overwatered, but remains moist.
Use this shrub in a mixed fynbos garden, where its medium to coarse leaf texture will provide textural leaf interest with several other smaller leaved species of fynbos like buchus, ericas or some restios. Plant this tough species about 0.5 to 1 m apart in nice deep soils. This spacing gap can be reduced to 0.3 m in more rocky or steeper soils. Companion plants may include: Coleonema album, Elegia tectorum and E. stipularis, Protea repens and P. cynaroides, Phylica pubescens, P. plumosa and P. ericoides, Lampranthus emarginatus and L. bicolor, Leucadendron xanthoconus, L. salignum and L. linifolium, Agathosma capensis, A. serpyllacea, A. ciliaris, A. ciliata and A. imbricata, Oedera imbricata, Metalasia muricata and M. densa, Mimetes cucculatus, Scabiosa africana and Aristea capitata.
Feed adult plants with 3:1:5 once in autumn and supplement it with seaweed-based, liquid fertilizer application every 2 weeks during the growing season. Seedlings and rooted cuttings can also be treated with a liquid seaweed-based fertilizer. Plants tend to become lanky and very woody after a period, and a good prune at least every second to third year will ensure plants maintain a nice full and bushy appearance. Cut it back by at least a third to half its size in late summer to early autumn.
No pests or diseases have been recorded.
References
Lawence, E. & Notten, A. 2001. Pelargonium betulinum (L.) L'Hér. (Geraniaceae). PlantZAfrica. Online. http://pza.sanbi.org/pelargonium-betulinum.
May, L. 2000. Pelargonium cucullatum (L.) L'Hér. (Geraniaceae). PlantZAfrica. Online. http://pza.sanbi.org/pelargonium-cucullatum.
Oliver, R. 2017. Pelargonium salmoneum R.A.Dyer (Geraniaceae). PlantZAfrica. Online. http://pza.sanbi.org/pelargonium-salmoneum.
SANBI. 2020. Pelargonium cucullatum (L.) L'Hér. x P. betulinum (L.) L'Hér. National Assessment: Red List of South African Plants version 2020.1. Accessed on 2022/08/20.
Van der Walt, J.J. & Vorster, P.J. 1981. Pelargoniums of southern Africa, vol. 2. Juta, Cape Town, Johannesburg.
Credits
Roger Oliver
Kirstenbosch National Botanical Garden
October 2022
Plant Attributes:
Plant Type: Ground Cover, Shrub
SA Distribution: Western Cape
Soil type: Sandy, Loam
Flowering season: Spring, Early Summer
PH: Acid
Flower colour: Purple, Pink, Mauve/Lilac
Aspect: Full Sun
Gardening skill: Easy
Special Features:
Drought resistant
Fragrant
Good potplant
Feeds honeybees
Horticultural zones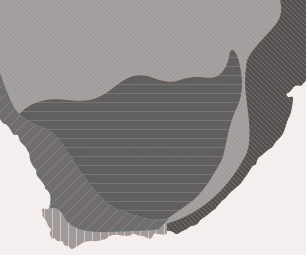 Zone 2 Coastal winter rainfall, frost free
Zone 3 Winter rainfall Karoo, light frost
Google QR Code Generator