Pelargonium laevigatum (L.f.) Willd.
Family: Geraniaceae
Common names: none
Introduction
Pelargonium laevigatum is an attractive shrub with decorative foliage and flowers throughout the year; it is well-suited to rockeries, water-wise and dry gardens.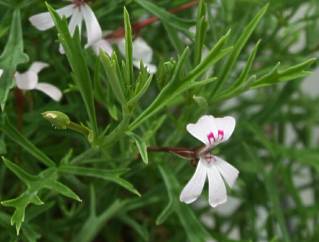 Description
Description
Pelargonium laevigatum is a small, somewhat succulent shrub up to 500 mm, with a variable growth habit. It is compact and erect or lax and straggling. The stem is smooth and herbaceous. The leaves are trifoliate and vary from 1.5 to 10 mm wide.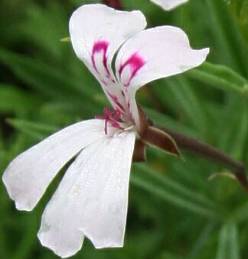 There are five spathulate petals of which the posterior two are slightly larger than the anterior three. The petals are all white, cream-coloured or pink with reddish purple markings. It flowers throughout the year but has a peak period during spring and summer. The seeds are typical of the genus: small dry seeds with a feathered tail coiled into a spiral.
Conservation Status
Status
Pelargonium laevigatum is listed on the National Red List of South African plants as Least Concern (accessed February 2009, www.sanbi.org).
Distribution and habitat
Distribution description
Pelargonium laevigatum occurs in the southern Cape from the vicinity of Ladismith eastwards to Bosberg near Somerset East. The species occurs 180 m above sea level near Humansdorp to 1600 m in the Swartberg range. It grows in different vegetation types ranging from karoid veld to dry fynbos, in sandy patches against slopes, scree, and also dry rock beds in full sun. It is often found in recently disturbed areas and acts as a pioneer plant before other plants establish themselves in the habitat. The rainfall ranges from 200 to 600 mm per annum and occurs mainly during the winter months. The summers are very hot and winters are frost-free, although severe frost and snow can occur at higher altitudes.
Derivation of name and historical aspects
History
Pelargoniums are often mistakenly called geraniums. Pelargonium gets its name from the resemblance of the shape of the fruit to the beak of a stork, which is pelargos in Greek. The species name laevigatum, from the Latin laevigo or levigo, meaning smooth, possibly refers to the smooth and fairly succulent leaves. The species was first described by Swedish botanist Carl Linnaeus jr from a specimen brought to him by Carl Thunberg which he collected in the Cape between 1772 and 1775.
The species varies throughout its distribution range. Plants from the Prince Albert region have flowers that are borne singularly and leaves are linear. Plants from the Ladismith and Bosberg regions have inflorescences of up to five flowers and the leaflets may be as wide as 10 mm. Pelargonium oxyphyllum and P. diversifolium have recently been reclassified as subspecies of P. laevigatum and are now known as P. laevigatum subsp. oxyphyllum and P. laevigatum subsp. diversifolium respectively. (Van Wyk & Van der Walt 1995)
Ecology
Ecology
The seed is adapted to wind dispersal. Once on the ground, the seed bores its way into the soil. This is possible due to the corkscrew tail attached to the end of the seed. As the wind blows, so the corkscrew turns, much like a drill bit.
Uses
Use
Although Pelargonium laevigatum has no cultural use, horticulturally, this attractive shrub is ideal for the drier garden and will do well in a sunny position.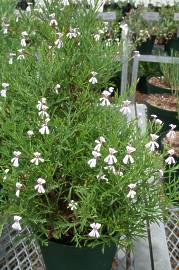 Growing Pelargonium laevigatum
Grow
Pelargoniums are one of the easiest plants to grow. Pelargonium laevigatum does best in full sun, in well-drained soil and will withstand drought. It can be planted in a herbaceous border or as part of a rockery garden in combination with many other succulent plants.
Pelargonium laevigatum can be propagated from both seeds and cuttings. Take cuttings at any time of the year from a healthy vigorous plant, from softwood or herbaceous growth. Using a rooting hormone will speed up the rooting process, especially for the softwood cuttings. Place the cuttings in a container with river sand in cold frames or in a well-lit area and keep them damp. The cuttings should root in 2-4 weeks. Give the rooted cuttings a three-week weaning period and transplant them into a well-drained potting soil mix and place them in a sunny position. When they have formed a strong root-ball they can be planted into the garden.
Sow seeds in late summer to early autumn. The seed should be sown in a light, well-drained potting mix. Sprinkle the seeds evenly in the seed tray and cover them with fine white sand or fine-milled pine bark. Water the seeds gently but thoroughly with a fine rose spray and place them in light shade with no direct sun. Seed germinates in 2-3 weeks.
References
Goldblatt, P. & Manning, J. 2000. Cape plants. A conspectus of the Cape flora of South Africa. Strelitzia 9. National Botanical Institute, Pretoria & Missouri Botanical Garden Press, Missouri.
Van der Walt, J.J.A. & Vorster, P.J. 1981. Pelargoniums of southern Africa, vol. 2. Juta, Cape Town.
Van Wyk, C.M. (née Schonken) & Van der Walt, J.J.A. 1995. Three subspecies of Pelargonium laevigatum ( Geraniaceae ) (subsp. laevigatum; diversifolium; oxphyllum ). Bothalia 25: 133-139.
website: National Red List of South African plants (accessed February 2009). www.sanbi.org.
Credits
Trevor Adams
Kirstenbosch National Botanical Garden
June 2009
Plant Attributes:
Plant Type: Shrub
SA Distribution: Eastern Cape, Western Cape
Soil type: Sandy, Loam
Flowering season: Sporadic/All year
PH: Acid, Neutral
Flower colour: Pink
Aspect: Full Sun
Gardening skill: Average
Special Features:
Drought resistant
Good potplant
Pioneer plant
Horticultural zones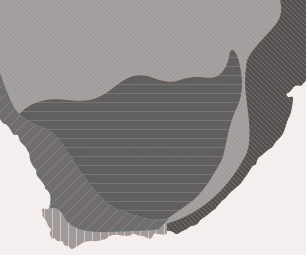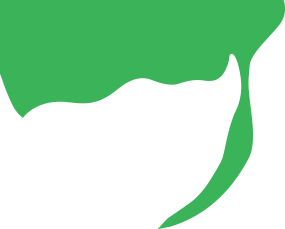 Zone 1 Coastal summer rainfall, frost free
Zone 2 Coastal winter rainfall, frost free
Zone 3 Winter rainfall Karoo, light frost
Zone 5 Bushveld summer rainfall, Light frost
Google QR Code Generator