Pelargonium luridum (Andrews) Sweet
Family: Geraniaceae
Common names: starburst pelargonium, waving pelargonium, stalk-flowered pelargonium (Eng.); wildemalva, rabassam (Afr.); inyonkulu, isandla sonwabu, umsongelo, unyawolwenkuku, uvendle, ishaqa (Zul.)
Introduction
One of the most beautiful, tuberous pelargoniums, with leaves that vary in shape on a single plant and bright pinkish beige or cream-coloured flowers on a long stalk in midsummer, which makes it easy to spot among the grasses in the wild.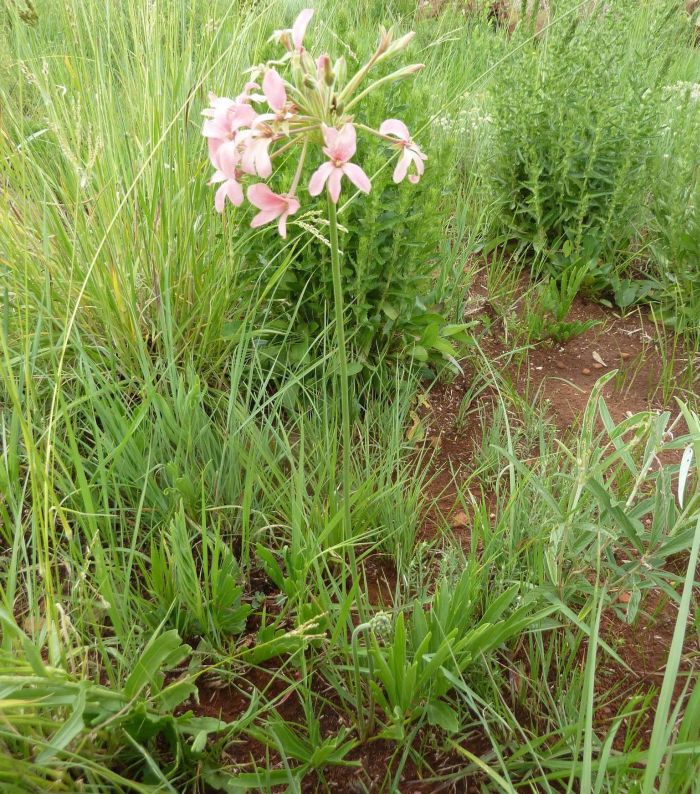 Description
Description
Pelargonium luridum is a summer-growing, deciduous, perennial herb, up to 1 m tall, with an annual stem that arises from a woody, tuberous rootstock. Its leaves, flower colour and size vary considerably.
The leaves are in a basal rosette and show variation in leaf-shape on a single plant. New leaves are almost round, or slightly lobed; they become more dissected into lobes as they mature, and are softly hairy.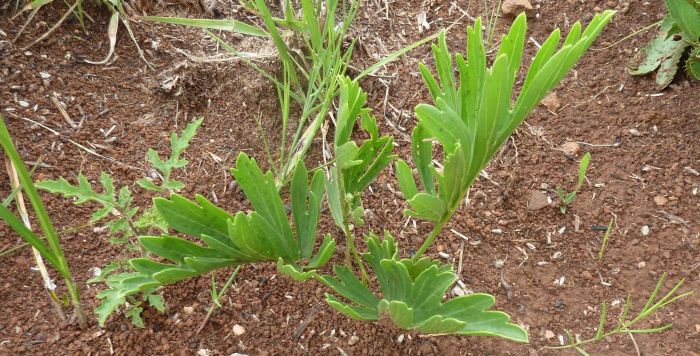 It flowers in midsummer, between November and February. It bears 5 to 60 bright pinkish beige or cream-coloured flowers, in a large inflorescence at the tip of a long, stout peduncle (stalk), about 140–650 mm long. A plant produces 1 to 3 inflorescences in a season. The seeds are narrowly elliptic.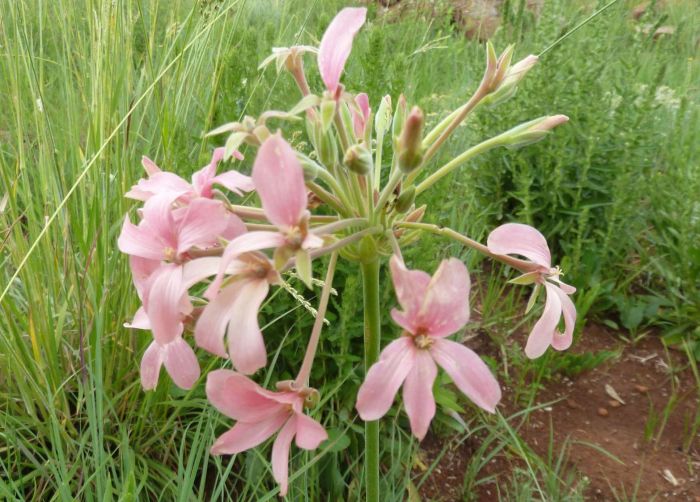 Conservation Status
Status
According to the Red List of South African plants, Pelargonium luridum is assessed as Least Concern (LC), which means it is not threatened in the wild.
Distribution and habitat
Distribution description
Pelargonium luridum is not endemic to South Africa. It is widespread over a large area, in grassland, in the Provinces of Free State, Gauteng, KwaZulu-Natal, Mpumalanga, Eastern Cape and North West, as well as in the neighbouring countries of Lesotho, Swaziland, Mozambique, Zimbabwe and in Angola, Zambia, DRC, Malawi and Tanzania. P. luridum occurs mostly in moist open areas, burnt fields and amongst grasses.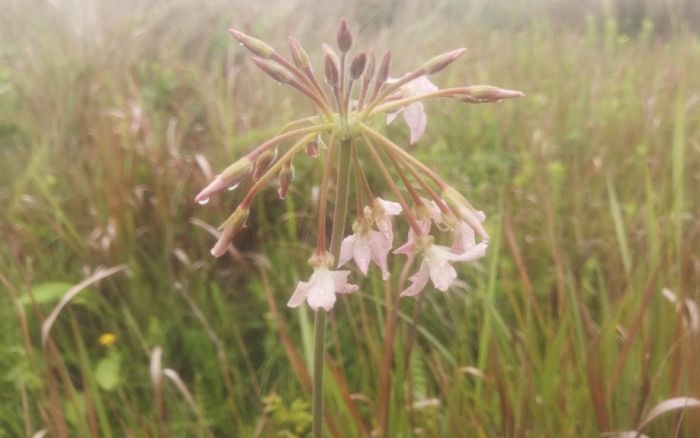 Derivation of name and historical aspects
History
The genus name Pelargonium is derived from pelargos, meaning 'stork's bill', referring to the shape of the seeds. The species name luridum is derived from the Latin word luridus, which means 'sallow, drab, pale or smoky yellow', referring to the flower colour.
The genus Pelargonium consists of about 280 species of annual, biennial and perennial herbaceous plants. Pelargoniums are mostly used for bedding and as greenhouse plants, and many have aromatic foliage.
Ecology
Ecology
Pelargonium seeds are interesting because attached to the elliptical seed is a feathered, tail-like structure that is coiled in a spiral arrangement. This tail causes the seed to twist around in the wind and drill itself into the soil. Therefore, they are adapted to wind dispersal.
Pelargonium luridum dies back at the end of summer, and is dormant in winter, which enables it to survive the cold, dry winter of its habitat.
Its flowers are produced at the tip of a long stalk that pushes them above the grasses amongst which it grows in the wild. Therefore, it is more visible from a distance, both to people and pollinators.
The leaves are grazed by animals.
Uses
Use
Pelargonium luridum leaves are eaten raw as a vegetable. The leaves are also used as a medicine to treat nausea, vomiting and fever. The roots are used in the treatment of diarrhoea and flowers as a love charm.
Pelargonium luridum can also be used ornamentally in a garden, planted amongst grasses and low-growing plants.
Growing Pelargonium luridum
Grow
Pelargonium luridum is easily grown from seeds. Sow the seeds in spring in a mixture of 40% compost and 60% washed river sand. More sand is mixed in to allow the water to drain freely when watering, because too much water can cause the seeds to rot. Seeds take 4 to 6 weeks to germinate. It can also be propagated by dividing the woody tubers.
Pelargonium luridum performs best when grown in well-drained soil with moderate water and lots of sun. P .luridum can be used in landscaping, planted amongst grasses and low-growing plants and can be used to add colour in a flowerbed. It is also suitable for containers.
References
Germishuizen, G. & Clarke, C. 2003. Illustrated guide to the wildflowers of northern South Africa. Briza Publications, Pretoria.
Kokwaro, J.O. 1971. Flora of tropical East Africa, accessed via JSTOR https://plants.jstor.org/compilation/pelargonium.luridum
Manning, J. 2003. Photographic guide to the wildflowers of South Africa. Briza Publications, Pretoria.
Manning, J. 2009. Field guide to wild flowers of South Africa. Struik Nature, Cape Town.
Pooley, E. 1998. A field guide to wild flowers Kwazulu-Natal and the eastern region. Natal Flora Publications Trust, Durban.
Van der Walt, J J A. 1977. Pelargoniums of South Africa. Purnell, Cape Town.
Van Wyk, B. & Malan, S. 1997. Field guide to the wild flowers of the Highveld. Struik Publishers, Cape Town.
Credits
Fergy Nkadimeng
Millennium Seed Bank Partnership
February 2020
Acknowledgements: the author thanks Mashudu Nndanduleni, horticulturist at Kirstenbosch NBG, and Andrew Hankey, horticulturist at Walter Sisulu NBG, for providing the images used to illustrate this article.
Plant Attributes:
Plant Type: Perennial
SA Distribution: Free State, Gauteng, KwaZulu-Natal, Mpumalanga, North West, Northern Cape
Soil type: Sandy, Loam
Flowering season: Early Summer
PH:
Flower colour: Pink, Cream
Aspect: Full Sun
Gardening skill: Easy
Special Features:
Good potplant
Edible plant
Medical plant
Horticultural zones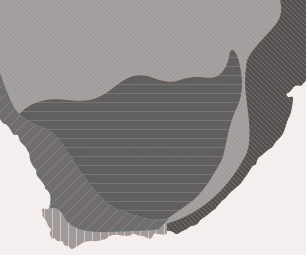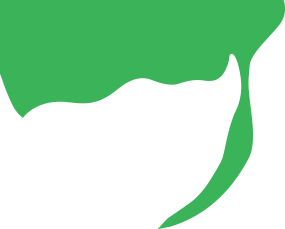 Zone 1 Coastal summer rainfall, frost free
Zone 2 Coastal winter rainfall, frost free
Zone 4 Summer rainfall Karoo and Highveld, Frost in winter
Zone 5 Bushveld summer rainfall, Light frost
Google QR Code Generator