Pelargonium magenteum J.J.A van der Walt
Family: Geraniaceae
Common names: magenta-flowered pelargonium
Introduction
With its stunning dispay of usually magenta/pink flowers in spring, Pelargonium magenteum is ideal for the water-wise garden.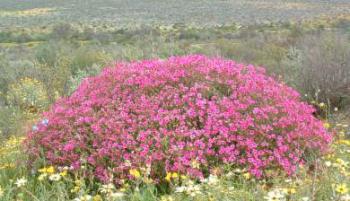 Description
Description
Pelargonium magenteum,  a summer-deciduous, semi-succulent, perennial shrublet, can attain a height of 1.5 m under ideal conditions. The cordate, roundish leaves are 16 x 15 mm, greyish-green, and in most cases covered in short, whitish hairs. Branches, especially the older branches, are somewhat woody; younger branches are more succulent. Flower colour ranges from mauve to deep magenta with dark spots or stripes on all the petals. Pelargonium magenteum flowers from mid-July to the end of August each year.
Distribution and habitat
Distribution description
Pelargonium magenteum occurs in the Koue Bokkeveld Mountains, the Biedouw Valley, and the Calitzdorp and Montagu areas of the Western Cape, in hilly terrain, often in rocky outcrops. The species tends to grow on eastern and southern slopes.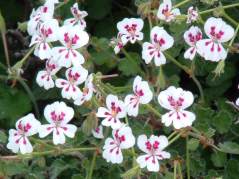 Derivation of name and historical aspects
History
The name Pelargonium is derived from the Greek word pelargos, stork, and the species epithet magenteum is Latin for the colour magenta. The genus includes more than 200 species, most of which come from South Africa.
Ecology
Ecology
The spectacular magenta flowers are open throughout the day. Bushes that are in full flower can be seen some distance away as a result of the brightly coloured flowers.
In this genus the long, slender seed capsule splits open along the sides when dry, releasing the seed. Each seed has a long, thin, spiraling tail. The seed is carried away from the parent plant by the wind. Once the seed lands it is able to bore its way into the soil: the one end of the seed is sharply tapered and, with the wind blowing, the spiral/corkscrew mechanism aids this boring process.
Uses
Use
This water-wise, popular garden plant is successfully used in container and garden cultivation. It is mainly utilized in the Western Cape and thus is not really known in other provinces.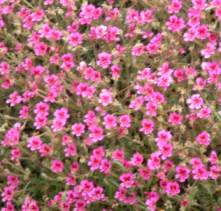 Growing Pelargonium magenteum
Grow
Pelargonium magenteum can be planted as a container plant, and looks particularly good in a terracotta pot in a courtyard. Remember, the species issummer-deciduous (loses its leaves in summer) so do not over-water it during those long summer months.
Propagation can be done by means of seeds and cuttings. Sow seeds in April or May (winter). Prepare shallow seed trays containing well-drained, coarse river sand. First water the tray with a fine rose spray before sowing. The seeds should be sown evenly on the medium and covered with a thin layer of sand of about 3 mm deep. Keep seed tray moist, not wet. Transplant seedlings in September or October (spring) in a 1 pint? use metric bag in a well-drained mixture of 4 parts fine river sand, 2 parts coarse river sand, 4 parts well rotted compost, 2 parts perlite and 1 part vermiculite.
Cuttings can also be taken in April or May (winter) with a sharp knife; to enhance rooting success use a rooting hormone powder. The best results are obtained when cuttings are taken just as the plant comes into leaf. Cuttings should be approximately 50 to 100 mm in length. Cuttings taken in June will be ready for replanting in October of the same year. Use a well-drained potting mix, much the same as recommended for seedlings.
References
Van der Walt, J.J.A. 1977. Pelargoniums of southern Africa, vol. 1. Purnell, Cape Town.
Credits
Ian Oliver
Karoo Desert National Botanical Garden
July 2007
Plant Attributes:
Plant Type: Perennial, Shrub, Succulent
SA Distribution: Northern Cape, Western Cape
Soil type: Sandy
Flowering season: Spring
PH: Neutral
Flower colour: Purple, Red, White
Aspect: Full Sun
Gardening skill: Easy
Special Features:
Drought resistant
Good potplant
Horticultural zones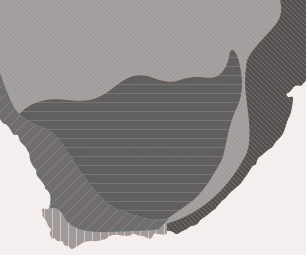 Zone 2 Coastal winter rainfall, frost free
Zone 3 Winter rainfall Karoo, light frost
Google QR Code Generator